Wheels:
Lamborghini gives sneak peek of its electric hypercar concept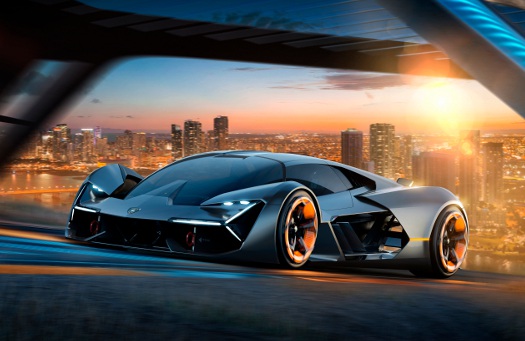 Is Lamborghini coming out with an all-electric hypercar? Well, they're working on it, but they've got a lot of design and testing ground to cover before we see one hit the market. To get the ball rolling, the Italian luxury sportscar maker has partnered with two labs at MIT to explore creating the super technologies that will go into their Terzo Millennio (Third Millennium) all-electric concept, including a vehicle that doesn't have a traditional battery energy storage system but does have a self-healing substructure.
Beyond that, we'll say right up front that other specifics are few and far between. But this is what we know so far.
Lamborghini says the technological goal of the project is to enable the company's designers and engineers to address the future of the super sportscar in four different dimensions: energy storage systems, innovative materials, power train and vehicle architecture, and sound and emotion.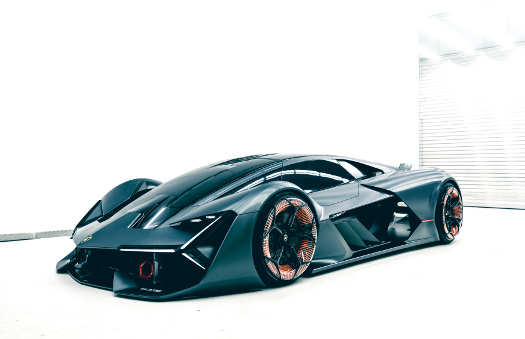 The first two dimensions are being worked on together with the two laboratories at the Massachusetts Institute of Technology: the "Dinca Research Lab" (led by Prof. Mircea Dinca, Department of Chemistry) and the "Mechanosynthesis Group" (led by Prof. Anastasios John Hart, Department of Mechanical Engineering). The collaboration is substantially financed by Automobili Lamborghini and aims to become a real leader in energy storage systems technology and material science innovation.
The collaboration with the MIT-Italy Program actually began one year ago with a signed partnership agreement. "Collaborating with MIT for our R&D department is an exceptional opportunity to do what Lamborghini has always been very good at: rewriting the rules on super sportscars," said Stefano Domenicali, chairman and CEO of Automobili Lamborghini.
What rules are being rewritten? What rules are just being updated?
The concept creators want to move away from conventional batteries and investigate the potential of supercapacitors to equip the Terzo Millennio. This is actually a natural progression from the application of low-voltage supercapacitors in Lamborghini's mid-engine V12 Aventador flagship sportscar launched in 2011.
Lamborghini sees its next logical step as the development of a storage system able to deliver high peak power and regenerate kinetic energy with very limited influence from aging and cycling during the vehicle's life, and with the ability to symmetrically release and harvest electric power.
This is where Prof. Mircea Dinca, whose research focuses on the functional chemistry of inorganic and metal-organic materials, comes in. His lab aims to overcome the limits of today's technology and close the gap on conventional batteries' energy density through the use of supercapacitor technology.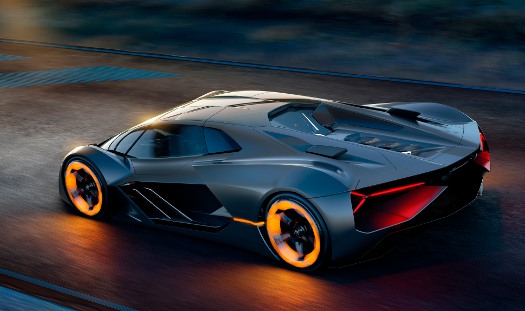 To support the revolution in energy storage systems, materials and their functions have to change too. Lamborghini is looking to further develop its leadership in the design and production of carbon fiber structures and parts, enhancing its ability to develop features and functions that take lightweight materials to the next level. In this role, Prof. John Hart will investigate new manufacturing routes for carbon fiber materials that make up the bodyshell of the Terzo Millennio and will also act as an accumulator for energy storage and enable the complete body of the car to be used as a storage system.
In short, the body of the car will actually be the "battery" energy storage system, with supercapacitors built into the structure. (Note: Designfax covered a fledgling project in 2013 by Volvo to develop a similar thing. See "Volvo Car Group making big strides on building supercapacitors into car bodies." Obviously, energy storage technologies have come a long way since then.)
One neat thing about having the shell of the car be part of the energy storage system is that it sort of becomes "prewired" by its very nature, and thus becomes ripe for other technological integrations. For Lamborghini, this means the opportunity to continuously monitor the whole carbon fiber structure, both visible and invisible, so the Terzo Millennio can conduct its own health monitoring to detect cracks and damages in its substructure derived from accidents.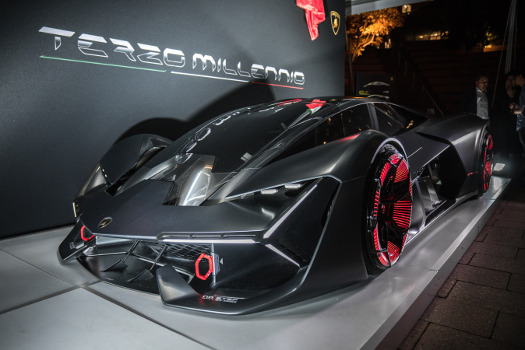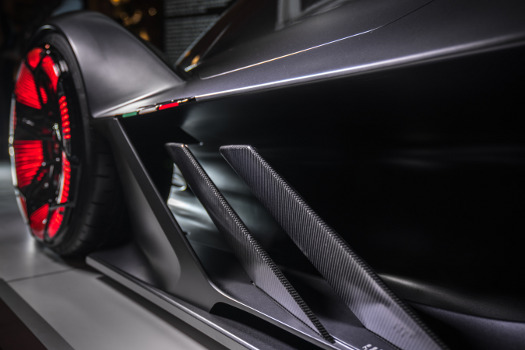 But Lamborghini wants to take this a step further. Not only will carbon fiber structural problems be flagged, but they could also potentially be self-healed in some situations. In this case, a self-repairing process starts via micro-channels filled with a healing bonding agent, reducing to zero the risks of small cracks propagating further in the carbon fiber structure. This allows further weight reduction with increased use of carbon fiber or the application of CFK to high-fatigue parts. (Note: See the 2014 Designfax article, "Repeated self-healing is now possible in composite materials," for an example of how this developing technology can work.)
The energy storage system goes hand in hand with performance. Each lighted wheel of the Terzo Millennio incorporates an integrated electric motor, keeping with the company's commitment to four-wheel drive and leveraging the opportunities provided by electric motors, which include direct drive, high torque, reversibility, and energy harvesting. Moving the electric motors into the wheels has another positive effect: freedom for designers and aerodynamicists.
The Terzo Millenio design is envisioned as "a radical expression of aerodynamic supremacy, based around an entirely new architecture, and totally dedicated to perfecting airflow." Without that traditional, bulky electric battery, there's a lot more room to play with. In that light, a highly advanced monocoque based on Lamborghini's Forged Composite technology has been modeled, inspired by race cars and probably super villains (think, "What would Darth Vader drive?"). One example is the evolution -- and sort of hyper-extension -- of Lamborghini's typical Y-signature in the front and rear lights.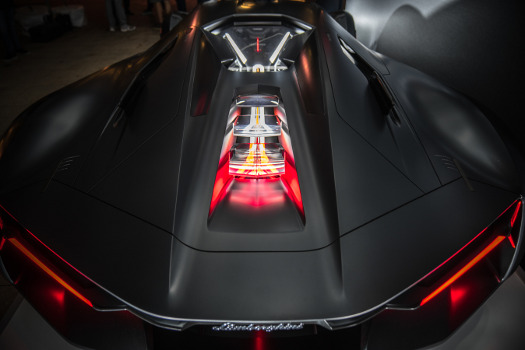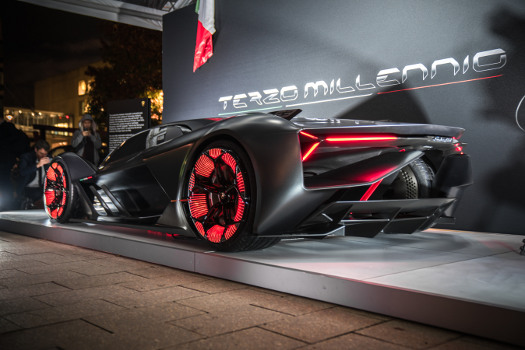 But since it's an all-electric car, what will it sound like? Lamborghini hints that it is working on defining and designing an artificial sound that is akin to the rumbles made from today's V12. An ongoing challenge for many electric vehicle makers, producing sound signatures that coordinate with vehicles has research that is well underway. One example is e-sound by Audi, which uses computer software in the car to generate coordinated sounds by the millisecond that are played via a sturdy loudspeaker attached to the car's undercarriage. (Note: See "Acoustic innovation: e-sound by Audi.")
In the end, Lamborghini is counting on the responsiveness of the electric motors, the four-wheel torque control, and the dynamic body control system to carry the day and the driver's overall experience. Do we even have to mention how you'll look when you pull up to that high-school reunion in this thing? At this point, what the Terzo Millenio lacks in detail it makes up for in aesthetics. If you take a look just at the Aventador of a few years ago, you'll see that this concept design really brings the brand far, far forward.
Source: Automobili Lamborghini
Published November 2017
Rate this article