Compact angle sensor for robotics and other applications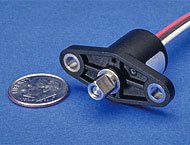 See the robotics video demonstrating ease of programming and robotics application of certain angle sensors from Novotechnik. Novotechnik's Vert-X 1600 Series of angle sensors (shown here) features easy mounting in tight spaces with a 16 mm diameter body. The sensors measure 0 to 360° with linearity ≤ ±0.3%, 14-bit resolution and repeatability to 0.1°. A variety of analog and digital output options are available.
View the video.
---
M8 12-pin connectors with gold-plated contacts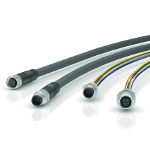 Binder USA has added the M8 12-pin to their Series 718 & 768 lines of M8 Connectors. The 12 gold-plated contacts allow for more data connections in a small-form connector, making it easy to combine multiple connections into one connector to save panel space. The IP67-rated connectors are typically used with automation-related products including photoelectric, proximity, and temperature sensors. Available in male or female molded cable and panel-mount connectors with cable lengths of 2 m and 5 m and standard single-wire length of 200 mm.
Click here to learn more.
---
Full line of industrial laser modules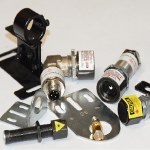 BEA Lasers' full line of ruggedized Industrial Laser modules are now available for use in factories, machine shops, and other harsh environments for alignment and positioning of products, components, and machine parts. The laser diode modules (Series MIL, GPL, SEN, MIC, IND) each include a housing and cable apparatus to alleviate hard wiring for replacements. All are offered with a choice of green or red laser light and include laser dot and line patterns; many available with a crosshair pattern. Most Industrial Laser families are available with 1-, 3-, or 5-mW output power. In addition, BEA's "Yellow Sub" and "Yellow Torpedo" lasers can be used for leveling. Other laser applications include drilling, event detection, edge detection, security, cutting, vision systems, metrology, bar code readers, education, robotic control, and laboratory or test operations.
Click here to learn more.
---
Microcontroller for automotive and industrial radar systems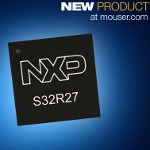 Mouser Electronics is now stocking the S32R274 radar microcontroller from NXP Semicon-ductors. Engineered to meet the high-performance computation demands required by modern beam-forming and fast chirp-modulation radar systems, the S32R274 combines signal-processing acceleration with a multicore architecture to provide up to four times the power performance in industrial and automotive applications, compared to previous generations of products. This device offers a multifaceted solution for general software tasks and car bus interfacing. Combined with radio frequency (RF) front-end technologies (RFCMOS or BiCMOS), the S32R274 provides designers a scalable solution that addresses ultra-short-range, short-range, mid-range, and long-range radar systems.
Click here to learn more.
---
New option for flexible heater applications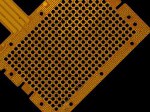 Rogers Corp. has introduced ARLON raPId polyimide substrates, a new, innovative solution for streamlining manufacturing and improving performance of flexible heater applications. These substrates incorporate the benefits of polyimide heater dielectrics with the flexibility and usability of a silicone adhesive system. This makes a big difference during manufacturing, because the innovative thermosetting silicone adhesive system locks the foil-etched circuit in place, minimizing circuit "swimming" during capping, while minimizing delamination and voids. This solution is ideal for high-reliability applications as a replacement for acrylic or FEP adhesives in polyimide flexible heaters.
Learn more.
---
Cool Tools: Rugged smartphone with built-in thermal imaging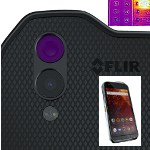 The ruggedized Cat S61 is equipped with FLIR Lepton, the industry's smallest, lightest, and lowest cost thermal imaging camera core. This smartphone enables users to see in total darkness and visualize heat that is invisible to the naked eye. The new model includes a variety of technical improvements, including an increased temperature range of -20 to 400 C (great for things like vehicle diagnostics and asphalt monitoring), upgraded visible HD camera and thermal image processing, and live thermal imagery streaming for sharing results in real time. Available 3Q 2018. Under $1,000.
Click here to learn more.
---
Faster, cooler-running new Raspberry Pi unit -- still $35!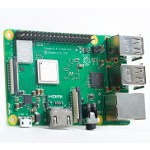 After a two-year wait since its last upgrade, Raspberry Pi released a new and improved version of its wildly popular single-board computer on March 14 -- Pi Day, of course. The Raspberry Pi 3 Model B+ boasts a 200-MHz increase in peak CPU clock frequency, roughly three times the wired and wireless network throughput, and the ability to sustain high performance for much longer periods. Features include: a 1.4-GHz 64-bit quad-core ARM Cortex-A53 CPU, dual-band 802.11ac wireless LAN and Bluetooth 4.2, faster Ethernet (Gigabit Ethernet over USB 2.0), Power-over-Ethernet support (with separate PoE HAT), improved PXE network and USB mass-storage booting, and improved thermal management.
Learn all about the new Raspberry Pi 3 Model B+.
---
Cool Tools: World's fastest digital ultra-high-speed camera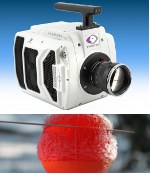 Vision Research has introduced the Phantom v2640, the fastest 4-Megapixel (MPx) camera available. It features a new proprietary 4-Mpx CMOS image sensor (2048 x 1952) that delivers unprecedented image quality at up to 26 Gpx/sec, while reaching 6,600 frames per second (fps) at full 2048 x 1952 resolution, and 11,750 fps at 1920 x 1080. This is an excellent tool for researchers, scientists, and engineers who need to capture clean, high-resolution images at super high speeds. Go to the Videos tab on the product webpage to see it in action.
Click here to learn more.
---
Alternatives to screws for compact electronics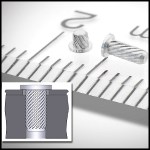 Aluminum and stainless steel microPEM TackSert pins from Penn-Engineering provide cost-effective alternatives to micro screws for attaching top panels to base panels or chassis in compact electronic assemblies. They will attach top panels of any material to a base or chassis manufactured from common cast metals (such as magnesium and aluminum) or plastics (such as ABS and printed circuit boards). The pins ultimately eliminate many of the costs and issues associated with screws and integrate unique design features, promoting reliable and effective performance.
Click here to learn more.
---
New series of tall board-to-board stacker connectors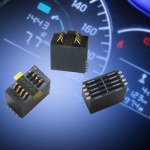 AVX Corporation has released a new series of tall board-to-board stacker connectors. The new 00-9148 Series tall stacker connectors are cost-effective, reliable, and robust; exhibit excellent resistance to shock and vibration; and help reduce tolerance accumulation in a variety of demanding applications across the automotive, consumer, medical, and industrial markets. The single-piece connectors also reduce assembly time and shorten BOM lists, and feature a double-row design with an 8-mm (+/- 0.2-mm) board-stacking height, a 1-mm pitch, and eight positions, each rated for 1A continuous current. Rated for 125 V, 50 cycles, and temperatures spanning -40 C to 125 C.
Click here to learn more.
---
Development kit for IoT applications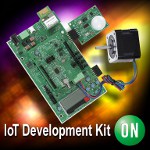 ON Semiconductor is helping engineers address a broader range of high-growth Internet of Things (IoT) applications through the release of a new multi-sensor shield and expansion of software support for its IoT Development Kit (IDK). The IDK gives access to a wide variety of sensing, processing, connectivity, and actuation possibilities through a range of shields/daughter cards that attach to the Arm SoC motherboard. The multi-sensor shield adds a variety of inertial and environmental sensors. These coupled with, for example, the recently announced Bluetooth low energy (BLE) connectivity shield, enable the rapid prototyping of a wide range of ultra-low power smart home, industrial IoT, and wearable solutions.
Click here to learn more.
---
AC and DC motorized impellers designed for demanding environments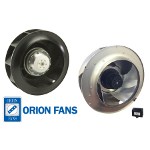 Orion Fans has expanded its AC motorized impeller product offering with 14 new IP55-rated models and has added a new line of 24-V and 48-V DC motorized impellers with 13 models. The AC motorized impellers provide high airflow for a wide range of harsh and demanding applications. The DC motorized impellers deliver a low-power solution with standard control and monitoring features. The new motorized impeller models are available in popular 133-mm, 175-mm, 182-mm, 220-mm, and 225-mm sizes, expanding the existing range from 133 mm to 400 mm. They feature backward curved plastic or all-metal blades, sealed dual ball bearings, and rugged die-cast aluminum frames. All AC motorized impellers ship with the required capacitor. All DC motorized impeller models include a PWM and Tachometer function.
Learn about AC motorized impellers.
Learn about DC motorized impellers.
---
Smallest capacitive touch LED sensor display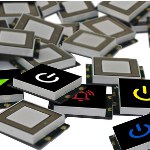 Visual Communi-cations Company (VCC) recently launched the CSM Series surface-mount capacitive touch LED sensor, which boasts the smallest footprint in the industry. These displays are unique because they measure only 15.0 mm x 15.0 mm x 3.2 mm and can be surface mounted or even reverse mounted to save additional space. The compact, high-output LED sensor displays can be used in a wide range of applications, including: medical devices, home automation and mobile communication devices, as well as portable instruments. Available in green, yellow, red, blue, and white, these touch sensor displays provide streamlined manufacturing and enhanced product life cycle over a mechanical on/off switch because there are no mechanical components to wear down or break.
See these touch LED sensors in action.
---
High-current connector for high-end battery systems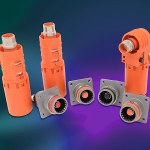 Amphenol Industrial Products Group has enhanced its SurLok Plus high-current connector and cabling system. The quick connect and locking system includes a high-voltage interlock loop (HVIL) safety feature, as well as electromagnetic interference shielding (EMI) for noise immunity. These features are a requirement of high-end battery systems to ensure safety and proper operation. Ideal for use in electric vehicles, materials handling, hybrid electric vehicles, and in energy storage for commercial and residential battery storage systems, SurLok Plus is a reliable alternative to common compression lugs.
Click here to learn more.
---
Selection tips for rodless electromechanical and electric rod actuators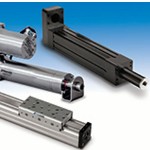 When you specify a linear actuator, some basic decisions come first. Do you go with electric or fluid-powered? Do you need the push/pull of an electric rod actuator or the load-carrying action of a rodless electromechanical actuator? Aaron Dietrich from Tolomatic may have your answer. Dietrich has compiled some very good tips for selecting these actuator types.
Learn about selecting linear actuators.
---
Battery-switching device promises more road time for Tesla and Nissan Leaf electric car drivers
By Heidi Hall, Vanderbilt University
Nissan Leafs, which go about 107 miles on a charge, sometimes end up relegated to commuter cars due to battery-life worries. The mass-market, standard Tesla Model 3 can go double that, but even that distance can be disconcerting on long road trips.
Both batteries could work about 50 percent longer with a device provisionally patented by Vanderbilt University's Ken Pence, professor of the practice of engineering management, and Tim Potteiger, a Ph.D. student in electrical engineering. It reconfigures modules in electric car battery packs to be online or offline -- depending on whether they're going to pull down the other modules.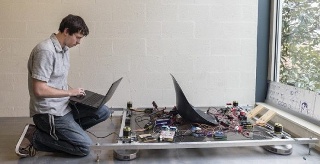 Tim Potteiger, a Ph.D. student in electrical engineering, tests his battery-switching device on a levitating electric vehicle in the Vanderbilt School of Engineering. [Photo: Joe Howell/Vanderbilt University]
The two used Tesla's open-source, high-density, lithium-ion battery to model their method of improving durability, adding a controller to each of the battery's cells.
"We know there are some battery cells that run out of juice earlier than others, and when they do, the others run less efficiently," Potteiger said. "We make sure they all run out of energy at the same time, and there's none left over."
With both the Tesla and Nissan battery packs' current configuration, gauges give a worst-case scenario on the amount of power left so that users don't get stranded. That means they commonly show empty with 10 percent or more power left, Potteiger said. Their device also can connect to electric cars' software for a more accurate read that allows drivers to get the most out of a charge.
The older the batteries are, the more likely they are to experience problems (making them less efficient) and the more useful the team's device becomes, Pence said. "They'll have a longer useful service life," Pence said. "Drivers won't see the 50 percent return immediately, but they will later on in the life of the battery."
The device is the result of lessons learned from an engineering class's levitating one-seater and a grad student's NASA internship.
Pence's project management graduate class last year succeeded in building a working, one-seat vehicle that uses magnets to levitate a few inches over an aluminum track. Batteries that ran down too quickly proved a major challenge.
When Potteiger returned from his fall 2016 NASA internship, he was eager to use what he'd learned in real-time prognostics: figuring out how much energy, say, a rocket or surface-roving device has left and how efficiently it's working. He heard some teaching assistants discussing Pence's levitation vehicle and started out volunteering to make a gauge for it.
Instead, the duo ended up with the battery switcher and are working with Vanderbilt Center for Technology Transfer and Commercialization to get it to market.
Published November 2017
Rate this article