Cool Tools: World's fastest digital ultra-high-speed camera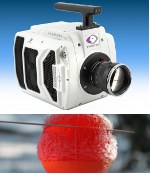 Vision Research has introduced the Phantom v2640, the fastest 4-Megapixel (MPx) camera available. It features a new proprietary 4-Mpx CMOS image sensor (2048 x 1952) that delivers unprecedented image quality at up to 26 Gpx/sec, while reaching 6,600 frames per second (fps) at full 2048 x 1952 resolution, and 11,750 fps at 1920 x 1080. This is an excellent tool for researchers, scientists, and engineers who need to capture clean, high-resolution images at super high speeds. Go to the Videos tab on the product webpage to see it in action.
Click here to learn more.
---
Alternatives to screws for compact electronics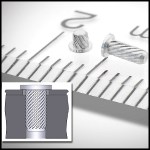 Aluminum and stainless steel microPEM TackSert pins from Penn-Engineering provide cost-effective alternatives to micro screws for attaching top panels to base panels or chassis in compact electronic assemblies. They will attach top panels of any material to a base or chassis manufactured from common cast metals (such as magnesium and aluminum) or plastics (such as ABS and printed circuit boards). The pins ultimately eliminate many of the costs and issues associated with screws and integrate unique design features, promoting reliable and effective performance.
Click here to learn more.
---
New series of tall board-to-board stacker connectors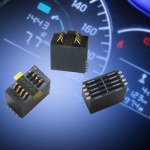 AVX Corporation has released a new series of tall board-to-board stacker connectors. The new 00-9148 Series tall stacker connectors are cost-effective, reliable, and robust; exhibit excellent resistance to shock and vibration; and help reduce tolerance accumulation in a variety of demanding applications across the automotive, consumer, medical, and industrial markets. The single-piece connectors also reduce assembly time and shorten BOM lists, and feature a double-row design with an 8-mm (+/- 0.2-mm) board-stacking height, a 1-mm pitch, and eight positions, each rated for 1A continuous current. Rated for 125 V, 50 cycles, and temperatures spanning -40 C to 125 C.
Click here to learn more.
---
Development kit for IoT applications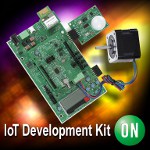 ON Semiconductor is helping engineers address a broader range of high-growth Internet of Things (IoT) applications through the release of a new multi-sensor shield and expansion of software support for its IoT Development Kit (IDK). The IDK gives access to a wide variety of sensing, processing, connectivity, and actuation possibilities through a range of shields/daughter cards that attach to the Arm SoC motherboard. The multi-sensor shield adds a variety of inertial and environmental sensors. These coupled with, for example, the recently announced Bluetooth low energy (BLE) connectivity shield, enable the rapid prototyping of a wide range of ultra-low power smart home, industrial IoT, and wearable solutions.
Click here to learn more.
---
AC and DC motorized impellers designed for demanding environments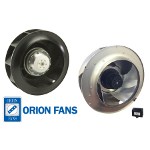 Orion Fans has expanded its AC motorized impeller product offering with 14 new IP55-rated models and has added a new line of 24-V and 48-V DC motorized impellers with 13 models. The AC motorized impellers provide high airflow for a wide range of harsh and demanding applications. The DC motorized impellers deliver a low-power solution with standard control and monitoring features. The new motorized impeller models are available in popular 133-mm, 175-mm, 182-mm, 220-mm, and 225-mm sizes, expanding the existing range from 133 mm to 400 mm. They feature backward curved plastic or all-metal blades, sealed dual ball bearings, and rugged die-cast aluminum frames. All AC motorized impellers ship with the required capacitor. All DC motorized impeller models include a PWM and Tachometer function.
Learn about AC motorized impellers.
Learn about DC motorized impellers.
---
Smallest capacitive touch LED sensor display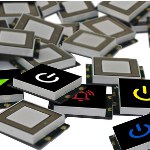 Visual Communi-cations Company (VCC) recently launched the CSM Series surface-mount capacitive touch LED sensor, which boasts the smallest footprint in the industry. These displays are unique because they measure only 15.0 mm x 15.0 mm x 3.2 mm and can be surface mounted or even reverse mounted to save additional space. The compact, high-output LED sensor displays can be used in a wide range of applications, including: medical devices, home automation and mobile communication devices, as well as portable instruments. Available in green, yellow, red, blue, and white, these touch sensor displays provide streamlined manufacturing and enhanced product life cycle over a mechanical on/off switch because there are no mechanical components to wear down or break.
See these touch LED sensors in action.
---
High-current connector for high-end battery systems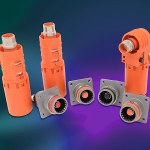 Amphenol Industrial Products Group has enhanced its SurLok Plus high-current connector and cabling system. The quick connect and locking system includes a high-voltage interlock loop (HVIL) safety feature, as well as electromagnetic interference shielding (EMI) for noise immunity. These features are a requirement of high-end battery systems to ensure safety and proper operation. Ideal for use in electric vehicles, materials handling, hybrid electric vehicles, and in energy storage for commercial and residential battery storage systems, SurLok Plus is a reliable alternative to common compression lugs.
Click here to learn more.
---
Selection tips for rodless electromechanical and electric rod actuators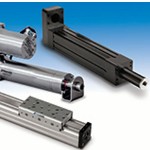 When you specify a linear actuator, some basic decisions come first. Do you go with electric or fluid-powered? Do you need the push/pull of an electric rod actuator or the load-carrying action of a rodless electromechanical actuator? Aaron Dietrich from Tolomatic may have your answer. Dietrich has compiled some very good tips for selecting these actuator types.
Learn about selecting linear actuators.
---
LED controller for automotive lighting designs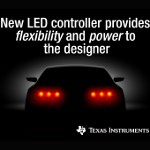 Texas Instruments (TI) has introduced the first 3-channel high-side linear automotive light-emitting diode (LED) controller without internal MOSFETs, which gives designers greater flexibility for their lighting designs. The TPS92830-Q1's novel architecture enables higher power and better thermal dissipation than conventional LED controllers, and is particularly beneficial for automotive LED lighting applications that require high performance and reliability. The LED controller's flexible on-board features give designers the freedom to select the best MOSFET for their system requirements. With this new approach, designers can optimize their lighting power designs more quickly and efficiently for automotive system requirements and desired dimming features.
Click here to learn more.
---
Filter fan kits with louvered sliding and hinged guards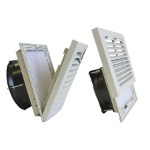 Orion Fans has expanded the industry's lowest cost louvered filter fan kit to include sliding (LFGS Series, push/pull) and hinged (LFGH Series, flip-up) guard versions. Made up of a louvered sliding or hinged fan guard, filter, fan, metal guard, and hardware, the heavy-duty louvered filter fan kits simplify installation and reduce maintenance time and costs. They are easy to open, with no tools required to access the filter. Compared to regular grills or guards, the louvered filtered guards provide ingress protection as well as protecting fingers from fan blades. Standard filtering to 8 microns and specialty filters are available. Louvered guards feature UV protection. Filter fan kits are available with 120-, 172-, 180-, 200-, 225-, and 280-mm fans.
Click here to learn more.
---
Cartridge fuse for cooking appliances, photovoltaic systems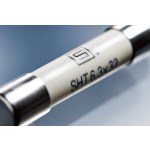 SCHURTER offers a robust, compact, and cost-effective cartridge fuse (part SHT) with increased breaking capacity and voltage ratings. The high breaking capacity up to 3,500 A at a nominal voltage of 250 VAC meets standards for commercial electric cooking appliances according to UL 197, while the 1,500 A at 500 VAC is suited for a broad range of industrial one- and three-phase systems such as photovoltaic systems and frequency converters for industrial automation. The fuse is also rated for DC applications up to 400 V.
Learn more about the SHT fuse.
Learn more about the SHT Pigtail fuse.
---
Alternatives to screws for compact electronics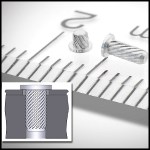 Aluminum and stainless steel microPEM TackSert pins from Penn-Engineering provide cost-effective alternatives to micro screws for attaching top panels to base panels or chassis in compact electronic assemblies. They will attach top panels of any material to a base or chassis manufactured from common cast metals (such as magnesium and aluminum) or plastics (such as ABS and printed circuit boards). The pins ultimately eliminate many of the costs and issues associated with screws and integrate unique design features, promoting reliable and effective performance.
Click here to learn more.
---
Two-way piloting solenoid valve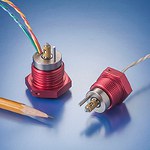 The Lee Company's new 2-way Piloting Solenoid Valve draws on the design elements of the company's ultra-compact and field-proven 3-way valve and provides a simplified flow path for applications requiring only two ports. MultiSeal technology radically simplifies port layout, offers significant space savings, reduces machining costs, and provides superior reliability over traditional sealing methods. Available biased either normally open or closed, and with lead wires or integral electrical connector, the single-coil 2-way Piloting Solenoid Valve weighs only 0.14 lb and consumes just 7.8 W at 28 VDC.
Click here to learn more.
---
Solving water leak inspection challenges on vehicle assembly lines

About 3% of new vehicles leave the factory with leaks large enough to cause mold growth and damage to expensive electronic components. ON Semiconductor and RFMicron have developed the Moisture Intrusion Detection System that automatically inspects vehicles for leaks at the end of the assembly process using battery-free wireless sensors at specific vehicle points to verify if those spots are wet or dry.
Read the full article.
---
Easy wire connection to PCB without wire soldering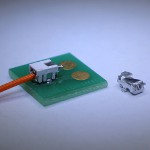 In the fast-growing LED/lighting market, lead wire is a major component used in connecting a board to a lighting module. The conventional method of manually soldering the wire to a board presents limitations that result in a complicated assembly process and an unstable connection. Yokowo's new one-action Lead Socket Connector, however, eliminates wire soldering and allows users to easily plug the lead wire into the socket. A two-contact lock structure ensures a reliable connection. Applications for the Lead Socket Connector include LED lighting, LCD television backlights, tablets, PCs, and any device where a lead wire must be soldered onto a PCB.
Click here to learn more.
---
More than illuminating: Researchers steer the flow of electrical current with spinning light
Light can generate an electrical current in semiconductor materials. This is how solar cells generate electricity from sunlight and how smart phone cameras can take photographs. To collect the generated electrical current, called photocurrent, an electric voltage is needed to force the current to flow in only one direction.
In new research, scientists at the University of Minnesota used a first-of-its-kind device to demonstrate a way to control the direction of the photocurrent without deploying an electric voltage. The new study was recently published in the scientific journal Nature Communications.
The study reveals that control is effected by the direction in which the particles of light, called photons, are spinning -- clockwise or counterclockwise. The photocurrent generated by the spinning light is also spin-polarized, which means there are more electrons with spin in one direction than in the other. This new device holds significant potential for use in the next generation of microelectronics using electron spin as the fundamental unit of information. It could also be used for energy-efficient optical communication in data centers.
"The observed effect is very strong and robust in our devices, even at room temperature and in open air," said Mo Li, a University of Minnesota electrical and computer engineering associate professor and a lead author of the study. "Therefore, the device we demonstrate has great potential for being implemented in next-generation computation and communication systems."
Optical spin and topological insulators
Light is a form of electromagnetic wave. The way the electric field oscillates, either in a straight line or rotating, is called polarization. (Your polarized sunglasses block part of the unpleasant reflected light that is polarized along a straight line.) In circularly polarized light, the electric field can spin in the clockwise or counterclockwise direction. In such a state, the particle of light (photon) is said to have positive or negative optical spin angular momentum. This optical spin is analogous to the spin of electrons, and endows magnetic properties to materials.
Recently, a new category of materials, called topological insulators (TI), was discovered to have an intriguing property not found in common semiconductor materials. Imagine a road on which red cars only drive on the left lane, and blue cars only in the right lane. Similarly, on the surface of a TI, the electrons with their spins pointing one way always flow in one direction. This effect is called spin-momentum locking -- the spin of the electrons is locked in the direction they travel.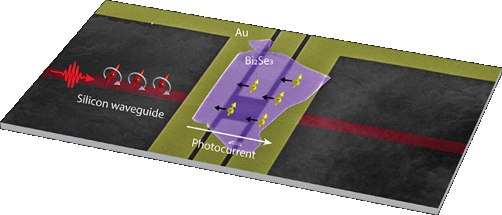 This image shows a false-colored electron microscope image of the University of Minnesota device. The blue area marks the topological insulator on top of the optical waveguide in red. [Credit: University of Minnesota]
Interestingly, shining a circularly polarized light on a TI can free electrons from its inside to flow on its surface in a selective way, for example, clockwise light for spin-up electrons and counterclockwise for spin-down electrons. Because of this effect, the generated photocurrent on the surface of the TI material spontaneously flows in one direction, requiring no electric voltage. This particular feature is significant for controlling the direction of a photocurrent. Because most of the electrons in this current have their spins pointing in a single direction, this current is spin-polarized.
Controlling direction and polarization
To fabricate their unique device that can change the direction of a photocurrent without the use of an electric voltage, the University's research team integrated a thin film of a TI material, bismuth selenide, on an optical waveguide made of silicon. Light flows through the waveguide (a tiny wire measuring 1.5 microns wide and 0.22 micron high) just like electrical current flows through a copper wire. Because light is tightly squeezed in the waveguide, it tends to be circularly polarized along a direction normal to the direction in which it flows. This is akin to the spin-momentum locking effect of the electrons in a TI material.
The scientists supposed that integrating a TI material with the optical waveguide will induce strong coupling between the light in the waveguide and the electrons in the TI material, both having the same, intriguing spin-momentum locking effect. The coupling will result in a unique optoelectronic effect: light flowing along one direction in the waveguide generates an electrical current flowing in the same direction with electron spin polarized. Reversing the light direction reverses both the direction of the current and its spin polarization. And this is exactly what the team observed in their devices. Other possible causes of the observed effect, such as heat generated by the light, have been ruled out through careful experiments.
Future prospects
The outcome of the research is exciting for the researchers. It bears enormous potential for possible applications.
"Our devices generate a spin-polarized current flowing on the surface of a topological insulator. They can be used as a current source for spintronic devices, which use electron spin to transmit and process information with very low energy cost," said Li He, a University of Minnesota physics graduate student and an author of the paper.
"Our research bridges two important fields of nanotechnology: spintronics and nanophotonics. It is fully integrated with a silicon photonic circuit that can be manufactured on a large scale and has already been widely used in optical communication in data centers," he added.
This research was funded by the Center for Spintronic Materials, Interfaces and Novel Architectures (C-SPIN) at the University of Minnesota, a Semiconductor Research Corporation program sponsored by the Microelectronics Advanced Research Corp. (MARCO) and the Defense Advanced Research Projects Agency (DARPA), and the National Science Foundation (NSF).
Source: University of Minnesota College of Science and Engineering
Published February 2018
Rate this article