Army hydrogen fuel-cell Chevy pickup takes on training in Hawaii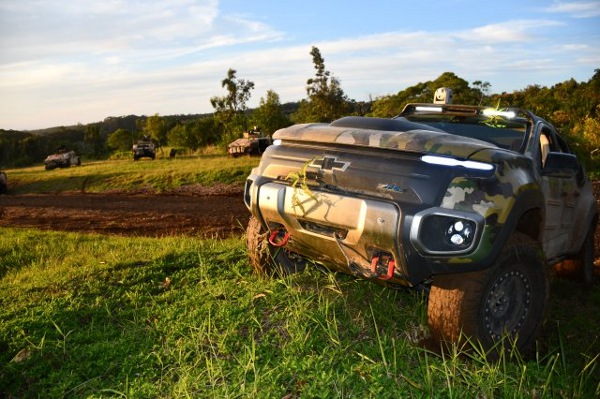 [Photo Credit: Mr. Jerome Aliotta (TARDEC)]
By Jerome Aliotta, TARDEC
Soldiers from the 25th Infantry Division put the Army's ZH2 fuel-cell electric vehicle through the rigors of operating in jungle terrain during a training exercise here at Schofield Barracks in Hawaii in late January.
Soldiers evaluated the Chevrolet Colorado ZH2's operational effectiveness during multiple reconnaissance missions as a notional friendly "blue" force (BLUFOR) and "opposition" force (OPFOR) vehicle asset. They provided feedback on its fuel-cell technology and the capabilities it offers.
The U.S. Army Tank Automotive Research, Development and Engineering Center (TARDEC) leveraged General Motors' fuel-cell and off-road vehicle technology investments and commercial off-the-shelf products to develop the ZH2 demonstrator. TARDEC has been collecting data and Soldier feedback on the ZH2's capabilities for more than a year as part of the Army's effort to bring advanced vehicle systems, technology, and critical capabilities to the warfighter quickly. Previous ZH2 evaluations involved Soldiers at the squad and platoon levels, while this latest exercise involved an entire battalion-sized element.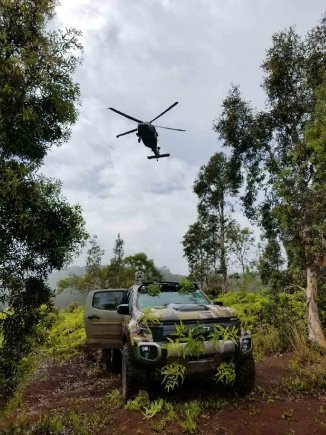 [Photo Credit: Mr. Jerome Aliotta (TARDEC)]
"The ZH2 is more than just a hybridized vehicle. It's really a leap ahead as we look at solutions we're trying to get on the battlefield particularly applicable to reconnaissance and security organizations," said Lt. Col. Tim Peterman, 2nd Squadron Commander, 14th Cavalry Regiment.
The ZH2, fitted with a hydrogen fuel cell and electric drive, has a stealthy drive system that produces a very low smoke, noise, odor, and thermal signature. This allows Soldiers to conduct silent watch and silent mobility missions on the battlefield.
"I think the technology is very useful, and implementation of it could make a positive impact to the cavalry squadron, enabling us to be on the move silently, find the enemy, and kill the enemy undetectable at close range," said Capt. Quinn Heydt, 2nd Squadron assistant operations officer.
To start the training exercise, the ZH2, which generates 25 kilowatts (kW) of continuous power or 50 kW of peak power when not in motion, was used to export power to the entire squadron Tactical Operations Center (TOC). The ZH2 is capable of exporting both 120-V and 240-V AC power for off-board use.
"The ZH2 provides an alternative power source other than generators, which are very loud and at times difficult to maintain and move based on the operating environment," Heydt said.
"The ability to power the Main Command Post with a silent energy source facilitates noise discipline, making it more difficult for us to be detected and also enables us to maintain a lower signature moving across the battlefield," he said.
The Army has leveraged more than $3 billion in GM research and development spent on fuel cell technologies over the last several decades.
"GM has been a terrific partner with the ZH2 program," said Brian Butrico, program manager and chief engineer for the TARDEC ZH2 hydrogen fuel cell electric vehicle program. "We've leveraged their existing designs and rapid prototyping capabilities, enabling us to collect valuable data from testing the military utility and technology readiness of hydrogen fuel-cell propulsion in our unique environments and use cases."
[Photo Credit: Mr. Jerome Aliotta (TARDEC)]
While electricity drives the ZH2 vehicle, the electricity doesn't come from storage batteries used in today's electric cars. The ZH2 generates electricity from highly compressed hydrogen stored in the vehicle combined with oxygen from the atmosphere through an electrochemical reaction.
Existing fuels such as gasoline, propane, JP8 (the Army's main petroleum fuel source), and natural gas can also be used to produce hydrogen. TARDEC and other Department of Defense entities are researching and comparing the costs and benefits for each energy source to determine which is most effective and efficient for various areas of operation within the continental United States and abroad.
"With the ZH2 demonstrator, we were certainly able to validate the durability and reliability of the fuel cell. The fuel cell itself has been extraordinarily reliable," Butrico said.
"We've been able to show with an operations tempo and a mission profile that includes a lot of idle time that the efficiency of fuel cells far exceeds any of the conventional vehicles that we were comparing it to such as HMMWV, MRZR, or Dagor vehicles," he said.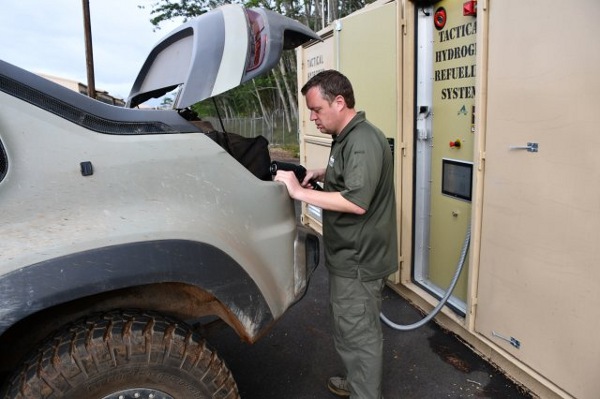 [Photo Credit: Mr. Jerome Aliotta (TARDEC)]
The next step for the program involves investigating different applications for hydrogen fuel-cell technology for stationary generators and for existing vehicles such as those used for special operations and for medium to heavy tactical use.
"In the future, I believe the hydrogen fuel cell could be implemented into a larger scale system, the Stryker, for example, or other heavy combat vehicles, and make them more stealthy, more silent, and more capable than any other fuel vehicles we have today," said 2nd Lt. Justin Jung, also from 2nd Squadron.
The Army is currently conducting more extensive modeling and simulation for the logistics and supportability of hydrogen, Butrico said.
"How do we produce, store, transport, and distribute hydrogen on the battlefield?" he said. "What are the cost implications of hydrogen technology in various applications and phases of major combat operations?"
The ZH2 has undergone previous Soldier evaluations in real-world field conditions at Fort Bragg, NC, and Fort Carson, CO, where Soldiers gave high marks to the ZH2's off-road maneuverability to negotiate rough and steep terrain and its ability to produce high torque at low speeds. Another key advantage they cited was the ability of the vehicle's hydrogen fuel cell to produce two gallons per hour of potable water.
Going forward, Jung believes research labs should focus on producing portable hydrogen fuel cells.
"In future military operations, having fuel cells small enough for Soldiers to carry in the field that can be used to recharge batteries used for night vision goggle systems, thermal cameras, crew systems, or any UAV assets would be amazing," he said.
SIDEBAR: A look back at the ZH2 from its unveiling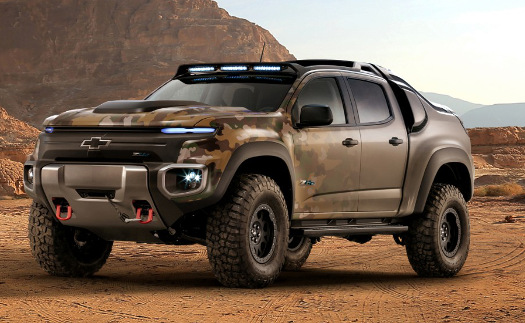 [All images courtesy GM for sidebar]
The almost video-game-like Chevrolet Colorado ZH2, the most extreme off-road-capable fuel-cell-powered electric vehicle ever from General Motors, was revealed Oct. 3 at the 2016 Annual Meeting and Exposition of the Association of the United States Army (AUSA) in Washington, D.C.
Standing more than 6.5 ft tall and more than 7 ft wide, and built on a stretched midsize pickup chassis, the hydrogen-powered Colorado really has gone commando. Reinforced inside and out, the ZH2 rides on 37-in. tires and a specially modified suspension that helps the vehicle climb over and descend all manner of terrain.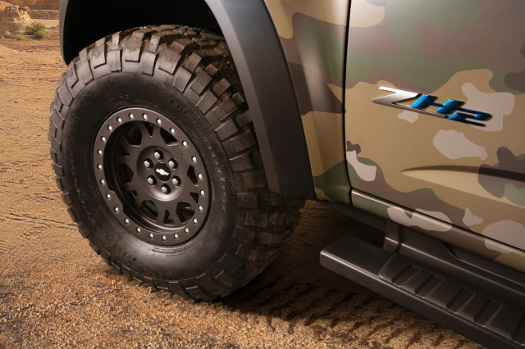 The U.S. Army is testing the Colorado ZH2 in extreme field conditions to determine the viability of and capabilities that a fuel-cell electric powertrain can bring to the military, including quieter mobility, exportable power generation, low-end torque, and water generation.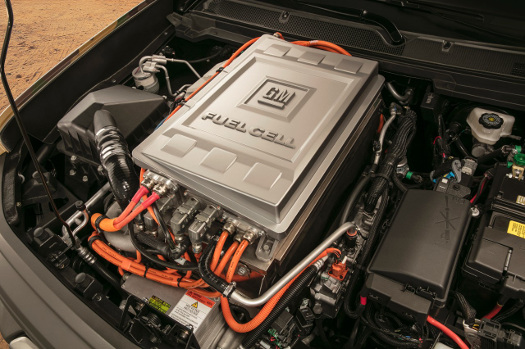 The fuel-cell system under the power dome hood of the Chevy Colorado ZH2 has accumulated more than 3.1 million miles of real-world driving by civilian and military operators and is ready for extreme off-road testing as a U.S. Army demonstrator.
Alan Adler, Global Advanced Technology Communications, General Motors, told Designfax: "The ZH2 holds 4.2 kg of gaseous hydrogen in three onboard tanks. The hydrogen is converted to electricity onboard. Because of the low-end torque capability across the range, the ZH2 will travel about 140 miles on a hydrogen fill-up (10,000 psi/700 bar)."
The Army demonstrator Colorado ZH2 features an Exportable Power Take-Off unit (EPTO) that allows the fuel cell to power activity away from the vehicle, such as remote locations where electric power may otherwise be unavailable.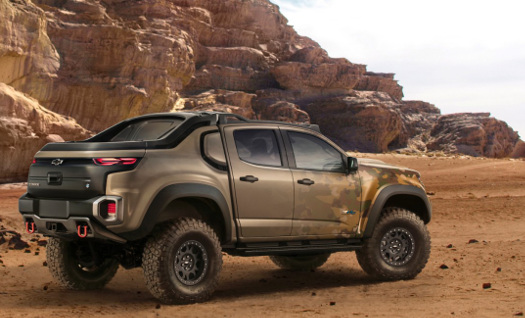 GM and the U.S. Army Tank Automotive Research, Development and Engineering Center (TARDEC) collaborated to develop the Colorado ZH2 from contract to concept in less than a year.
"Fuel cells have the potential to expand the capabilities of Army vehicles significantly through quiet operation, exportable power, and solid torque performance, all advances that drove us to investigate this technology further," said Paul Rogers, director of TARDEC.
The Army is evaluating the ZH2 fuel cell for:
Near-silent operation enabling silent watch capability;
Reduced acoustic and thermal signatures;
High wheel torque at all speeds via electric drive;
Low fuel consumption across operating range; and
Water by-product for field uses.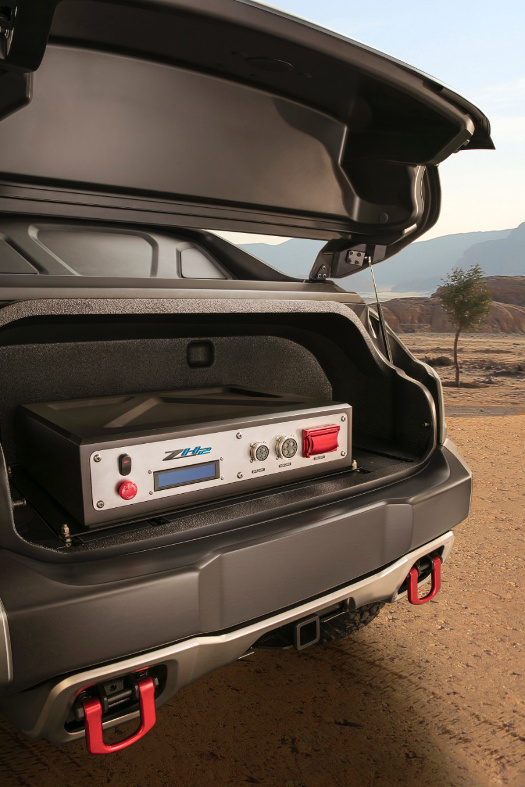 Inside the rear hatch of the Chevrolet Colorado ZH2 is an Electric Power Takeoff unit capable of providing 25 kW of consistent electric power away from the vehicle, such as remote locations where electric power may not be available.
Kevin Centeck, team leader for Non-Primary Power Systems, Ground Vehicle Power and Mobility Directorate, TARDEC, said that this -- and future vehicles like it -- have many advantages for Soldiers in combat.
First, the ZH2 operates on hydrogen fuel instead of traditional diesel. It uses a lot less fuel than traditional tactical vehicles, he said. At idle, it is "extremely efficient." This should reduce the logistics train.
Second, since the vehicle uses hydrogen with electric power, it has "an extremely low acoustic signature," Centeck said, meaning it's very quiet. "It's silent mobility, silent watch," he added. "You don't give away your position by turning on the engine" or hearing the diesel engine while driving.
Third, the ZH2 has a radically reduced thermal signature because it doesn't operate as hot as a diesel engine. This gives additional stealth for Soldiers, since the heat signature is harder to pick up by enemy thermal sensors, he said.
A fourth, less-direct, but nonetheless important advantage, Centeck said, is the Army wanted to demonstrate that a vehicle of this type could be built rapidly using mostly off-the-shelf parts. This took just one year from concept to delivery. The vehicle itself is basically a Chevy Colorado platform.
Centeck called the development of the vehicle a "collaborative effort" between TARDEC and GM, with collaboration on evaluations and fuel-stack testing.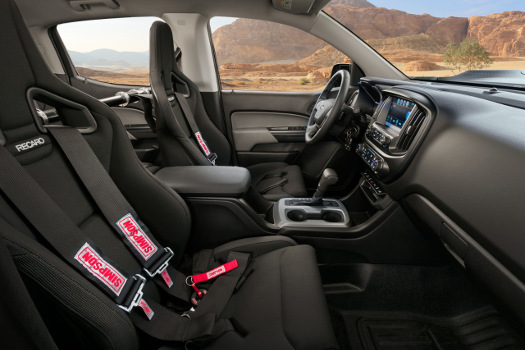 We doubt that the 2+2 interior of a final military production vehicle, if there ever is one, will feature benefits like Recaro seats, but they sure look sweet on the prototype.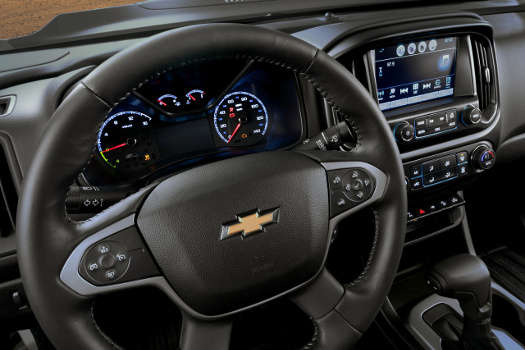 GM and TARDEC have fuel-cell development laboratories located 20 miles apart in southeast Michigan. Most of the Colorado ZH2 was assembled in GM's Advanced Vehicle Integration facility in Warren. Calibration testing at GM's Milford Proving Ground continued into early 2017. After that, the vehicle was turned over to the Army for field testing.
"We expect to learn from the Army the limits of what a fuel-cell propulsion system can do when really put to the test," said Charlie Freese, executive director of GM Global Fuel Cell Activities.

VIDEO: Time-lapse sequence of Chevrolet Colorado ZH2 assembly.

Delivery of the ZH2 from GM to the Army took place April 1, 2017.
Following initial delivery, user evaluations took place with Soldiers at Fort Benning, GA; Fort Bragg, NC; and, Fort Carson, CO.
The long-term user evaluation process will be rigorous, Centeck said. It will include subjective feedback from Soldiers as well as objective feedback in order to get a full data set. Over the course of the next few years, the Army will look to see how it can best support hydrogen supply in the field, he said. Department of Energy tacticians and logisticians will help conceptualize this and help provide a plan.
In June 2016, the U.S. Navy unveiled a GM fuel cell-powered Unmanned Undersea Vehicle (UUV) that is currently in pool testing before eventual deployment. The UUV leverages GM fuel-cell technology common with the Colorado ZH2, demonstrating the flexibility to power a range of mobile and stationary devices.
"Hydrogen is very common and can be taken from many sources, including renewables," said GM's Adler. "GM has more than 3.1 million miles of real-world driving through our Project Driveway program in which a fleet of 119 Chevrolet Equinox FCEVs were driven for several weeks at a time by more than 5,000 people. The system in the ZH2 is the same as the Equinox. The next-generation system will be dramatically smaller, lighter, and use far less platinum as a catalyst. A range of 300 to 400 miles is well within reach."
Sources: Compiled from reports by General Motors, U.S. Army ("Army, GM unveil new tactical hydrogen vehicle" by David Vergun, 10/6/2017), Designfax reporting
Published March 2018
Rate this article