Honda preps Mean Mower V2 to reclaim world's fastest lawnmower title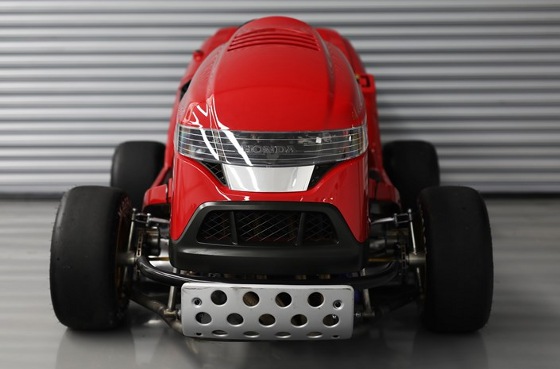 Revenge is sweet, and Honda (UK) is planning on getting a big taste of it later this summer. That's when they will attempt to win back the title for building and running the world's fastest lawnmower. Their target speed? A jaw-dropping 150 mph -- but they only need 134 mph to clinch the record. Now doesn't that make yardwork more exciting?
Honda clinched the title in 2013 when their original Mean Mower, fitted with a Honda VTR Firestorm (SuperHawk) motorcycle engine, hit an average speed of 116 mph over the course of two straight-line 100-m runs [read Designfax story here], but they were bested by Austria-based gardening power tool manufacturer VIKING in 2015. Sporting a 408-hp Corvette V8, the converted VIKING T6 Series lawn tractor posted a combined average speed of 133.5 mph. Take that!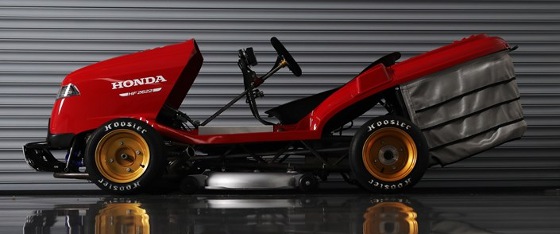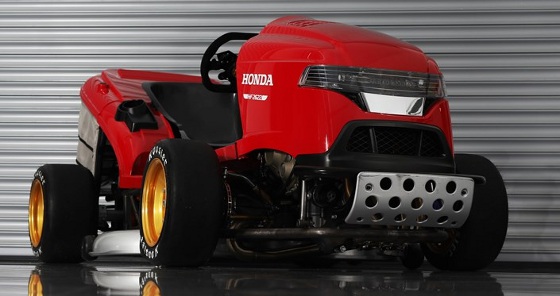 But Team Dynamics, Honda's British Touring Car Championship partner and the team behind the original Mean Mower, is confident they are up for the new challenge. Their Mean Mower V2 packs almost double the power of the original. It features more bespoke parts and advanced materials, and its designers and builders have taken advantage of CAD design and 3D printing.
Key to the competition, which is verified by Guinness World Records, is that the mower retain the overall look of a basic riding mower and that it can still cut grass. The Mean Mower V2 has those points covered. The modified Honda HF 2622 lawn tractor retains the standard-look fiberglass front cowl, body panels, and a fabric grass bag (although the heat-tolerant bag hid additional equipment on the original Mean Mower, like the fuel tank, air coolers, and an extra radiator -- this time around we expect no different). As for its cutting ability, slight revisions were made to the cutter deck to house the chain running to the rear tires, and two batteries were added to power electric motors that spin carbon fiber blades to mow (mowing speed tops out around 15 mph -- the builders aren't completely nuts, after all).
Mean Mower V2's engine is a 999-cc four-cylinder unit taken from Honda's high-performing CBR1000RR Fireblade SP motorcycle. It produces more than 190 hp at 13,000 rpm. The Fireblade parts and design cues carry over into this machine, including clutch, ECU, six-speed drive train, and full-color LCD display. The programmable quick-shift gear system provides precise and responsive shift through magnetic carbon paddles on the steering wheel. The team estimates that this new mower could reach 90 mph in first gear. It does 0 to 60 in under 3 seconds.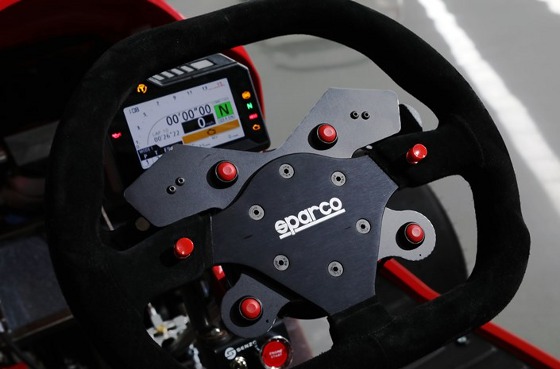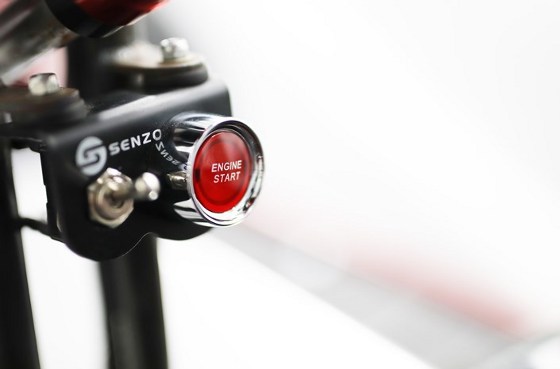 The majority of Mean Mower V2 required custom design and manufacturing. The chassis was made from T45 steel rather than chromoly for durability and flexibility, which was crucial given that this mower has no suspension. The mower also boasts Scorpion custom headers, exhaust, and silencer in titanium. The project was ripe with challenges. In one case, when the airbox wouldn't fit under the cowl because the injectors were in the way, the builders 3D printed an airbox to fit.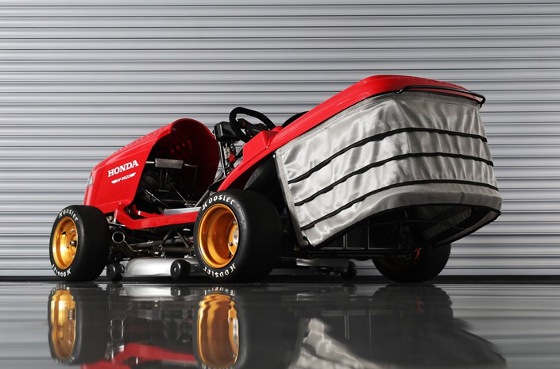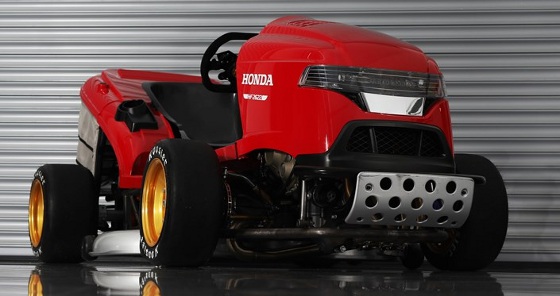 And then there was the matter of how to stop the hot-rod clipper. Kelgate brakes (vented to increase airflow and reduce weight) were the answer: four-piston callipers with drilled titanium-coated pistons in the front and six-piston callipers in the rear.
Goldspeed 10-in. ATV wheels anodized in gold match the Fireblade look, with special-order Hoosier racing tires providing the grip.
This time around, 23-year-old Jess Hawkins, an experienced kart and race car driver (and a stunt driver in a touring "Fast & Furious" Live show), will drive the Mean Mower V2. When will that happen? Honda isn't saying. But since they paraded the souped-up mower at the Goodwood Festival of Speed in the southern U.K. just a few weeks ago for its public reveal, we bet the attempt will be made really soon. Stay tuned.
Top Gear has some more details and build pictures here.
Mean Mower win in 2013

Current champion VIKING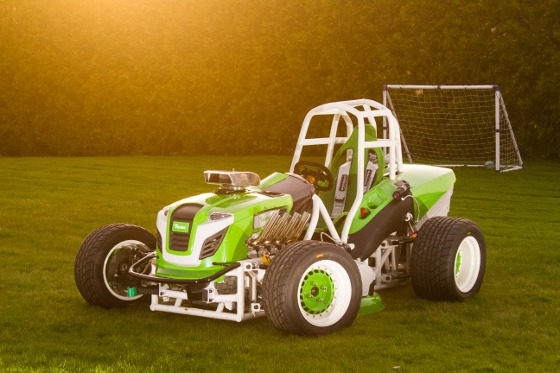 The 408-hp VIKING lawn tractor, made by Austria-based gardening power-tool manufacturer VIKING, is the current world's fastest lawn mower. It is fitted with a V8, a Formula 1 paddle shift, and Formula 3 tires. The area that normally holds lawn clippings was converted to hold the fuel tank and a cooling system. Yes, it still cuts grass (that's part of the rules), but it borders on overdone go-kart styling when compared to the Honda Mean Mowers.
VIDEO: The VIKING lawn tractor reached almost 134 mph at Sandefjord Airport in Norway in 2015.
Sources: Honda (UK), VIKING
Published: July 2018
Rate this article