Experts answer questions about retaining rings and wave springs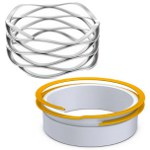 Every year, hundreds of technical questions are submitted through Smalley's "Ask the Expert" page. The company's team of engineering experts answers the questions directly, but they also post them in a blog for sharing. This selection addresses some commonly asked questions about retaining rings and wave springs. Very useful info.
Read the full article.
---
Lube nozzles oil the wheels of aviation gearboxes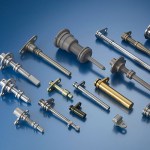 Gearboxes used in aviation and other similar demanding applications are specially designed, held to tight tolerances, and require precise and reliable lubrication. This is in contrast to how gearboxes in heavier, more industrial applications tend to be immersed in lubricant without the need for targeted lubrication. The delivery of precise, highly accurate (and in some cases screened lubricants) is usually provided by lube nozzles. The Lee Company, with over 70 years of experience in precision fluid control, is able to offer special nozzle designs to meet most requirements. Safety screens can be added for additional protection.
Click here to learn more.
---
Tech Tip: Why use flame-resistant adhesives?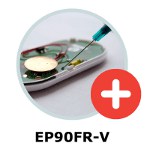 Learn about the benefits of flame-retardant adhesive and potting systems, including how they mitigate the risks associated with smoke, toxicity, and flames. Several Master Bond epoxies have been formulated to meet the stringent UL94V-0 specification and pass the horizontal/vertical burn test per FAR standard 14 CFR 25.853 (a). These products feature non-halogenated fillers, have low smoke emissions, and are self-extinguishing.
Learn more.
---
Protect internal threads during paint and powder coating processes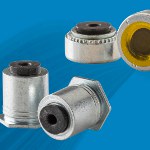 New PEM PreTect thread masking plugs from Penn-Engineering will protect internal threads of self-clinching nuts and standoffs during paint and powder coating processes. The pre-installed silicone masking plugs -- supplied already in place -- have been designed for self-clinching blind standoffs, thru-hole standoffs, and nuts in thread sizes #4-40 to 1/4-20 and M3 to M6. Plugs can be augmented for thru-hole fastener types with a specially engineered stretched polyester film offering thread protection on the side opposite the plug. Plugs and film can be removed easily using a fine tip tool when processes are completed.
Learn more.
---
New 3M tape tackles high-temp fastening applications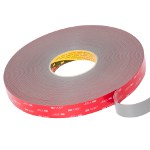 Since 1980, 3M VHB Tapes have opened the door to faster and easier assemblies. Now, the new GPH series from 3M combines the extreme, permanent bonding power and convenience of 3M VHB Tapes with high-temperature resistance. It can withstand operating temperatures up to 450 F, with long-term durability in conditions up to 300 F. Users will experience excellent adhesion to high and medium surface energy materials, as well as coated or painted surfaces. 3M VHB Tapes, including the new GPH series, replace traditional mechanical fasteners, subsequently eliminating processes like drilling, grinding, refinishing, screwing, welding, and associated rework/clean-up.
Click here to learn more.
---
Top Tech Tip: Balanced retaining rings

Smalley's balanced feature statically balances the retaining ring. A series of slots, opposite the gap end, account for the missing material in the gap. This characteristic is very useful when the balance of the assembly is critical and it is necessary to reduce eccentric loading.
Request your free samples today!
---
Belt conveyor design program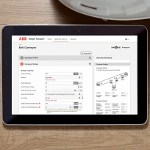 ABB's new web-based Dodge Passport design tool allows users to select, quote, and order conveyor pulley assemblies complete with shafting and mounted bearings for bulk material-handling applications. Real-time pricing and availability enable customers to make cost-effective selections of readily available components. After selections are complete, Passport's add-to-order capability lets customers seamlessly convert selections into orders via the PT Place e-commerce platform.
Learn more.
---
Updated grippers for plastic materials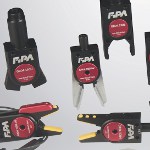 FIPA has upgraded its proven product line of sprue grippers for handling plastic material. The Series 90, 100, and 130 grippers now bear the red FIPA dot, which makes the gripper components immediately identifiable in installations. The Series 90 grippers reliably grip small sprues due to their high closing force, wide jaw opening, and compact design, while the Series 100 grippers are designed to securely grip medium to large sprues. The Series 130 grippers feature strong gripping force and a wide jaw opening, making them ideal for large sprues. FIPA grippers have a long life cycle due to their high-strength aluminum alloy housing and jaws, with a durable, corrosion-resistant anodized coating. FIPA also offers grippers with and without "part present" monitoring.
Learn more.
---
Inserts for plastic assemblies provide reusable metal threads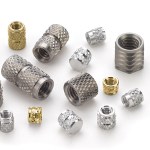 SI inserts from Penn-Engineering permanently install in plastic assemblies to provide durable and reusable metal threads for mating hardware and allow for repeated disassembly and re-attachment whenever required. By promoting quick and easy access to an assembly, SI inserts offer highly practical joining solutions in contrast to fixed and unyielding methods, such as adhesives or rivets. Repeated reuse will not damage the strong metal threads or compromise attachment integrity. Types include brass inserts and lead-free stainless steel and aluminum versions.
Learn more.
---
New food-grade high-performance PEEK polymers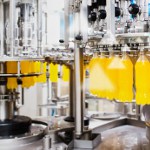 To help OEMs meet the stringent regulatory and quality demands affecting the food equipment industry, Victrex is introducing a dedicated PEEK food-grade portfolio. Compared to metal components, the new VICTREX FG family of high-performing thermoplastics offers additional benefits in terms of cost effectiveness, productivity, and performance for OEMs -- and the neutral taste expected by consumers. In addition, with the adoption of Industry 4.0 technology, VICTREX PEEK can offer food and beverage manufacturers the opportunity to optimize efficiency and reduce production costs, when compared to the use of metals.
Learn more.
---
Structural adhesive offers high-temperature stability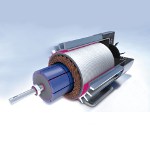 DELO MONOPOX HT2860 achieves up to three times the strength at a temperature of 150 C compared to previous product generations. Ideal for bonding magnets in electric motors used in cars, drilling, milling tools, washing machines, as well as in many other applications, this new adhesive has a glass transition temperature (Tg) of 168 C. It achieves a strength of 18 MPa on sand-blasted aluminum at 150 C. This is up to three times higher than standard epoxy resins. The versatile epoxy resin can be heat-cured in an oven for 40 minutes at 150 C or by induction.
Learn more.
---
How specialized coatings can make mechanical parts harder for extreme industrial applications
Although bearings, gears, rollers, and other precision components are generally made of hardened steel or metal alloys, those used in high-load applications still can fail due to excessive wear, surface fatigue, pitting, galling, and corrosion. To address this problem, product engineers and component manufacturers often turn to specialized PVD (physical vapor deposition) coatings that can further harden the surface of these parts. Oerlikon Balzers provides solid solutions.
Read the full article.
---
Stainless steel multiple-joint hinges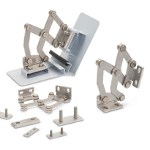 JW Winco now offers GN 7237 Stainless Steel Multiple-Joint Hinges with internal mounting brackets and a maximum opening angle of 180 deg. These multi-joint hinges are installed on the inside of flaps, hatches, or compartment doors to save space and ensure protection against vandalism. These hinges are generally used in pairs, meaning that one type L (left-hand) and one type R (right-hand) are used per opening. For higher loads, such as from large hatches, these can be supplemented with additional hinges of either type.
Learn more.
---
Automated formed-in-place gasket foam process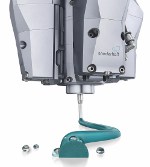 Formulated to conform to highly intricate metal and plastic components, Fermapor K31 from Sonderhoff USA (now part of Henkel AG & Co.) is a product line of two-component, crosslinking polyurethane formed-in-place (FIP) foam sealants designed to create a barrier gasket that effectively protects industrial assemblies from moisture, dust, dirt, liquids, and other contaminants. Fermapor K31 products offer dramatic cost and performance advantages over prefabricated, manually applied cut gaskets. The technology effectively seals electrical and electronic housings, lighting enclosures, appliances, automotive components, and other contaminant-sensitive consumer and industrial assemblies.
Learn more.
---
New carbon fiber material for SAAM additive systems from Cincinnati Inc.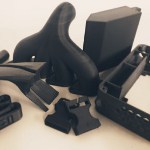 Cincinnati Inc. (CI) has released a new carbon fiber resin material for its SAAM (Small Area Additive Manufacturing) fused filament fabrication 3D-printing system. The new material is impact resistant, lightweight, and has a very high strength-to-weight ratio. Carbon fiber reinforcement makes the material stiff, durable, and very low warping -- and advanced inter-layer adhesion results in accurate, quality parts with good dimensions. The material's superior surface finish makes it perfect for custom tooling applications, as well as assembly, CMM, welding, and CNC fixtures.
Learn more about the carbon fiber material.
Learn more about Small Area Additive Manufacturing system.
---
Hydrogen power in a bottle for on-the-go use: Army plans to license nanogalvanic aluminum powder discovery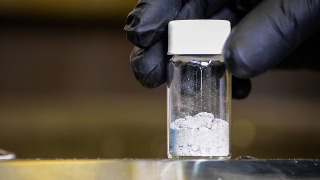 The U.S. Army Research Laboratory's nanogalvanic aluminum powder for hydrogen generation. [U.S. Army photo by David McNally]
The U.S. Army Research Laboratory plans to license its discovery of a nanogalvanic aluminum powder for hydrogen generation.
Army researchers at Aberdeen Proving Ground in Maryland have developed a novel, structurally stable, aluminum-based nanogalvanic alloy powder that, when combined with water or any water-based liquid, reacts to produce on-demand hydrogen for power generation without a catalyst.
"This powder-based alloy includes material that disrupts the formation of an encapsulating aluminum oxide layer, allowing for the continuous production of hydrogen that can be used at the point of need to power a wide range of devices via fuel cells and internal combustion," said Dr. Anit Giri, a scientist with the lab's Weapons and Materials Research Directorate. "The powder can be easily manufactured to scale, and can be conveniently and safely transported via tablets or vacuum pouches, thus eliminating reliance on high-pressure hydrogen cylinders."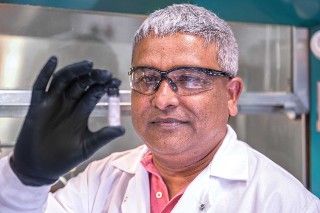 Dr. Anit Giri, a scientist with the U.S. Army Research Laboratory, observes a sample of a unique aluminum nanomaterial powder that reacts with water to produce hydrogen. [U.S. Army photo by David McNally]
ARL will be posting a Federal Register Notice and launching a supporting website inviting companies to submit their ideas on how best to commercialize this technology. The laboratory will then select the most appropriate partners and collaborators. Officials said license exclusivity will then be determined.
Researchers said the powders has many advantages, including:
Energy and Power Source
Stable Alloy Powder
Non-Toxic
Environmentally Friendly
Hydrogen Emitting
Manufacture to Scale
Easily Transportable
Army researchers discovered the unique properties of the nanopowder while investigating aluminum alloy compositions for other purposes. The researchers, from the lab's Lightweight and Specialty Metals Branch, made the serendipitous discovery that at least one of these compositions can, in the presence of water, spontaneously generate hydrogen -- rapidly and efficiently.
"The researchers have since demonstrated rapid hydrogen generation rates using powder and tablet forms of the alloy," said Branch Chief Robert Dowding. "The hydrogen has been shown to be useful for powering fuel cells and is expected to power internal combustion engines." The researchers are currently taking advantage of the innovation by characterizing the hydrogen generation rates and purity of the gas generated, Dowding said.
Army researcher Anthony J. Roberts inflates a balloon with hydrogen produced from a chemical reaction between water and an aluminum nanomaterial powder discovered at the U.S. Army Research Laboratory at Aberdeen Proving Ground, Maryland. [U.S. Army photo by David McNally]
"They are also examining the effects of compositional changes to the alloy and systematic changes in the microstructure of the powders," he said.
Giri said the discovery has many benefits and applications, such as simple manufacturing.
"The powder can be made using current manufacturing techniques from either pure or alloyed aluminum," he said. "The manufacturing process is easily scalable and it is also very fast -- with a 75-percent theoretical hydrogen yield in one minute at standard temperature and pressure, and 100-percent theoretical yield in three minutes."
The nanopowder is also extremely efficient. Giri said 1 kg of powder can generate 4.4 kWh of energy -- enough to power 10 60-W incandescent light bulbs for more than seven hours or the equivalent LED bulbs for over 50 hours.
The material can be in powder or tablet form and be combined with any available water-based liquid to provide hydrogen on demand, at the point of need.
The discovery eliminates reliance on high-pressure cylinders, Giri said.
"It's easy to transport and store via tablets or vacuum-sealed pouches with no inherent inhalation risk," he said. "The powder is also environmentally friendly. Its by-products are stable and non-toxic. Finally, it's a versatile hydrogen source with direct combustion for vehicular power, to use in fuel cells to power any electronic device, and could potentially be used in 3D printing/additive manufacturing to create self-cannibalizing robots/drones."
In order to support a better understanding of the material, the laboratory established a website to showcase details on the technology and a review the process that will culminate in the granting of a patent license(s) around September 2018.
On this website, visitors can register their interest to be contacted about further developments, post general questions, and download background technical information, as well as templates for all the required documents that will be used throughout the process.
For further information, click here.
"The Federal Register announcement is a significant step forward in the transition of power to the Soldier in the field, where it will become available on demand at the point of need," Dowding said.
Source: U.S. Army Research Laboratory
Published July 2018
Rate this article