Universal Robots' 25,000th cobot sold is gold edition awarded to customer at IMTS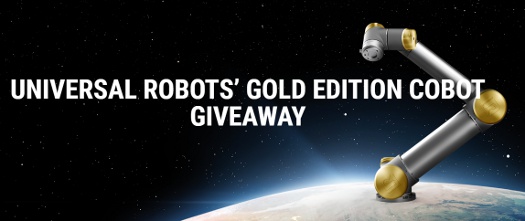 To celebrate the sale of 25,000 cobots worldwide, Universal Robots gave away its first and only Gold Edition cobot to the lucky customer who ordered the 25,000th cobot. With its joints painted in a rich, gold-colored finish, this Gold Edition unit proved to be a refreshing take on Universal Robots' iconic blue-and-grey UR3, UR5, and UR10 cobots.
Universal Robots announced the celebration of this milestone on Sept. 10 in Chicago at a press conference at IMTS, the nation's largest manufacturing trade show. The recipient of the Golden Edition Cobot was Kay Manufacturing, a small precision machining company headquartered in Calumet City, outside Chicago.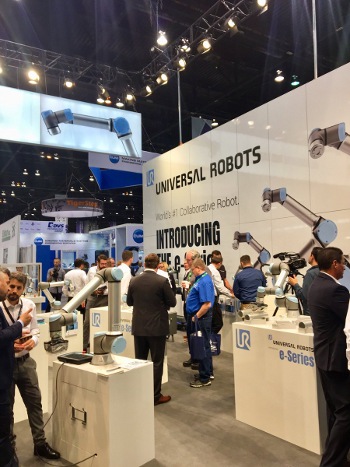 Universal Robots at IMTS 2018. [Image courtesy: UR]
"With this event, we celebrate not just the success of Universal Robots in empowering customers, but also the successes of our customers in innovating and changing their workplace with collaborative robots," said Jürgen von Hollen, president of Universal Robots. "The Gold Edition Cobot reflects our continued commitment towards making the unlimited potential of robotics accessible for all."
Since the launch of the first cobot in December 2008, Universal Robots' cobots have been utilized in industries ranging from food production to scientific research, taking on tasks that include industrial assembly, pick and place, and even quality inspections. The company is the global industry leader with the world's largest base of installed cobots.
Cobots are now the fastest growing segment of industrial automation, expected to jump tenfold to 34 percent of all industrial robot sales by 2025, according to the International Federation of Robotics.
Unlike conventional industrial robotic solutions that usually stay bolted down in cages dedicated to one task only, the UR cobots are designed to work hand-in-hand with operators on a wide range of tasks, opening up more opportunities for human-robot collaboration. Kay Manufacturing is using Universal Robots for end-of-line tasks, packaging, and palletizing parts off a conveyor. The company started to look into automation after it received an order that doubled its production output to over a million pieces per year. The engineering team first considered building a traditional automation cell, but after an internal review they concluded that build time, installation, robot programming, safety hardware requirements, and programming of all safety functional devices would be too costly and take far too long.
"A traditional cell would not justify our internal rate of return and would consume most of our facilities' technical resources," said Brian Pelke, president of Kay Manufacturing. "It was a non-starter."
Instead, the company looked into cobots from Universal Robots that don't require the same safety setup due to a built-in safety system in the robot arms that make them automatically stop once they encounter obstacles in their route. "We quickly realized that UR cobots were the most cost-effective option, requiring the least amount of technical resources," said Pelke, who estimates that each UR robot helps save $150,000 in annual labor costs. "UR has an impressive user interface and was easy to learn and to cross-train all of our personnel."
"The cobots didn't replace any employees, we were able to meet increased production demand with our existing work force, and we saved 20 minutes of operator time per hour -- all while improving our ergonomic work environment and freeing up our staff to handle more value-added tasks," added Pelke. "We look forward to putting our new golden cobot to work and expect our fleet of UR cobots to grow even further as our production expands."
Earlier this year, Universal Robots was honored with its own special award when its co-founder and CTO, Esben Østergaard, was presented the Engelberger Robotics Award -- often called the "Nobel Prize of Robotics" -- by The Robotic Industries Association for pioneering cobots.
Learn more about Universal Robots' cobots at www.universal-robots.com.
Source: Universal Robots
Published September 2018
Rate this article