Cool Tools:
New Raspberry Pi 3 Model A+ launched
Fans of the extremely popular credit card-sized computer called Raspberry Pi have something new to celebrate. The line of highly customizable base units has expanded with the third-gen A+ board, which brings the latest features and capabilities to a more compact form factor and lower price point -- only 25 bucks!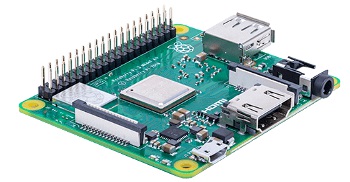 Besides students, hobbyists, and makers, the Raspberry Pi boards have become popular with professional engineers and product developers. In one extreme example, engineers at Los Alamos National Laboratory, home of the Trinity supercomputer, recently built a scalable high-performance supercomputer testbed system using thousands of Raspberry Pi units clustered together.
Like the Raspberry Pi 3 Model B+ launched earlier this year in March, the A+ boasts a 64-bit quad-core Broadcom BCM2837 processor running at 1.4 GHz, adding significant performance enhancements over the previous model. The board also adds dual-band wireless networking, delivering 2.4-GHz and 5-GHz IEEE 802.11ac wireless LAN and Bluetooth 4.2 with modular compliance certification. This allows the board to be designed into end products with significantly reduced compliance testing, improving both cost and time to market for professional developers.
"The launch of the Raspberry Pi 3 Model A+ fills a gap in the Raspberry Pi product line and upgrades our most competitively priced board with the power and processing speed of the Raspberry Pi 3 Model B+," says Eben Upton, CEO of Raspberry Pi Trading. "This board is ideal for use by educators and makers, for whom multiple USBs, Ethernet connectivity, and 1GB of RAM may not be a requirement; it also presents a cost-effective option for professional use, offering with the same modular compliance certification as the Raspberry Pi 3 Model B+. Users will of course benefit from the many communities and forums dedicated to the Raspberry Pi, meaning that they can learn, create, and bring products to market faster than ever before."
The Raspberry Pi 3 Model A+ has the same mechanical footprint as the Raspberry Pi 1 Model A+ and will be produced until at least January 2023.
Additional features of the Raspberry Pi 3 Model A+ include:
512MB LPDDR2 SDRAM.
Extended 40-pin GPIO header.
1 × full-size HDMI, MIPI DSI display port, MIPI CSI camera port, 4-pole stereo output, and composite video port.
H.264, MPEG-4 decode (1080p30); H.264 encode (1080p30); OpenGL ES 1.1, 2.0 graphics.
Micro SD format for loading operating system and data storage.
5 V/2.5 A DC via micro USB connector, 5 V DC via GPIO header.
Availability
Some shops are not selling the new board until Nov. 28. Well, good things come to those who wait! This unit could also make a great holiday gift or stocking stuffer for that little (or big) engineer in your life. Don't forget the accessories! [See "Top Raspberry Pi accessories for makers," Designfax, March 13, 2018]
Newark element14: Currently unavailable, but check back. (Note: Their website has a lot of accessories and also a lot of resources, including videos, how-tos, and a Projects and Ideas section)
www.newark.com/buy-raspberry-pi
Chicago Electronic Distributors: Shipping immediately.
https://chicagodist.com/products/raspberry-pi-3-model-a?src=raspberrypi
Micro Electronics (Micro Center): Available Nov. 28, 2018 -- in-store only (stores in many states) UPDATE: We saw this for $19.99 on this site March 16, 2019.
www.microcenter.com/product/514076/3-model-a-board?src=raspberrypi
PiShop.us: One per customer -- Available for order soon
www.pishop.us/product/raspberry-pi-3-model-a-plus-512mb-ram/?src=raspberrypi
You can also usually find the new-release boards on sites like ebay, but note that you will pay a (sometimes hefty) premium.
Good luck!
Sources: Newark element14, Raspberry Pi Foundation
First published November 2018, republished March 19, 2019
Rate this article