2,304 motors: LEGO engineers build life-size drivable Bugatti Chiron
Edited by Mike Foley, Designfax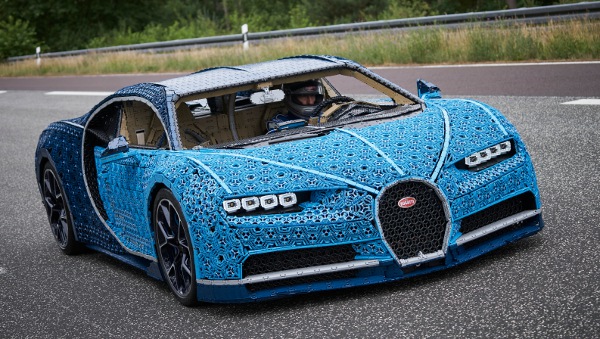 Nope, it's not a late April Fool's joke. Engineers at LEGO have built a life-size, working Bugatti Chiron (in real life the world's fastest production car). The feat took more than 13,000 man-hours to complete.
The model is the first large-scale movable construction developed using over 1 million LEGO Technic elements and powered exclusively using LEGO motors. Packed with 2,304 LEGO Power Function motors, 4,032 LEGO Technic gear wheels, and 2,016 LEGO Technic cross axles, the motor (stack) of this 1.5-ton car generates 5.3 hp and an estimated torque of 92 Nm. Top speed is about 13 mph. You wanted more? Come on, it's a full-size 1:1 LEGO supercar! And it moves ... a human.
The motor block powers the rear axle with 96 Power Functions L-Motors per motor pack -- 24 motor packs in total. Each motor pack was made almost entirely out of original LEGO elements (apart from 336 custom-made Teflon washers in each pack, which serve as bearings). The 24 motor packs are connected by one steel chain to the main steel driving shaft that is connected to the rear axle.
LEGO designers and engineers from the Kladno factory in the Czech Republic, the place that also builds the jaw-dropping models for LEGO Stores and LEGOLAND parks, worked hard to recreate the Chiron's iconic shapes and to make the model drivable. Lego Technic is LEGO's advanced line of interconnecting plastic rods and parts. The sets are not your typical LEGO bricks. They include pins, plates, beams, gears, axles, and lots of special pieces. Pneumatic pieces and electric motors are also included in many of the Technic sets. The final car model uses 56 types of Technic custom-made elements.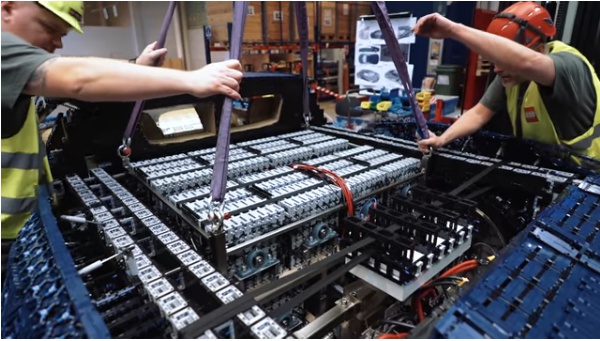 The motor unit is made up of 2,304 motors packed into a two-layer stack. Two batteries power the car and its electrical and pneumatic components; one of those is an 80-V battery that powers the 2,304 Power Function motors in the motor stack. Read more about this in the Fact Sheet.
The outer skin structure is built of interconnected triangular segments made into a LEGO Technic "fabric" designed to mimic the instantly recognizable shape of the original Chiron. Peek inside, and you'll discover that almost every single detail of the original car has been carefully and precisely recreated in LEGO Technic elements, from seats to dashboard to steering wheel -- and even a functional (moving) rear spoiler that uses both LEGO Power Functions and pneumatics. The spoiler wing uses four XL motors, two per each pylon, with a worm gear and rack along the length of the pylon. An additional four XL motors power two custom-designed compressor units with four Technic pneumatic pumps each. The working doors and their closing/opening mechanisms are also made entirely of LEGO Technic pieces.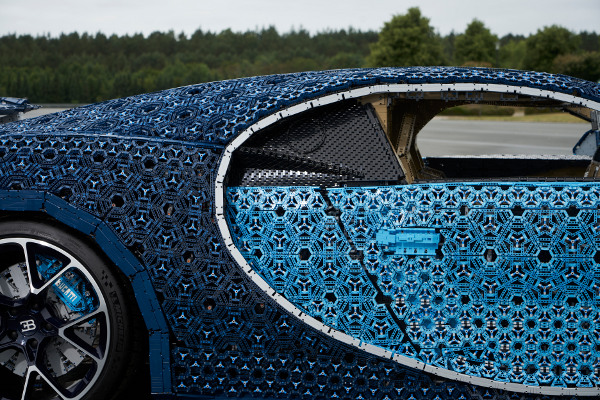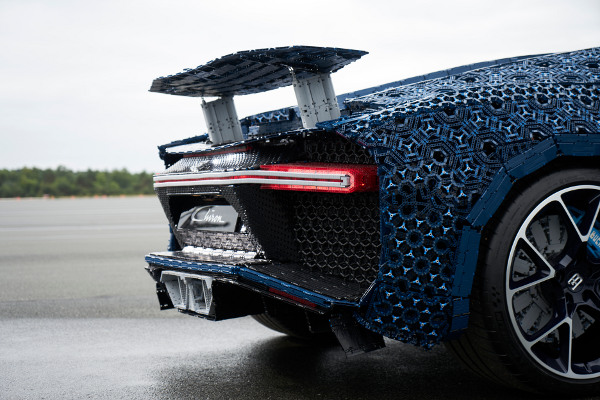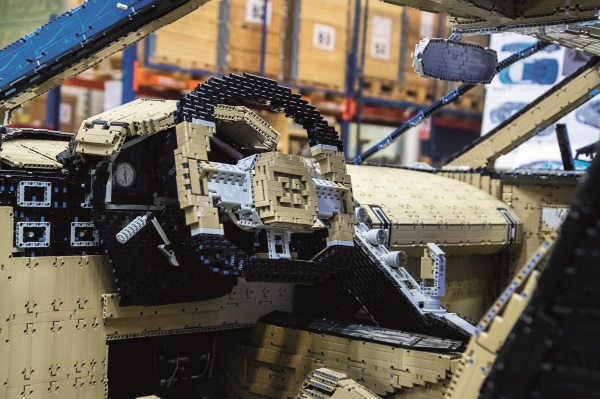 Equipped with a speedometer, front and back lights, detachable steering wheel, and a brake pedal -- all fully functional and built of LEGO Technic elements -- the model required the use of 339 types of LEGO Technic elements in total.
VIDEO: You've got to watch the how-it's-made video.
And to top it all off, no glue was used. Not a drop.
But it's not 100 percent LEGO. Please, don't be disappointed. The initial goal was to construct the car of at least 90 percent LEGO parts. The car has a steel frame (it had to be drivable, after all).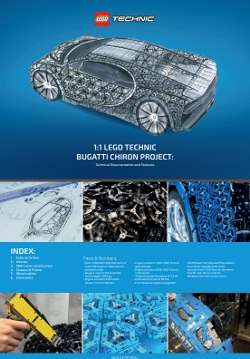 If you are hungry for more details, download the LEGO Fact Sheet pdf here. Lots of great images and information.
The model rests on the frame just by the gravity of its own weight. The car also features the regular wheels that would be found on the Chiron. The construction process was more organic than one might imagine, though. Rather than model everything by computer, the builders chose a go-with-the-flow, build-as-you-go technique. Just like when we were kids!
According to the LEGO Fact Sheet on the project, "there were several types of load-bearing structures developed, each with different strength, torque/bend resistance, and weight parameters. The majority of the internal structure was built by chaining multiple layers of Technic frames together and interlocking them with pins and beams. That created a very sturdy base to support the skin and the interior. This frame structure was then wrapped with Technic panels to appear solid and also to add extra strength. In places where we didn't need a solid structure, we used a more open lattice framework built from 3 x 11 panels or honeycomb structures built out of these panels as well."
You really need to download the LEGO Fact Sheet for the project here to truly appreciate what went into the design, engineering, and build of this project.
And if you run across a box of LEGOs in the future and wonder, "What can I do with that?" Well, now you have a whole new realm of possibilities to shoot for.
Sources: LEGO, Bugatti
Published September 2018
Rate this article