Top Product: Cross roller ring can swing the loads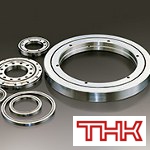 Because it has orthogonally arranged cylindrical rollers, the cross roller ring from THK is a roller bearing with high rotation accuracy capable of bearing loads in every direction. Cylindrical rollers are arranged with each roller perpendicular to the adjacent roller, in a 90-deg V groove, separated from each other by a spacer retainer. This design allows just one bearing to receive loads in all directions including radial, axial, and moment loads. This component is optimal for applications such as joints and swiveling units of industrial robots, swiveling tables of machining centers, rotary units of manipulators, precision rotary tables, medical equipment, measuring instruments, and IC manufacturing machines. Available in several rotation configurations including inner/outer ring, inner ring only, and outer ring only. And now a new micro cross roller ring is perfect to handle smaller applications.
Learn more about THK cross roller rings.
Learn about the new Micro Cross Roller Ring RAU.
---
Solvay develops sustainable Halar ECTFE anti-corrosion coating system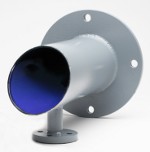 Solvay's new waterborne Halar ECTFE coating system broadens metal corrosion-prevention applications for the chemical processing industry. The coating system is comprised of a high-adhesion primer and topcoat and is easily applied using standard liquid spray equipment. Solvay's Halar ECTFE powder coatings have been used for corrosion prevention for over 40 years for equipment in a range of industries including acids, mining, pulp and paper, pharmaceutical, food and beverage, and semiconductor, among others. The new waterborne Halar ECTFE liquid coating tech expands the range of end-use applications to those that are difficult or impossible to powder coat. This includes complex shapes, uneven surfaces, oversized vessels, pipe interiors, and tanks and containers. Moreover, it provides engineers an alternative protective metal coating option to corrosion-resistant alloys (CRAs).
Learn more.
---
Powerhouse gripper for collaborative applications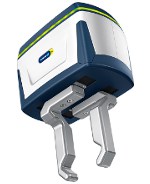 The SCHUNK Co-act EGL-C long-stroke gripper is a milestone on the way to a comprehensive human/robot collaboration (HRC): It is the world's first long-stroke gripper developed for collaborative operation. It achieves high gripping forces up to 450 N (handling weights beyond small parts assembly) and combines them with a long stroke of 42.5 mm per finger. The intelligent 24-V unit is suitable for handling workpiece weights up to 2.25 kg and can be flexibly used in a wide range of applications. The SCHUNK developers are particularly focused on the automotive-related supply industry, carmakers, and machine building, where powerful grippers may be able to achieve rapid success in HRC applications.
Learn more.
---
Xometry receives ISO 9001:2015 and AS9100D certifications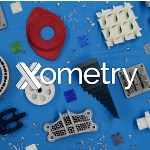 Xometry, the world's largest digital manufacturing marketplace, recently announced that it has received ISO 9001:2015 and AS9100D certifications. These certifications are among the industry's most rigorous and reflect the company's commitment to quality. ISO 9001 is the world's most widely recognized quality management standard and helps organizations to meet the expectations and needs of their customers. The AS9100 standard goes beyond the requirements of ISO 9001 to meet the rigorous demands of the aerospace and defense industries.
Learn more.
---
Lightweight, heavy-duty thermoplastic planks introduced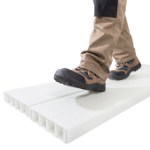 If you're told to walk the plank these days, you may find yourself walking on plastic. SABIC recently introduced its STADECK heavy-duty panels to the Americas. These high-strength but extremely lightweight panels are used for scaffolding and numerous other applications in the building and construction industries. They are made from glass fiber-reinforced thermoplastic resin and are up to 60 percent lighter than wooden planks, saving not only your back but also the gas or diesel it takes to tote heavier support materials around. They also never rot or corrode.
Learn more.
---
Completely updated new full-line catalog of fasteners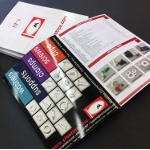 Micro Plastics introduces its new 300-page catalog #41 containing thousands of fastening solutions for engineers and product designers. Find hundreds of new problem-solving products including Spacers, Washers, Clips, Clamps, Ties, Bushings, Screws, Nuts, Rivets, and Plugs. Micro Plastics specializes in Nylon threaded fasteners, but the company also offers extensive product lines for wire management and circuit board hardware. Samples are available upon request.
Check out the new online catalog.
---
Plastic torque-limiting wing nuts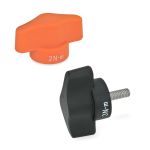 JW Winco, a leading supplier of standard industrial machine components, has now made available EN 5320 Plastic Torque Limiting Wing Nuts, which are used when manually applied torque is to be limited. Turn clockwise, and the torque of the wing nut triggers an "over-engagement" when the specified torque is reached. When tightening, this will ensure the maximum permissible torque is not exceeded. Turn counter-clockwise, and the torque needed for loosening will always be transmitted properly. The technopolymer plastic is glass fiber reinforced and temperature resistant up to 176 F (80 C). The wing nuts are available in either a black matte or orange matte finish. An aluminum version (GN 3663) is also available.
Learn more.
---
ICOMold: New CAD model design service partner

ICOMold has partnered with a professional design service with a large group of designers who specialize in designing for injection molding. If you need to get a quote but don't have a 3D CAD model (or need your file modified, repaired, or converted), ICOMold is now offering these services through its design partner ZVerse.
Learn more.
---
Victrex and Bond pioneer 3D printing for PAEK and PEEK parts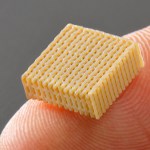 To help customers with an accelerated route to market for 3D-printed PAEK and PEEK parts, UK-based Victrex has secured a multi-million-euro investment in Dutch 3D-printing company Bond High Performance 3D Technology. What's significant is that Bond's technology is capable of printing complex, functional parts made of PAEK/PEEK with excellent mechanical properties, including in the z-direction. This enables the additive manufacturing of high-strength, isotropic parts with properties comparable to conventional molded or machined PEEK parts.
Read the full article.
---
New counterbalance hinge for heavy panels and lids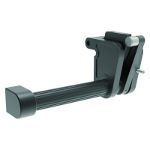 Southco has expanded its Positioning Technology portfolio with the addition of a new Counter-balance Hinge that neutralizes the weight of heavy panels and lids, reducing safety and liability concerns while improving end-user ergonomics. The aluminum, black anodized hinge provides precise control when opening and closing heavy panels, enabling the panel to be lifted and lowered effortlessly. Its compact, adjustable design provides for mounting inside enclosures with minimal protrusion, and it can be fine-tuned to precise requirements. Applications include transportation, military, industrial machinery, and medical equipment
Learn more.
---
Reduce component failure with the HELI-CAL Flexure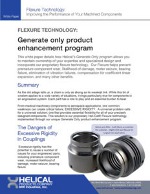 Discover how to eliminate vibrating failure, prevent premature component wear, prevent motor seizure, and stop bearing failure by incorporating Helical Products' flexure technology into your machinery components.
Learn more by downloading our white paper.
---
Top Tech Tip: Mechanical bellows components are an alternative solution

In today's digital world, mechanical components such as metal bellows serve as an extremely reliable mechanism to gather information. The movement of Servometer® electrodeposited metal bellows under hydraulic or pneumatic pressure (internal and external) can create the information needed for a system w/o electricity. Using bellows technology; temperature, gauge, barometric, and differential pressure can be compensated for. With miniature sizes available, Servometer bellows can be added to instrumentation and manifolds of almost any shape or size.
Request a free sample today.
---
Top Tech Tip: Save space and weight with Smalley Wave Springs
Smalley Wave Springs offer the unique advantage of space savings when used to replace coil springs. By reducing spring operating height, wave springs also produce a decrease in the spring cavity. With a smaller assembly size and less material used in the manufacturing process, a cost savings is realized. Over 4,000 springs available from stock or utilize Smalley's No-Tooling-Cost™ manufacturing process on custom designs, available from .157" to 120". Samples available for testing.
Learn more.
---
Helpful tips for molding PEEK polymer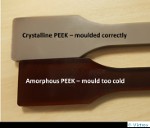 Are you a first-time molder of PEEK? Or maybe you've tried molding it and have run into problems? This article from Victrex presents five important considerations in the injection molding process that can help you avoid the need for troubleshooting when molding PEEK polymer. Following this advice can also help you optimize the full potential of this high-performance material.
Read the Victrex tips article.
---
Cool Tools: New Artec LEO 3D scanner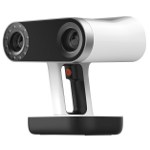 Exact Metrology is proud to announce the availability of its Artec LEO 3D scanner, the first scanner to offer onboard automatic processing with an integrated touch panel viewer. This frees users from being tied to a computer for data capture. The scanner has a 3D reconstruction rate of 80 frames per second, making it the fastest professional scanner on the market. With its large field of view, Artec LEO can scan and process large objects and scenes quickly and accurately, and it boasts a data acquisition rate of up to 4 million points per sec.
Learn more.
---
Sun-soaking device turns water into superheated steam
The high-temperature steam might be used in remote regions to cook, clean, or sterilize medical equipment.
MIT engineers have built a device that soaks up enough heat from the sun to boil water and produce "superheated" steam hotter than 100 degrees Celsius, without any expensive optics.
On a sunny day, the structure can passively pump out steam hot enough to sterilize medical equipment, as well as to use in cooking and cleaning. The steam may also supply heat to industrial processes, or it could be collected and condensed to produce desalinated, distilled drinking water.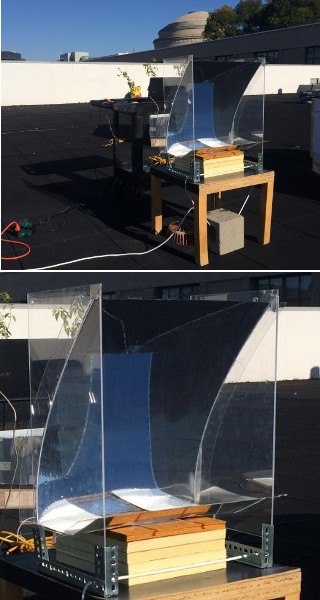 The outdoor experiment on the MIT roof. Steam-generating device is mounted over a basin of water, placed on a small table, and partially surrounded by a simple, transparent solar concentrator. Researchers measured the temperature of the steam produced over the course of the test day, Oct. 21, 2017. [Credit: Courtesy of the researchers, Thomas Cooper et al.]
The researchers previously developed a sponge-like structure that floated in a container of water and turned the water it absorbed into steam. But a big concern was that contaminants in the water caused the structure to degrade over time. The new device is designed to be suspended over the water to avoid any possible contamination.
The suspended device is about the size and thickness of a small digital tablet or e-reader, and it is structured like a sandwich: The top layer is made from a material that efficiently absorbs the sun's heat, while the bottom layer efficiently emits that heat to the water below. Once the water reaches the boiling point (100 C), it releases steam that rises back up into the device, where it is funneled through the middle layer -- a foam-like material that further heats the steam above the boiling point, before it's pumped out through a single tube.
"It's a completely passive system -- you just leave it outside to absorb sunlight," says Thomas Cooper, assistant professor of mechanical engineering at York University, who led the work as a postdoc at MIT. "You could scale this up to something that could be used in remote climates to generate enough drinking water for a family, or sterilize equipment for one operating room."
The team's results are detailed in a paper published in Nature Communications. The study includes researchers from the lab of Gang Chen, the Carl Richard Soderberg Professor of Power Engineering at MIT.
A clever combination
In 2014, Chen's group reported the first demonstration of a simple, solar-driven steam generator, in the form of a graphite-covered carbon foam that floats on water. This structure absorbs and localizes the sun's heat to the water's surface (the heat would otherwise penetrate down through the water). Since then, his group and others have looked to improve the efficiency of the design with materials of varying solar-absorbing properties. But almost every device has been designed to float directly on water, and they have all run into the problem of contamination, as their surfaces come into contact with salt and other impurities in water.
The team decided to design a device that instead is suspended above water. The device is structured to absorb short-wavelength solar energy, which in turn heats up the device, causing it to reradiate this heat, in the form of longer-wavelength infrared radiation, to the water below. Interestingly, the researchers note that infrared wavelengths are more readily absorbed by water, versus solar wavelengths, which would simply pass right through.
For the device's top layer, they chose a metal ceramic composite that is a highly efficient solar absorber. They coated the structure's bottom layer with a material that easily and efficiently emits infared heat. Between these two materials, they sandwiched a layer of reticulated carbon foam -- essentially, a sponge-like material studded with winding tunnels and pores, which retains the sun's incoming heat and can further heat up the steam rising back up through the foam. The researchers also attached a small outlet tube to one end of the foam, through which all the steam can exit and be easily collected.
Finally, they placed the device over a basin of water and surrounded the entire setup with a polymer enclosure to prevent heat from escaping.
"It's this clever engineering of different materials and how they're arranged that allows us to achieve reasonably high efficiencies with this noncontact arrangement," Cooper says.
Full steam ahead
The researchers first tested the structure by running experiments in the lab using a solar simulator that mimics the characteristics of natural sunlight at varying, controlled intensities. They found that the structure was able to heat a small basin of water to the boiling point and produce superheated steam, at 122 C, under conditions that simulated the sunlight produced on a clear, sunny day. When the researchers increased this solar intensity by 1.7 times, they found the device produced even hotter steam, at 144 C.
On Oct. 21, 2017, they tested the device on the roof of MIT's Building 1 for the first time, under ambient conditions. The day was clear and bright, and to increase the sun's intensity further, the researchers constructed a simple solar concentrator -- a curved mirror that helps to collect and redirect more sunlight onto the device, thus raising the incoming solar flux, similar to the way a magnifying glass can be used to concentrate a sun's beam to heat up a patch of pavement.
With this added shielding, the structure produced steam in excess of 146 C over the course of 3.5 hours. In subsequent experiments, the team was able to produce steam from sea water, without contaminating the surface of the device with salt crystals. In another set of experiments, they were also able to collect and condense the steam in a flask to produce pure, distilled water.
Chen says that, in addition to overcoming the challenges of contamination, the device's design enables steam to be collected at a single point, in a concentrated stream, whereas previous designs produced a more dilute spray.
"This design really solves the fouling problem and the steam collection problem," Chen says. "Now we're looking to make this more efficient and improve the system. There are different opportunities, and we're looking at what are the best options to pursue."
Source: MIT
Published January 2019
Rate this article