Build your own mini synchronous drive systems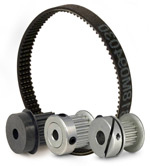 With the Miniature Synchronous Drive System from Stock Drive Products (SDP), you can put your own 1-, 2-, or 3-mm design together in a snap. The tiny timing belts and pulleys are engineered and manufactured to give high accuracy and smooth, dependable operation in 3D printers, moving security cameras, med devices, robotic surgical equipment, self-service machines, and more. Advantages include no-slip synchronization, accurate positioning, high torque transmission with low backlash, quiet operation, and long belt life.
Learn more.
---
Motorized puller assemblies provide out-of-the-box productivity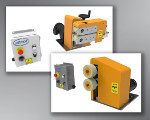 Versa Motorized Puller assemblies include all components for out-of-the-box productivity for a wide variety of downstream handling requirements. Available in Pinch Wheel or Caterpillar designs, pullers are mounted on a 12-in. x 14-in. base plate for easy positioning of feed materials and include a choice of either AC or DC motor, drive, and a remote Operator Control Station (OCS) that can be mounted wherever desired. A variety of speed ranges are available, with pinch roll or belt materials to suit a broad range of product requirements. These puller assemblies are ideal for many applications, including downstream handling of pipe, profiles, and tubing as well as wire/cable, steel materials, and more.
Learn more.
---
Reduce belt-driven spindle failures with precision load limiter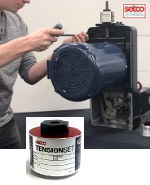 Setco's TensionSet is a load-limiting device that ensures proper belt tensioning on motor drives, protecting shaft bearings and other components from premature failure. The patented and easy-to-install product rotates like a nut to generate pull force on a threaded rod. The pull force increases the distance between the pulleys on the motor drive and creates belt tension. When pull force exceeds the load setting during tightening, TensionSet disengages internally to prevent over-tensioning. Positive reverse drive causes the TensionSet to rotate in the reverse direction, removing tensioning load. This product helps increase belt life, leading to less downtime for machine maintenance, and is retrofittable to many spindle brands.
Learn more.
---
Quick-release heavy-duty ball lock pins in stainless steel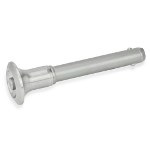 JW Winco has expanded its line of GN 113.10 Heavy Duty Ball Lock Pins Stainless Steel, with Stainless Steel Shank AISI 630. These rapid-release pins have an extreme load capacity and are used for quick fixing, connecting, and locking of various parts and workpieces. A typical application for the Ball Lock Pins is where they may need to be regularly moved in and out of position when connecting two components, but a more secure hold is required of those two components. By pressing the spring-loaded push button, both balls are unlocked. By releasing it, the balls are locked again.
Learn more.
---
Top Tech Tip: Self-locking retaining rings from Smalley

Smalley self-locking rings allow the ring to operate at high speeds, withstand vibration, function under rapid acceleration and absorb a degree of impact loading. The self-locking feature utilizes a small tab on the inside turn "locking" into a slot on the outside turn. The self-locking option can be incorporated for both external and internal rings.
Learn more.
---
Fiber sizings improve performance of carbon fiber composites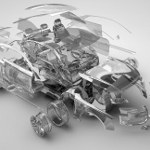 Michelman fiber sizings are available for a variety of application types to dramatically improve fiber-polymer interface adhesion. This technology helps industries such as automotive, transportation, construction, aerospace, energy, and sport improve the quality and performance of composites. New offerings include Hydrosize Carbon 200 Series (an APE-, solvent-, and VOC-free solution perfect for fiber-reinforced nylon composites where greater thermal stability is required, like coolant pumps) and Hydrosize Carbon 400 Series (for extreme processing temps that many high-temp thermoplastics require, such as PEEK, PPS, PEI, and others used to produce various composite engine components).
Learn more.
---
New vacuum soft gripper for delicate objects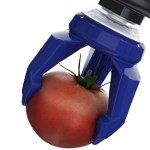 A new, vacuum-based soft gripping tool called piSOFTGRIP has been developed by Piab with food industry automation in mind. This three-fingered unit will grip sensitive and lightweight objects of odd geometries and/or an unusual surface. Bin picking of small, irregularly shaped objects, such as toys, is another potential application. The cost-effective soft gripper can handle objects with a diameter up to 50 mm (1.97 in.), but larger units are in the works. Combined with Piab's end-of-arm vacuum tool piCOBOT, the piSOFTGRIP offers a powerful and flexible plug-and-play extension for collaborative robots. As both piCOBOT and piSOFTGRIP offer compressed air-saving functionality, virtually no energy is needed to perform a grip and release.
Learn more.
---
New Modular Mounting Systems from Ruland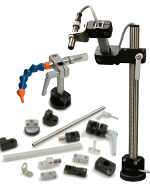 Ruland Manufacturing now supplies a large selection of modular mounting components that designers can combine to make complete systems for positioning sensors, scanners, reflectors, cameras, coolant pipes, air nozzles and more. The diversity of component sizes and materials allows them to be used in many different industrial, food processing, and packaging environments. Parts that make up modular mounting systems include mounting brackets, bracket clamps, tubes, rods, tube end caps, mini-clamp tube connectors, swivel clamp tube connectors, mounting bases, portable magnet bases, clamping lever kits, and adjustable spring joints. The wide range of modular mounting components enables designers to customize systems to whatever the application requires.
Learn more.
---
Great Resources: Unit Conversion Tool

Convert popular spring units such as force or retaining ring thrust capacities into metric units with Smalley's engineering tools. Convert units such as mass and weight, angular measurements, velocities, temperatures, pressures and densities, and more.
Click here to learn more. You should bookmark this one.
---
Innovative rod seals enhance hydraulic and electromechanical aviation actuator performance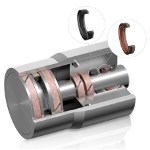 Rod seals for cylinders and actuators seal the applied system pressure toward the atmospheric side. They perform a critical function in preventing external leakage that may contaminate the immediate environment. The rod seals LB and LS from Parker Hannifin have been specially developed for the safety-critical applications in aviation and offer high reliability and wear resistance due to their seal geometry and material selection.
Read this informative Parker blog.
---
Right-sizing valve manifolds linked to smart machine design
Valves are generally sized by cylinder bore, actuation speed, and required pressure. In the past, the entire valve manifold would be sized based on the largest force/speed requirements of the pneumatic system, or by splitting between two manifolds (low and high pressure/flow). However, this methodology results in waste, both in terms of compressed air and the expense and size of the manifold, not to mention the labor needed to install two manifolds.
Read this informative Parker Hannifin blog.
---
Two-component adhesives revolutionized with light fixation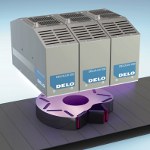 DELO has developed light fixation two-component epoxy resins that provide unprecedented process speed -- only 5 sec irradiation time! Thanks to the hybrid chemistry of DELO-DUOPOX DB8989, users will realize faster, less complex production processes and simplified logistics. Reliable final curing, including shadowed areas, is done the same way as regular two-component products, either at room temperature or at a faster speed by using heat curing at 80 C for 60 min. The adhesive is able to achieve a tensile shear strength of 28 MPa on aluminum. Applications include structural bonding of rare earth magnets in electric motors. It is also suitable for opto-electronic applications in cameras for automated driving due to low outgassing and shrinkage.
Learn more.
---
How to store epoxy adhesives properly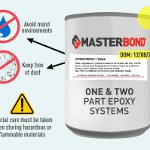 Check out this tech tip by Master Bond's experts on the proper techniques and methods for storing epoxy adhesive systems. Learn some of the specific requirements for one-component, two-component, and premixed and frozen systems in order to maximize shelf life and optimize performance.
Read the Master Bond tips.
---
Stratasys introduces 3X-faster industrial-grade FDM 3D printer for office
The new F120 Fused Deposition Modeling (FDM) machine from Stratasys brings industrial 3D printing to the masses, featuring simple controls, remote self-monitoring, exclusive 3D-printing hardware, and extremely high levels of reliability and repeatability. The F120 makes it simple even for the novice to get started.
Read the full article.
---
Mike Likes: Small diameter retaining rings and wave springs from Smalley

From medical devices to electronics, the world around us is getting smaller. "How small can you go?" This is a question a Smalley engineer hears all the time ... but a better question is how small do you need? As The Engineer's Choice™ for Wave Springs and Spirolox® Retaining Rings, Smalley has the answer! Smalley's manufacturing capabilities now allow them to design and manufacture Wave Springs and Retaining Rings down to 0.165", 4 mm diameters!
Learn more.
---
Sun-soaking device turns water into superheated steam
The high-temperature steam might be used in remote regions to cook, clean, or sterilize medical equipment.
MIT engineers have built a device that soaks up enough heat from the sun to boil water and produce "superheated" steam hotter than 100 degrees Celsius, without any expensive optics.
On a sunny day, the structure can passively pump out steam hot enough to sterilize medical equipment, as well as to use in cooking and cleaning. The steam may also supply heat to industrial processes, or it could be collected and condensed to produce desalinated, distilled drinking water.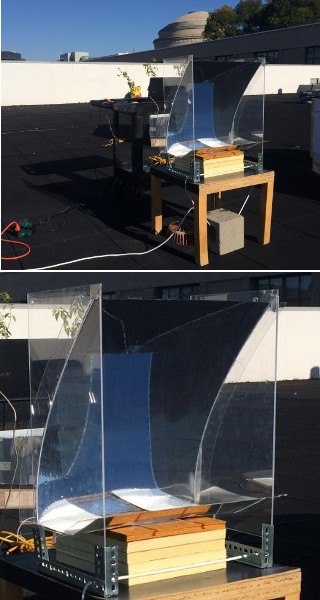 The outdoor experiment on the MIT roof. Steam-generating device is mounted over a basin of water, placed on a small table, and partially surrounded by a simple, transparent solar concentrator. Researchers measured the temperature of the steam produced over the course of the test day, Oct. 21, 2017. [Credit: Courtesy of the researchers, Thomas Cooper et al.]
The researchers previously developed a sponge-like structure that floated in a container of water and turned the water it absorbed into steam. But a big concern was that contaminants in the water caused the structure to degrade over time. The new device is designed to be suspended over the water to avoid any possible contamination.
The suspended device is about the size and thickness of a small digital tablet or e-reader, and it is structured like a sandwich: The top layer is made from a material that efficiently absorbs the sun's heat, while the bottom layer efficiently emits that heat to the water below. Once the water reaches the boiling point (100 C), it releases steam that rises back up into the device, where it is funneled through the middle layer -- a foam-like material that further heats the steam above the boiling point, before it's pumped out through a single tube.
"It's a completely passive system -- you just leave it outside to absorb sunlight," says Thomas Cooper, assistant professor of mechanical engineering at York University, who led the work as a postdoc at MIT. "You could scale this up to something that could be used in remote climates to generate enough drinking water for a family, or sterilize equipment for one operating room."
The team's results are detailed in a paper published in Nature Communications. The study includes researchers from the lab of Gang Chen, the Carl Richard Soderberg Professor of Power Engineering at MIT.
A clever combination
In 2014, Chen's group reported the first demonstration of a simple, solar-driven steam generator, in the form of a graphite-covered carbon foam that floats on water. This structure absorbs and localizes the sun's heat to the water's surface (the heat would otherwise penetrate down through the water). Since then, his group and others have looked to improve the efficiency of the design with materials of varying solar-absorbing properties. But almost every device has been designed to float directly on water, and they have all run into the problem of contamination, as their surfaces come into contact with salt and other impurities in water.
The team decided to design a device that instead is suspended above water. The device is structured to absorb short-wavelength solar energy, which in turn heats up the device, causing it to reradiate this heat, in the form of longer-wavelength infrared radiation, to the water below. Interestingly, the researchers note that infrared wavelengths are more readily absorbed by water, versus solar wavelengths, which would simply pass right through.
For the device's top layer, they chose a metal ceramic composite that is a highly efficient solar absorber. They coated the structure's bottom layer with a material that easily and efficiently emits infared heat. Between these two materials, they sandwiched a layer of reticulated carbon foam -- essentially, a sponge-like material studded with winding tunnels and pores, which retains the sun's incoming heat and can further heat up the steam rising back up through the foam. The researchers also attached a small outlet tube to one end of the foam, through which all the steam can exit and be easily collected.
Finally, they placed the device over a basin of water and surrounded the entire setup with a polymer enclosure to prevent heat from escaping.
"It's this clever engineering of different materials and how they're arranged that allows us to achieve reasonably high efficiencies with this noncontact arrangement," Cooper says.
Full steam ahead
The researchers first tested the structure by running experiments in the lab using a solar simulator that mimics the characteristics of natural sunlight at varying, controlled intensities. They found that the structure was able to heat a small basin of water to the boiling point and produce superheated steam, at 122 C, under conditions that simulated the sunlight produced on a clear, sunny day. When the researchers increased this solar intensity by 1.7 times, they found the device produced even hotter steam, at 144 C.
On Oct. 21, 2017, they tested the device on the roof of MIT's Building 1 for the first time, under ambient conditions. The day was clear and bright, and to increase the sun's intensity further, the researchers constructed a simple solar concentrator -- a curved mirror that helps to collect and redirect more sunlight onto the device, thus raising the incoming solar flux, similar to the way a magnifying glass can be used to concentrate a sun's beam to heat up a patch of pavement.
With this added shielding, the structure produced steam in excess of 146 C over the course of 3.5 hours. In subsequent experiments, the team was able to produce steam from sea water, without contaminating the surface of the device with salt crystals. In another set of experiments, they were also able to collect and condense the steam in a flask to produce pure, distilled water.
Chen says that, in addition to overcoming the challenges of contamination, the device's design enables steam to be collected at a single point, in a concentrated stream, whereas previous designs produced a more dilute spray.
"This design really solves the fouling problem and the steam collection problem," Chen says. "Now we're looking to make this more efficient and improve the system. There are different opportunities, and we're looking at what are the best options to pursue."
Source: MIT
Published January 2019
Rate this article