Ford Ranger gets tough with special VelociRaptor treatment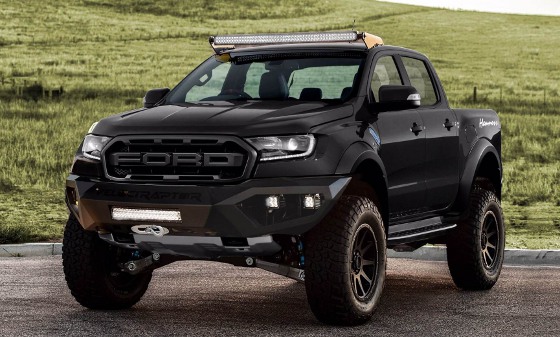 Who knew a little 2019 Ford Ranger could look so intimidating? The creative geniuses at Hennessey Performance Engineering (HPE) did.
Known for taking vehicles "from mild to wild," the famous upgrades shop has created a 500-unit special edition VelociRaptor Ranger that looks almost as big and bad as its high-end Raptor sibling. It's got solid power upgrades too.
The Hennessey team says they have had a lot of practice, particularly with Ford pickups. They have been turning Ford Raptors into VelociRaptors for almost 10 years, adding more power, more features, and more and more of everything to push the limits of what's cool, fast, rugged, and tough.
And now it's the Ranger's turn.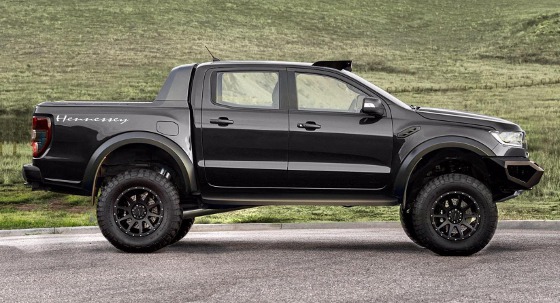 For the 2019 Hennessey VelociRaptor Ranger, they first focused on adding more power and performance, increasing the power from Ford's 2.3L turbo EcoBoost engine from 270 hp stock to 350 bhp. Torque was also increased from 310 lb-ft to "385 lb-ft of torque twist." A new high-flow air induction system was added, along with a less restrictive and better sounding stainless steel catback exhaust system and ECU tuning for increased boost.
HPE says the new power boost lowers 0- to 60-mph performance to just 6.1 sec -- an improvement of 1.3 sec over stock.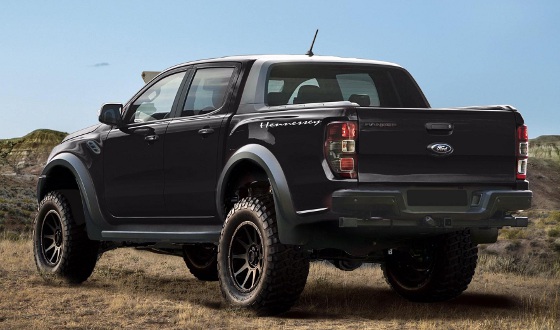 HPE has further upgraded the Ranger with their Stage 1 off-road suspension upgrade, which lifts the vehicle by 4 in. Combined with Hennessey 17-in. alloy wheels and upgraded BFG off-road tires, the Hennessey VelociRaptor Ranger is nearly 6 in. taller than stock. Hennessey has also upgraded the front bumper with LED lights and an optional winch upgrade. A roof-mounted LED light bar is also available as an option.
VIDEO. 2019 Ford Ranger baseline chassis dyno testing.
The total price for the 2019 Hennessey VelociRaptor Ranger upgrade is $64,950, which includes the new 2019 Ford Ranger truck. The cost for the VelociRaptor Ranger upgrade by itself is $19,950 plus vehicle shipping.
Production is limited to just 500 units for the 2019 model year. Each upgrade comes with a three-year/36,000-mile warranty. The Hennessey VelociRaptor Ranger is available directly from Hennessey or from select Authorized Hennessey Performance Ford dealers, including Brown Lee Ford from Nashville, TN.
For more information, contact Hennessey Performance Engineering at 979.885.1300 or email sales@hennesseyperformance.com.
Source: Hennessey Performance Engineering
Published March 2019
Rate this article