New Standard Parts Handbook from JW Winco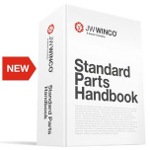 JW Winco's printed Standard Parts Handbook is a comprehensive 2,184-page reference that supports designers and engineers with the largest selection of standard parts categorized into three main groups: operating, clamping, and machine parts. More than 75,000 standard parts can be found in this valuable resource, including toggle clamps, shaft collars, concealed multiple-joint hinges, and hygienically designed components.
Get your Standard Parts Handbook today.
---
PBC linear shafts, bearings, and shaft supports from AutomationDirect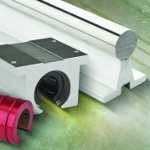 Automation-Direct has added PBC linear shafts, bearings, and shaft supports to their power transmission product category. PBC linear shafts are precision ground to provide an optimized surface for plain and ball bearings and are ideal for high-precision linear motion applications where tight tolerances are needed. Shafts are available in carbon or stainless steel with round and fully supported models in diameters from 1/4" to 1-1/4" and lengths from 6" to 36". Maintenance-free plain bearings or ball bearings available.
Learn more.
---
Great Resources: ABCs of gears and more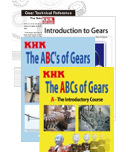 KHK USA takes you on a journey through the history and applications of gears in two information-packed, no-cost volumes called "The ABCs of Gears." Part A is aimed at beginners, while part B moves on to intermediate fare, such as types of gears and tooth forms, heat treatment, surface treatment, production methods, etc. Another mid-level text called "Introduction to Gears" and an in-depth "Gear Technical Reference" are also available. No registration required.
Click here to learn more.
---
New adhesive for automotive lighting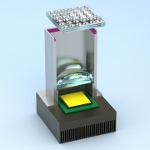 DELO has developed PHOTOBOND OB4189, a new adhesive for automotive lighting applications. It is extremely resistant to yellowing and, with its high aspect ratio, is particularly suitable for bonding microlens arrays, such as those found in headlights and projection systems. The adhesive also retains its shape after dispensing and does not flow, which is important for bonding microlens arrays.
Learn more.
---
Which parts should be 3D printed? AI combs through CAD files to find out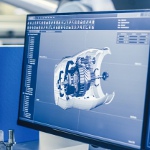 One of the biggest challenges in transitioning to additive manufacturing (AM) is the ability to identify which parts are best suited for the process quickly and easily. Learn how Danfoss, Stanley Engineered Fastening, and even the U.S. military have utilized advanced additive manufacturing software to automate the process, reducing material waste and energy costs, improving part reliability, decreasing lead times, as well as now having the ability to identify part consolidation opportunities through intelligent AM decision-making.
Read the full article.
---
9 key design tips for injection molding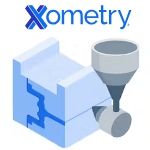 Keep costs down and quality up all while optimizing your injection molded designs with these helpful tips from Xometry. Learn how to build better injection molded parts and products -- using draft angles, ribs and gussets, radii, fillets, and more -- and set expectations for the injection molding process. Good info here.
View the video.
---
Metal additive manufacturing: Rocket turbopump design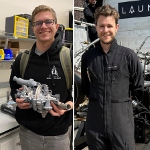 Mixing undergraduate curiosity and real-world engagement, two students from Colorado University Boulder Aerospace Engineering Sciences program, Zachary Lesan and Patrick Watson, started an independent effort on turbopump design and manufacture that is a lesson in determination and industry collaboration. With lots of supplies and advice from industry heavy hitters including Velo3D, CFturbo, SpaceX, and many more, their project has reinforced significant points being made about next-generation rocketry.
Read the full article.
---
Easy-to-detect plastic parts: Food processing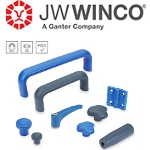 Foreign materials have no place in food, and yet undesired contamination makes its way into production processes time and time again. JW Winco has established a new line of standard parts made of plastic that are easy to detect -- visually and with metallic sensors -- even in pasty and opaque media. The visually detectable (VD) knobs, cabinet U-handles, hinges, hand levers, and three-lobe knobs are made of solid-colored blue plastic. The metal detectable (MD) standard parts are also made of blue plastic but contain additional additives with iron oxide. These parts can be used in both the food and pharmaceutical industries without reservation.
Learn more.
---
VariBlast air gun for safe and efficient blowoff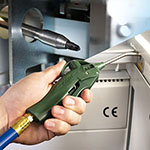 Safety and efficiency are coupled with ergonomic design and engineered air nozzle technology to produce the VariBlast Precision Safety Air Gun -- an essential tool for processes needing a handheld and effective blowoff solution. The lightweight unit with variable flow trigger from EXAIR provides a focused blast of air capable of handling tough jobs with remarkable ease.
Learn more.
---
Linear bushings with 70% longer service life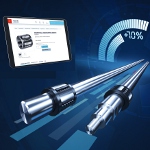 Bosch Rexroth's segmental linear bushings with plastic cage are used in a wide variety of industries to achieve a load capacity that is up to 20% higher and a service life that is up to 70% longer. They are part of a Rexroth round guide with a matching shaft. The particularly light and short linear bushings allow long working spaces and offer additional sealing options. They are also available as linear sets. Use the Linear Motion Designer (LMD) calculation program to select the right linear bushing for your needs.
Learn more.
---
Robotic machining just got a whole lot better! All-electric force compensator for robotic sanding, grinding, and deburring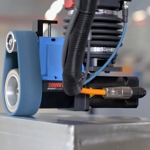 SUHNER's new end-of-arm EFC-02 active compliance system combines over a century of abrasives and material removal expertise with smart automation to deliver precise, constant force for robotic sanding, grinding, and deburring processes. The result is superior, consistent surface quality. EFC-02 is used for material removal or surface finishing -- even in tight or narrow spaces. It features simple robot programming for complex processes, Industry 4.0 functionality, and is fully compatible with angle grinders, orbital sanders, angle polishers, and straight grinders. Optional automatic changers for abrasives or belts are available.
Learn more and see how this new SUHNER innovation works.
---
Ultimate guide to metal 3D printing with binder jetting technology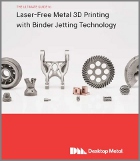 Desktop Metal has published its ultra-informative "Metal Binder Jetting Guide," a 40-page resource that will help interested parties explore binder jetting technology, which does not use a laser, and how it compares to other metal 3D-printing processes. Take a deep dive into what makes binder jetting a standout technology, and learn how it works, its many benefits, and real-world case studies of successful adopters.
Learn more.
---
New clamping innovation for precise 5-axis machining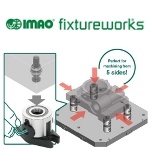 The versatile Modular Pull Clamping System from Fixtureworks is ideal for machining from five sides with no tool interference and no need for additional machining setup. This innovative solution with a compact cylindrical design helps users achieve secure, precise workholding quickly and easily. It can be used as a mechanical zero-point clamping system for quick fixture change with 0.005-mm accuracy.
Learn more.
---
Real-world applications: Replacing hydrodynamic fluid film bearings with modern rolling element bearings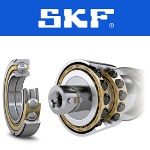 SKF's Evolution magazine has an informative article about the benefits of replacing hydrodynamic fluid film bearings with modern rolling element bearings. Real-world applications cited include turbochargers and crankshafts, screw expanders that drive electricity generators in a geothermal power plant, and industrial chillers and heat pumps. Very interesting with technical info.
Read the full SKF article.
---
New HUCO nylon sleeve gear couplings catalog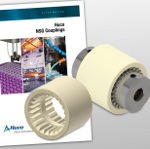 The new and downloadable HUCO NSG Couplings Catalog features flexible molded nylon sleeve couplings with a double crowned tooth design that provide free axial movement, low friction, no heat buildup, and minimal stress during misalignment. Designs are available with up to 9.5-mm axial travel. With this no-maintenance design, the load is distributed near the center of the tooth for maximum strength.
Get all the specs.
---
Hydrogel-based solar-powered moisture harvester collects and cleans water from air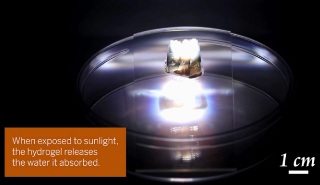 Access to clean water remains one of the biggest challenges facing humankind. A breakthrough by engineers at The University of Texas at Austin may offer a new solution through solar-powered technology that absorbs moisture from the air and returns it as clean, usable water.
The breakthrough, described in a recent issue of the journal Advanced Materials, could be used in disaster situations, water crises, or poverty-stricken areas and developing countries. The technology relies on hydrogels, gel-polymer hybrid materials designed to be "super sponges" that can retain large amounts of water.
A research team led by Guihua Yu in UT Austin's Cockrell School of Engineering combined hydrogels that are both highly water absorbent and can release water upon heating. This unique combination has been successfully proved to work in humid and dry weather conditions and is crucial to enabling the production of clean, safe drinking water from the air.
With an estimated 50,000 cubic kilometers of water contained in the atmosphere, this new system could tap into those reserves and potentially lead to small, inexpensive, and portable filtration systems.
"We have developed a completely passive system where all you need to do is leave the hydrogel outside and it will collect water," said Fei Zhao, a postdoctoral researcher on Yu's team and co-author of the study. "The collected water will remain stored in the hydrogel until you expose it to sunlight. After about five minutes under natural sunlight, the water releases."

VIDEO: A research team led by Guihua Yu in UT Austin's Cockrell School of Engineering combined hydrogels that are both highly water absorbent and can release water upon heating. This unique combination has been successfully proven to work in humid and dry weather conditions and is crucial to enabling the production of clean, safe drinking water from the air.
This technology builds upon a 2018 breakthrough made by Yu and Zhao in which they developed a solar-powered water purification innovation using hydrogels that cleans water from any source using only solar energy. The team's new innovation takes that work a step further by using the water that already exists in the atmosphere. For both hydrogel-based technologies, Yu and his research team developed a way to combine materials that possess both hygroscopic (water-absorbing) qualities and thermal-responsive hydrophilicity (the ability to release water upon simple heating).
"The new material is designed to both harvest moisture from the air and produce clean water under sunlight, avoiding intensive energy consumption," said Yu, an associate professor of materials science and mechanical engineering.
Harvesting water from moisture is not exactly a new concept. Most refrigerators keep things cool through a vapor condensation process. However, the common fridge requires lots of energy to perform that action. The UT team's technology requires only solar power, is compact, and can still produce enough water to meet the daily needs of an average household. Prototype tests showed daily water production of up to 50 liters per kilogram of hydrogel.
Representing a novel strategy to improve upon atmospheric water harvesting techniques being used today, the technology could also replace core components in existing solar-powered water purification systems or other moisture-absorbing technologies.
Yu and his team have filed a patent, and Yu is working with UT's Office of Technology Commercialization on the licensing and commercialization of this innovative class of hydrogels. The research was funded by the Alfred P. Sloan Foundation, the Camille & Henry Dreyfus Foundation, and the National Science Foundation.
Source: Cockrell School of Engineering, The University of Texas at Austin
Published March 2019
Rate this article