Hot Concept Cars: Kia HabaNiro EV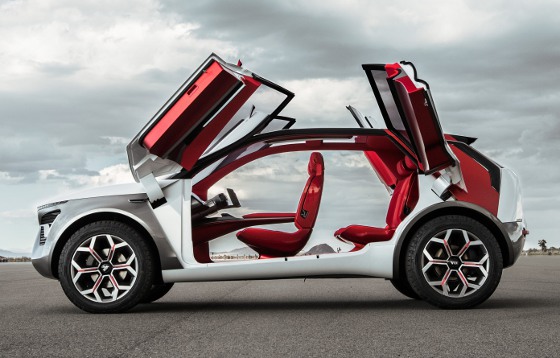 Edited by Mike Foley, Designfax
One of the most popular vehicles at the New York Auto show at the end of April was not an American muscle car, a huge pickup truck, or even a super-luxe sedan. It was a hot little concept cleverly named a HabaNiro by Kia, and it got many people excited about what the near future of all-electric cars really could look like.
Some of its features are hot and some not, but it has spunk and stands out in a crowd -- and that often gets a good reaction, especially if the target market skews younger.
With its rugged 20-in. wheels, short overhangs, and big haunches, the all-wheel-drive HabaNiro looks fun and fit, sporty and capable, like a next-gen crossover with some swagger.
And it's roomy. Did you see those "butterfly" wing doors? Ok, we have seen those before, and they look a little dangerous if you think about closing both doors on a side at once. But for a little four-seater, they help (at least on the prototype) to exude space, which is really one of the main, longstanding promises of electric vehicle technology in general -- and clearly what Kia wanted to highlight here. Getting rid of a traditional gasoline engine and a good part of a car's usual mechanical underbelly elements leaves room to stretch -- and cabin room to fill with more stuff. For the HabaNiro, that interior is Lava Red (not exactly relaxing, but it's a car with a chili-pepper-pun name made to get people amped) and minimal.
And it has flat floors. Many of the makers of upcoming electric cars are all raving about flat floors. Mark it down. It's a thing.
Another feature people concentrate on, especially for new EV concepts, is displays. Will it have two or 10? Are they things that look like iPads mounted in the center-front position? Are there only buttons? The HabaNiro offers something different: It does away with most of those.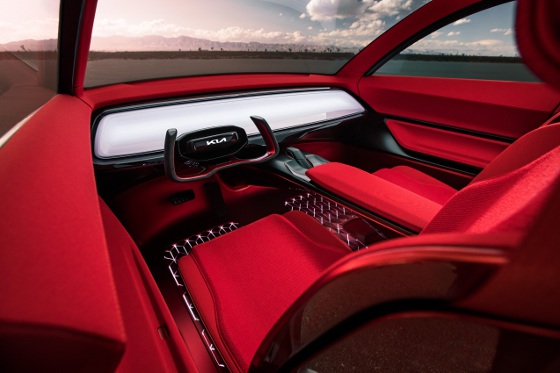 This car features a full-width front windshield Heads-Up Display (HUD) system controlled by a concave acrylic instrument panel, which is a large interactive touchpad display with Sensory Light Feedback (SLF). A Technical Option Sharing System (TOSS) allows users to swipe and move vehicle options across the long HUD screen "as though moving chess pieces." Basically, a really wide screen the width of the dash means that it can be shared, or sections of it can be, by a driver and a front passenger. So a front passenger can look up a map right in front of them, for instance, and TOSS it over to the driver's main display. Honda has a technology like this too, so it really is on the way.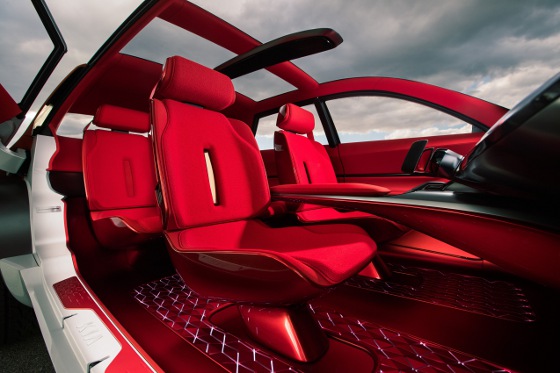 One thing that was made very clear by Kia is that this is a concept -- but one that may be made soon and include many of the present details. We have seen this before from many makers, all the way from Honda (Honda E prototype) recently to Porsche (electric Taycan). Many times the concepts are pre-production models, not just show cars, which makes them tasty in their own way.
For the HabaNiro, its projected all-electric range of more than 300 miles is an adoption sweet spot to hit for potential buyers with range anxiety. According to a myev.com report that appeared in insideevs.com this year, there are eight all-electric cars with more than 200 miles of range readily available for U.S. buyers, and two (the Tesla Model 3 and the Tesla Model S) pass the 300-mile mark (Model 3 gets 310 miles and Model S does 335).
If Kia can really deliver that kind of single-charge range via the car's two electric motors (fore and aft) and advanced battery tech, it will be a real win. Everybody won't run out and buy the little pepper car, but the expectation will be much closer to being solidified that this type of range is the new normal for small, all-electric vehicles.
When HabaNiro's part-time level-five autonomous driving system is engaged, the steering wheel and instrument panel retract forward to provide more room for the front occupants. Media or other entertainment, such as a movie for a long highway haul, can be displayed on the full-width HUD video system.
But are we really there yet -- where "drivers" can watch movies? That part, we think, is definitely still in concept phase.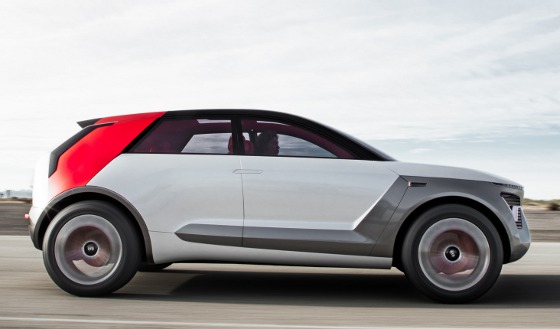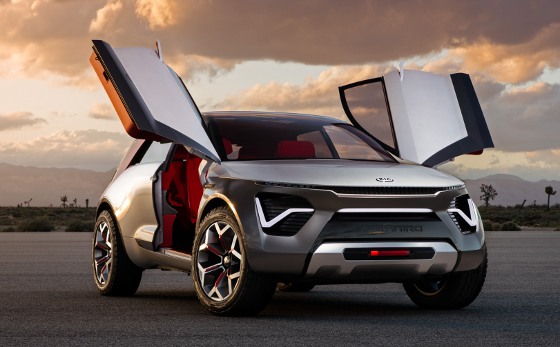 Another kind-of-interesting (but iffy) tech is the new Real-time Emotion Adaptive Driving (R.E.A.D.) System, which Kia introduced earlier this year at the Consumer Electronics Show in January. R.E.A.D. analyzes the driver's "emotional state" by reading facial expression and heart rate, and then tries to set the mood, through light color effects and/or music and even temp control. Our only reaction: "Why?"
At the CES show, R.E.A.D. also included music-response vibration seats, where riders could "feel" their favorite songs as well as listen to them in full surround sound. That seems a little more doable, although distracting, but then again this is the age of pushing toward more autonomous driving. [Note: Manufacturers of small motors, rejoice! It is very likely more motors will be incorporated into car interiors in the future to help operate all kinds of accessories.]
Less novel is R.E.A.D.'s Eye Tracking System (ETS) with 180-degree rearview video display on the HabaNiro, which is instantly activated when the driver looks up toward where the traditional rearview mirror is located. We can dig that.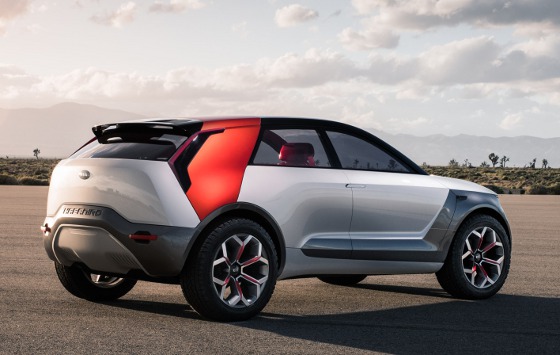 The exterior styling includes a mixed-media effect, which is popular right now in automotive as well as in fashion in general. A protective metallic grey cladding starts at the front wheels and extends onto the body sides, and then a bright "Lava Red" aero panel defines the C-pillar and extends up and over the roof.
Kia likens the HabaNiro grille to a shark's snout, complete with a "slit-like gap full of gloss black aluminum 'teeth' similar to the cooling blades found on high-end electronic equipment." That's a mixed bag of metaphors when you throw in the car name, but the front end does look good and appropriate for the vehicle. It is neither too cute nor too aggressive. It fits.
Satin aluminum skid plates, milled billet aluminum tow hooks, anodized Lava Red aluminum accents, and an embossed HabaNiro nameplate complete the look.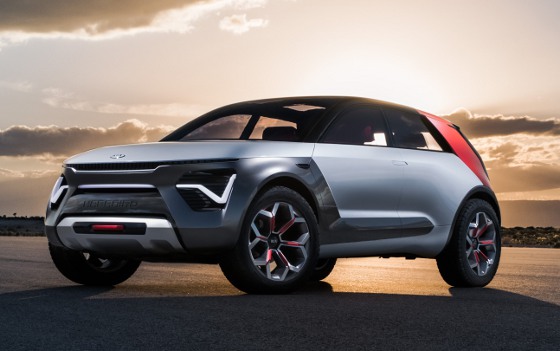 Kia is definitely nimble when it comes to new line introductions. In the past 18 months, Kia has launched two vehicles -- the Stinger and the Telluride -- from concepts.
But will Kia actually produce the HabaNiro? The company is being coy. If it does, the car will not be exactly as presented in New York, but it will probably be very close. We doubt the wing doors will make the final design, but that's OK. We've seen inside.
What this car does have is a lot of personality -- and people are often attracted to that. But people will stay away from electric fun and utility like this in general if it doesn't lunge forward to that 300-mile-range mark. Once that is reached, start loading in the rest of the really usable tech. And bring a little lounge pillow. There should be plenty of room.
Source: Kia Motors
Published May 2019
Rate this article