Stratasys introduces 3X-faster industrial-grade 3D printer for office
The new F120 Fused Deposition Modeling (FDM) machine from Stratasys brings industrial 3D printing to the masses, featuring simple controls, remote self-monitoring, exclusive 3D-printing hardware, and extremely high levels of reliability and repeatability.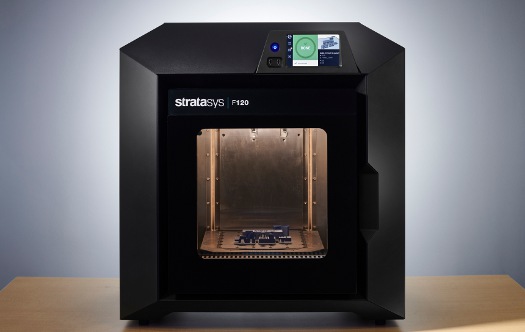 The F120 makes it simple even for the novice to get started with 3D printing in the design studio, office, or education environments. This quiet machine is designed to create high-quality FDM models time after time. Its streamlined plug-and-print functionality removes complexity from typical workflow processes with a user-friendly touchscreen interface and GrabCAD Print workflow. GrabCAD Print is cloud-connected, so you can access it directly from any browser on your device of choice. You can schedule and monitor remotely, and access and print to any supported printer in your company, even if it's in a different geographic location.
So this machine provides engineering and design groups with highly productive part printing -- whether they're across the hall or around the globe
The F120 can support everything from rapid prototyping and tooling to full manufacturing. Stratasys says that "with an ability to print up to 3X faster than competitive solutions and tested 24/7 performance, large filament boxes allow for up to 250 hours of uninterrupted printing."
Filament capacity has also been improved. According to its maker, the F120 holds up to four times more material than the nearest competitor.
Maximum build size is 254 x 254 x 254 mm (10 x 10 x 10 in.). Model materials include ABS-M30, ASA, and SR-30 support material.
Virtually any customer can benefit immediately from the 3D printer's ease of use, high-level accuracy, and hands-free soluble support.
The F120 is backed by 1,200 hours of testing of the most important print performance attributes, including part robustness, accuracy, and how well the printed part matches the CAD file. Incorporating the benefits of larger systems, the F120 can 3D print complex, innovative designs with confidence.
The Stratasys F120 joins the full F123 Series of 3D printers, including the F170, F270, and F370 models. Delivery starts in July. The F120 U.S. price is $11,999.
Learn more about the F120 from Stratasy here.
Source: Stratasys
Published May 2019
Rate this article