Best-kept secret in the circuit breaker industry
In today's commercial environment, companies are forced to seek out innovative ways to increase the productivity of their operations -- especially those in the manufacturing sectors. Many manufacturers have been driven to seek out cutting-edge technology and automation solutions in order to compete. This strategy has helped manufacturing companies excel in an ever-changing industry and position themselves for success in global markets.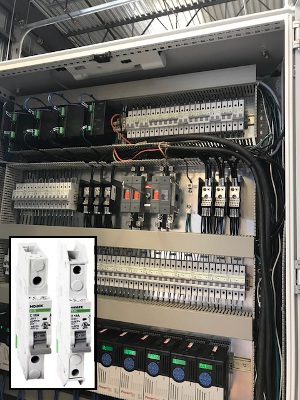 STELPRO, a Quebec-based manufacturer of integrated heating solutions for the HVAC industry, asked partners all along its supply chain to identify cost-saving opportunities. Installing NOARK miniature circuit breakers (MCBs) on panels in all their equipment was one solution that provided long-term quality and savings.
One example is STELPRO, a Quebec-based manufacturer of integrated heating solutions for the HVAC industry. Investing in cutting-edge technology has proven to be the best approach toward the company's ultimate goal -- becoming the No. 1 heating equipment company in North America. Evaluating the returns on investments in productivity and savings is a critical part of the decision-making process.
Challenge
To help reach these ROI goals, STELPRO asked partners all along its supply chain to identify cost-saving opportunities, so they could reinvest the savings into other areas of production. Ultimately, two companies teamed up to meet the challenge: Conception Genik and Cadence Automation.
Genik is a Montreal company with a long history of industrialized machinery and automation integration. Seeing an opportunity, Genik reached out to one of its key product and solution providers, Cadence Automation.
Cadence Automation is located in Sainte-Therese, near Montreal, and specializes in automation and industrial connectivity, providing solutions for services to original equipment manufacturers (OEMs), integrators (companies that help manufacturers automate industrial equipment and systems), and end users. Cadence started working with Genik about 15 years ago, providing components for the company's custom-built automation solutions for the automobile and transportation industries, aeronautics and high-tech fields, and the manufacturing and building materials industries.
Genik asked Cadence to provide miniature circuit breakers (MCBs) for panels on all their devices. Requirements called for both branch circuit protection and supplementary circuit breakers, plus the control design called for a complete customized integration. Cost would be a key driver in order to meet the demanding ROI requirements of the overall project, but, of course, these cost savings could not come at the expense of quality and reliability. Furthermore, Genik required a breaker lineup with a wide range of options that would meet the multiple applications proposed by their customer. When added up, this was no easy task.
Solution: The best-kept secret in the circuit breaker industry
After evaluating several options, Cadence decided to offer NOARK MCBs to their customers for use in a variety of different applications.
"We use NOARK mini circuit breakers in a variety of Genik applications," says Mike Palmieri, key accounts representative at Cadence Automation, a NOARK distributor. "It's an excellent product. It's the best-kept secret in the circuit breaker industry."
Palmieri says Cadence chose NOARK first and foremost for their high-quality products and five-year warranties.
"In the two years we've been with them, we haven't had one NOARK circuit breaker returned -- and we haven't had any complaints. When you see the product, the way it's manufactured, you know they're built to last," Palmieri says.
Philippe Caissy, project leader of controls at Genik, says he uses NOARK MCBs in all the control panels of the custom automation machines Genik develops for applications such as water heater tank production lines. Genik started using the MCBs in 2016 and has used hundreds of units since then.
For the STELPRO project, Genik used NOARK Ex9B1N Series UL489 miniature circuit breakers on 240 VAC as main branch circuit protection. For supplementary circuit protection on component devices on both AC and 24-VDC applications, NOARK B1N Series MCBs were used for low-voltage drives, power supplies, and other critical components of the design.
30 to 50 percent cost savings
Marc-Andre Champagne, electrical product manager at Cadence, says price was a key selling point. "Because of the streamlined manufacturing, we were able to offer a really low price point with NOARK components," he says. "Genik compared us with competitors, and we were able to beat them, hands-down."
"Our customers are saving substantial amounts of money," says Marc-Andre Laurin, GM of Cadence Automation. "Some of them were saving 30 percent, sometimes even 50 percent, while getting the same performance as a competitive product."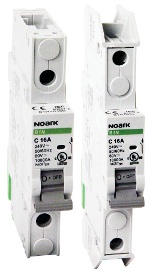 NOARK B1N miniature circuit breakers (MCBs).
Genik experienced the same kinds of price differentials. "It's approximately a third of the price we previously paid," he says.
"That's a great advantage for us, because it enables us to invest more money on other features of the production line -- and it enables us to make more profit," says Caissy.
The Genik panels, provided by Cadence using NOARK components, were able to help their HVAC client expand the automation of their production line from assembly to packaging, thanks to the cost savings.
Customer service and product availability
Palmieri says NOARK customer service is second to none, with prompt response times and readily available parts that can be quickly shipped to customers when they need it.
With the wide range of panels being produced, Genik needed a variety of MCB configurations in stock and available on demand.
"Our challenge was to keep each type of pole in stock and even figure out the trip curve," says Champagne. "NOARK has a variety of circuit breakers along with other items that go in the panel, and that's important, so our customers don't have a limited source of products."
Palmieri adds that NOARK's multiple locations and agents throughout North America, including L.A. and Vancouver, Canada, help Cadence promptly deliver products to their customers. In addition, NOARK application engineers are available for technical support.
Plus, the NOARK MCBs could be used as primary or secondary branch circuit breakers, allowing Cadence to carry appropriate amounts of inventory by offering one product that can do multiple jobs.
"Stocking products consumes space -- and space is money," Caissy says. "If Cadence can stock a great diversity of products, that is great for us. We don't need to stock the components here, and we can be supplied directly without waiting weeks to receive the product we need."
Results
Over the past seven years, STELPRO has been able to maintain an annual increase in productivity of more than 5 percent. The savings in productivity have allowed the company to focus on other business priorities such as launching new, innovative product lines to their industry.
Caissy expects to use other NOARK components, such as contactors, in the future. "Having had this experience with the NOARK breakers, we're confident that we can go forward with implementing the NOARK contactors series in our machines," he says.
For more information, contact Ed Joe, Marketing Director, Noark Electric (North America), 2188 Pomona Blvd., Pomona, CA 91768. Phone: 779-771-8881. Email ed.joe@noark-electric.com. Website na.noark-electric.com.
Source: NOARK
Published June 2019
Rate this article