Just out! THK introduces TRK Robot Hand assembly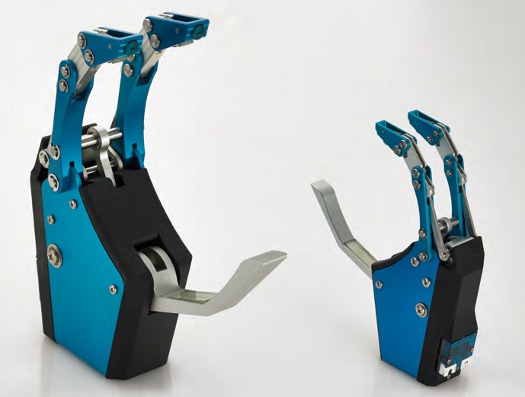 THK America is known for being a leader in linear motion guides, but now they're stretching their reach into the end-effector market.
The Schaumburg, IL-based company has just added the Type TRX Robot Hand to its quality lineup.
The TRX is a human hand-shaped, three-finger linkage system that enables the grasping of objects of various sizes and shapes. THK's robot hand integrates fingers, actuator, and a driver controller for an all-in-one, space-saving design.
The TRX Hand Robot is available in compact and large models.
The compact Type TRX-S weighs 320 g. This lighter robot hand allows for the transfer of a heavier object when attached to a robot arm. The maximum gripping diameter of the TRX-S is 100 mm.
The large Type TRX-L weighs 1,200 g and features a maximum gripping diameter of 150 mm.
THK manufactures the widest range of linear motion products, including LM guides, ball screws, mechanical actuators, ball splines, and more. All THK products have been designed and manufactured to meet the strictest requirements. THK's experienced Global Engineering Team can provide customized linear motion solutions from their standard linear motion products as well as from mechatronics products for the most demanding applications. Now they can help you with pick-and-place options too.
Contact THK for more information on the TRX Robot Hand. It is so new that it is not on their website yet. Email marketing@thk.com.
Source: THK
Published June 2019
Rate this article