Navy Research Lab develops eco- and painter-friendly topcoat for aircraft
The U.S. Naval Research Laboratory's Center for Corrosion Science and Engineering has developed a safer and user-friendly topcoat that was recently applied onto the exterior of Navy and Marine Corps aircraft.
The topcoat, which is a one-component (1K) polysiloxane based on organosilane polymers, is a new technology that is free of harmful isocyanates and other hazardous air-polluting (HAP) chemicals. Isocyanates and HAPs are found in two-component (2K) polyurethane topcoats currently used on Department of Defense (DoD) and commercial aircraft.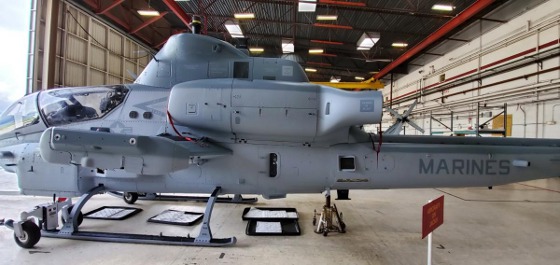 Marine Corps AH-1Z Viper helicopter is painted with one-component (1K) camouflage gray polysiloxane topcoat on the exterior. U.S. Naval Research Laboratory chemists developed the new topcoat for DoD aircraft, which is safer for the environment and easier to apply. [U.S. Naval Research Laboratory]
Erick Iezzi, Ph.D., senior research chemist at NRL, and engineers at Naval Air Warfare Center - Aircraft Division, applied the new topcoat onto a U.S. Navy F/A-18 Hornet located at Naval Air Station Patuxent River, Maryland. Additionally, the 1K topcoat was applied on Marine Corps UH-1Y Venom and AH-1Z Viper helicopters located at Marine Corps Air Station New River, Jacksonville, North Carolina, and Marine Corps Base Camp Pendleton, California, respectively.
The 1K polysiloxane topcoat on these aircraft is scheduled for a 1- to 2-year evaluation period.
"We're very proud of this achievement," Iezzi said. "Polyurethane topcoats have existed for several decades, yet within a few years we've been able develop an environmentally friendly alterative that provides similar laboratory performance and is easy for painters to use."
According to the Occupational Safety and Health Administration, or OSHA, exposure to isocyanates can result in irritation of the skin and mucous membranes, chest tightness, and difficulty breathing, and HAPs are classified as potential human carcinogens. Isocyanate exposure can also cause sensitization, resulting in severe asthma attacks upon subsequent exposures at even low levels.
Replacing isocyanates with polysiloxane provides a safer coating for painters and anyone conducting maintenance in nearby areas. The new 1K topcoat also contains lower levels of volatile organic compounds, which negatively impact air quality when released during spray applications.
The 1K polysiloxane topcoat requires no metering or mixing of components because all chemicals are in a single container, thereby reducing time of preparation and providing a more homogeneous color on aircraft. The container is also resealable for future use, which reduces the generation of hazardous waste and disposal costs.
Iezzi and other NRL chemists previously developed coatings for surface ships, but the requirements for aircraft coatings are more demanding.
"Developing a new high-performance topcoat for aircraft is more difficult than for ships," Iezzi said. "Aircraft have aluminum skin, which means the coating must provide greater flexibility, especially at cold temperatures during high-altitude flight. An aircraft topcoat must also retain a camouflage appearance for longer periods of time."
As part of NRL's large patent portfolio, the polymers and polysiloxane coating technology are covered by U.S. Patents 9139753, 9701868, and 10190020. The first two patents are partially exclusively licensed by NCP Coatings of Niles, MI, which produces the camouflage topcoat for demonstrations and field validation. NCP Coatings is also using this technology to develop semi- and high-gloss formulations for aircraft.
These topcoat applications were coordinated with the Naval Air Systems Command and sponsored by the Defense Department's Environmental Security Technology Certification Program (ESTCP) with contributing funds from the Office of Naval Research (ONR).
Editor's Note: You may be interested in a related article posted in Designfax April 2018 about a Navy-developed alternative to chromate-based corrosion inhibitors. You can view it here, or we've pasted it below for easy reference.
Source: U.S. Naval Research Laboratory
Published July 2019
-------------------------------------------------
Navy unveils breakthrough alternative to chromate-based corrosion inhibitor for DoD aircraft
April 28, 2018
By Cynthia Greenwood, DoD Corrosion Policy and Oversight Office
In 2009, the Department of Defense (DoD) acquisition chief John J. Young, Jr. issued a mandate requiring the military departments to find new ways to reduce their use of hexavalent chromium (also known as hex chrome or Cr+). Hex chrome, which became infamous in the eyes of the public after the release of the film "Erin Brockovich," is a carcinogen that is harmful to humans and the environment. DoD maintenance facilities go to painstaking lengths to reduce the level of exposure sustained by their maintenance technicians due to hex chrome.
Hex chrome offers important corrosion prevention and control qualities in organic pre-treatments and primers used to coat a variety of military aircraft. For example, most coatings and primers used on legacy fighter and cargo aircraft such as the Navy's F/A-18 and F-14; the Air Force's C-130, C-5, and F-16; and the Army's H-60 Black Hawk helicopter contain hex chrome.
Chromate-based corrosion inhibitors are widely recognized as the best inhibitors available to the DoD. Their high level of performance means that they are still used prolifically as a coating for all types of military aircraft.
South of Japan, Aviation Structural Mechanic Airman Joseph Tuazon applies alodine to unpainted screws on an MH-60S Sea Hawk as Aviation Structural Mechanic 3rd Class Jesse Barlow uses a scribe to remove corrosion from screws on its windshield. The Navy's new Al-Rich primer is a metalized, chromate-free, anti-corrosion primer designed for nonhazardous use by structural mechanics in charge of corrosion prevention maintenance. [Navy photo by Mass Communication Specialist Seaman Jamaal Liddell]
The delicate balance of finding alternatives to hex chrome
Complicating the issue of finding alternatives to hex chrome is the drastic cost of corrosion faced by the U.S. military. According to a study released by the DoD Corrosion Policy and Oversight Office, the DoD spent nearly $20 billion on corrective corrosion actions in fiscal year 2016. That expenditure amounts to nearly 20 percent of the entire DoD maintenance budget.
Moreover, corrosion experienced by Navy and Marine Corps aircraft costs approximately $3.43 billion annually and accounts for almost 28 percent of all maintenance costs. Corrosion-related maintenance prevents active aircraft from being ready for mission tasking for approximately 57 days each year.
The high cost of corrosion within the DoD persists despite its prolific use of carcinogenic, but best-in-class, chromate primers.
Navy experts who attack the problem of chromates walk a delicate line between finding an environmentally benign inhibitor and refusing to sacrifice so much performance that the DoD maintenance budget swells even further. Since 2009, the search by DoD and industry for a non-chromate primer has persisted alongside the expectation of finding an alternative that performs just as well as current chromate-based primers. Among DoD officials and engineers, this expectation has become known as the "as good as" requirement.
In response to Young's 2009 mandate, experts at the Materials Engineering Division of the Naval Air Warfare Command -- Aircraft Division (NAWCAD) in Patuxent River, MD, re-energized their internal primer research and development efforts in an effort to push the performance of non-chromated primers closer to that of chromated primers, since the products qualified at the time were the best available, but still not good enough for many naval aviation applications.
To address this shortcoming, NAWCAD materials engineer Craig Matzdorf and chemical engineer William Nickerson, now with the Office of Naval Research, have invented their own solution to the problem. Their patented Active Aluminum-Rich ("Al-Rich") technology is a powerful anti-corrosion chemical composition created for use in coating systems. The Al-Rich primer is a metalized, sacrificial, chromate-free, high-performance, anti-corrosion primer for use in all situations where a chromated primer is currently used.
"Al-Rich is superior to existing coatings based on the novel aluminum pigment that actively overcomes corrosion by electrochemical means," said Matzdorf. "Current coatings rely on chemical inhibitors like chromate, which are less effective at fighting galvanic corrosion. We anticipate that the Al-Rich primer will reduce galvanic and other types of corrosion and its effect on the Navy's cost and availability."
Key technology components in Al-rich primer
Although metal-rich primers have existed for quite some time, there were some underlying problems. First, the most traditional metal-rich coatings, such as zinc-rich coatings, are far too heavy for aviation applications and are not effective on aluminum. Second, other metal-rich coatings did not have the longevity of performance in harsh operating environments. "The Al-Rich primer employs two unique approaches to alleviate these key issues and to provide corrosion protection at the level of chromate primers," according to Matzdorf.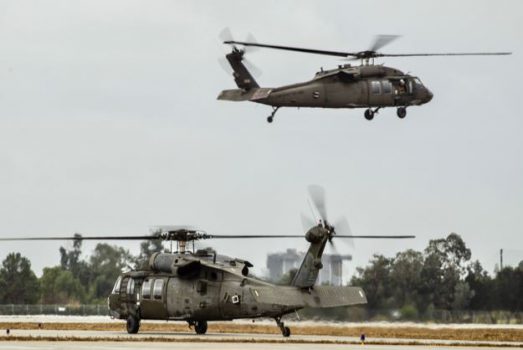 While the Naval Air Warfare Command's Al-Rich primer already has been applied to an Army H-60 helicopter, a NASA C-130 cargo plane, and various pieces of Navy support equipment, Navy engineers are preparing to test it on other DoD aircraft and equipment. [Army courtesy photo]
The first key component of the technology is the use of a specialty aluminum alloy as the pigment inside the primer. The alloy composition of this pigment is specifically chosen for its high efficiency. In turn, this high efficiency, in combination with the low density of aluminum, allows the coating to be applied at normal aviation thicknesses, thus eliminating weight concerns.
The technology's second key component is a proprietary surface treatment applied to the pigment. By subjecting the primer's pigment to a surface treatment, both the pigment's overall level of performance and the primer's overall length of performance are increased. A surface-treated particle boosts the performance of this metal-rich primer to meet the "as good as" requirement.
According to Matzdorf, these two key technology components combine to create a truly novel approach to non-chromated and high-performance primers. One area of Al-Rich primer's performance excellence is its ability to reduce fastener-induced corrosion. Each time a titanium or stainless steel fastener is punched into the aluminum body of an aircraft, a potent corrosion cell is created. These corrosion cells cause prolific and expensive corrosion damage. For reasons that are likely to stem from its ability to protect aluminum electrochemically, the Al-Rich primer excels at preventing fastener-induced corrosion as well as filiform corrosion. In many scenarios, the Al-Rich primer outperforms its chromated counterparts at preventing these rampant corrosion problems.
Applications and future testing
Thus far, the Al-Rich primer has been applied to an Army H-60 helicopter, a NASA C-130 cargo plane, two Coast Guard H-60 tail sections, and various pieces of Navy support equipment. Engineers at NAWCAD have extensive lab data on this product and are now looking to test it extensively on a variety of DoD applications. However, to do so, the Navy needs to procure large batch sizes of the new primer. Because the Navy is not in the business of manufacturing commercial quantities of chemicals, it has begun licensing this Al-Rich primer technology to equipped and capable businesses. A handful of companies now hold non-exclusive licenses to utilize this technology inside the U.S. Av-DEC, located in Fort Worth, TX, holds an exclusive international license, and STIC Adhesive (based in Los Angeles, CA) holds an international license for South Korea.
Through funding sponsored by the Office of Naval Research over the next few years, the Navy plans to apply the new Al-Rich primer to larger and larger portions of its assets. Successful field demonstrations will allow the Navy to comply with the DoD mandate regarding hex chrome. According to officials at NAWCAD and the DoD Corrosion Policy and Oversight Office, Al-Rich primers represent an exciting new entry into the non-chromated anti-corrosion primer market.
Source (main article): U.S. Navy Research Laboratory
Published July 2019
Rate this article