U.S. military laser and directed energy weapons: Updates from the field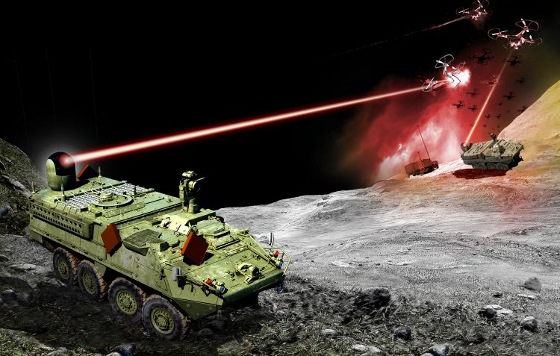 Northrop Grumman has been selected to develop and integrate a directed energy prototype solution on a Stryker combat vehicle for the U.S. Army to better protect highly mobile frontline units. The effort will culminate in a competitive performance checkout leading into a range demonstration that informs Maneuver Short Range Air Defense (M-SHORAD) requirements. [Image credit: Northrop Grumman]
---ARMY---

According to the U.S. Army Space and Missile Defense Command/Army Forces Strategic Command, there are currently four directed energy efforts underway that also include different kilowatt (kW) class weapons:
High Energy Laser Mobile Test Truck (HELMTT): A 50-kW-class laser system integrated in a Heavy Expanded Mobility Tactical Truck (HEMTT);
High Energy Laser Tactical Vehicle Demonstrator (HELTVD): An effort to integrate a 100-kW-class laser system on a Family of Medium Tactical Vehicles (FMTV);
Mobile Experimental High Energy Laser (MEHEL): A Stryker-based 5-kW class laser system developed to inform requirements for future laser weapon systems and to support tactics, techniques, procedures, and concept of operations development for high-energy laser weapons; and
Multi-Mission High Energy Laser (MMHEL): An effort to develop a Stryker-based 50-kW-class laser demonstrator for a Maneuver-Short Range Air Defense (M-SHORAD) solution. This will be a dedicated air defense system that can maneuver with brigade combat teams (BCTs) while providing air defense and fire support.
Army awards laser weapon system contract

By Claire Heininger, U.S. Army
The U.S. Army has issued a contract award to accelerate the rapid prototyping and fielding of its first combat-capable laser weapon system.
This prototype will deliver 50-kW-class lasers on a platoon of four Stryker vehicles in Fiscal Year 2022, supporting the Maneuver-Short Range Air Defense (M-SHORAD) mission. The directed energy M-SHORAD capability is intended to protect maneuvering Brigade Combat Teams from unmanned aerial systems (UAS), rotary-wing aircraft, and rockets, artillery, and mortar (RAM).
"The time is now to get directed energy weapons to the battlefield," said LTG L. Neil Thurgood, Director of Hypersonics, Directed Energy, Space and Rapid Acquisition. "The Army recognizes the need for directed energy lasers as part of the Army's modernization plan. This is no longer a research effort or a demonstration effort. It is a strategic combat capability, and we are on the right path to get it in Soldiers' hands."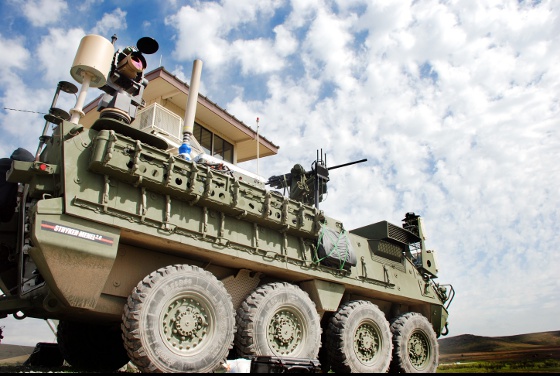 A 5-kW laser integrated on a Stryker participated in the Maneuver Fires Integrated Experiment (MFIX) at Fort Sill on April 5, 2017. The Army is now accelerating the rapid prototyping and fielding of 50-kW-class lasers on a platoon of Strykers. [Photo Credit: U.S. Army photo by C. Todd Lopez, Army News Service]
High-energy lasers engage at the speed of light and provide a solution to a constantly evolving threat space, while reducing the logistics trail associated with conventional kinetic weapon systems. In May 2019, the Army approved a new strategy for accelerating the rapid prototyping and fielding of a variety of directed energy weapons to enable Army modernization.
As the first step in delivering prototypes with residual combat capability, the Army Rapid Capabilities and Critical Technologies Office (RCCTO) has selected two vendors to build the directed energy M-SHORAD mission prototypes in order to foster competition and stimulate the industrial base for directed energy capabilities. Those vendors, Northrop Grumman and Raytheon, are subcontractors in an Other Transaction Authority (OTA) agreement between the Army and Kord Technologies.
Under the OTA award action, issued on July 26 in the amount of $203 million, Kord has teamed with Northrop Grumman and Raytheon to develop the competing prototypes with support from General Dynamics Land Systems, which makes the Stryker, for integration work. Under the terms of the contract, the two laser vendors have approximately one year to produce the required laser subsystems, integrate them onto the Stryker platform, and complete a competitive performance checkout leading into a range demonstration against various threats.
After the Army evaluates the results, it plans to purchase three additional laser-equipped Strykers, for a total of four prototype vehicles that would be fielded to an operational M-SHORAD platoon in Fiscal Year 2022. The OTA award has the potential to increase to $490 million for the delivery of the four prototypes.
The directed energy M-SHORAD prototypes are part of the progression of an Army technology maturation initiative known as the Multi-Mission High Energy Laser (MMHEL).
"Both the Army and commercial industry have made substantial improvements in the efficiency of high-energy lasers -- to the point where we can get militarily significant laser power onto a tactically relevant platform," said Dr. Craig Robin, RCCTO Senior Research Scientist for Directed Energy Applications. "Now, we are in position to quickly prototype, compete for the best solution, and deliver to a combat unit."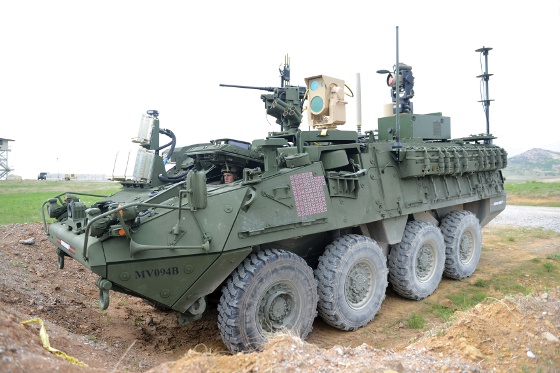 A MEHEL-equipped Stryker shot small fixed- and rotary-wing UAS out of the sky using a 5-kW fiber laser in April during MFIX-17 at Fort Sill, a first for the Army. [Photo Credit: U.S. Army photo by C. Todd Lopez, Army News Service]
The Army is also welcoming participation from additional vendors who were not selected for the OTA awards, but desire to compete for the same M-SHORAD requirement and timeline using their own internal research and development funding.
In a related effort, the Army is also adapting its High Energy Laser Tactical Vehicle Demonstrator (HEL-TVD) system into a prototype program order to increase its combat effectiveness and speed up its delivery to Soldiers.
The Army will adjust the current HEL-TVD, a 100-kW-class laser system integrated on a Family of Medium Tactical Vehicles platform developed by Dynetics and subcontractor Lockheed Martin. Under the new directed energy strategy, the Army is leveraging progress made in that effort in order to merge the HEL-TVD with similar technologies in development by the Navy and the Office of the Secretary of Defense.
This partnership will allow the services to achieve a higher power system, of approximately 250- to 300-kW-class, that can protect sites from RAM (rocket, artillery, mortar) and UAS as well as more stressing threats -- significantly increasing the warfighting capability being transitioned on the original timeline. The Army's goal is to deliver four such prototype lasers integrated on tactical vehicles, for a capability known as High Energy Laser-Indirect Fire Protection Capability (HEL-IFPC), to a platoon by Fiscal Year 2024.
"By teaming with the other services and our industry partners, we will not only save resources, but exponentially increase the power level and get a better system to Soldiers faster," Thurgood said.
The Army RCCTO, headquartered at Redstone Arsenal, AL, is chartered to develop rapid prototypes and field residual combat capabilities. Its current focus areas are hypersonics and directed energy.
---MARINES---
Marine Corps at forefront for ground-based lasers

By Ashley Calingo Marine Corps Systems Command
A drone-killing, directed energy weapon prototype is now in the hands of Marines. The Compact Laser Weapons System -- or CLaWS -- is the first ground-based laser approved by the Department of Defense for use by warfighters on the ground.
"This was all in response to a need for counter unmanned aerial systems to take down drones," said Don Kelley, program manager for Ground Based Air Defense (GBAD) at Program Executive Officer Land Systems. "We developed a CLaWS prototype for Marines to use and evaluate."
In recent years, the Defense Department has assessed directed energy weapons -- more commonly known as "lasers" -- as an affordable alternative to traditional fire power to keep enemy drones from tracking and targeting Marines on the ground.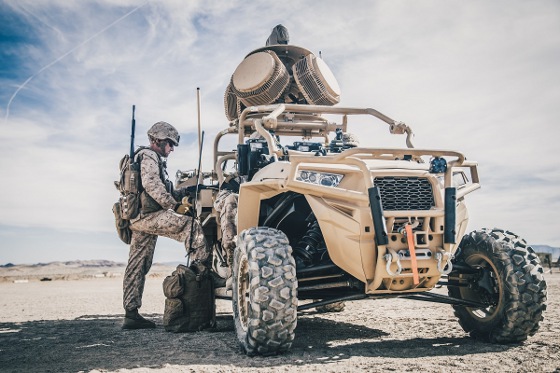 A Marine conducts pre-deployment training and evaluation. Additionally, Marines are evaluating the Compact Laser Weapons System, the first ground-based laser approved by the Department of Defense for use by warfighters, as another potential C-UAS defeat capability. [U.S. Marine Corps photo by Lance Cpl. Dalton S. Swanbeck]
CLaWS is not intended to be a standalone system for Marines to use to counter enemy drones. Rather, if the prototype continues to do well in the current research and development phase, it will serve as a component to an overall system used to counter drones.
"We're providing CLaWS to Marines as a rapid prototype for evaluation," Kelley said. "Depending on the results, CLaWS could become part of a larger capability set."
Rapid prototyping, rapid delivery
The GBAD program, managed within the portfolio of PEO Land Systems, procured the CLaWS prototype through the Defense Ordnance Technology Consortium -- or DOTC -- which was commissioned by the then-Under Secretary of Defense for Acquisition, Technology and Logistics to foster collaboration between government, industry, and academia regarding ordnance technology development and prototyping.
"The typical acquisition timeline can be lengthy," said Lt. Col. Ho Lee, product manager for GBAD Future Weapons Systems at PEO Land Systems. "But this project, from start to finish -- from when we awarded the DOTC contract, to getting all the integration complete, all the testing complete, getting the Marines trained, and getting the systems ready to deploy -- took about one year."
From a production standpoint, Lee said that the program office and its partners integrated various commercial items to create CLaWS.
"We've been doing rapid prototyping, rapid delivery," said Lee. "With this and a lot of the other efforts we are doing, we are using items currently available and integrating them to meet a capability. Little development, if any, went into this."
Leveraging expertise for increased lethality
Obtaining the green light to deliver and deploy CLaWS requires a bit more finesse, which is why PM GBAD leveraged DoD interagency partnerships to fulfill the need.
The operational use of new laser weapons, such as CLaWS, requires approval from the Office of the Secretary of Defense, as it involves various factors such as legal reviews, concepts of employment, rules of engagement, tactics, potential collateral damage and human effects, proposed public affairs guidance, and other relevant information.
"This program lives and dies with the leveraging of expertise and resources with others," said Kelley. "It's about getting these capabilities quickly into the hands of Marines and being good stewards of taxpayer dollars."
Move fast and lase things
As Marines evaluate the CLaWS systems over the next few months, the GBAD program office already has their next target in mind: upgrading it.
Depending on the results, the program office says it could incorporate the CLaWS into other fixed-site and mobile C-UAS defeat capabilities.
"What's interesting about CLaWS for the Marine Corps is, usually for things like this, we're on the back end," said Lee. "With this one, we're actually in front. Everybody is watching closely to see what's going to happen."
---AIR FORCE---
Compact airborne high-energy laser capabilities coming by 2021

The Air Force Research Lab (AFRL) awarded Lockheed Martin $26.3 million back in 2017 for the design, development, and production of a high-power fiber laser. AFRL plans to test the laser on a tactical fighter jet by 2021. The contract is part of AFRL's Self-protect High Energy Laser Demonstrator (SHiELD) program, and is a major step forward in the maturation of protective airborne laser systems.
"We have demonstrated our ability to use directed energy to counter threats from the ground, and look forward to future tests from the air as part of the SHiELD system," said Dr. Rob Afzal, senior fellow of laser weapon systems at Lockheed Martin.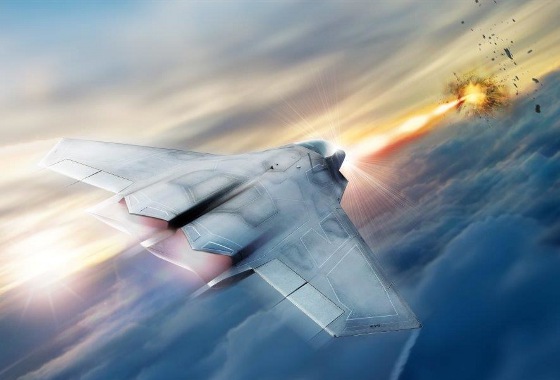 Lockheed Martin SHIELD-OPSEC. [Image credit: Lockheed Martin]
The SHiELD program includes three subsystems:
SHiELD Turret Research in Aero Effects (STRAFE), the beam control system, which will direct the laser onto the target.
Laser Pod Research & Development (LPRD), the pod mounted on the tactical fighter jet, which will power and cool the laser.
Laser Advancements for Next-generation Compact Environments (LANCE), the high-energy laser itself, which can be trained on adversary targets to disable them.
LANCE is designed to operate in a compact environment, and as such, the Lockheed Martin team focused on developing a compact, high-efficiency laser within challenging size, weight, and power constraints.
At the time of the contact award, Lockheed had already delivered a 60-kW-class laser to be installed on a U.S. Army ground vehicle.
"It's a completely new and different challenge to get a laser system into a smaller, airborne test platform," said Afzal. "The development of high-power laser systems like SHiELD shows laser weapon system technologies are becoming real. The technologies are ready to be produced, tested, and deployed on aircraft, ground vehicles, and ships."
Source: Lockheed Martin
Directed energy systems down drones in U.S. Air Force demonstration

U.S. Air Force personnel used Raytheon-built microwave systems and high-energy lasers to bring down dozens of small drones during a recent exercise in early Spring 2019. The target drones were flying both alone and in swarms.
Airmen took control of both the microwave and laser systems after just one day's training. They used an Xbox-style controller to direct the laser and a joystick to operate the high-power microwave in real-world scenarios at the U.S. Army White Sands Missile Range in New Mexico.
"Countering the drone threat requires diverse solutions," said Stefan Baur, Raytheon Electronic Warfare Systems vice president.
A Raytheon-built, mobile, high-energy laser system. The company's advanced high-power microwave and high-energy laser defeated dozens of drone targets in a U.S. Air Force demonstration recently at the White Sands Missile Range in New Mexico. [Image credit: Raytheon]
The HEL (high-energy lasers) system, paired with Raytheon's Multi-spectral Targeting System of sensors, uses invisible beams of light. Mounted on a small, all-terrain, militarized vehicle, the system detects, identifies, tracks, and engages drones.
Raytheon's HPM (high-power microwave) uses microwave energy to disrupt drone guidance systems. HPM operators can focus the beam to bring down drone swarms. With a consistent power supply, an HPM system can provide virtually unlimited protection.
The two systems complement one another. HPM can instantly defeat a swarm. HEL shoots down drones one at a time. If the laser is occupied and there's another target coming, HPM can bring it down.
Raytheon's HEL and HPM were the only directed energy systems that participated in the demonstration, which was part of the Air Force Directed Energy Experimentation campaign. The White Sands Missile Range exercise follows a similar Army-directed energy exercise held in 2017.
"After decades of research and investment, we believe these advanced directed energy applications will soon be ready for the battlefield," said Dr. Thomas Bussing, Raytheon Advanced Missile Systems vice president.
U.S. Air Force personnel used Raytheon-built microwave systems and high-energy lasers to bring down dozens of small drones during a recent exercise. The target drones were flying both alone and in swarms.
Source: Raytheon
---NAVY---
Lockheed Martin working on delivering integrated high-energy laser weapon systems to U.S. Navy through $150 million contract

The U.S. Navy awarded Lockheed Martin a $150 million contract in March 2018, with options worth up to $942.8 million, for the development, manufacture, and delivery of two high-power laser weapon systems, including intelligence, surveillance and reconnaissance (ISR), and counter-Unmanned Aerial System (counter-UAS) capabilities, by fiscal year 2020. With the High Energy Laser and Integrated Optical-dazzler with Surveillance (HELIOS) system, Lockheed Martin aims to help the Navy take a major step forward in its goal to field laser weapon systems aboard surface ships.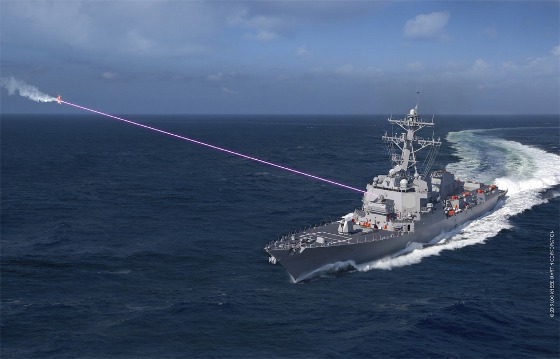 Lockheed Martin HELIOS system. [Image courtesy: Lockheed Martin]
"The HELIOS program is the first of its kind and brings together laser weapon, long-range ISR, and counter-UAS capabilities, dramatically increasing the situational awareness and layered defense options available to the U.S. Navy," said Michele Evans, vice president and general manager of Integrated Warfare Systems and Sensors. "This is a true system of capabilities, and we're honored the Navy trusted Lockheed Martin to be a part of fielding these robust systems to the fleet."
HELIOS combines three key capabilities, brought together for the first time in one weapon system:
A high-energy laser system: The high-energy fiber laser will be designed to counter unmanned aerial systems and small boats. The energy and thermal management system will leverage Lockheed Martin experience on Department of Defense programs, and the cooling system will be designed for maximum adaptability onboard ships. In addition, Lockheed Martin will bring decades of shipboard integration experience, reducing risk and increasing reliability.
A long-range ISR capability: HELIOS sensors will be part of an integrated weapon system, designed to provide decision-makers with maximum access to information. HELIOS data will be available on the Lockheed Martin-led Aegis Combat System.
A counter-UAS dazzler capability: The HELIOS dazzler will be designed to obscure adversarial UAS-based ISR capabilities.
In this first increment of the U.S. Navy's Surface Navy Laser Weapon System program, Lockheed Martin will deliver two units for test by fiscal year 2020. One unit will be delivered for shipboard integration on an Arleigh Burke-class destroyer, and one unit will be used for land testing at White Sands Missile Range.
"Lockheed Martin's spectral beam combined fiber lasers bring flexibility and adaptability to defensive and offensive missions," said Dr. Rob Afzal, senior fellow of laser weapon systems. "Our design is scalable, and we can optimize it to meet requirements for future increments."
Source: Lockheed Martin
Designfax has reported in the past that a single laser "shot" from a 30-kW laser costs the U.S. Navy $1. That's a big savings when it comes to ammo! This was also reported by CNN, among many other outlets. The U.S. Navy has already fielded the 30-kW LaWS (Laser Weapons System) on the USS Ponce amphibious transport ship, which did a tour with the weapon installed in the Persian Gulf.

VIDEO: Laser Weapon System demonstration aboard USS Ponce.
According to a U.S. Naval Institute May 30, 2019, article, the Navy Laser Family of Systems (NLFoS) "has four parts, including three weapon systems that will eventually go on ships: the Solid State Laser - Technology Maturation system (SSL-TM), which will eventually be a 150-kw laser weapon on amphibious ships; the High Energy Laser and Integrated Optical-dazzler and Surveillance (HELIOS), a planned 60-kw laser weapon that will see its first test on an Arleigh Burke-class destroyer in 2021; and the Optical Dazzling Interdictor, Navy (ODIN) that will also go on a destroyer." You can read the full USNI article here.
Published August 2019
Rate this article