Trends in fastening technology:
Smaller, lighter, easier to install
By Michael Wolff and Ron Boggs, PennEngineering
Fastening technologies and assembly techniques are evolving to meet continued demands for reliability, throughput, and ease of manufacturability. One trend sees designers involving parts manufacturers in early design phases to ensure design for manufacturability (DFM). Another sees the fasteners themselves becoming smaller, stronger, lighter, and easier to install by automated and robotic assembly systems.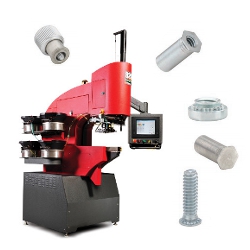 Customers engaging leading parts manufacturers earlier in the design phase can save time and money. When involved in the design phase, parts manufacturers can identify and address potential problems with manufacturability while meeting specific installation requirements.
For example, an automotive original equipment manufacturer (OEM) recently introduced their fifth-generation architecture, which was to be applied to an electric vehicle. The scalable electric architecture was designed to accommodate all types of electric and hybrid vehicles with more configurations than before. The OEM faced challenges including space constraints for the busbar design, cleanliness requirements for electrical safety, and global manufacturing support.
PennEngineering collaborated with the OEM to overcome these issues. The resulting connector design reduced space requirements by 80 percent. The PEM® design incorporated a cold-formed primary process with a secondary machining operation. This combined process delivers technical performance that normally requires a screw machining process, while meeting the OEM's commercial targets. PennEngineering delivered other elements of the system (including the installation equipment) and a tooling package-developed clinch-fastener installation after "solder ring" assembly, which met the OEM's needs.
Fasteners are increasingly being asked to work harder and smarter, and fastener companies like PennEngineering are answering the call by developing lighter, smaller, and stronger fasteners that are easier to install. Sometimes this means moving from thicker and heavier steels to composites, thinner alloys, or less conventional materials such as cast magnesium or cast aluminum.
To that end, PennEngineering has increased its focus on fastener innovation by adding more engineers to its R&D team.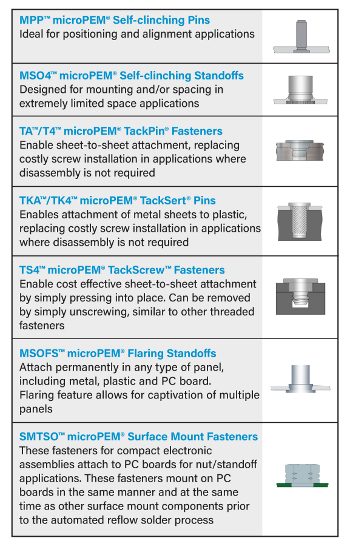 microPEM® micro fasteners are ideal for today's compact electronics.
The company developed its microPEM® line of micro fasteners for manufacturers of consumer electronics, automotive electronics, and other small electronic devices, including laptops, tablets, readers, and smartphones, gaming devices, smart watches, fitness bands, and headphones. These micro fasteners have thread codes as small as M0.8, pin diameters as small as 0.7 mm, and standoff lengths as short as 0.7 mm. They clinch flush into sheets as thin 0.3 mm and attach to sheets as thin as 0.2 mm. PennEngineering has also designed parts for smaller and/or thinner applications.
Because innovative fastener designs can help with reliability and throughput during the installation process, PennEngineering has dedicated design efforts to overcome installation hurdles associated with standard fasteners.
One of the more exciting recent developments in fastening technologies is the replacement of screws with our line of TackPin® products for permanent fastening of components. The use of screws as fasteners presents certain manufacturing, assembly, and product lifecycle difficulties, such as tapping, cross-threading, stripping the thread, tightening torque control, and vibrational black-out.
TackPin® and TackSert® fasteners are significantly easier to install and deliver a weight and cost savings over screws. TackPin® and TackSert® fasteners provide the same strength and performance with the added benefit of weight and cost savings. Instead of being screwed in, TackPin® and TackSert® fasteners are installed axially with a straight pressing force, eliminating the need for a drive in the fastener and torque from installation tooling. The low-profile heads provide space savings, while the tapered tip aligns the fastener in the hole. The interference fit minimizes hole tolerance issues.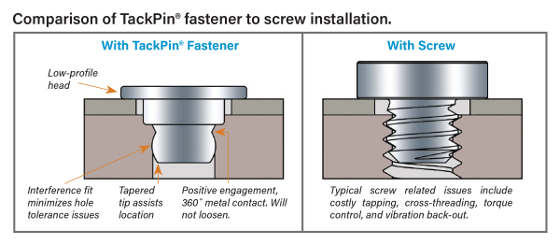 PennEngineering supplied TackSert® fasteners to an automotive supplier that needed to create more power from an electric power pack for power steering without increasing product dimensions to reduce installation complexity for the manufacturer.
PennEngineering worked with the supplier to eliminate wasted space on the printed circuit board (PCB) due to screw head diameter and reduce the depth of aluminum casting formally required to accommodate screw length. At the same time, the supplier was able to cut assembly time and cost as well as eliminate the potential for metal chip contamination due to screw use, providing a tamper-proof solution for a safety-critical component and maintaining redundant sources of supply from PennEngineering's global footprint.
TackSert® fasteners reduced keep-out space on the PCB by over 80 percent from 9 mm to 1.8 mm, halved installation time from 3 sec to 1.5 sec, reduced engagement length by 70 percent from 10 mm to 3 mm, reduced head height by nearly 90 percent from 2.52 mm to 0.27 mm, and exceeded retention force requirement by over 50 percent. The press-in versus screw-in installation method met the cleanliness requirement, and the permanent TackSert® fixation delivered a tamper-proof solution.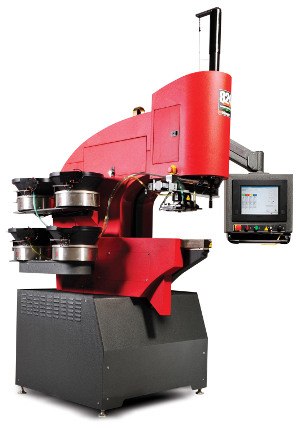 The Haeger 824 OneTouch 4e machine is fully hydraulic, boasts a force of 8 tons, and has a 24-in. throat depth. It is best suited for high-volume parts with flanges or boxes under 3 in. and fasteners up to 0616 (M10) in mild steel and 0516 (M6) in stainless. It has a four-station upper and lower auto tool changer and four auto feed bowls.
Fasteners aren't the only focus of innovation. Assembly and insertion techniques provided by Haeger are also improving because customers want reliability, higher throughput, ease of setup, automation, and robotics.
The last five years have seen automation become more prevalent with customers, and PennEngineering is designing its equipment to meet those needs. The company offers a comprehensive line of HAEGER® automatic and manual machines and PEMSERTER® in-die installation systems designed to safely, reliably, accurately, and quickly install fasteners. Because ease of use is so critical, the machines are being designed to be plug and play and connect to different protocols, including Ethernet, ModBus, and basic IO.
The company's entire lineup of machines will be robot-ready by the end of the next fiscal year. To date, we have completed four prototypes of our new design, and one model is already robot-ready and working.
We believe the continuing drive toward smaller, stronger, lighter, and easier to install fasteners will lead to further advances in automation and robotic assembly. After all, much of the art of fastener design is how we install it.
About the authors
Michael Wolff is the global PEM® product manager. Ron Boggs is the HAEGER® sales, service, and marketing manager for the Americas for PennEngineering.
Want more information? Visit www.pemnet.com.
Published October 2019
Rate this article