Climb every mountain: New Land Rover Defender 2020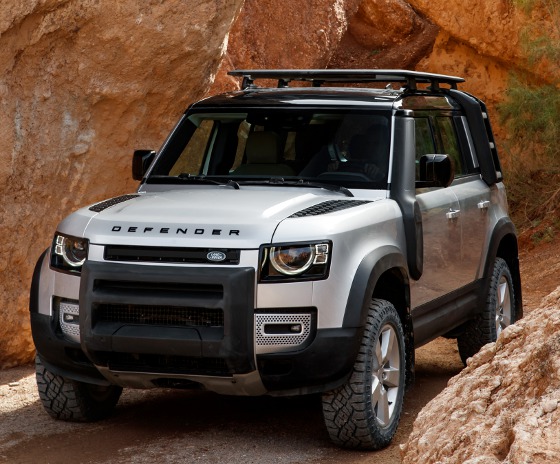 It's climb every mountain, ford every stream with the new Defender 2020 -- the toughest and most capable Land Rover vehicle yet. It combines a new body structure with all-new technologies and proven hardware to create an all-terrain adventurer that is fit to follow every byway -- and look chic downtown too.
The rollout of this line will start with the Defender 110 and will be followed by a short-wheelbase Defender 90 later in 2020. The line was last sold in North America in 1997 and in the U.K. and Europe in 2016.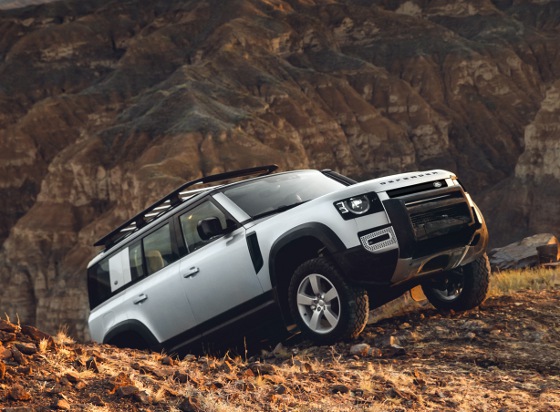 U.S. customers will be able to choose between a turbocharged four-cylinder engine (P300) and a six-cylinder Mild-Hybrid Electric Vehicle (MHEV) powertrain (P400). The P300 powertrain, which produces 296 hp, uses an advanced twin-scroll turbocharger for smooth performance and efficient power delivery, accelerating from 0 to 60 mph in 7.7 sec.
The P400 MHEV powertrain harvests energy normally lost during deceleration and redeploys it to optimize performance. The inline six-cylinder Ingenium gasoline engine features both a conventional twin-scroll turbocharger and an advanced 48-V electric supercharger. A belt-integrated starter motor replaces the alternator to assist the gasoline engine under acceleration, while the 48-V lithium-ion battery stores energy captured as the vehicle slows down. In combination, these advanced technologies provide 395 hp, 406 lb-ft of torque, and acceleration from 0 to 60 mph in 5.8 sec.
Both engines are paired with a smooth and responsive eight-speed ZF automatic transmission and twin-speed transfer box to provide a set of low-range ratios essential for towing or off-road driving when more control is required.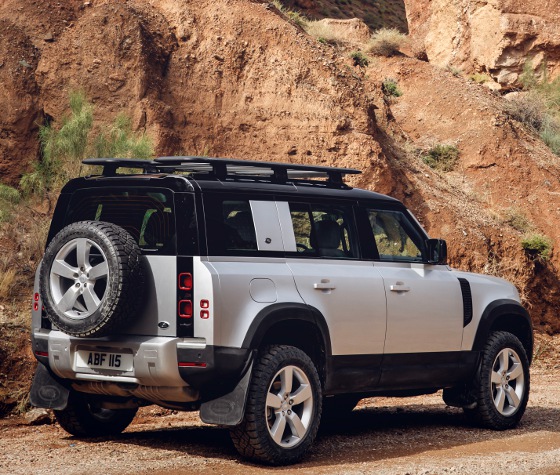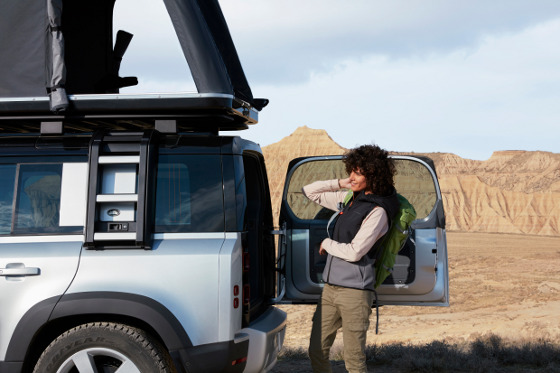 With its distinctive silhouette and optimum, boxy proportions, the new Defender has toughness at its core while its interior's rugged modular architecture embraces the spirit of adventure that has been a fundamental part of Land Rover DNA for more than 70 years.
With minimal front and rear overhangs, the new Defender is instantly recognizable and provides excellent approach and departure angles. The Land Rover design team re-envisioned familiar Defender elements for the 21st century, giving the new 4x4 a purposeful upright stance and Alpine light windows in the roof, while retaining the side-hinged rear tailgate and externally mounted spare wheel that make the original so identifiable.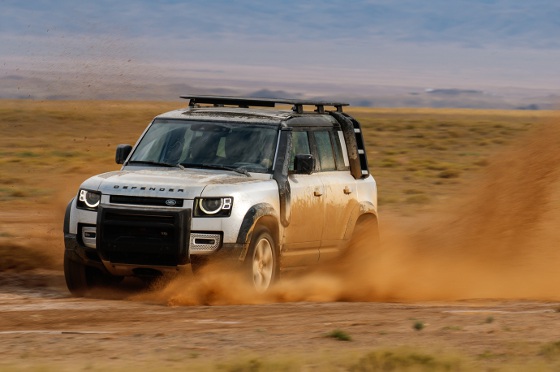 The new Defender, available in 90 and 110 body styles, share the same short overhangs, with six models available: Defender, Defender S, Defender SE, Defender HSE, Defender X (most expensive), and Defender First Edition.
Customers can also select from the widest range of accessories ever produced by the Land Rover brand, including a choice of four Accessory Packs: Explorer, Adventure, Country, and Urban.
Interestingly, the Defender doesn't share a single body-in-white panel with another Land Rover model, so it has its own line in body assembly at the new manufacturing facility in Nitra, Slovakia.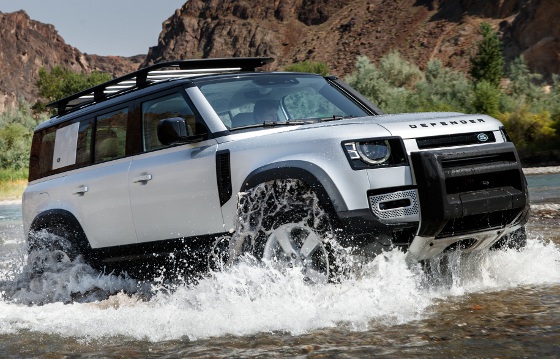 Land Rover has developed a curated exterior palette with unique colors exclusive to the new Defender. A lot of body work is exposed in the interior, so the color palettes are modular between interior and exterior.
On the Defender X derivative, the gloss black inset contrast hood is standard along with Gloss Black claddings. To give further differentiation between the "X" and the core vehicles, the front and rear skid pans and other detailed exterior parts are coated in a Starlight Satin finish.
The new Defender is the first Land Rover vehicle available with an optional factory-fitted Satin Protective Film that delivers enhanced design and durability. The PU-based wrap is applied to external bodywork and gives the standard metallic paint a rich and contemporary satin finish, showing the sophisticated surfacing of the exterior design in the best possible light. This durable wrap meets rigorous standards and has been developed for the highest performance in extreme conditions. It can be removed at any time, making it significantly quicker to repair than standard paint finishes. It is available with Indus Silver, Gondwana Stone, and Pangea Green paint options, is solvent free, and contains no volatile organic compounds (VOCs).
Twelve wheel designs are available, ranging from 18-in. white-painted pressed steel rims to 22-in. Luna alloys.
Body color options include three new metallic shades unique to the Defender with Tasman Blue, Pangea Green, and Gondwana Stone joining Fuji White, Eiger Grey, Santorini Black, and Indus Silver in the exterior color palette.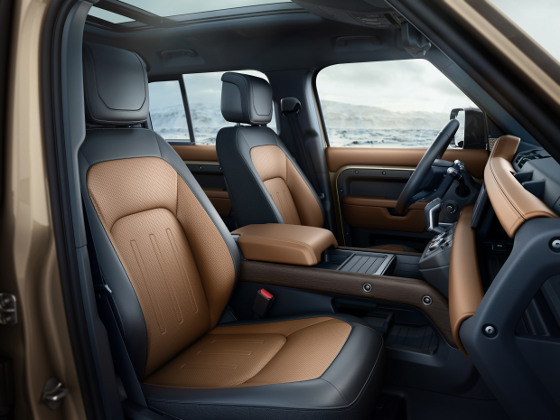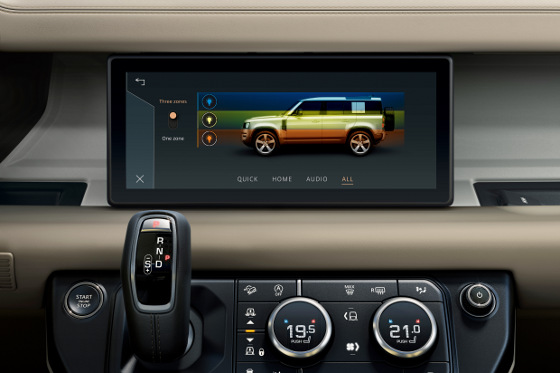 The first words that come to mind when you see the interior are practical, functional, and modular.
It features an exposed, powder-coated magnesium cross car beam that is integral to the overall strength of the body architecture. This structural die-cast magnesium alloy beam, which is available in a range of finishes, features integrated grab handles to aid entry but also for a secure grip when the vehicle is performing technical off-road maneuvers.
The main controls, including the central touchscreen, are ergonomically clustered within the magnesium frame to enable the installation of an innovative optional front row center jump seat while also allowing for movement across the front of the cabin.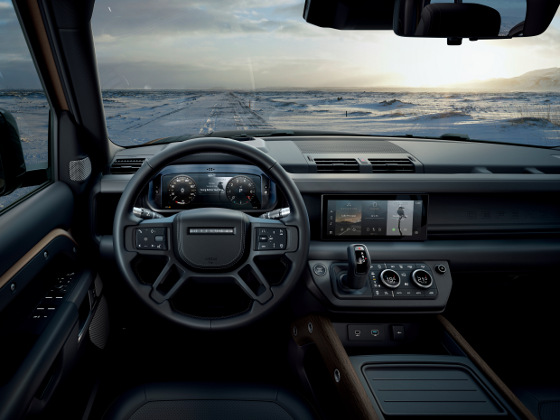 The new Defender comes with an abundance of storage opportunities, including a choice of center consoles.
The stripped-back design of the original Defender has been embraced inside, where structural elements and fittings usually hidden from view have been exposed, with an emphasis on simplicity and practicality.
User-friendly features include practical touches and advanced technological innovations. Durable rubberized flooring shrugs off the spills of daily adventures and once-in-a-lifetime expeditions, providing a brush or wipe-clean interior. Available on the Defender 90, a full-length Folding Fabric Roof provides an open-top feel and allows passengers in the second-row seats of the vehicle to stand up when parked to provide the full safari experience.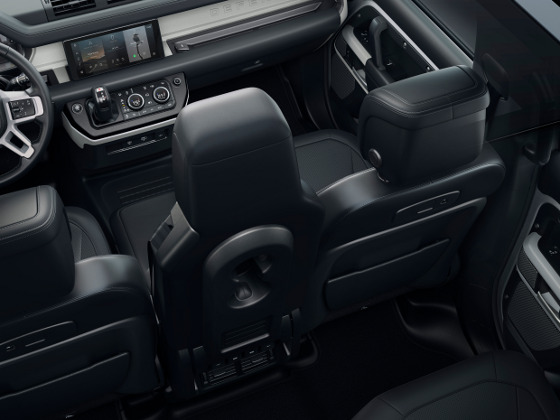 The Front Row Center Seat (otherwise known as a jump seat), standard on the First Edition Defender 90 and optional on the Defender 110, allows three people to travel in the front row. (Better have a small rear end and tiny legs for that seat!) This addition means the Defender 110 can be specified with five, six, or 5+2 seating, while the short-wheelbase Defender 90 can accommodate six occupants in a compact family hatchback-length body. When not in use, the seatback folds down to provide a front armrest and additional storage, including a pair of additional cupholders.
Customers can choose from three interior color combinations, with personalization coming from mixing these with different interior finish options.
Material choices include Resolve textile on standard models, while S and SE trims feature Grained Leather combined with a durable Robust Woven Textile featuring higher Decitex fibers for added strength (in addition to using recycled polyester) in areas subjected to the most wear. This tough and tactile material pays homage to the canvas hoods fitted to early series Land Rover models.
HSE models feature high-grade Windsor Leather, while the Defender X features Windsor Leather in combination with Steelcut Premium Textile accent for enhanced durability. This premium textile from Kvadrat is a 30 percent wool blend and is also available as an alternative to the leather upholstery paired with Miko Suedecloth.
Customers can also choose from a curated range of veneers and finishes, which include a rugged rough-cut Walnut or Natural Smoked Dark Oak Veneer, both of which are open pore to give a more natural haptic feel. Powder-coating colors available include Dark Grey for the X derivative and Light Grey as standard on core Defender models, with an option of inspired white for all the exposed metal parts.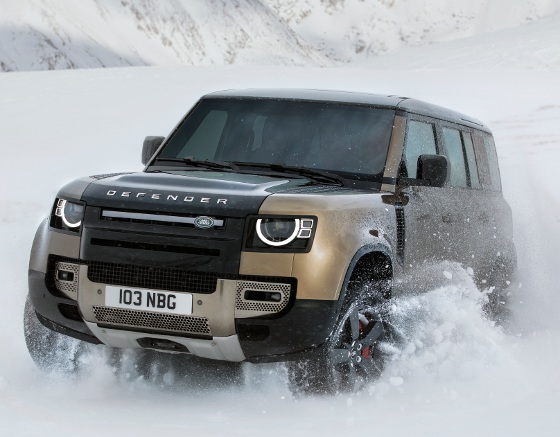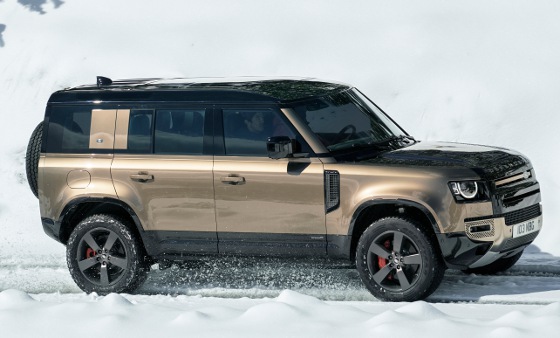 Its carefully honed handling delivers both a rewarding drive and first-class long-haul comfort across varying terrains.
Land Rover's new purpose-engineered D7x (for extreme) architecture is based on a lightweight aluminium monocoque construction to create the stiffest body structure Land Rover has ever produced. It is three times stiffer than traditional body-on-frame designs, providing perfect foundations for the fully independent air or coil sprung suspension and supports the latest electrified powertrains.
The New Defender has been through more than 62,000 tests for engineering sign-off, while the chassis and body architecture have been engineered to withstand Land Rover's Extreme Event Test procedure -- repeated and sustained impacts, above and beyond the normal standard for SUV and passenger cars.
Permanent all-wheel drive and a twin-speed automatic gearbox, center differential, and optional Active Locking Rear Differential ensure it has all the hardware required to excel in the soft sand of the desert, the freezing tundra of the arctic, and everywhere in between.
In the original Defender model, drivers could lock the central differential manually using the high- to low-range gear selector. In the new Defender, drivers can prevent cross-axle slip using the Center Slip Limited and Center and Rear Slip Limited options on the central touchscreen controller. In addition, there is a choice of three settings for the throttle and gearbox response, steering, and traction control, allowing experienced off-roaders and all-terrain novices to tailor the vehicle setup to suit their requirements. The system allows four individual profiles to be saved, so different drivers can quickly activate their preferred settings.
Alternatively, the intelligent Auto functionality of the available Terrain Response 2 system can recognize the driving surface and configure the vehicle appropriately with no input from the driver.
The Defender is also the first Land Rover vehicle to feature a standard Wade Sensing program within the Terrain Response 2 menu. The new setting is designed to automatically soften throttle response, set the heating and ventilation to recirculate cabin air, locks the driveline, and adjusts the ride height to its off-road setting while activating the Wade Sensing screen on the infotainment system. This allows drivers to observe the depth of water under the vehicle and is designed to provide knowledge when fording deep water, allowing drivers to take full advantage of the new Defender model's maximum wading depth of 35.4 in. When exiting a wading environment, the new Defender is programmed to automatically drag the brakes, momentarily, to clean and dry the discs and assist with braking performance when back on dry ground.
The advanced Land Rover All-Terrain Progress Control and ClearSight Ground View technologies also support drivers in extreme off-road situations, removing the stress of maintaining a low crawl speed and showing the hidden area directly in front of the vehicle using the central touchscreen.
Defender has a maximum towing capacity of 8,201 lb. Advanced driver assistance technologies include Advanced Tow Assist, which is designed to assist with difficult reversing maneuvers by letting drivers steer trailers using a rotary controller on the center console. Now that is pretty cool and different.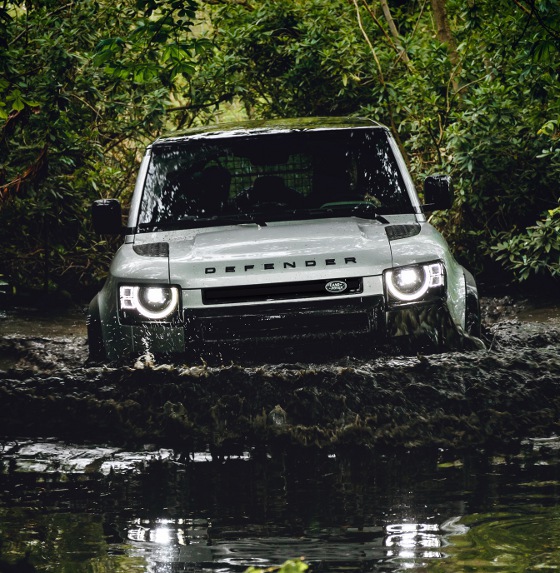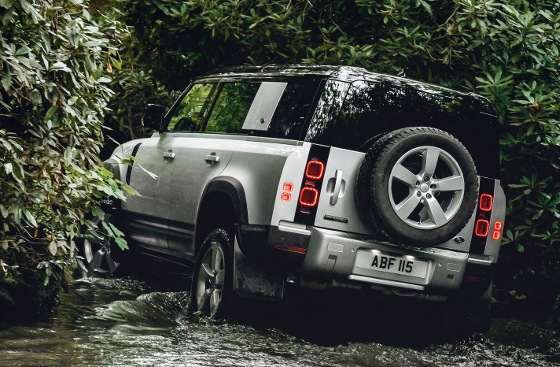 The new Land Rover Electrical Vehicle Architecture (EVA 2.0), forward-facing digital camera, advanced ultrasonic sensors, and powerful 3-GB/sec onboard network support a comprehensive suite of driver assistance technologies, with the cameras and sensors governed by a single integrated processor, or domain controller. These include a 3D Surround Camera designed to provide both 360-degree plan and new 3D exterior perspective views of the surrounding area, both on and off-road. The advanced system provides enhanced augmented on-screen visualization when using Wade Sensing and ClearSight Ground View transparent hood technology to improve visibility of the vehicle's surroundings.
Land Rover's advanced ClearSight Ground View technology helps drivers take full advantage of Defender's all-conquering capability by showing the area usually hidden by the front end, directly ahead of the front wheels, on the central touchscreen.
Customers can even keep tabs on the new Defender from afar, using the Land Rover InControl Remote technology, which allows owners to monitor its location and fuel level, lock and unlock the vehicle, and even initiate the climate control to heat or cool the cabin before setting off on their journey.
In addition, the New Defender takes Software-Over-The-Air (SOTA) technology to a new level, with 14 individual modules capable of receiving remote updates. By downloading data while customers are asleep at home or in far-flung locations, the New Defender aims to only get better with age.
Pricing
P300 (2.0L T/C I4, 300HP) = Standard $49,900, S $53,350.
P400 (3.0L I6 MHEV, 400HP) = SE $62,250, HSE $68,350, First Edition $68,650, X $80,900
Learn more at Land Rover USA.
Source: Land Rover
Published November 2019
Rate this article