Why Veterans Day has a special meaning to me
By Frank Misurelli, Picatinny Arsenal Public Affairs, Picatinny Arsenal, NJ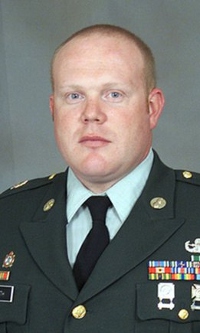 Frank Misurelli
Another Veterans Day has passed. Many Americans had a day off, stores had the usual sales. Many veterans collected on a free meal.
At Arlington National Cemetery, there was a Veterans Day National Observance that included a wreath-laying at the Tomb of the Unknown Soldier. Across the country, thousands of Veterans Day speeches were delivered.
For me, Veterans Day has a very special meaning that I share with probably a million other veterans -- the loss of a good friend who was killed in combat.
My friend was Army Sgt. 1st Class Scott R. Smith, or "Scotty," as he liked to be called. He was listed as killed in action on July 17, 2006, at Iskandariyah, Iraq, about 25 miles south of Baghdad.
He was attempting to render safe an improvised explosive device (IED) when another IED exploded next to him, resulting in his death.
If you watch the opening scenes of the Academy Award Best Picture "The Hurt Locker," Scotty's death was similar to that of the explosive ordnance disposal sergeant depicted in the film. Scotty was the 58th service member with ties to New Jersey to be killed after the 9/11 attacks.
Death came too early for the 34-year-old native of Punxsutawney, Pennsylvania.
I got to know Scotty when he helped to demonstrate the use of robots to assist explosive ordinance disposal (EOD) teams to detect and defuse improvised explosives.
He and other EOD Soldiers at Picatinny helped to pave the way that advanced the idea of using robots and, later, arming robots.
He was frank and outspoken. But he knew his business and was a good Soldier.
He loved riding his motorcycle. He almost got killed riding his bike when a driver clipped him. Scotty was almost medically retired from the Army but rehabbed himself back on active duty.
When I speak at Roxbury's High School Veterans Day program, I tell students about my friend Scotty, how he died, and that we, who are veterans, aren't heroes. Scotty is.
A 9/11 responder
It's hard for me to tell students this because I choke back tears.
But what made Scotty very special, besides rehabbing his way back on active duty, was what he did after 9/11 as a first responder at the World Trade Center.
He spent 10 days searching the rubble with his robots looking for survivors. None were found, just remains of the dead.
Scotty had the easy option of taking a medical discharge, but he had a warrior's heart. Nothing would have kept him from being deployed for the second time.
In July 2007, a building now known as "The Smith Building" was dedicated in his memory. The 65-year-old building houses the Explosive Ordnance Disposal Technology Directorate, where Smith worked for nearly six years.
Nothing was more appropriate than to name the building for Scotty, a humble hero.
Editor's Note: Misurelli originally wrote this opinion piece for the U.S. Army in 2015. I thought it deserved reposting.
Published in Designfax November 2019
Rate this article