Ford unveils all-electric Mustang Mach-E SUV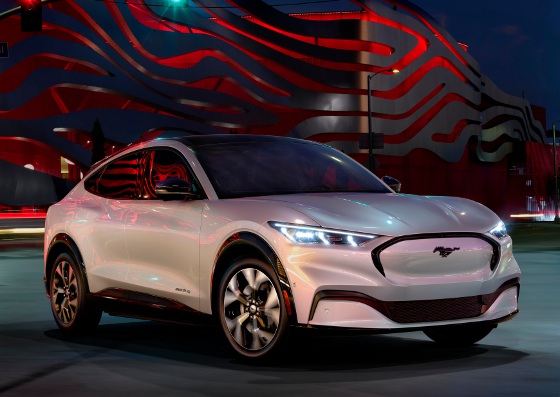 Ford Motor Co. took the wraps off its latest Mustang Sunday night, and it was full of surprises. First, it's an SUV called the Mach-E. Second, it's all electric. Yup, the pony car now has a family-friendly, zero-emissions alternative available in late 2020. Buyers will have a host of options, including a 459-hp GT Performance Edition (available 2021) with an extended range of 300 miles that does 0 to 60 in around 3.5 sec.
And you get a kit to charge it at home!
Similar to the rollout of the new mid-engine Corvette Stingray C8 earlier this year, Ford is focused not only on technology but also strategic pricing to foster adoption of its new-tech models.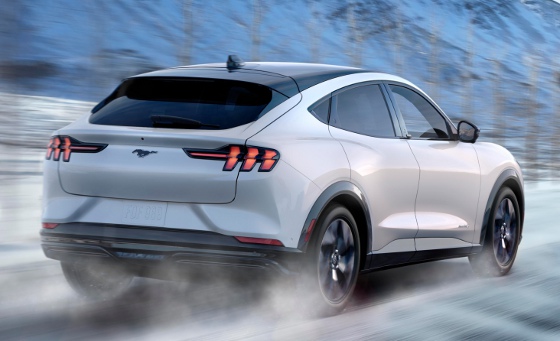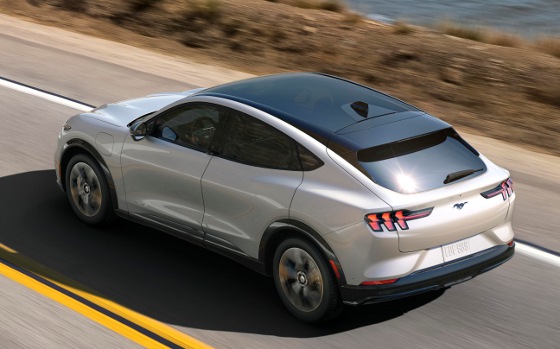 The electric Mustang Mach-E will start at $43,895 (Select model), which Ford is counting on being a sweet spot for early buyers since the cost of the five-seater goes down to $36,395 once a maximum $7,500 Federal Electrics Drive Motor Vehicle Tax Credit is applied.
There are lots of options to make that price climb quickly, though, so let's take a look at what Ford is offering.
The Mach-E is sleek, and from the back you can really catch that Mustang trademark look, due mainly to its rear haunch design and tri-bar taillamps. From the front, well, not as much, but more on that later. The overall size of the car sits between the Ford Escape and the Ford Edge. It is 186 in. long and 74 in. wide, with a wheelbase of 117 in.
It will be available with standard and extended-range battery options with either rear-wheel drive or all-wheel drive powered by permanent magnet motors. Equipped with an extended-range battery and rear-wheel drive, Mach-E has a targeted EPA-estimated range of at least 300 miles. In extended-range all-wheel-drive configurations, Mach-E will sport 332 hp and 417 lb-ft of torque. Ford points out that the all-wheel-drive variation will beat the base Porsche Macan in a 0- to 60-mph sprint.
Ford also will offer two special performance versions. The GT and GT Performance Edition are the cars that will do 0 to 60 mph in the mid 3-sec range, making them faster off the line than a Porsche Macan Turbo. Both GT configurations boast 342 kW (459 hp) and 830 Nm (612 lb-ft) of torque.
Plus, the GT looks way better (in our opinion) from the front, simply because of its patterned, non-body-color grille.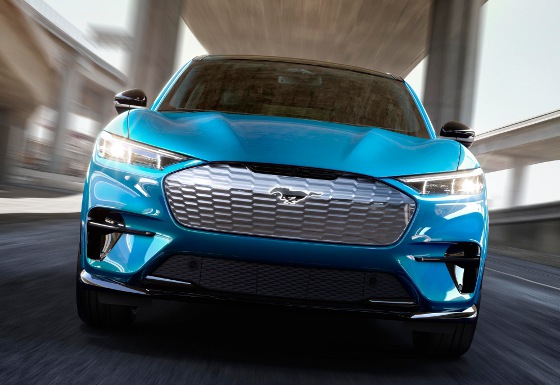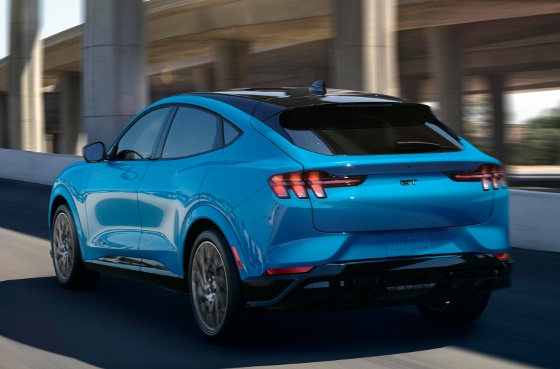 In addition to fast acceleration, Mustang Mach-E will be available with Brembo's all-new performance Flexira aluminum calipers, which maintain the functionality of a fixed caliper while being designed with the dimensions of a floating caliper. The GT Performance Edition is equipped with a MagneRide damping system, adaptive suspension technology that lets drivers hug the road while delivering an exciting, comfortable ride.
Mustang Mach-E delivers three unique drive experiences: Whisper, Engage, and Unbridled. Each offers finely tuned driving dynamics packaged with a distinct sensory experience. Features include custom-designed vehicle responsiveness such as sportier steering controls, ambient lighting, sounds tuned "for an authentic all-electric experience," and dynamic cluster animations that are tied to driving behavior.
When the vehicle launches, a new Mach-E 4 all-wheel drive system will be available that can apply torque independently to the front and rear axles to deliver impressive acceleration and improved handling over the rear-wheel drive model (a $2,700 upgrade). Ford tuned this system to provide excellent traction on the road, rigorously testing the vehicle in wet and snowy terrain to help control for slippery conditions. Mach-E is the first production vehicle to be tuned by the Ford Performance team using Ford's racing simulator in North Carolina. The downside of this option is that the car's range is decreased to 210 miles.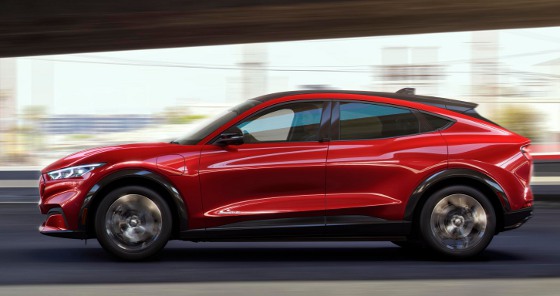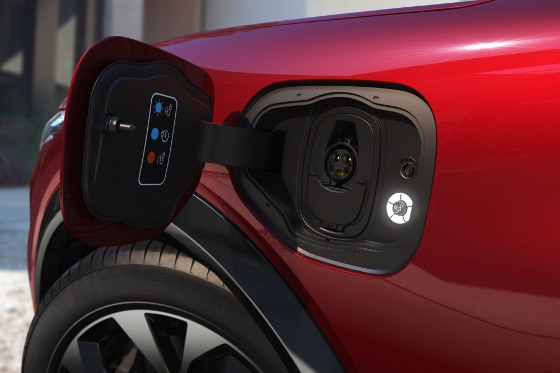 The base Select model comes with rear-wheel drive and a range of 230 miles (75.7-kWh lithium-ion battery). An extended-range battery option (98.8-kWh battery) is a $5,000 upgrade and takes the Mach-E to 300 miles. If you want the extended-range battery with the AWD option, that's a $7,700 option that will cover 270 miles.
Ford says the batteries were tested at temperatures as extreme as -40 F. They are secured inside a waterproof battery case surrounded by crash-absorption protection. They are liquid-cooled to optimize performance in extreme weather and to improve charging times.
Other models include the Premium (available late 2020, starts at $50,600), California Route 1 (available early 2021, starts at $52,400), GT (available 2021, starts at $60,500), and the First Edition (available late 2020, starts at $59,900).
Inside, there is a good amount of space (roomy for a Mustang!) that is helped along by Ford's new all-electric architecture that places the batteries inside the underbody. That means flat floors and easier access.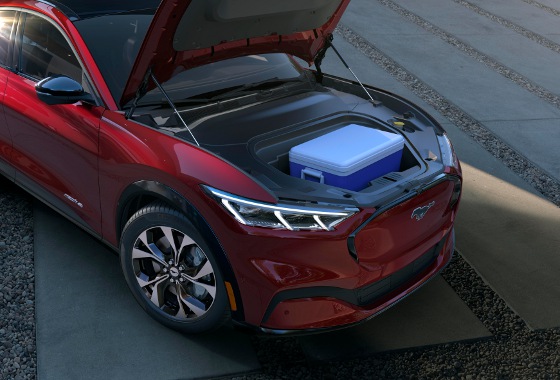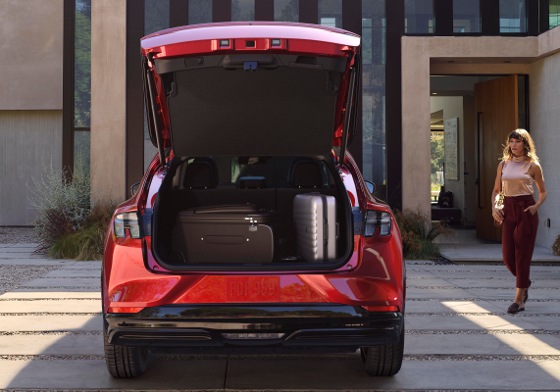 In addition to the exterior front trunk, the rear trunk offers 29 cubic ft of space. With the rear seats down, the Mach-E boasts 59.6 cubic ft of space -- more than enough room for luggage, camping gear, or whatever else you may want to move around.
The Mach-E has a modern, almost minimalist interior design. It all flows nicely -- until you get to its giant 15.5-in. center console screen featuring Next-Generation SYNC technology. That's bigger than some laptops! This "tablet" design includes a built-in real dial at the bottom to help turn up the volume "old style." Ford says its SYNC system's simple interface "ditches complicated menus, making it easier to access features with touch, swipe, and pinch controls that every smartphone owner will be comfortable using." The system also learns your preferences and makes personalized suggestions for each driver.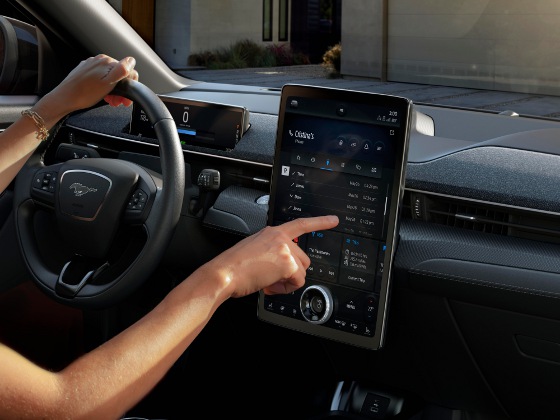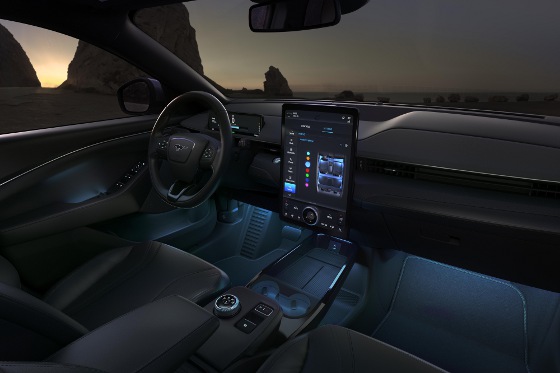 The driver dashboard, or main instrument panel, is a much more simplified affair -- a wide and narrow digital screen. Interior seating materials are also simple. There are two main choices: ActiveX Seating Material in Black Onyx or a higher-end Perforated ActiveX Seating Material in Light Space Gray or Black Onyx (ST-Red Line stitching or Grabber blue stitching available on First Edition model).
Other nice touches include premium available Bang & Olufsen speakers that are seamlessly integrated across the front, floating above the air vents like a sound bar, and a floating flip-up armrest that doubles as a place to store purses or bags.
An available panoramic fixed-glass roof features a special glass coating with infrared protection that helps the interior stay cooler in the summer and warmer in the winter. In addition, an inner layer between the glass helps protect against UV rays.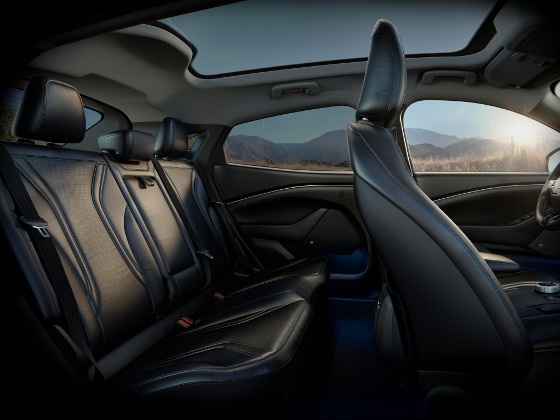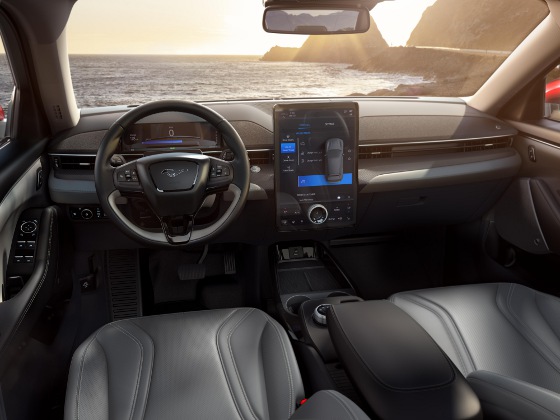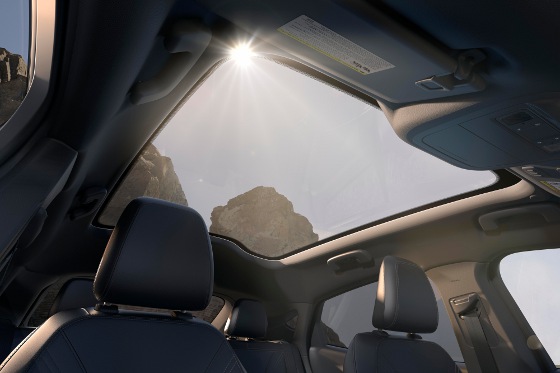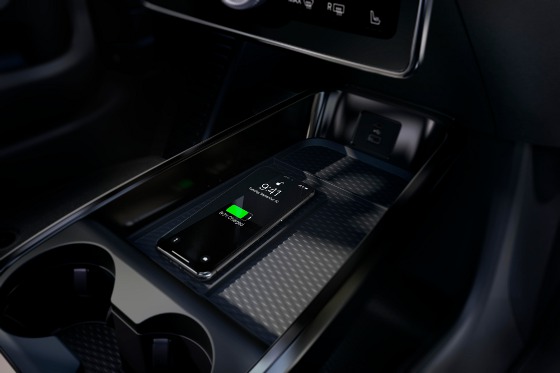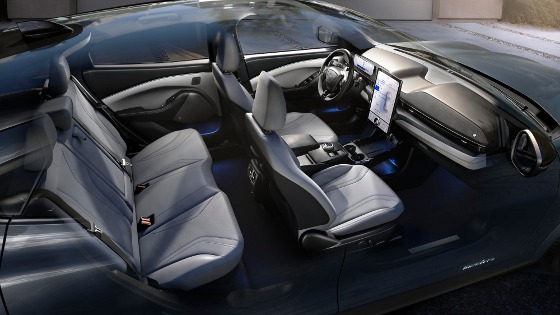 As for quirks, did you notice it looks like there are no door handles? According to Motor1.com, "The front two doors have sleek, piano black pull handles to help the driver and front passenger open their respective door fully." Look close, because they are easy to miss. For rear passengers, it's different. They "access the Mach-E's cabin via electronic buttons located on the upper portion of the vehicle's B- and C-pillars. Push them, and the doors pop out about an inch," according to Motor1.com.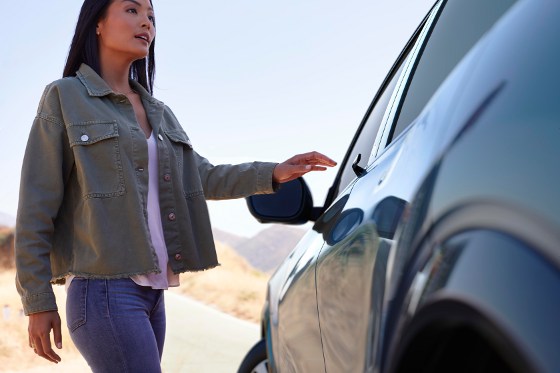 The second quirk is that solid, body-color front end that comes with the lower-tier models. Somehow that design element just takes all the bite out of the intended aggressive, fun, sporty design. Do you agree?
As electric vehicle owners do 80 percent of their charging at home, Ford offers a Ford Connected Charging station that can add an estimated average range of 32 miles per charging hour on a 240-V outlet, based on the extended-range, rear-wheel-drive configuration. The Ford mobile charger, included with the vehicle, can add an estimated average range of 22 miles per charging hour on a 240-V outlet, the same used for a conventional oven. Ford is teaming up with Amazon Home to facilitate easy customer home installation by a licensed electrician.
The connected navigation system will identify up-to-date public charging locations during trips and prompt owners to charge at the most convenient points on each drive.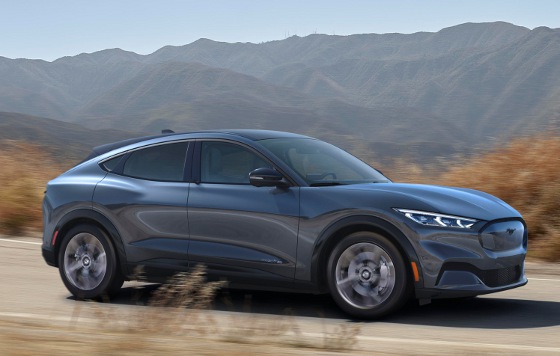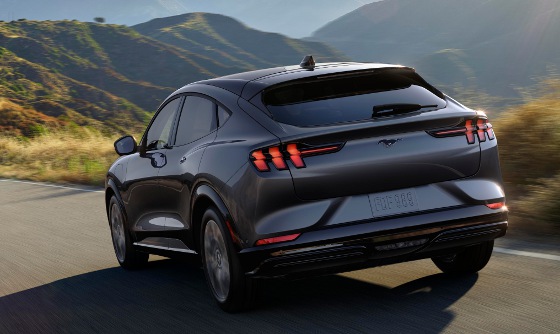 Ford also makes charging at home or on the go hassle free by providing multiple home charging solutions and by giving customers access to the FordPass Charging Network, the largest public charging network in the country with more than 12,500 charging stations (and more than 35,000 charge plugs) and growing, including DC fast chargers. With a peak charging rate of 150 kW, the Mustang Mach-E with an extended battery and rear-wheel drive can add an estimated average of 47 miles of range in approximately 10 min. while charging on a DC fast charging station. The standard-range Mustang Mach-E is estimated to charge from 10 percent to 80 percent in approximately 38 minutes while charging on a DC fast charging station.
Will the Mach-E be a hit or miss? Will it give Tesla and all those other new electric cars out there a real run for the money? Let us know what you think.
Learn more about all the Mach-E models and options on the Ford site here.
Source: Ford Motor Company
Published November 2019
Rate this article