Edge protection seal for corner profiles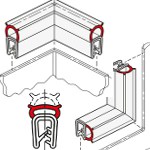 JW Winco offers a comprehensive portfolio of edge protection profiles for softening and rounding edges as well as preventing injuries on flaps, doors, access holes, and sheet metal edges of all kinds. These edge protection seals include an additional sealing profile feature that provides both protection and sealing alike. With corresponding contact pressure, they offer protection against splash water, dust, and steam, while also reducing noise emissions.
Learn more.
---
hyperMILL CAM software gets additive mfg capability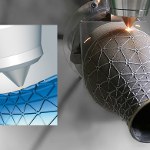 CAD/CAM software solutions developer OPEN MIND Technologies now offers an ADDITIVE Manufacturing (AM) capability option in hyperMILL CAM software to support 3D printing/additive processes. hyperMILL with AM also provides efficient hybrid processing with simultaneous additive and subtractive processing on one machine. For highly complex 5-axis simultaneous processing, hyperMILL AM enables an array of flexible options for Directed Energy Deposition processes (DED) and Wire Arc Additive Manufacturing (WAAM). Both laser-based powder nozzle machining heads and WAAM can be controlled using hyperMILL AM for selective material deposition, as well as conveniently programmed and automatically simulated for collision avoidance.
Learn more.
---
Fasteners: The aliens have landed. Lock 'em up.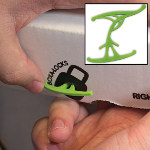 It looks "alien," but it's the ultimate in box-security fasteners. In fact, the Alien Lock from Micro Plastics is the first and only dedicated box fastener. It is a much less expensive solution than banding or taping your boxes, and it keeps them more secure too. It's easy and fast to insert, and it's incredibly strong. It cannot be pulled out without it being obvious that the box was tampered with -- it must be cut off. This is a 1-step fastener: Push Alien Lock through the lock port, and the locking process is finished.
Learn more.
---
Siphon-fed spray nozzles for non-pressurized liquids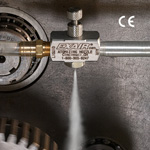 EXAIR's new 1/8 NPT siphon-fed spray nozzles atomize fluids in a range of spray patterns for a wide variety of uses. These are EXAIR's smallest air atomizing nozzles and are suitable for tight spaces. Siphon-fed atomizing nozzles require no liquid pressure and can be used with gravity-fed liquids or lift liquids from a siphon height as much as 36 in. (91 cm). They combine liquid and compressed air to create a mist of atomized liquid that can be easily adjusted to meet the needs of your application.
Learn more.
---
Top Tech Tip: Low-profile retaining rings

Smalley Hoopster® Rings fit into shallower grooves than regular snap rings or retaining rings. Where retaining rings once were not an option because of groove depth, the low profile, precision circularity, and small radial size allow Hoopsters to be unobtrusive components, ideal for thin wall tubes.
Learn more.
---
Adhesives: The importance of hardness testing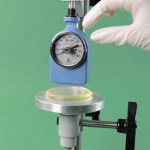 According to Master Bond, measuring hardness is a simple, yet powerful test to ensure proper curing and evaluate the performance of adhesive materials. Why? Hardness is generally a good indication of the product's overall functionality. If the mix ratio used was incorrect or if parts A and B were not mixed thoroughly or properly, the adhesive will cure "tacky" or with blotches. Hardness can also be used to determine how a material is holding up to various experiments and accelerated aging tests.
Read this informative Master Bond blog.
---
Next-gen low-friction bearing for improved lubrication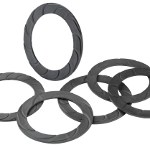 Freudenberg Sealing Technologies has developed an optimized design for its proven Levitorq axial thrust washers. Through a new "scoop" feature, the enhanced Levitorq design is able to collect and push lubrication under the washer to enable higher critical speeds and enhanced performance. A team of experts developed the scoop design based on the types and availability of lubricants used in powertrain applications. These designs help optimize the availability of lubrication at the inner diameter, thus improving lubrication across the washer. These designs are ideal for applications with limited or splash lubrication. Levitorq is part of the company's Low Emission Sealing Solutions (LESS) product portfolio.
Learn more.
---
ClampDisk micro fastener is new alternative for automotive and consumer electronics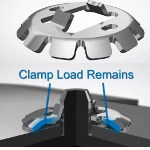 Designed as a unique alternative in assemblies for the automotive and consumer electronics markets, the ClampDisk Press-on Fastener is a new offering from PennEngineering that delivers a fast, simple way to achieve sheet-to-sheet clamped attachment while replacing the use of standard screws, nuts, and adhesives. The most common challenges that can be eliminated or reduced by using ClampDisk include over installation, cross threading, stripped screw heads, broken screws, and damaged product. This fastener can be removed easily with a sharp-edged tool.
Learn more and see ClampDisk in action.
---
Specialty hinges expand design possibilities for opening and closing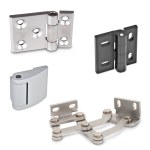 From the simplest of hinges to multi-joint hinges with complex kinematics, the JW Winco selection has everything needed for superior door and flap solutions -- including extra functions. Popular choices include the heavy-duty stainless steel GN 237.3 with 180-degree range of motion and the GN 235, which can be mounted with socket head cap screws and -- thanks to its offset axis -- still swivels 180 degrees without collision. Additional functionality is offered by hinges with variable friction, and in another Winco-Norm part, an integrated spring ensures independent return of the hinge. This special product range, which also includes integrated damping, indexing, and locking functions, is being continually expanded by Winco. One kinematic highlight is already available from Winco: the multiple-joint hinge with either a 4x, 7x, or 10x joint mechanism, which opens flaps and shifts their position at the same time, while still offering 180 degrees of travel. Many more options.
See the full range of JW Winco hinges.
---
New advanced materials for production-grade 3D printing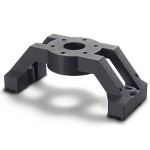 Stratasys recently unveiled several new durable temperature- and chemical-resistant FDM thermoplastics aimed at addressing the growing demands of engineers and designers to deliver production-grade, custom 3D-printed tooling and parts. Suited for aerospace and industrial applications, the new Antero 840CN03 PEKK-based polymer with ESD properties can create strong yet lightweight parts used in frames, panels, and components. Built for highly durable tooling applications, Diran is a new nylon-based FDM thermoplastic that provides manufacturers with extreme toughness and low friction, combined with resistance to hydrocarbon-based chemicals and a smooth surface to offer low sliding resistance. Diran's toughness is able to withstand the rough handling of tools often common in a manufacturing setting.
Learn more.
---
Need help coupling two parallel shafts?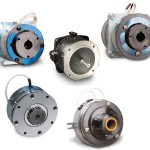 Electromate offers a full family of power-on clutches from Inertia Dynamics for most applications. Power-on clutches are used to couple two parallel shafts. The armature hub assembly is mounted to the same shaft as the rotor assembly. The armature hub accommodates a pulley, gear, sprocket, etc., to transmit torque to the second shaft. The field assembly is mounted on the shaft and retained by a loose-fitting pin or bracket through the anti-rotation tab. Typical applications include: packaging machinery, medical equipment, conveyors, postal sorters/readers, document feeders, textile equipment, and copiers/printers.
Learn more.
---
A proportional isolation valve like no other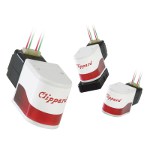 Clippard's new patented ceramic technology is the first to provide precise proportional control combined with isolation valve attributes to meet the needs of the most stringent analytical and industrial process control applications. This valve is ideal in critical applications for liquid and gas delivery, medical, analytical, and industrial automation requiring ultra-fine resolution and excellent repeatability. In addition, the unique design allows for custom flow profiles.
Learn more.
---
New ball screw for machine tools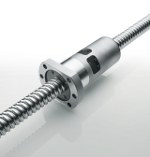 Featuring high-speed performance and load capacities that exceed existing full ball standards, THK's new Type BSM Ball Screw is ideal for use in machine tools. The Type BSM uses a newly developed circulation structure and a large lead to meet high-speed performance demands. The DN value is 170,000, contrasted with 130,000 in conventional products. The unique groove design and double groove structure improve load capacity. The Slim Nut Type BSM-B conserves space with a nut diameter up to 14 percent more compact than THK conventional ball screws. An extended overall length and increased number of loaded circuits ensure optimum rigidity.
Learn more.
---
How to calculate plastic injection molding shrinkage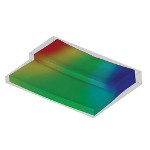 Do you know how to calculate the shrinkage of your part ahead of time? Plastic injection molding shrinkage is the contraction of a plastic molded part as it cools after injection. Most of the part shrinkage occurs in the mold while cooling, but a small amount of shrinkage occurs after ejection, as the part continues to cool (especially for Delrin or POM). After that, the part may continue to shrink very slightly for several hours or even days until the temperature and moisture contents stabilize.
Read the ICOMold blog.
---
New anti-static air knife with 30% better performance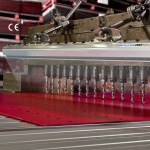 EXAIR's new Gen4 Standard Ion Air Knife eliminates static electricity 30 percent better at low inlet pressures, which saves compressed air and money. Production speeds, product quality, and surface cleanliness can improve dramatically. It eliminates static on plastics, webs, sheet stock, and other product surfaces where tearing, jamming, or hazardous shocks are a problem. The unique amplified airflow carries the ions to the target, making it possible to eliminate static charges in less than a half second. Air volume and velocity are infinitely controllable from a breeze to a blast to gently wipe or forcefully blow away debris.
Learn more.
---
FSU researchers develop thin heat shield for superfast aircraft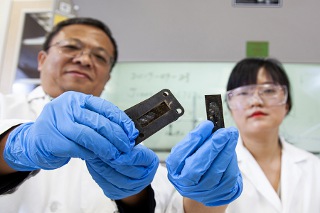 Professor Zhiyong (Richard) Liang, left, and research faculty member Ayou Hao hold pieces of carbon fiber-reinforced polymer composites with a protective heat shield made of a carbon nanotube sheet that was heated to a temperature of 1,900 C.
By Bill Wellock, Florida State University
The world of aerospace increasingly relies on carbon fiber reinforced polymer composites to build the structures of satellites, rockets, and jet aircraft.
But the life of those materials is limited by how they handle heat.
A team of FAMU-FSU College of Engineering researchers from Florida State University's High-Performance Materials Institute (HPMI) is developing a design for a heat shield that better protects those extremely fast machines. Their work was published in the November edition of the journal CARBON.
"Right now, our flight systems are becoming more and more high speed, even going into hypersonic systems, which are five times the speed of sound," said Professor Richard Liang, director of HPMI. "When you have speeds that high, there's more heat on a surface. Therefore, we need a much better thermal protection system."
The team used carbon nanotubes, which are linked hexagons of carbon atoms in the shape of a cylinder, to build the heat shields. Sheets of those nanotubes are also known as "buckypaper," a material with incredible abilities to conduct heat and electricity that has been a focus of study at HPMI. By soaking the buckypaper in a resin made of a compound called phenol, the researchers were able to create a lightweight, flexible material that is also durable enough to potentially protect the body of a rocket or jet from the intense heat it faces while flying.
Existing heat shields are often very thick compared to the base they protect, said Ayou Hao, a research faculty member at HPMI.
This design lets engineers build a very thin shield, like a sort of skin that protects the aircraft and helps support its structure.
After building heat shields of varying thicknesses, the researchers put them to the test.
One test involved applying a flame to the samples to see how they prevented heat from reaching the carbon fiber layer they were meant to protect. After that, the researchers bent the samples to see how strong they remained.
They found the samples with sheets of buckypaper were better than control samples at dispersing heat and keeping it from reaching the base layer. They also stayed strong and flexible compared to control samples made without protective layers of nanotubes.
That flexibility is a helpful quality. The nanotubes are less vulnerable to cracking at high temperatures compared to ceramics, a typical heat shield material. They're also lightweight, which is helpful for engineers who want to reduce the weight of anything on an aircraft that doesn't help the way it flies.
The project received second place among peer-reviewed posters at the 2019 National Space and Missile Materials Symposium and received third place at the Society for the Advancement of Material and Process Engineering 2019 University Research Symposium.
That recognition is helpful for showing the United States Air Force Office of Scientific Research, which partially supported the work, the promise of further research, Hao said.
Published November 2019
Rate this article