Floating solar plant captures reflected snow light too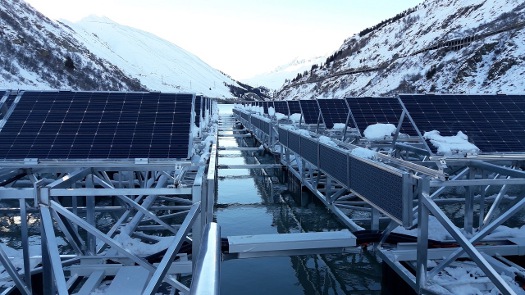 Situated 1,810 m above sea level on the artificial Lac des Toules in Switzerland, a new floating solar plant is predicted to produce more than 800,000 kWh of electricity per year and supply up to 220 homes in the region. It's more efficient than most solar installations, thanks to the altitude's stronger UV rays and technology from ABB that helps capture and use the reflected light from snow and water at the location.
ABB partnered with Romande Energie to supply its inverter solutions for this project, one of the world's highest floating photovoltaic (PV) installations. The ABB technology increases efficiency of DC production by up to 30 percent -- even in the winter.
Located in the Swiss Alps, Lac des Toules is the latest in a global trend for installing floating PV structures, which can offer over 50 percent more efficiency by using topography and the surrounding natural resources for solar energy collection. The plant in Lac des Toules is unique due to its high-altitude location and climatic conditions, along with its higher-than-average annual yields, even in winter months when there are extreme below-zero temperatures and low solar irradiation.
The power plant consists of 2,240 m2 of bifacial solar modules (where solar energy can be collected from both sides of a panel) attached to 36 floats that are secured to the bottom of the lake by weights -- but in a way that the whole system can rise and fall with the water and continue to track and capture maximum solar energy. The floating PV structure and technologies were also engineered to withstand winds of up to 120 km/h, lake ice thickness of 60 cm, and the potential to support up to 50 cm of snow.
Over time, the solar plant could be expanded if it proves successful.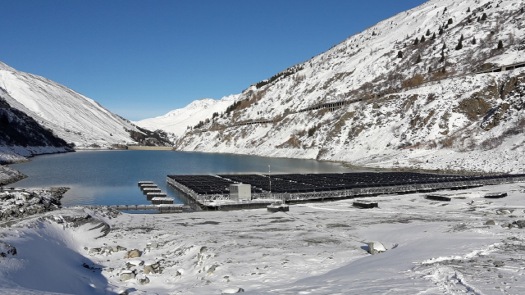 Solar yields and efficiency levels are improved thanks to the use of bifacial modules and the "albedo effect," where the lake and snow's reflective light is also captured by the PV system. This enables the PV plant to continue to operate and produce electricity even when there is snow coverage.
Guillaume Fuchs, project lead at Romande Energie, said the project has been in the works since 2012. "ABB's capabilities to support above and below the line with a complete technology package -- including its PVS-175 string inverters, a transformer station with a dry transformer, and switchgear for medium and low voltage, (along with) advice and counsel -- have been critical to achieving and realizing this unique installation," he said.
The ABB three-phase PVS-175 inverters deliver up to 185 kVA at 800 VAC and can achieve an ultra-high power density of 1.3 kW/kg. They feature an all-in-one combiner and a fuse-free design. They were also selected, in part, due to their anti-corrosion coating, which permits them to be installed in both fresh and saltwater applications. The PVS-175 inverters can operate within extreme conditions and temperature variances from -25 C to 60 C. They have a Wi-Fi interface for commissioning and configuration.
Learn more about the ABB PVS-175 inverters here.
Source: ABB
Published February 2020
Rate this article