Monitor mounts and locking slide connectors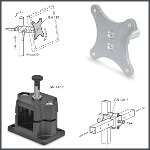 JW Winco's new monitor mounts GN 197, including VESA adapter plates and locking slide units GN 134.7 and GN 147.7, open up new possibilities for diverse customer needs. The monitor mount includes a connection stud that makes it extremely simple to fasten the mount to all tube clamp connectors. In combination with rotary or flanged joints, users can realize any number of degrees of freedom and adjustment options for touch screens, panels, displays, and monitors on production machines. Locking slide units based on universal or flanged tube clamp connectors allow for quick and easy movement to recurring positions on a square construction tube via a moving slide.
Learn more.
---
New sealing solution for small appliances, power tools, and even drones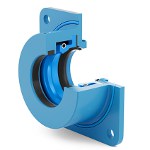 Freudenberg Sealing Technologies has launched series production of a modular sealing unit that combines a classic radial shaft seal with a plastic outer case. The design promotes better long-term seal performance and longevity, is easier to assemble, and significantly lowers manufacturing costs in comparison with traditional metal-encased radial shaft seal units. The innovative sealing concept has been developed for use in general industry applications that are especially focused on small, electric household appliances, but power tools and drones may benefit too.
Learn more.
---
Low-viscosity epoxy coating features acid resistance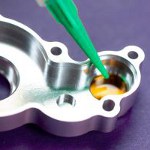 Master Bond EP21ARLV is a two-part epoxy that may be used as an adhesive, sealant, coating, or encapsulant. It bonds well to a variety of substrates including metals, ceramics, composites, and many plastics and rubbers. The product is capable of withstanding prolonged exposure to a wide range of chemicals, such as 70% sulfuric acid, 10% hydrochloric acid, 10% nitric acid, and butyl acetate. "With its low-viscosity and acid resistance, EP21ARLV is a go-to material for potting and encapsulations in battery applications," says Rohit Ramnath, Senior Product Engineer. "This combination is especially useful in applications where protection from acids is crucial."
Learn more.
---
No. 1 reason for retaining ring failure -- and how to overcome it

Drills, saws, sanders, and grinders -- what do all of these power tools have in common? Retaining rings keep them from falling apart. A retaining ring's function is to hold components or assemblies in place. For a retaining ring in a power tool, this is no easy feat because it is regularly exposed to high axial and vibrational force. Understanding why failure happens and how to prevent it is imperative. The most common point of failure may surprise you.
Read this informative Smalley blog.
---
Automated deburring tool from SCHUNK uses proven blade tech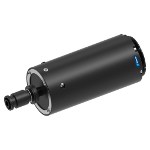 The CDB robot deburring tool from SCHUNK is suitable for robot-assisted deburring of workpieces made of plastic, aluminum, steel, brass, and other materials in a wide variety of geometries. It can be used for deburring stamped parts, for household and industrial fittings, as well as for plastic or metal components in the automotive or aviation industry. Being able to insert conventional deburring blades that were previously used manually 1:1 into the robot tool makes quick and uncomplicated changeovers from manual to automated operation possible. Compared to manual deburring, robot-assisted deburring offers a vast range of advantages, including that employees no longer need to endure difficult, dangerous, and lengthy deburring tasks.
Learn more.
---
Reverse engineering with Geomagic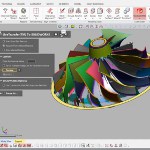 See how 3D Systems' Geomagic Design X software can break down a typical reverse engineering job. Geomagic Design X makes it easy to create CAD models from 3D scans faster, more accurately, and more reliably. It handles large scan data sets and makes complex 3D models with hybrid modeling for solid, surface, and mesh. Users can convert physical parts into CAD for new product designs or make existing parts fit with new parts. This short presentation is a helpful way to view the tool capabilities and functionality using real-world examples.
View the video.
---
Expanded range of bellows couplings

Ruland Manufacturing has expanded its line of bellows couplings to include an outer diameter of 2 1/4 in. (57 mm), allowing for larger bore sizes and increased torque and torsional stiffness capabilities. Designers prefer to specify bellows couplings in servo-driven systems due to their high accuracy and repeatability. This size expansion allows for bore sizes up to 1 1/4 in. (32 mm) in a clamp-style design with or without keyways. Ruland bellows couplings are an assembly of two hubs and a thin-walled metallic bellows. Hubs are manufactured from aluminum for light weight and low inertia. They are joined by a thin-walled stainless steel bellows, allowing the coupling to remain flexible under high torsional loads.
Learn more.
---
New performance gasketing for the automotive industry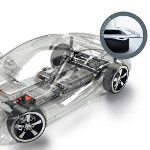 Loctite AA 5884 from Henkel is a new polyacrylate (liquid) gasketing technology that replaces the press-in-place (PIP) process using solid rubber gaskets or o-rings to accomplish plastic-to-metal sealing. The liquid gasket is cured by ultra-violet light within seconds and becomes a solid compression gasket with no knit line. Loctite AA 5884 also boasts higher oil resistance and proven lower gas permeability.
Learn more.
---
Mini Drill press with precision program control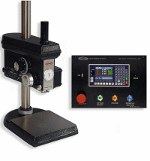 The Mini Drill press with 708-CNC control option is a new unit from SERVO Products Co. Unique to the market and made in the USA, this system is essentially a complete mini drill press with a motor programmed via CNC panel. Its higher-RPM brushless DC motor (no carbon dust) is ideal for continuous use. With the 708-CNC option, users get precision program control for drilling and reaming. Users also get the ability to download, upload, and store hundreds of integrated speed and motion direction programs on one controller.
Learn more.
---
New catalog from High Pressure Equipment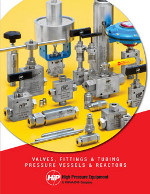 High Pressure Equipment Company (HiP), a subsidiary of Graco Inc., has released a new 148-page full line catalog detailing their high-pressure valves, fittings, and tubing, as well as their complete family of reactors and pressure vessels. HiP products are used in a wide variety of industries, including waterjet cutting and blasting, oil and gas, chemical and petrochemical, research and development, universities and government, and general industry.
Learn more.
---
Large-format 3D metal printer: Increases throughput 5x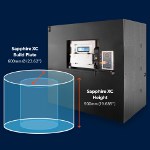 VELO3D, an innovator in digital manufacturing, recently announced the expansion of its systems portfolio to include Sapphire XC, an "Extra Capacity" large-format printer that will increase production throughput by 5X and reduce cost-per-part by up to 75% when compared to the existing Sapphire system. The printer has a build volume of 600 mm x 550 mm and uses the laser powder-bed fusion (LPBF) process with patented capabilities to print without consideration of support structures. Compatible alloys include Aluminum F357, Titanium 6AI-4V, INCONEL 718, and HASTELLOY X.
Learn more.
---
Tech Tip: Wave spring vs. coil spring -- what's the difference?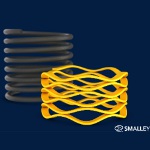 The key advantage of using a wave spring is in the axial space savings. Whether it is a static or dynamic application, a wave spring can provide the same force and deflection as a coil spring -- but in considerably less space. There are many other advantages of using wave springs, including cost savings when considering the whole assembly.
Learn more in this informative Smalley blog.
---
IKO expands line of CFKR cam followers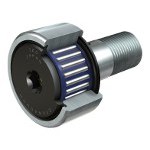 IKO International has expanded its line of CFKR series of Double Hex Hole Cam Followers. The outside diameter of the outer ring is now available in 22 and 26 mm, with current models as high as 90 mm. These bearings are designed for outer-ring rotation and have superior rotational performance with a small coefficient of friction and high load capacity. Consider the CFKR 90 model, which features a dynamic load rating in excess of 45,000 N, compared to 40,500 N for similar cam followers on the market. Because the structure of the CFKR series features hexagon holes on both stud ends, it can be tightened from the roller or stud end. Other variations available.
Learn more.
---
Powder and e-coat-compatible seam sealant provides toughness and flexibility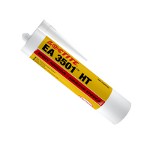 Designed to prohibit liquids, solids, and gases from entering through gaps and voids in metal seams, Henkel's new Loctite EA 3501 HT is a one-part, heat-cure epoxy seam sealant that offers excellent adhesion to primed or bare oily metals. This grey sealant maintains its flexibility, adhesion, and color after exposure to paint bake processes up to 225 C, and is ideal for use on a range of outdoor power and heavy-equipment vehicles including agricultural, construction, utility, marine, and sports/leisure, as well as work trucks and trailers. This epoxy provides a tough, flexible bond on metal seams between welded or bonded joints, butt joints, and other visible seams to prevent rust and corrosion.
Learn more.
---
Convert any standard pipe into a powerful, high-volume conveyor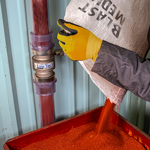 EXAIR's new 2-1/2 NPT Heavy Duty Threaded Line Vac is a powerful in-line conveyor that transports high volumes of material through ordinary pipe. Designed for rugged, industrial applications, it has a hardened alloy construction that helps prevent premature wear when transporting abrasive or heavy materials like shot blast, tumbling media, or metal fittings. These units feature large throat diameters that make it possible to convey more material over longer vertical and horizontal lengths. The conveying rate is typically twice that of ordinary air-powered conveyors.
Learn more.
---
UChicago Medicine doctors see 'remarkable' success using ventilator alternatives to treat COVID-19
Doctors at the University of Chicago Medicine are seeing "truly remarkable" results using high-flow nasal cannulas rather than ventilators and intubation to treat some COVID-19 patients.
High-flow nasal cannulas, or HFNCs, are non-invasive nasal prongs that sit below the nostrils and blow large volumes of warm, humidified oxygen into the nose and lungs.
A team from UChicago Medicine's emergency room took 24 COVID-19 patients who were in respiratory distress and gave them HFNCs instead of putting them on ventilators. The patients all fared extremely well, and only one of them required intubation after 10 days.
"The success we've had has been truly remarkable," said Michael O'Connor, MD, Director of Critical Care Medicine.
The HFNCs are often combined with prone positioning, a technique where patients lay on their stomachs to aid breathing. Together, they've helped UChicago Medicine doctors avoid dozens of intubations and have decreased the chances of bad outcomes for COVID-19 patients, said Thomas Spiegel, MD, Medical Director of UChicago Medicine's Emergency Department.
"The proning and the high-flow nasal cannulas combined have brought patient oxygen levels from around 40 to 80 and 90 percent, so it's been fascinating and wonderful to see," Spiegel said.
Mechanical ventilation, the most common treatment for these patients thus far, involves inserting a breathing tube into the windpipe so a ventilator can pump air into the lungs. Using a ventilator or intubation as a last resort -- an approach UChicago Medicine teams call "prevent the vent" -- helps get COVID-19 patients out of the hospital intensive care unit and prevents harmful side effects caused by ventilators, such as lung injuries.
"Avoiding intubation is key," Spiegel said. "Most of our colleagues around the city are not doing this, but I sure wish other ERs would take a look at this technique closely."
This approach is not without risk, however. HFNCs blow air out, and convert the COVID-19 virus into a fine spray in the air. To protect themselves from the virus, staff must have proper personal protective equipment (PPE), negative pressure patient rooms, and anterooms, which are rooms in front of the patient rooms where staff can change in and out of their safety gear to avoid contaminating others.
UChicago Medicine's Emergency Department recently doubled its number of anterooms, thereby doubling its capacity to give high-flow nasal cannula to patients. The main hospital also added negative pressure rooms on two floors, making it safer and easier to take care of COVID-19 patients.
Since the first COVID-positive patient was admitted March 13, UChicago Medicine has successfully treated and discharged 297 patients with the virus. Even as the number of hospitalized COVID-19 patients has grown, doctors have managed ventilator usage. As of last Wednesday (April 22), UChicago Medicine had 137 COVID-19 patients, but only 27 of them were on ventilators. The medical staff has avoided mechanical ventilation on 40 percent of patients and extubated 50 percent of those who needed ventilators, O'Connor said.
"It's a phenomenal number, because in Italy, the number of extubations was much lower," O'Connor said, who also gave credit to the cross-team collaboration.
UChicago Medicine care teams got an early preview of how COVID-19 treatments were working in China and Italy from the university's hospital affiliates in those countries. When the time came for the Hyde Park-based health system to start caring for COVID-19 patients, they'd already concluded that steroids were an ineffective treatment. The UChicago Medicine teams opted to use less invasive approaches, such as HFNCs or helmet ventilators. For patients who did require mechanical ventilation, the goal was to get those people off the ventilator as soon as possible.
O'Connor and Spiegel agree that the steps the city took to flatten the curve worked. At first, UChicago Medicine was doubling its cases every two to three days, leaving doctors terrified of running out of space, staff, and equipment. Now that the doubling time of COVID-19 patients has slowed to approximately 12 days, it helps the hospital staff generate good outcomes.
"The curve having been flattened has provided us a world of relief," Spiegel said.
Source: University of Chicago Medical Center
Published April 2020
Rate this article