Hybrid actuation system reduces energy consumption, simplifies designs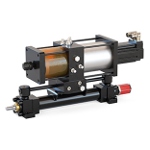 Learn how a leading manufacturer of household cleaning products solved its downtime problems due to an overloaded ball screw in its production-line electromechanical automated plastic cap dumping function. A Hybrid Actuation System (HAS) did the trick, combining the controllability of traditional electromechanical actuators with the power density, longer life, and failsafe conditions commonly found on traditional hydraulic systems.
Read this informative Parker blog.
---
Machine tending solution now compatible with any CNC machine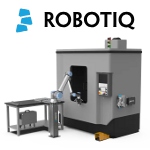 The Robotiq Machine Tending Solution has made automation accessible to businesses of all sizes, overturning the belief that automation is too complicated. The company says their part-feeding solutions can provide up to a 30% production runtime increase -- without communication cards, expensive wiring, custom programming, or permanent modifications.
Learn how to boost your CNC productivity.
---
How to implement redundancy in stepper motors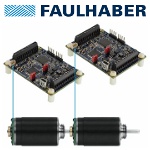 Some of the recent research activities in the area of electric motor drives for safety-critical applications (such as aerospace and nuclear power plants) are focused on looking at various fault-tolerant motor and drive topologies. After discussing different solutions, this article focuses on a miniature permanent magnet (PM) stepper motor design that provides increased redundancy.
Read this informative Faulhaber article.
---
Why choose electric for linear actuators? When precision, multiple positions, repeatability, or position feedback is important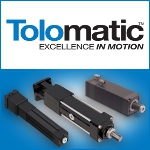 Tolomatic has been delivering a new type of linear motion technology that is giving hydraulics a run for its money. Learn the benefits of electric linear motion systems, the iceberg principle showing total cost of ownership, critical parameters of sizing, and conversion tips.
Read this informative e-book. (No registration required)
---
New mini gearhead for robotics, semiconductor fab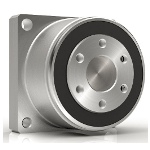 Harmonic Drive is proud to announce the release of its CSF-2XH mini gearhead designed for servo and stepper motors. Available with an output shaft or flange, these gearheads are offered in four sizes with gear ratios of 30:1 to 100:1 and peak torque of .5 to 28 Nm. These mini strain wave gears are ideal for applications such as semiconductor manufacturing and robotics. Available through Electromate.
Learn more.
---
Super cool and versatile palletizing gripper: OnRobot 2FGP20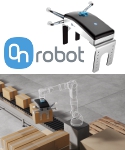 Palletizing just got easier and more affordable with the 2FGP20 from OnRobot, an off-the-shelf electric gripper with a payload of up to 20kg and endless customization possibilities to fit any automation needs. The 2FGP20 is an ideal solution that can be deployed and redeployed for multiple processes and handling different parts.
Learn more about the 2FGP20.
Learn more about palletizing.
---
New linear stages for increased load, speed, stroke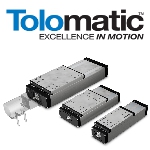 Discover the enhanced possibilities with Tolomatic's new size TRS 225 twin profile rail stage, offering expanded capabilities for precise and powerful linear motion in a closed-package design. This unit is built from the ground up to be highly rigid and accurate and is now available with strokes up to 86.6 in., travel speeds up to 50 in./sec, and load-carrying capacities up to 4,320 lb. Perfect for your heavy-duty needs.
Learn more.
---
Are ball splines right for your application?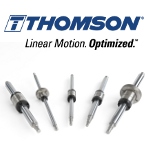 Thomson Industries says ball splines are making a comeback, because more opportunities for automation bring more axes of motion to machinery, and pre-packaged solutions may not have the flexibility you require. But are ball splines the right choice for your design needs? They have the unique capability of integrating rotary and linear motion on a single shaft.
Read the Thomson technical article.
---
New stainless steel AC inverter-duty gearmotors meet IP-69K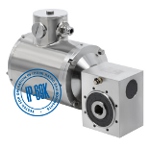 Bodine Electric Co. has introduced six new type 56R1-50JW/H hollow shaft gearmotors that combine a stainless-steel AC inverter-duty, 230/460 VAC motor with a stainless-steel hollow shaft gearhead. When used with an AC inverter (VFD) control, these gearmotors deliver variable speed and maintenance-free operation over a wide speed range. Ideal for equipment subject to intensive cleaning, such as food and beverage, pharmaceuticals, and permanently wet environments.
Learn more.
---
Extend your range of motion: Controllers for mini motors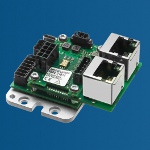 FAULHABER has added another extremely compact Motion Controller without housing to its product range. The new MC3603 controller is ideal for integration in equipment manufacturing and medical tech applications. With 36 V and 3 A (peak current 9 A), it covers the power range up to 100 W and is suitable for DC motors with encoder, brushless drives, or linear motors.
Learn more.
---
Motion systems: Check out THK's new online store!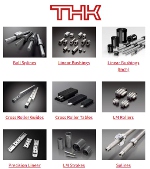 THK has launched a new online store that is chock full of your motion system needs. Check out their latest offerings for Linear Motion Products (guides, actuators, rails, splines, and rollers), Feed Screw Products (ball and lead screws), Rotation Products (cross roller rings and cam and roller followers), Oscillation Products (link balls, rod ends, spherical bearings), and more. Lubrication Products available too.
See the new THK store.
---
Advantages of slotless motors over standard stepper motors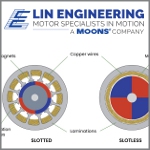 According to Lin Engineering, "Slotless motors have gone through innovations in design as well as manufacturing, making them a good choice for specific applications." This article explores the benefits and drawbacks of slotless motors and provides information that may help you decide when to -- and when not to -- select them as a solution.
Read the full article.
---
Intro to motor constants for fractional horsepower gearmotors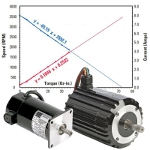 According to motor expert Bodine Electric, "Motor constants are needed to calculate permanent magnet DC (PMDC) or brushless DC (BLDC or EC) motor specifications and ratings, or to match the motor properly to an amplifier." You need the constants to predict the motor's performance with changing variables, such as different input voltages or different loads. This app note explains what the constants are, how they are derived. and how to use them. Very useful.
Read this informative Bodine Electric blog.
---
New wheel hub gearbox for AGVs and AMRs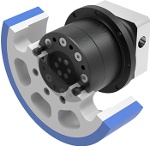 Drive your automated guided vehicles (AGVs) and autonomous mobile robots (AMRs) with the GAM GML Wheel Drive Gearbox. GAM's GML Series Wheel Drive Gear Reducer uses planetary gearing for a coaxial system. The motor mounts directly behind the wheel without axle offset for an inline drive from wheel to motor. Features a compact design with short overall length.
Learn more.
---
New rack-and-pinion LJ linear heads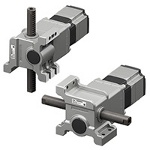 Oriental Motor USA has released the new LJ Linear Heads for its Rack and Pinion system lineup. The LJ Series features a new linear head with a maximum transportation weight of 200 kg. By attaching it to the parallel shaft gearhead and motor, linear motion such as pushing, pulling, lifting, and lowering is possible. Perfect for high-load and long-stroke applications.
Learn more.
---
Weird science: Robot that grips without touching being developed in Switzerland
ETH Pioneer Fellow Marcel Schuck is developing a robotic gripper that can manipulate small and fragile objects without touching them. The technology is based on sound waves.
The small installation that Marcel Schuck has assembled on his workbench at ETH university in Zurich, Switzerland, is reminiscent of a school physics lesson: an arrangement, comprising two semi-spheres and resembling a pair of headphones, is connected to a circuit board carrying microchips. He is using the assembly to demonstrate a physical effect. A small sphere hovers between the two semi-spheres, held up by ultrasound waves. "This phenomenon is known as acoustic levitation," the scientist explains.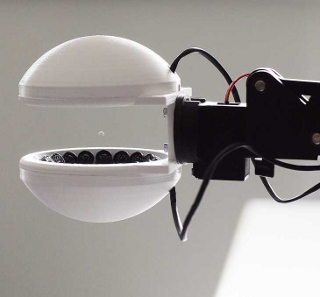 [Photo credit: ETH Zurich/Stefan Weiss]
As part of his ETH Pioneer Fellowship, the former ETH doctoral student is currently developing a method that makes it possible to lift and manipulate small objects entirely without touching them. This could be particularly relevant in situations where damage to small components costs money, such as in the watchmaking or semiconductor industries.
Conventional robotic grippers sometimes damage fragile objects. To counter this, soft, rubber-like grippers can be used. Although these cause no damage, they are easily contaminated, like a well-used rubber eraser. Additionally, these soft robotic grippers only offer limited positioning accuracy.
"Gripping without touching" is the principle behind Schuck's project called "No-Touch Robotics." The technology is based on an effect that has been exploited for more than 80 years and was first used in space exploration. Ultrasound waves generate a pressure field that humans cannot see or hear. Pressure points are created as the acoustic waves overlay each other, and small objects can be trapped within these points. As a result, they seem to float freely in the air in an acoustic trap.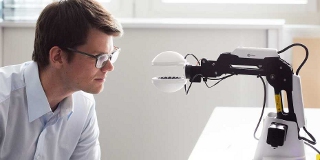 Marcel Schuck and his "no-grip" gripper. [Photo credit: ETH Zurich/Stefan Weiss]
The installation in his laboratory is the prototype for the product that Schuck wants to develop: an electronically controlled robot gripper using ultrasound. The 31-year-old scientist has fitted numerous small loudspeakers into the two semi-spheres, created using a 3D printer. The associated software allows Schuck to control the loudspeakers such that the pressure points can be moved around. The goal is to change their position in real time without the suspended object falling to the ground. This particular aspect is being researched by ETH doctoral student Marc Rothlisberger, who shares a lab at the Technopark Zurich with Schuck and Christian Burkard, a master's student.
Just using the existing technology, the scientists are able to move various small objects through space. The software adjusts the gripper to the shape of the object to be lifted, and a robot arm then transports the object to the target destination.
The principle of gripping without touching also has an economic benefit: When working with a conventional robot, a different gripper is required for almost every new shape. The acoustic gripper eliminates the need for an extensive set of expensive high-precision grippers.
It is not even necessary for the robot arm itself to be extremely precise. "The exact positioning is determined by the acoustic waves controlled by the software," Schuck says.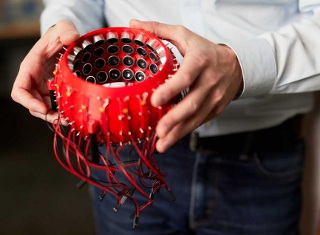 [Photo credit: ETH Zurich/Stefan Weiss]
Initially, Schuck wants to use the funding from his ETH Pioneer Fellowship to determine how robot grippers are deployed in practice. "The main aim is to explore the potential fields of application and open doors within industry," Schuck says.
The innovation is likely to be of interest to the watchmaking industry, where highly precise micromechanics is essential for handling expensive, minute components. Toothed gearwheels, for example, are first coated with lubricant, and then the thickness of this lubricant layer is measured. Even the faintest touch could damage the thin film of lubricant. Microchip production might be another attractive market for Schuck's technology.
Schuck is using some of the 150,000 Swiss francs ($157,000) from the fellowship to create a type of development kit for potential clients. This contains a robot gripper, control software, and instructions. Schuck stresses that he still does not know how the end product will look.
"That depends on the feedback I get from industry," he says. He hopes he will find a few interested parties who will collaborate with him on the further development of the acoustic gripper.
On the one hand, this should help to satisfy existing market needs. On the other hand, Schuck is keen for the technology to work not just in the laboratory, but in the real world. If he can manage this by the spring of 2021, Schuck figures he should be able to establish a start-up based on his innovative business idea.
Source: ETH (Eidgenossische Technische Hochschule Zurich)
Published June 2020
Rate this article