Better with age: New Porsche 911 Targa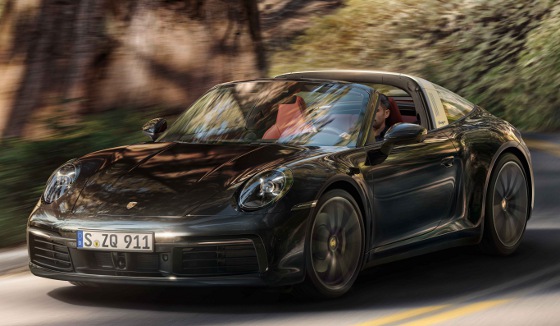 It's been 55 years since the Porsche 911 Targa was first introduced as a prototype at the International Motor Show in Frankfurt, Germany, in September 1965. The new 2021 Targa 4 and 4S models prove that some things just keep getting better with age -- with a few key tweaks here and there that add to the line's power and refinement.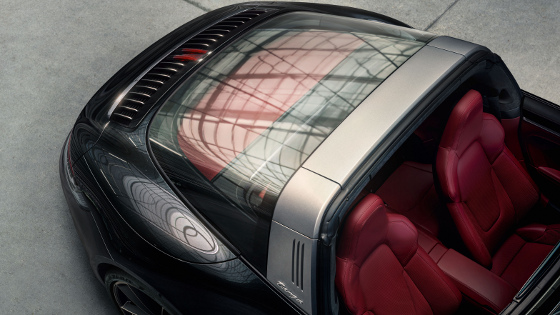 The distinguishing feature of the Targa is still its fully automatic roof system, which can be comfortably opened and closed in just 19 seconds and hides the roof behind the rear seat. Originally marketed as a "safety cabriolet with anti-roll bar," the Targa has evolved into an icon for the brand. Interestingly, the Targa model was developed by Porsche to respond to increased safety requirements for open-top cars in the American market back in the 1960s.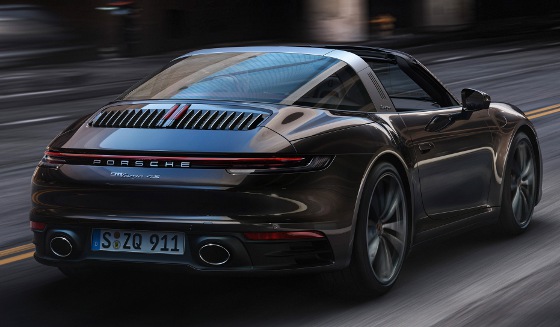 The 2021 911 Targa 4 features its characteristic wide roll hoop, a movable roof section above the front seats, and a wraparound rear window. It is powered by a 380-hp six-cylinder, three-liter boxer engine with twin turbochargers that accelerates from 0 to 100 km/h (0 to 62 mph) in just 4.2 sec when combined with the optional Sport Chrono package -- one-tenth faster than the previous model. Top speed is 180 mph. Maximum torque of 450 Nm is delivered across a wide engine speed range of between 1,950 and 5,000 rpm.
There is also a 911 Targa 4S model variant that boasts 444 hp and reaches the 100-km/h mark in just 3.6 sec -- four-tenths faster than its predecessor. Top speed is 189 mph. Maximum torque of 530 Nm (up 30 Nm) is delivered between 2,300 and 5,000 rpm.
Both cars are fitted with eight-speed dual-clutch transmission (PDK) and intelligent all-wheel drive Porsche Traction Management (PTM) as standard. The 911 Targa 4S can be ordered with a newly developed seven-speed manual gearbox and Sport Chrono package included. This is a big deal for traditionalists.
Some sweet new technology has also been integrated to extend the range of features for both 911 models. For the first time, Porsche InnoDrive, which includes adaptive cruise control, is available. Another notable feature is the enhanced Smartlift function, which allows the driver to program ground clearance so that it is raised for everyday use.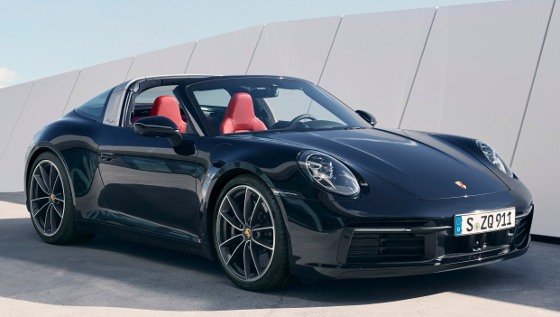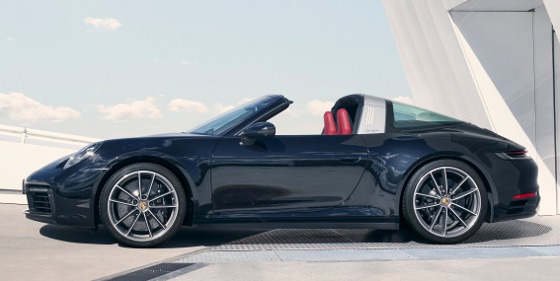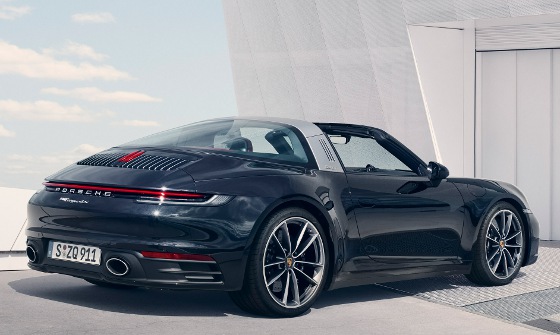 The clutch and differential unit is water-cooled and has reinforced clutch discs to handle a higher load capacity. The increased actuating torque at the clutch improves its adjustment accuracy and the function of the additional front-axle drive. Overall, Porsche says the enhanced front-axle drive with PTM (Porsche Traction Management) contributes to even better traction in all road conditions.
The electronically controlled variable damping system PASM (Porsche Active Suspension Management) is part of the standard equipment on the new 911 Targa models. This system automatically adjusts the damping characteristics in terms of driving comfort and handling to each driving situation and has two manually adjustable maps: Normal and Sport. Porsche Torque Vectoring Plus (PTV Plus), which includes an electronic rear differential lock with fully variable torque distribution, is added as standard equipment for the Targa 4S and is available as an option on the Targa 4.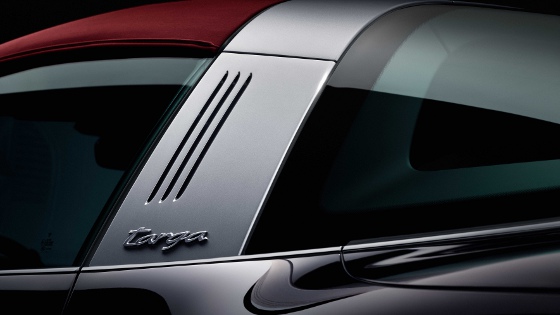 Like the other eighth-generation Porsche 911 variants, the Targa models are also equipped with Porsche Wet mode as standard. Sensors fitted in the front wheel housings are capable of detecting water on the road surface and, if significant volumes of water are picked up, a signal in the cockpit provides a recommendation for the driver to manually switch to Wet mode. The drive responsiveness is then adapted to the conditions to guarantee maximum driving stability.
The 911 Targa 4 sports 235/40 ZR tires on 19-in. alloy wheels on the front axle and 295/35 ZR tires on 20-in. wheels on the rear axle. As standard, the 4S model is fitted with 245/35 ZR tires on its 20-in. front wheels and 305/30 ZR tires on its 21-in. rears.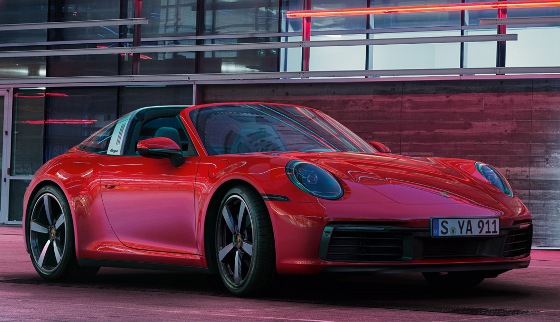 On the Targa 4, deceleration is taken care of on both axles by 330-mm brake discs with black four-piston monobloc fixed callipers. The red-painted brake callipers on the Targa 4S have six pistons at the front axle and four at the rear, while its discs measure 350 mm front and rear. The Porsche Ceramic Composite Brake (PCCB) can be ordered as an option.
The exterior of the 911 Targa is characterized by the design elements of its 992 model generation. Compared to its predecessors, its body features significantly more pronounced wheel housings at the front and, between its LED headlights, its front hood has a distinctive recess evoking the design of the first 911 generations. The rear is dominated by its wider, variably extending rear spoiler and seamlessly integrated, elegant light bar. With the exception of the front and rear sections, the entire outer skin is made from aluminum.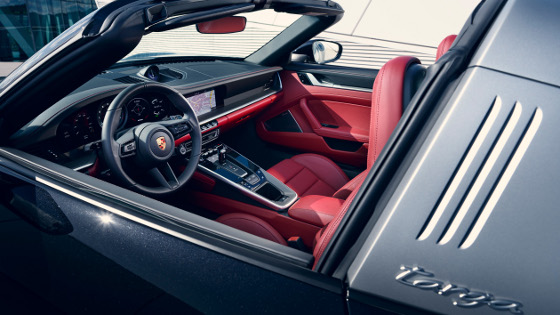 The interior echoes the 911 Carrera models and shows some 1970s inspiration with its clear and straight dashboard lines and its recessed instruments. Alongside the central rev counter, a defining feature for Porsche, two thin, frameless freeform displays extend the information provided to the driver. A compact switch unit with five buttons provides direct access to important vehicle functions and is located below the 10.9-in. center screen of the Porsche Communication Management (PCM) system. Standard PCM features include online navigation based on swarm data as well as Connect Plus with Apple Car Play.
911 Targa 4S Heritage Design Edition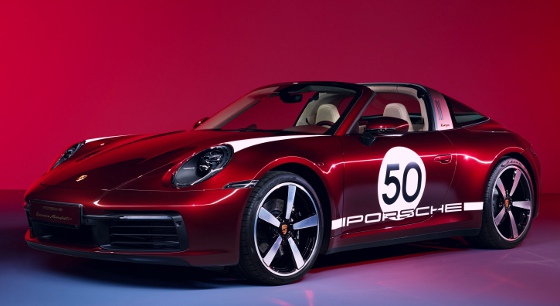 A special 911 Targa 4S Heritage Design Edition with a nod to 1950s and early 1960s Porsche racing will also be available in four color combos, complete with special livery peppered with gold logos and insignia. Most of the changes on this 992-unit limited-edition model are on the surface, but it does include a two-tone leather interior. It is powered by the 4S 444-hp biturbo boxer engine. It looks especially striking in retro Cherry Red.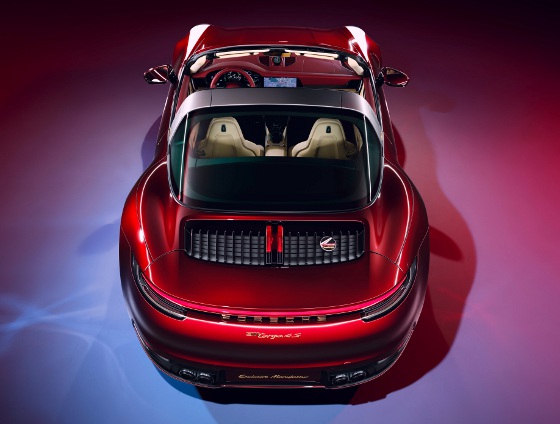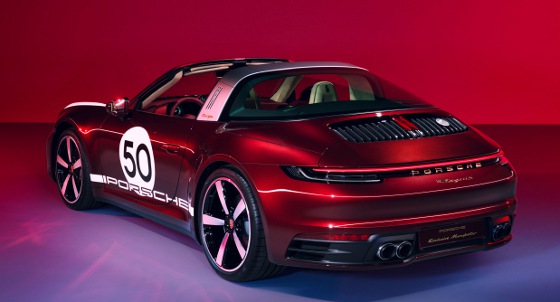 The starting price for the 911 Targa 4 is $120,650. The 4S starts at $136,550. Sunscreen not included.
Source: Porsche
Published June 2020
Rate this article