What's a strain wave harmonic gearing torque sensor?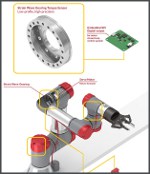 Strain wave harmonic gearing sensors from FUTEK are an alternative to six-degrees-of-freedom (DOF) sensors used in applications such as robotic arms that are used in surgery. For example, during some laparoscopic surgery procedures, surgeons must hold the position of the end effector (the instrument inside the abdominal cavity) while the robot arm is moving. This maneuver is difficult to perform with 6-DOF sensors only, because it requires torque measurement on each joint. Strain wave harmonic gearing sensors can handle it, and they are less expensive to implement because torque measurement can be obtained for selected joints only if necessary.
Learn more.
---
Raspberry Pi: Pico microcontroller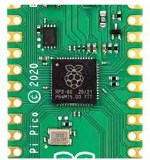 The Raspberry Pi Pico is built around the brand-new Raspberry Pi RP2040 microcontroller, delivering a flexible, highly affordable development platform that can also be directly deployed into end products -- all for 4 bucks. At the heart of the Raspberry Pi Pico is RP2040, which features two ARM Cortex-M0+ cores clocked at 133 MHz; 264 kB of on-chip SRAM; 30 multifunction GPIO pins; dedicated hardware for commonly used peripherals alongside a programmable I/O subsystem for extended peripheral support; a four-channel ADC with internal temperature sensor; and built-in USB 1.1 with host and device support. Also look for the RP2040 chip to be sold as a standalone product very, very soon.
Learn more from Newark.
Watch a short video intro for this product.
---
New robust angle sensors for off-highway and more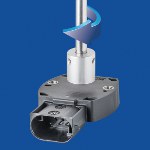 Novotechnik, U.S. introduces the RFE 3200 Series of resilient, touchless Hall-Effect angle sensors. These sensors are specifically designed to operate in demanding environments like off-highway equipment and feature ingress protection to IP69K, EMC immunity, and a decoupled sensor/magnet. The RFE Series measures from 0 to 360 deg and can be ordered with one (partially redundant) or two (fully redundant) channels. High resolution with great dynamic response, large mechanical tolerances, and feasibility of customer-specific output options are added benefits of this wear-free technology.
Learn more.
---
Automotive single-chip solution for ultra-wide touch displays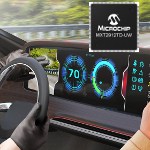 Microchip Technology has just announced its maXTouch MXT2912TD-UW touchscreen controller. This is the industry's first automotive-qualified, single-chip solution that addresses display sizes up to 45 in. with a very wide aspect ratio, supporting LCD and OLED display technologies. This controller reduces the need for multiple touch controllers within a vehicle's HMI display. It provides the highest report rate for wide displays and is independent of the display resolution.
Learn more.
---
Automotive antenna-on-package mmWave sensors with Texas Instruments RFIC
D3 Engineering, a Texas Instruments platinum design partner, recently announced their DesignCore RS-1843AOP and RS-1843AOPU mini mmWave Radar Sensors. They feature a 1-in. cube form factor, heat-spreading metal body, and mounting tabs. They may be used with a PC or embedded platform to facilitate field testing, sensing evaluation, algorithm development, and application demonstrations. Automotive applications include parking assist and collision avoidance. Other applications include robotics, autonomous machines, industrial vehicle systems, and facility monitoring, as well as people counting and tracking.
Learn more.
---
Pinpoint the leading cause of Industrial Ethernet failures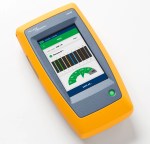 Fluke Networks introduces the LinkIQ-IE Cable+Network Industrial Ethernet Tester designed to troubleshoot network cabling, the leading cause of Industrial Ethernet failures. With Ethernet-based technologies increasingly the default for automation networks, the need for easy-to-use tools to troubleshoot these networks is growing rapidly. By combining Fluke Networks' state-of-the-art cable measurement technology and basic tests for Industrial Ethernet switches, LinkIQ-IE speeds and simplifies the discovery of network failures in a simple-to-use touchscreen interface akin to a smartphone.
Learn more.
---
Premium Hi-Temp ETX Series thermoelectric coolers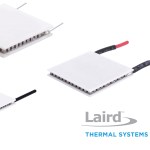 Laird Thermal Systems has developed a thermoelectric module series that is rated for high temperature in emerging optoelectronic applications, including LiDAR and CMOS sensors for autonomous systems in vehicles and drones, digital light processors (DLP) used in 3D machine vision and advanced lighting systems, and optical transceivers. The HiTemp ETX Series thermoelectric cooler has a robust construction that allows it to survive in temperatures up to 150 C, exceeding most outdoor applications. These solid-state heat pumps are assembled with advanced materials that boost cooling capacity by up to 10% compared to traditional thermoelectric coolers.
Learn more.
---
Compact power module with side flange mounting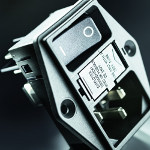 SCHURTER's proven power entry module, series DD11, provides a high level of functional integration in the most minimal of package dimensions. The power module is ideally suited for equipment with low-profile panels. Consisting of an IEC appliance inlet (C14), which is compatible with cord retention, 1- or 2-pole fuse holder, and power ON/OFF switch, the DD11 is now available with side mounting flanges in addition to the existing model with top and bottom flanges. The new model is designed to minimize height when vertically mounted. Applications include medical, IT and telecom, office and household equipment, and automation systems.
Learn more.
---
Automotive Ethernet cables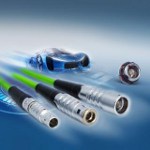 The ODU MINI-SNAP for Single Pair Ethernet (SPE) enables Ethernet connections via copper cables with a single twisted wire pair, while allowing for the voltage supply of terminal devices via PoDL (Power over Data Line). The simpler design of the new generation of connectors and the associated weight and space reduction are good for designers and developers in various areas. SPE is currently being introduced in new automotive generations, replacing CAN and other bus systems. In the future, communication, controls, and security functions will be managed uniformly via Ethernet.
Learn more.
---
Cool Tools: Complete 3D scan and reverse engineering suite for under 15 grand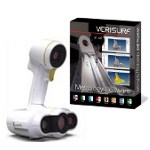 Verisurf Software is offering special limited-time pricing on its 3D scanning and reverse engineering solution bundle. It has everything needed to quickly deploy the system, including: Verisurf Scan Data and Reverse Engineering Suite with Quick Surface, Verisurf online training, Peel 2 3D handheld scanner, 1-year hardware warranty, and Peel 2 and Verisurf installation and setup video. The Verisurf Scan Data Reverse Engineering Suite is part of the recently released Verisurf 2020, the only measurement, inspection, and reverse engineering software dedicated to Model-Based Definition (MBD) and built on a CAD/CAM platform.
Learn more.
---
Asset tracking down to the centimeter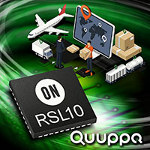 ON Semicon-ductor's Quuppa Intelligent Locating System enables real-time tracking of Bluetooth tags and devices -- with centimeter-level accuracy even in challenging environments. Quuppa technology allows positioning updates to be sent up to 50 times per second, providing a reliable and versatile Real-Time Locating System (RTLS) solution for all industries. Users can design ultra-low-power indoor asset-tracking applications with Direction Finding features and advanced Angle of Arrival (AoA) technology.
Learn more.
---
Noncontact measurement of speed and length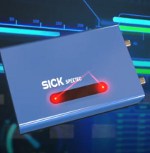 With the SPEETEC, SICK has expanded its product range for speed and length measurement of objects moving in a linear path to include technology that measures directly on the material surface. The non-contact sensor is able to measure a wide range of web and continuous materials, as well as blanks, with incredible accuracy. This speed sensor closes the gap between tactile, indirect-measuring encoder solutions and laser velocimeters, which are often expensive to purchase and require considerable effort to integrate and operate.
Learn more.
---
Displays: New HMI and drive faceplates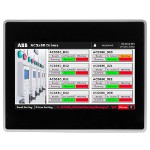 ABB's CP600 Gen 2 HMIs offer NEMA 4X rating, an expanded temperature range, 33% brighter screens, additional communications ports, and integral web server capability, allowing users to expand HMI usage into more applications. Available in 7-, 10-, and 15-in. sizes, the CP600 Gen2 HMI units join the CP600-eCo units and the CP600-Pro units to cover the full range of industrial display needs.
Learn more.
---
Cool Tools: Hexagon RS6 high-speed laser scanner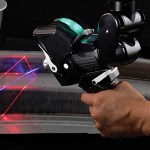 The handheld or arm-mounted RS6 laser scanner available from Exact Metrology is designed for high-speed and high-accuracy scanning. When compared to other scanners, the RS6 has a 3x faster frame rate, a 30% wider laser stripe, and excellent scanning performance on difficult surfaces (including glossy black plastic automotive body parts or molded carbon fiber components). Its unique SHINE technology allows you to scan 99% of parts without touching the scanner exposure. It scans up to 1.2 million points/sec with a scan rate of 300 Hz.
Learn more.
---
New Intellistat Ion Air Gun for static elimination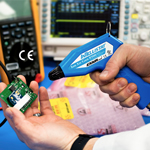 EXAIR's patented Intellistat Ion Air Gun is a handheld and lightweight solution for static elimination in clean processes or sensitive assembly work such as scientific and electronic test facilities, laboratories, and clean rooms. The Intellistat was designed to consume minimal compressed air while simultaneously delivering precise blow-off, and exceptional static decay rates capable of reducing 1000 V to less than 100 V in less than a second at up to 24 in. away.
Learn more.
---
Graphene electrodes may be key to next-gen solar cells
A new roll-to-roll production method could enable lightweight, flexible solar devices and a new generation of display screens.
By David L. Chandler, MIT
A new way of making large sheets of high-quality, atomically thin graphene could lead to ultra-lightweight, flexible solar cells -- and to new classes of light-emitting devices and other thin-film electronics.
The manufacturing process, which was developed at MIT and should be relatively easy to scale up for industrial production, involves an intermediate "buffer" layer of material that is key to the technique's success. The buffer allows the ultra-thin graphene sheet, less than a nanometer (billionth of a meter) thick, to be easily lifted off from its substrate, allowing for rapid roll-to-roll manufacturing.
The process is detailed in a paper published Jun 4 in Advanced Functional Materials by MIT postdocs Giovanni Azzellino and Mahdi Tavakoli; professors Jing Kong, Tomas Palacios, and Markus Buehler; and five others at MIT.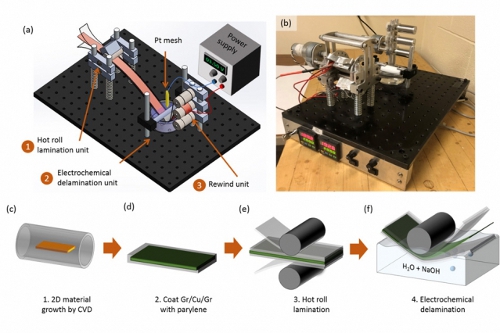 A new manufacturing process for graphene is based on using an intermediate carrier layer of material after the graphene is laid down through a vapor deposition process. The carrier allows the ultra-thin graphene sheet, less than a nanometer thick, to be easily lifted off from a substrate, allowing for rapid roll-to-roll manufacturing. These figures show this process for making graphene sheets, along with a photo of the proof-of-concept device used (b). [Image courtesy: MIT researchers]
Finding a way to make thin, large-area, transparent electrodes that are stable in open air has been a major quest in thin-film electronics in recent years for a variety of applications in optoelectronic devices -- things that either emit light, like computer and smartphone screens, or harvest it, like solar cells. Today's standard for such applications is indium tin oxide (ITO), a material based on rare and expensive chemical elements.
Many research groups have worked on finding a replacement for ITO, focusing on both organic and inorganic candidate materials. Graphene, a form of pure carbon whose atoms are arranged in a flat hexagonal array, has extremely good electrical and mechanical properties, yet it is vanishingly thin, physically flexible, and made from an abundant, inexpensive material. Furthermore, it can be easily grown in the form of large sheets by chemical vapor deposition (CVD) using copper as a seed layer, as Kong's group has demonstrated. However, for device applications, the trickiest part has been finding ways to release the CVD-grown graphene from its native copper substrate.
This release, known as graphene transfer process, tends to result in a web of tears, wrinkles, and defects in the sheets, which disrupts the film continuity and therefore drastically reduces their electrical conductivity. But with the new technology, Azzellino says, "now we are able to reliably manufacture large-area graphene sheets, transfer them onto whatever substrate we want, and the way we transfer them does not affect the electrical and mechanical properties of the pristine graphene."
The key is the buffer layer, made of a polymer material called parylene, that conforms at the atomic level to the graphene sheets on which it is deployed. Like graphene, parylene is produced by CVD, which simplifies the manufacturing process and scalability.
As a demonstration of this technology, the team made proof-of-concept solar cells, adopting a thin-film polymeric solar cell material, along with the newly formed graphene layer for one of the cell's two electrodes, and a parylene layer that also serves as a device substrate. They measured an optical transmittance close to 90 percent for the graphene film under visible light.
The prototyped graphene-based solar cell improves by roughly 36 times the delivered power per weight, compared to ITO-based state-of-the-art devices. It also uses 1/200 the amount of material per unit area for the transparent electrode. There is a further fundamental advantage compared to ITO. "Graphene comes for almost free," Azzellino says.
"Ultra-lightweight graphene-based devices can pave the way to a new generation of applications," he says. "So if you think about portable devices, the power per weight becomes a very important figure of merit. What if we could deploy a transparent solar cell on your tablet that is able to power up the tablet itself?" Though some further development would be needed, such applications should ultimately be feasible with this new method, he says.
The buffer material, parylene, is widely used in the microelectronics industry, usually to encapsulate and protect electronic devices. So the supply chains and equipment for using the material already are widespread, Azzellino says. Of the three existing types of parylene, the team's tests showed that one of them, which contains more chlorine atoms, was by far the most effective for this application.
The atomic proximity of chlorine-rich parylene to the underlying graphene as the layers are sandwiched together provides a further advantage, by offering a kind of "doping" for graphene, finally providing a more reliable and nondestructive approach for conductivity improvement of large-area graphene, unlike many others that have been tested and reported so far.
"The graphene and the parylene films are always face to face," Azzellino says. "So basically, the doping action is always there, and therefore the advantage is permanent."
The research team also included Marek Hempel, Ang-Yu Lu, Francisco Martin-Martinez, Jiayuan Zhao, and Jingjie Yeo, all at MIT. The work was supported by Eni SpA through the MIT Energy Initiative, the U.S. Army Research Office through the Institute for Soldier Nanotechnologies, and the Office of Naval Research.
Published June 2020
Rate this article