Au naturel: Ford GT supercar gets unpainted carbon fiber, more power updates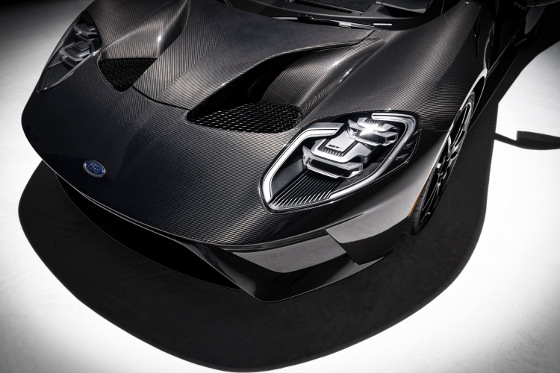 We don't usually talk about a textured look on the exterior of a vehicle (unless there are some add-on panels), but Ford Performance has given us a big opportunity to do so. Why? Because a brand new option for their GT is called Liquid Carbon, and it lets the supercar's lightweight sculpted carbon fiber body shine through -- completely free of paint color. It's a raw, stealthy look, and one that is sure to get noticed. But if you don't like all that black weave showing, there's a racy throwback painted blue and orange edition newly available too, a nod to the 1968-69 Le Mans-winning GT40.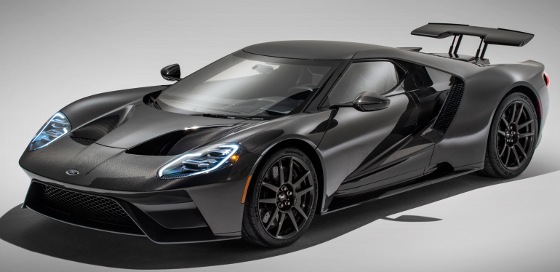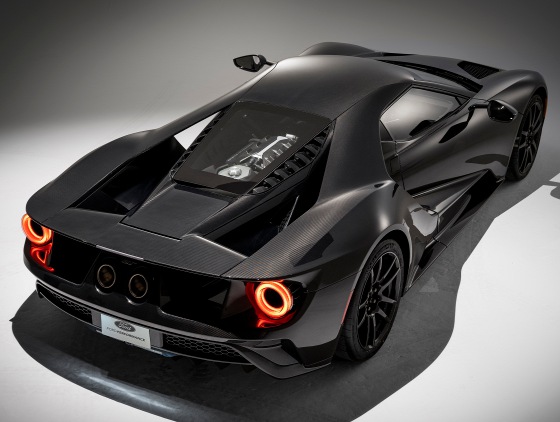 The 2020 GT also gets a little more engine power -- up 13 hp to 660 hp compared to the 2017-19 GT supercars -- and improved cooling. Ford says many of the 2020 GT's advancements are a result of the company's continuous technological innovation, especially GT's 3.5-liter EcoBoost twin-turbo V6.
The 2020 GT's EcoBoost engine also features a broader torque band and revised engine calibration plus mechanical upgrades that include gallery-cooled pistons and higher-energy ignition coils, thanks to lessons learned from the limited-edition, track-only GT Mk II.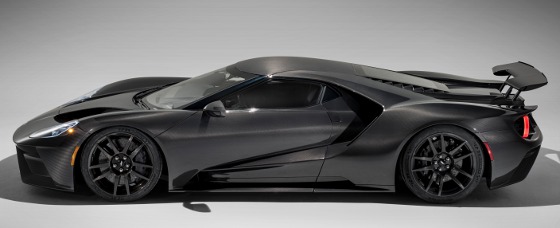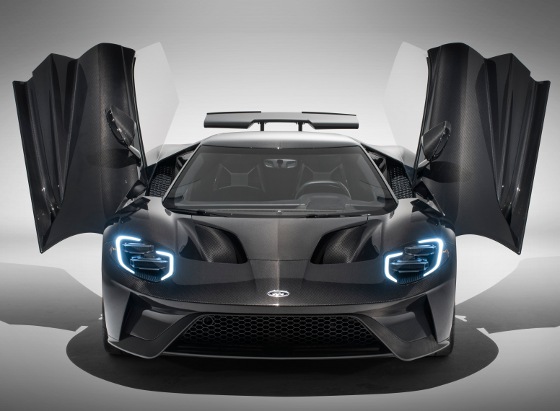 Additional engine cooling and airflow updates include new buttress air ducts designed to increase air flow by 50 percent, while larger intercoolers keep charge air temperatures cooler, preserving peak power for the most strenuous, high-temperature sessions at the track. Suspension damping is increased in track mode to further enhance handling and body control, particularly for those high-speed transient sections of closed-course circuits.
Ford is also introducing the premium Akrapovi? titanium exhaust as standard equipment for the new GT (Autoblog says this used to be a $10,000 option). This exhaust provides a 9-lb weight savings over the previous system while featuring the deeply resonant, unmistakable sound emanating from the more powerful EcoBoost engine.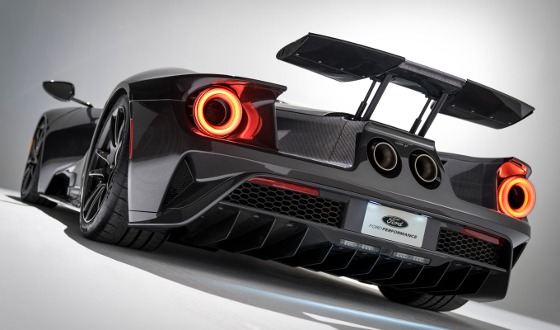 Ford Performance worked with auto supplier Multimatic on perfecting the Liquid Carbon finish, where a special clearcoat helps to accent each GT's unique carbon fiber weave in this limited-edition option. Carbon fiber wheels are also standard equipment on the model. Owners can choose titanium lug nuts, six-point racing harness anchors, five interior options, and five caliper colors.
But if you have just got to have some color, two over-the-top stripe options -- the dual center stripes offered on the standard Ford GT or the single stripe found on the Carbon Series -- are available. Mirror caps can also be painted. Stripes and mirror caps come in any of the seven standard paint colors as well as the extended color palette. For the first time, these features can be ordered independently of one another.
I'd rather have something racy
If you are more of the traditional racer type, there's a totally different option available for the 2020 GT. An updated heritage livery package, full of life in blue, orange, and black paint, recalls the 1968-69 Le Mans-winning GT40. The optional carbon fiber number switches from 9 on the 2019 model to 6 for 2020, matching that of the historic back-to-back winning car, chassis No. 1075. For the first time on a heritage model, carbon fiber wheels are available in lieu of aluminum alloy.
Ford says the black pinstripe and carbon fiber wheels were popular requests with the previous Gulf Racing heritage livery offered, so the company decided to make them a core option.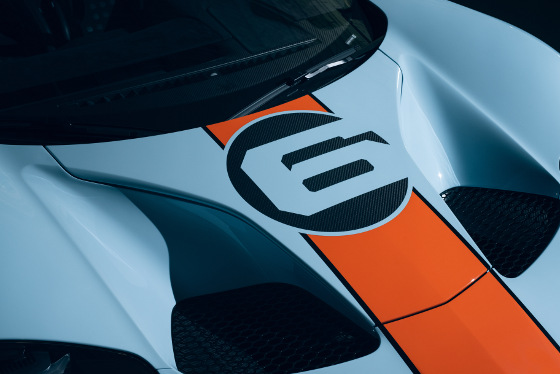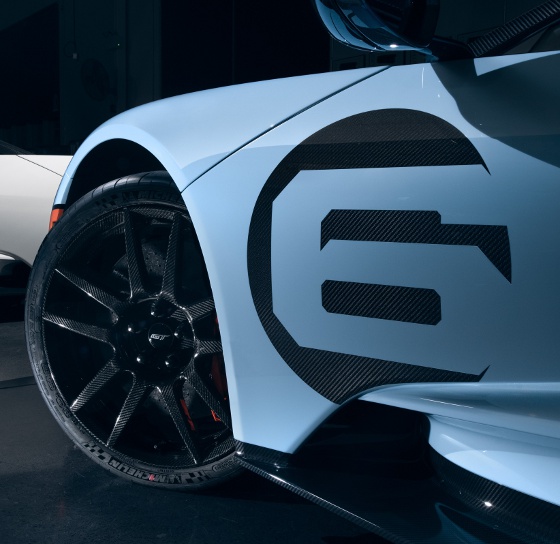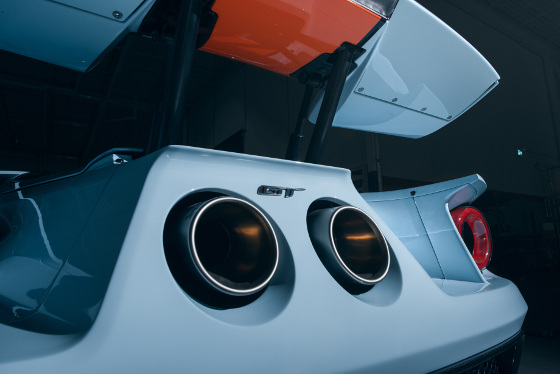 Lots of other goodies
Whether they choose one of the special editions or not, 2020 GT owners will all get a supercar with impressive features, like aerodynamics that change on demand to meet varying driving conditions. This happens thanks to movable elements around the body, including special ducts in the front and a large deployable wing. The flaps open and close depending on whether GT's wing is up or down, so the car remains aerodynamically balanced from front to back at all speeds. When the wing is up, the ducts close to increase downforce; when the wing is down, the ducts open to decrease downforce.
The supercar's wing is a patent-pending design that changes the shape of the airfoil for maximum efficiency when fully deployed. The unique design also includes a small gurney flap which, when combined with the shape change, results in a 14 percent improvement in overall efficiency.
Ford says the compact six-cylinder design of the car's EcoBoost engine allowed the design team to taper its fuselage to more efficient dimensions than a larger V8 would have allowed. In addition, the low placement of the engine's anti-lag turbochargers and outboard placement of the turbo intercoolers ahead of the rear wheels help to taper the fuselage around the engine. The engine is paired with a responsive seven-speed dual-clutch transaxle for nearly instantaneous gear changes and exceptional driver control.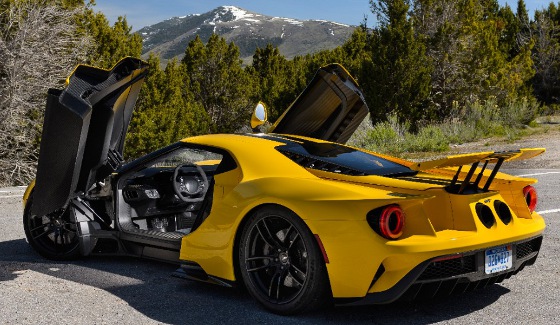 The GT's hydraulic suspension changes ride height with a turn of a knob, which adjusts drive modes. The suspension lowers the supercar from normal mode into track mode (a nearly 2-in. difference). Track mode raises the wing and closes the front splitter ducts for optimal downforce for spirited, closed-course driving. When the GT changes modes from high to low ride height, changes in spring rates, matching damper settings, and active aerodynamics come together to create two unique cars in one.
Another feature of the hydraulic suspension, the front-lift mode, helps GT clear speed bumps and driveways. The driver can raise the front of the car on demand at speeds below 25 mph. The system automatically returns to its normal, lower ride height when the car reaches 25 mph.
Top speed is 216 mph.
More info on the 2020 models will be available at ford.com/performance/gt/ as it rolls out. Pricing has not been released, but Autoblog says the new GT should run about $500,000 and $750,000 for the special Liquid Carbon edition. Ford says it plans on building the 2020 models until 2022.
Source: Ford Motor Co.
Published February 2020
Rate this article