Hydrofoil speedboat set for full-on production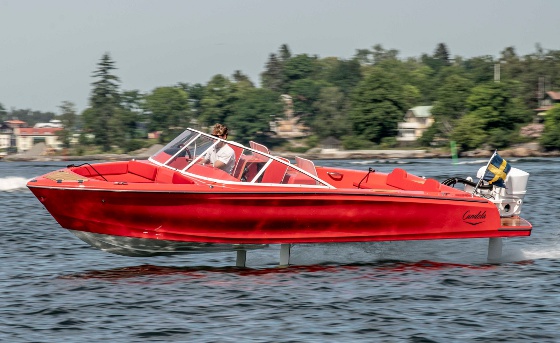 [All images courtesy: Candela Speed Boat]
Don't like all those slamming waves when you're boating on the lake? Hate getting seasick? You can cross those annoyances off your list. Swedish tech company Candela Speed Boat is revving up production of the world's first hydrofoiling all-electric boat.
With zero emissions, an extremely small wake, super-quiet operation, and the ability to fly more than a foot above the water at a top speed of 30 knots, the all-carbon-fiber Candela Seven aims to upend the nautical industry.
Carried on two underwater wings called hydrofoils, Candela says its 25-ft speedboat cuts energy consumption drastically compared to fossil fuel-powered competitors. At 17 knots, the hydrofoils lift the entire hull over 19 in. above the surface, which reduces energy consumption by 80% compared to traditional, planing boat hulls. "Takeoffs" and "landings" are fully automated.
With fully retractable foils, the draft is 27.6 in. (0.7 m) in shallow-water mode, 39 in. (1 m) when foiling, and 59 in. (1.5 m) with foils extended but not foiling. The front hydrofoil wing is 95 in. (2.4 m) wide, which is the full width of the boat, and extends 47 in. (1.2 m) from the hull when activated. The rear foil is much smaller and sits just above the propeller.
At a cruise speed of 20 knots, the Seven is able to travel an impressive 57 miles on a single charge -- two times farther than any other comparable electric boat on the market and with only one-third of the battery capacity. The company offers a 9-year warranty on its battery, which will be replaced if its capacity drops below 80%.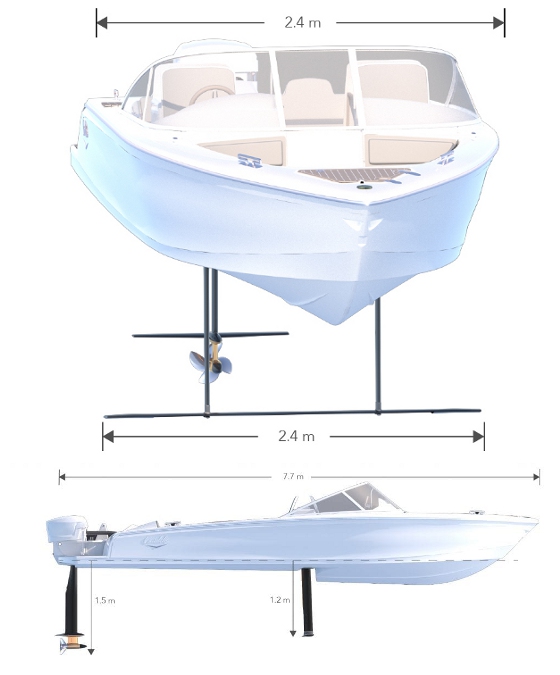 Mikael Mahlberg, Candela's PR and communications manager, told Designfax exclusively that the Seven uses the 42.2-kWh, 120-Ah lithium-ion battery from the small BMW i3 four-door all-electric car. That battery is listed by BMW as having eight modules, each with 12 storage cells. "The pack is mounted below the floor in the bow to counterbalance the weight from the passengers in the back. We mount the battery as low as we can, in order to get a low center of gravity," Mahlberg said. It takes 12 hours to fully charge the boat from a 230-V/16-A standard blue CEE outlet.
"Sealing has not been an issue. The compartment is totally enclosed, and we never had to open it up -- the battery pack has been very reliable," he added.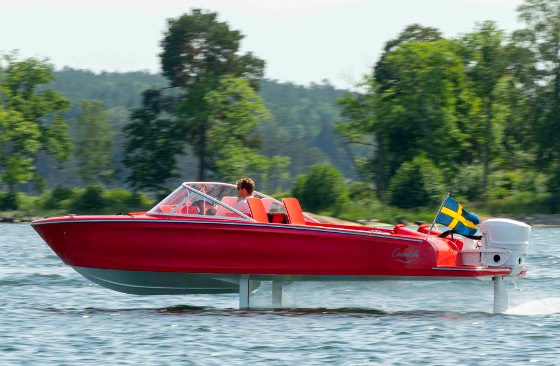 Company engineers drew from fighter jet and airplane industry design experience to develop the Seven model. It uses software, sensors, and computers to enhance stability and efficiency. Traditional hydrofoils are static, but the Candela boat uses seven sensors to assess the position, velocity, and acceleration of the boat. The information is fed to proprietary flight-control software, and the wings are automatically adjusted to maintain the best height, roll, and pitch.
"The hardest part of making the Candela Seven fly was actually programming the digital flight-control system," said Mahlberg. "The boat is inherently unstable and needs to be balanced by actively moving the foil during flight. Just like a jet fighter, we also have a fly-by-wire system."
"The big upside of this system, which was pretty hard to make, is that the boat is extremely stable when flying, even if people are moving around in the boat, or in strong winds and choppy wake," added Mahlberg.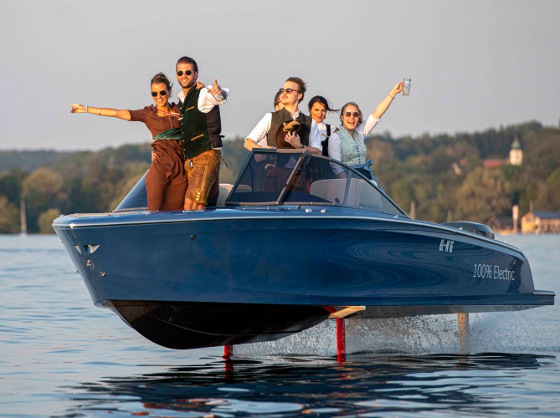 "From an engineering perspective, there are actually several interesting features in the Candela Seven," said Mahlberg. "For example, our in-house-made lower unit that is 5x more hydrodynamically efficient than any other lower unit in the 25-foot boat category. The rudder -- as well as the whole boat -- is made from carbon fiber to withstand the extreme side forces acting on it during flight."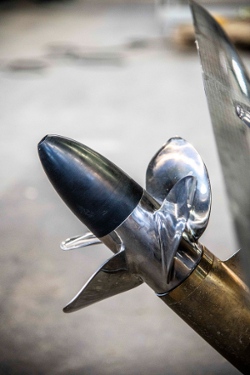 While the Candela Seven has been developed in Sweden, its real market is Central Europe's many zero-emission lakes and rivers, where slower electric boats are already a common sight (note: this is a lake boat, because its recommended safe operation environment is waves of 1 m or less).
Hydrofoil boats are not new. Back in 1898, the Italian engineer Enrico Forlanini experimented with a small "ladder" hydrofoil that set a speed record of 50 km/h (31 mph) on Lago Maggiore. It was driven by a steam engine. Alexander Graham Bell also created a hydrofoil craft called the HD-4 that set a world marine speed record of 114 km/h (70.86 mph) in 1919. That boat used two V12 airplane engines.
Candela seems poised to make its own kind of history. In September 2020, the company announced that it had received "significant financial backing" from TED Curator Chris Anderson. As of August 2020, Candela had delivered 16 boats to customers in Sweden, Finland, Austria, the United States, and the British Virgin Islands. Deliveries are now expected to ramp up markedly.
Shiny new technology isn't cheap. The Candela Seven costs just north of $200,000.
Learn more at candelaspeedboat.com.
Sources: Candela Speed Boat, BMW
Published September 2020
Rate this article