All-new 2021 Ram 1500 TRX: King of the mountain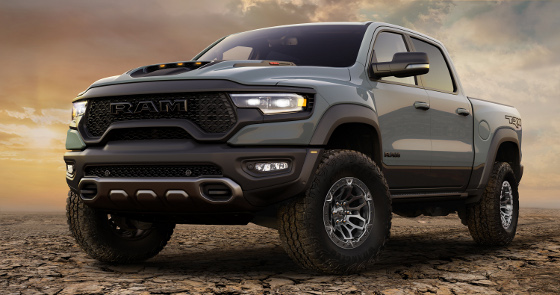 One option for the 2021 Ram 1500 TRX will be a 702-unit special Launch Edition that will be distinguished by its Anvil Gray paint, red and brushed-aluminum center console badge, carbon fiber interior trim, color accent package, Head-up Display, beadlock-capable wheels, 19-speaker Harman Kardon premium sound system, dual-pane panoramic sunroof, and bodyside graphics.
Watch out Ford F-150 Raptor. There's a new big, bad, and brawny top truck in town. The all-new 2021 Ram 1500 TRX is the fastest and most powerful mass-produced truck in the world. The "apex predator of the truck world" features a 702-hp 6.2L twin-screw supercharged HEMI V8, 650 lb-ft of torque, a 0- to 60-mph time of 4.5 sec, an armored body, and tons of new tech that makes it not only king of the mountain but a comfy and capable all-round workhorse too. Top speed is 118 mph.
For comparison, the 2020 Ford F-150 Raptor, as cool and mean as it is, sports a 450-hp 3.5L V6 twin-turbo EcoBoost engine (510 lb-ft of torque) that does 0 to 60 in 5.1 sec.
The TRX can handle up to 32 in. of water fording, up to 8,100 lb towing, and a maximum payload capacity of 1,310 lb.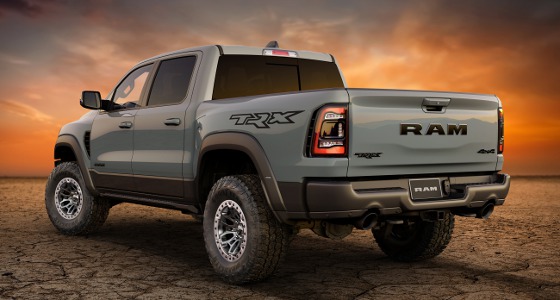 The TRX uses a high-torque-capacity TorqueFlite 8HP95 eight-speed automatic transmission to deliver quick and crisp gear changes during both normal and performance driving conditions. The transmission monitors inputs, such as engine torque gradients, throttle kick-down, longitudinal and lateral acceleration, detection of friction, downshifts, and road grade.
Launch Control is standard and manages tire slip while launching the vehicle to give the driver consistent straight-line acceleration. Wheel speed sensors watch for driveline-damaging wheel hop at launch and, in milliseconds, provide inputs to the powertrain control module to modify the engine torque to regain full grip.
If you're really getting wild, Jump Detection uses wheel-speed and ride-height sensors and accelerometers at each corner to identify when the vehicle is airborne and acts to prevent driveline-damaging power spikes. Acting in milliseconds, Jump Detection modifies engine speed and torque, gear selection, transfer case torque split, damping rates, and other powertrain and suspension components through the landing to deliver optimum performance.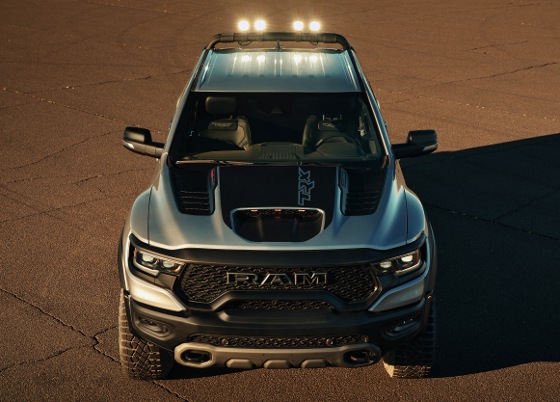 The Ram 1500 TRX uses two paths to draw in outside air and routes it to a large, 29-liter air box that filters out dirt, sand, debris, and water before getting anywhere near the engine. The innovative dual-path system pulls in outside air from a functional scoop in the hood and the upper edge of the grille. Air entering the grille flows to the bottom front of the air box, guided by tailored panels.
The hood scoop is responsible for 50 percent of air entering the supercharged HEMI V8, while the other 50 percent enters through the grille. The hood scoop ducts air to the bottom rear of the air box via ports that seal to the hood when it is closed. An air box support bar is precision-mounted in the engine compartment during vehicle assembly to ensure the hood intake seals to the air box ducts to prevent engine-heated air from entering the system.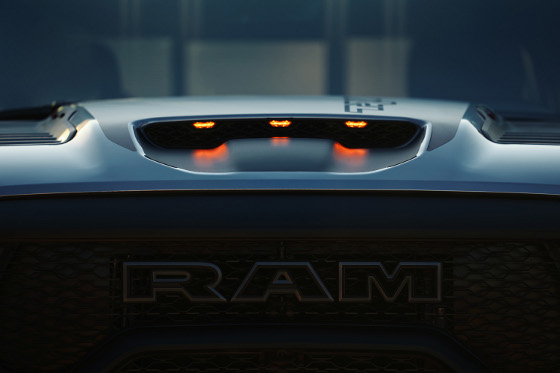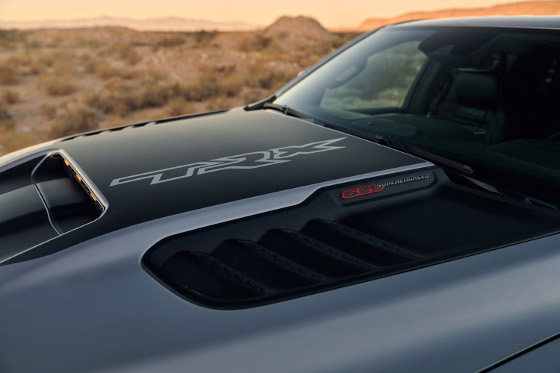 Directing incoming air to the bottom of the air box helps dirt and water settle out before the air reaches the filter elements, ensuring that the Ram TRX continues to perform in the most grueling environments. The Ram TRX's air box is mounted at the top of the engine, making it easy to access to field-clean the high-performance filter elements.
The TRX features an aggressive stance and a wide, muscular body. The truck is 8 in. wider when compared to the rest of the Ram 1500 lineup, and the composite flares help to compensate for a 6-in. increase in track width. Normally, Ram 1500 features a wheel that is 8 in. wide, but the TRX design team had to accommodate a wheel that is 9 inches.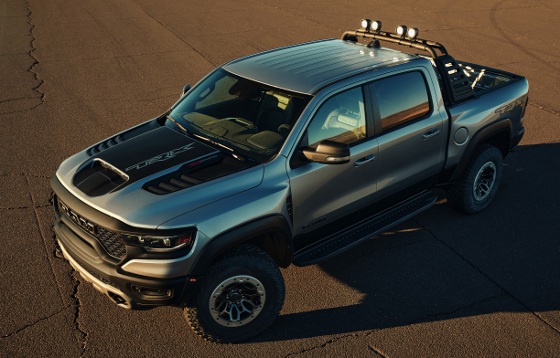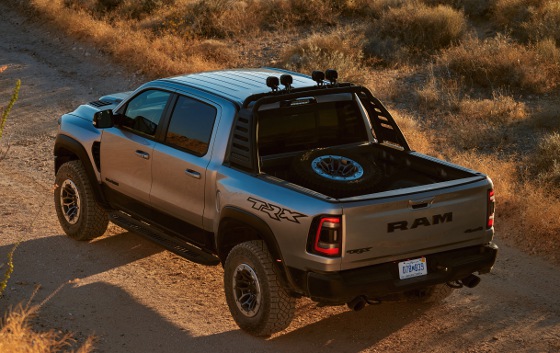 The front axle was shifted 20 mm forward to accommodate the 35-in. Goodyear Territory All-Terrain tires that were designed exclusively for TRX. The tires are available with 18-in. beadlock-ready wheels with accent color-matched rings.
TRX features new box outers made of steel and are wider than that of a traditional Ram 1500. A bed-mounted spare tire carrier is available in addition to the standard full-size spare tire that sits underneath the bed, between the rear axle and trailer hitch. Premium LED taillamps are standard on TRX, and the bezels allow for the Blind-spot Monitoring function to see around the extended box outers. The "big and bad" look is accentuated by oversized tow hooks, found at the front and rear of the truck, and integrated 5-in. dual exhaust ports.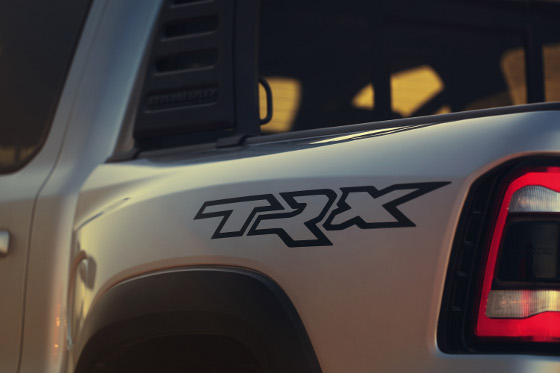 Underneath, the 2021 Ram TRX's frame is composed of thicker, optimally shaped, strategically placed high-strength steel that uses low-torsion attributes to increase durability and stability. Sections of the frame are hydroformed for dimensional accuracy, reducing the need for welding, and the side rails are fully boxed. The front rails use high-strength steel and hydroformed sections to set a strong foundation to better handle the front suspension load. Galvanized frame components provide improved corrosion protection.
The all-new, unique suspension system features active damping, inspired by desert off-road racers, and incorporates forged aluminum front upper and lower control arms with special attention to caster and camber angles during suspension cycling. TRX uses a Dana 60 solid rear axle with a 3.55 ratio featuring full-floating hubs and the axle-hop damper for improved traction and axle control on rough surfaces. An electronic locking rear differential is standard for increased performance off-road.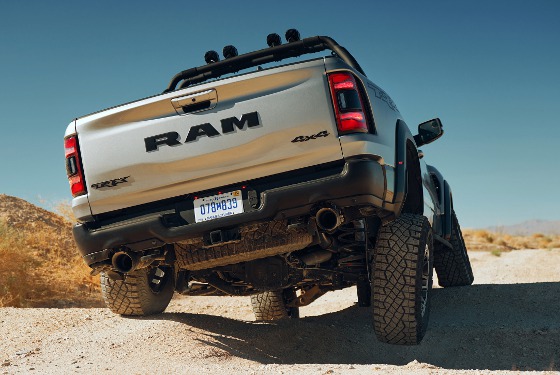 Designed exclusively for TRX, new front and rear 2.5-in. Bilstein Black Hawk e2 adaptive performance shocks provide fast reaction time, impressive damping, and improved heat dissipation for traversing harsh terrain at speeds greater than 100 mph. The five-link coil suspension is tuned to deliver the best combination of ride, handling, and comfort -- no matter the road surface. It also provides better articulation over obstacles than a leaf-spring system.
The Ram TRX boasts a ground clearance of 11.8 in. due in part to a 2-in. ride height increase when compared with the rest of the 1500 lineup (along with the 35-in. tires). This combination enables TRX to clear surface obstacles easily and at high speeds. To protect critical components, including the front axle, transfer case, transmission pan, and fuel tank, TRX employs five skid plates. A separate skid plate sits at the bottom of the front fascia, mitigating potential damage, and doubles as a belly pan. Heavy-duty gauge steel rock sliders are an available option.
VIDEO: 2021 Ram 1500 TRX overview feature.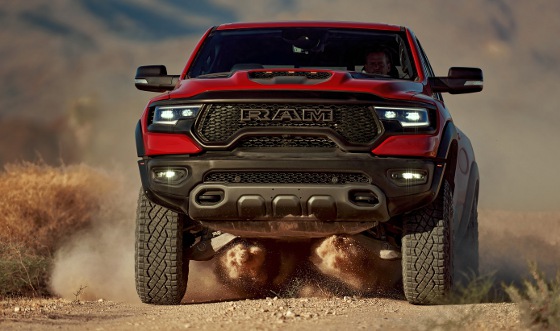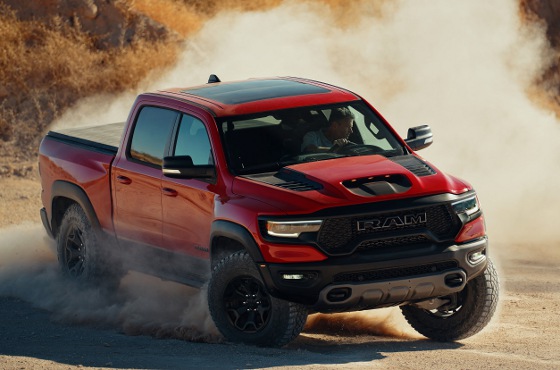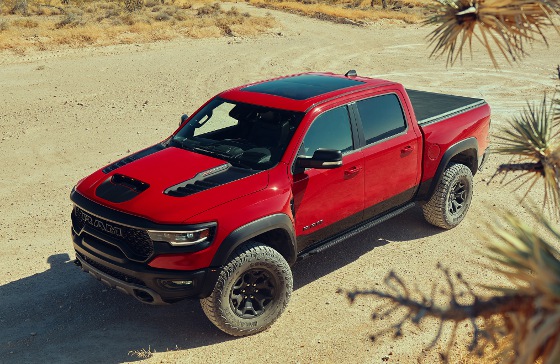 The use of lightweight, high-strength aluminum closures, including the hood and tailgate, help reduce weight and boost fuel economy. Ram TRX also uses aluminum engine mounts, front axle center section, front suspension and transmission cross-members, front upper and lower control arms, front skid plate, transmission skid plate, and steering system gear.
TRX also sports the segment's largest brakes. It has a four-wheel disc brake system and a hydraulic compensation unit to enhance brake pedal feel and performance during emergency maneuvers. Up front are two-piston monoblock calipers clamping down on 15-in. inverted hat (outboard venting) rotors for improved cooling. The rear uses single-piston calipers with 15-in. rotors to provide stopping power. An electronic parking brake holds the truck steady when applied and is standard.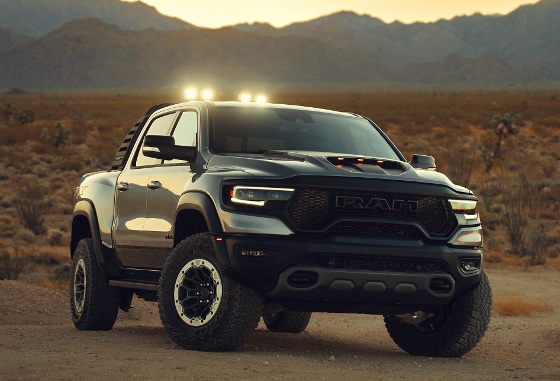 TRX uses performance-tuned software to pre-configure and distinguish five dynamic modes -- Auto, Sport, Tow, Snow, and Custom -- so drivers can choose a vehicle setting that ideally meets their requirements and conditions. The drive modes separately control the four-wheel-drive system, throttle response, transmission, paddle shifters, suspension, and the electric power steering. All modes use active slip control that prevents binding and excessive slip from front to rear.
Inside, TRX combines all-new features, technology, and premium materials with extreme performance, comfort, and durability. There are even luxury touches like an available hand-wrapped leather instrument panel.
There are three interior options, including premium cloth and vinyl, premium wrapped leather and suede, or premium wrapped leather and suede with available red and carbon fiber accents.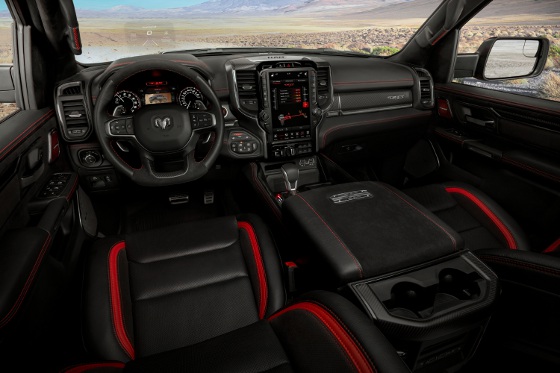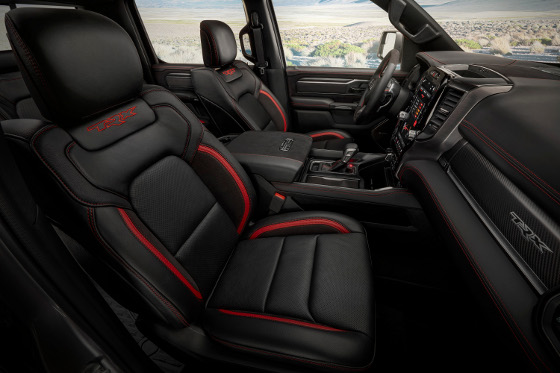 Based on the Rebel layout, trucks outfitted with a TR Equipment Group will greet occupants with premium cloth and vinyl accents featuring black and Dark Ruby Red surfaces. Opting for the TR1 or TR2 Equipment Group provides an interior based on the Ram 1500 Limited and features an all-black color scheme with leather and suede to give TRX a unique feel. Heated and ventilated premium Natura Plus leather with perforated suede accents cover the front bucket and rear bench seats. The TR1 and TR2 Equipment Groups come standard with medium Greystone stitching and Graphite Metallic accents. The TR2 Equipment Group offers TRX red stitching and carbon fiber accents as an available option.
VIDEO: 2021 Ram 1500 TRX interior design with Ryan Nagode.
Noticeable nice touches include the new SRT-signature flat-bottom steering wheel, aluminum paddle shifters, and a console-mounted performance floor shifter, which includes a cast metal main grip wrapped with semi-perforated leather.
The all-new, full-color Head-up Display unit (TR2 Equipment Group) can show up to five different content areas at once, including Lane Departure, Lane Keep Assist, adaptive cruise control, turn-by-turn navigation, current speed, current gear, and speed limit.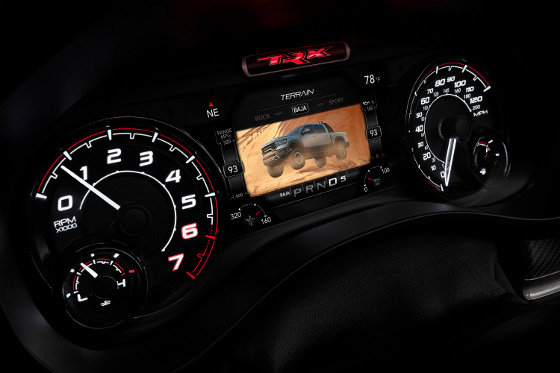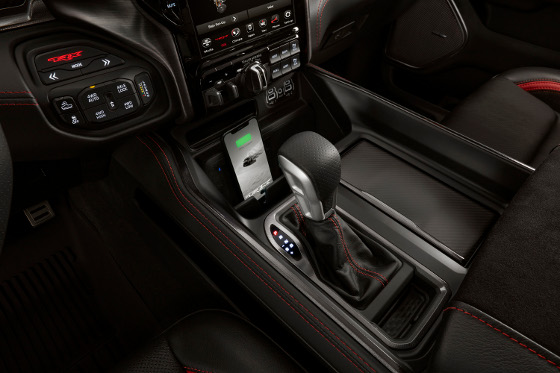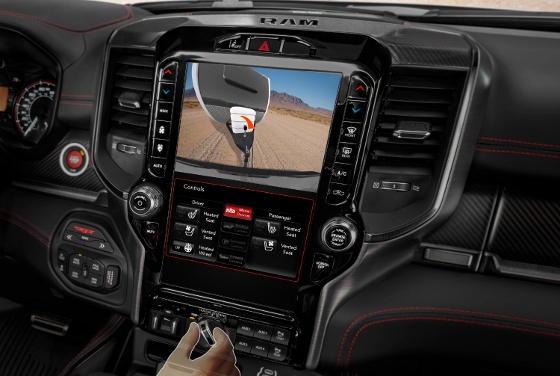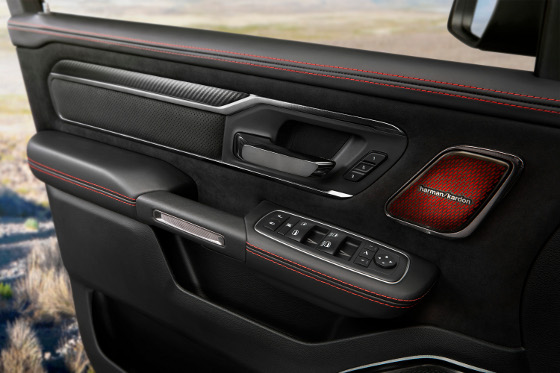 An audiophile-quality audio system is offered to immerse passengers in the ultimate sound experience, including a class-exclusive 900-W premium Harman Kardon audio system with 19 speakers and 10-in. subwoofer. FCA says this is "the finest and most powerful audio system available in a pickup."
VIDEO: Mike Gillam, TRX exterior designer, talks about working on the original TRX concept and how it helped influence the all-new 2021 Ram 1500 TRX production vehicle.
TRX features more than 100 available advanced safety and security features. Standard features include ParkView rear back-up camera with dynamic grid lines, electronic stability control (ESC) with electronic roll mitigation, and six standard air bags. Available features include Blind-spot Monitoring, adaptive cruise control, Ready Alert Braking, and Full-Speed Forward Collision Warning-Plus.
If you're into personalization, Mopar will offer more than 100 factory-engineered, quality-tested performance parts and accessories for the all-new 2021 Ram TRX. They include off-road lights, beadlock-capable wheel rings, off-road rock rails, the RamBar, a bed-mounted spare-tire carrier, and much more.
There are so many more features. You have to check it out at www.ramtrucks.com/trx.html.
The RAM 1500 TRX CREW CAB 4X4 5'7" BOX starts at $70,095.
The 2021 Ram TRX is built at the Sterling Heights Assembly Plant (SHAP) in Sterling Heights, MI.
Source: FCA US/Ram Trucks
Published September 2020
Rate this article