Tricked out: Ford shows off Bronco Adventure Concepts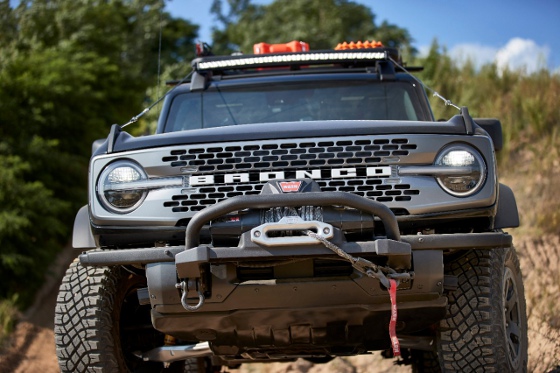 Ford Bronco Trail Rig Adventure concept.
When the reborn Ford Bronco made its debut in July 2020, it left fans both excited and faced with a mountain of choices. Should you get two doors or four, and which special Bronco series -- Big Bend (mainstream off-roading), Black Diamond (adventure off-roading), Outer Banks (off-roading in style), Wildtrak (high-speed off-roading), or Badlands (extreme off-roading) -- should you choose? Base setup or advanced 4x4? Seven-speed manual or 10-speed automatic? Now Ford has thrown five pulled-together aftermarket packages (which they are calling Adventure-Inspired Concepts) into the mix, so you can take your customization options to the max -- or at least get an idea of what's available.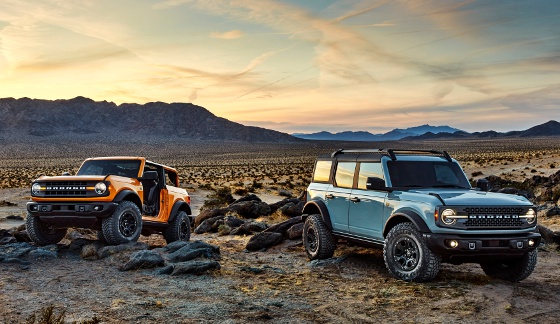 The 2021 two-door and first-ever four-door Ford Broncos made their debut in July 2020.
After a 25-year production hiatus, the new Bronco provides a real shot of adrenaline into the SUV market. Its cool, retro design sets it apart and screams fun, its quick-release stowable roof panels and doors on select versions give owners tons of options, and with more than 200 factory-backed aftermarket accessories, there's seemingly no end to adding capabilities, personalization, and style.
Ford says it received 165,000 reservations for the two- and four-door models in just the three weeks after the July launch. Wow. The base two-door model starts at $29,995. Base four-door model is $34,695. First models should hit dealerships next spring. There's also a smaller four-door Bronco available called the Bronco Sport, which is easily distinguishable not only by its size but also by its more sophisticated, modern, and boringly conventional design. You'll recognize it below in the Adventure Concepts section, but details for that model are for another day.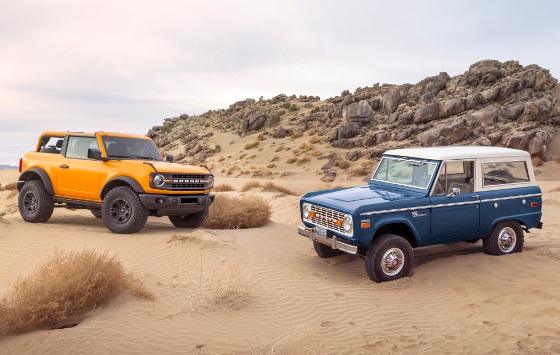 Many of the design cues for the new Ford Broncos were inspired by the first model Bronco (1966) and by Ford VP of Design Moray Callum's personal 1976 Bronco (shown).
If you didn't hear about the Bronco release in July (where have you been?!), here's a quick rundown.
The boxy Bronco features two powerful EcoBoost engine choices: a 310-hp, 2.7-liter EcoBoost V6 (400 lb-ft of torque) and a 270-hp 2.3-liter EcoBoost four cylinder (310 lb-ft of torque). Owners can choose a SelectShift 10-speed automatic or a segment-exclusive 7-speed manual transmission paired with an available advanced 4x4 system with automatic on-demand engagement.
Two 4x4 systems are offered on all Bronco models, a base setup and advanced 4x4. The base system utilizes a two-speed electronic shift-on-the-fly transfer case, while the optional advanced system features a two-speed electromechanical transfer case that adds an auto mode for on-demand engagement to select between 2H and 4H. Power is distributed to a Dana 44 AdvanTEK solid rear axle and Dana AdvanTEK independent front differential unit -- both with available Spicer Performa-TraK electronic locking differentials for improved traction over rough terrain.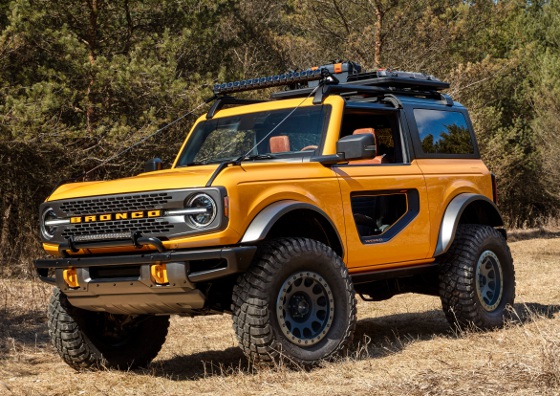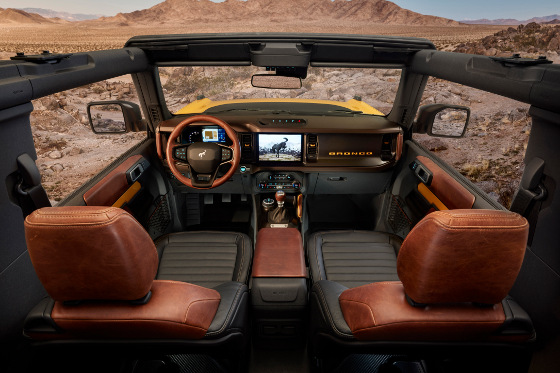 An available segment-first Trail Toolbox gives Bronco owners a suite of exclusive technologies to elevate their off-road experience. This includes Trail Control (cruise control for low-speed trail driving) and Trail Turn Assist, which tightens off-road turning radiuses through torque vectoring. There's also Trail One-Pedal Drive acceleration/braking control, which makes for more precise and confident slow-mode rock crawling.
Segment-first 35-in. off-road tires direct from the factory are available on every trim level of two- and four-door Bronco, while available segment-first beadlock-capable wheels allow customers to elevate off-road capability, regardless of price point. Fording capability is up to 33.5 inches.
The build architecture for both two- and four-door models is based on a fully boxed, high-strength steel chassis that delivers available best-in-class suspension travel -- 17% more both front and rear over the closest competitor. Strategically placed steel shields protect critical hardware. Higher capability models get an available front bash plate, plus shields for the engine, transmission, transfer case, and fuel tank.
Every Bronco comes with an independent front suspension for improved control, confidence, and comfort. At the rear, a rugged solid axle design featuring coil springs with five locating links delivers both strength and off-road control. Long-travel, position-sensitive Bilstein dampers with end-stop control valves at every corner are available for added off-road durability and reduced harshness.
An available segment-exclusive semi-active hydraulic stabilizer bar disconnect design provides maximum articulation and increased ramp angle index for off-camber terrain. This innovative system bests competitors by disconnecting during articulation; it can reconnect under all conditions to improve steering and stability at higher speeds.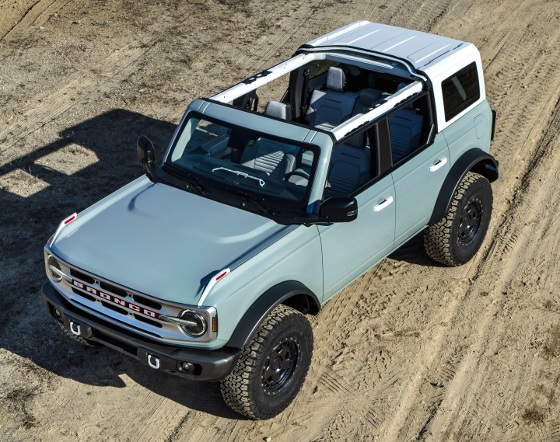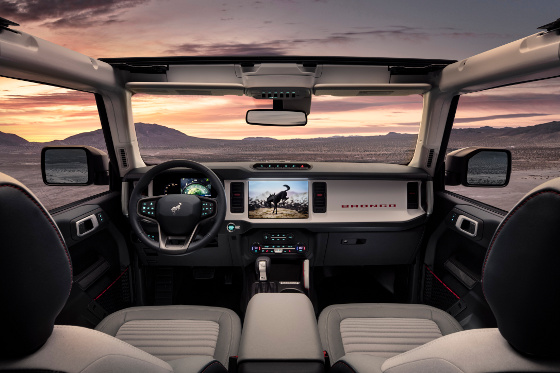 Two-door models come with a standard three-section roof system (left and right front sections and a rear section), molded-in color, and an available premium painted modular top with four sections that adds a removable panel over the rear seats and cargo area. Four-door models have four removable roof sections (left and right front panels, a full-width center panel, and a rear section). Roof panels on all models can be removed by one person by unlocking the latches from the interior. First-row panels stow away onboard on two-door models.
All modular hardtops have rear quarter windows that are removable in three easy steps. A cloth soft top, standard on four-door models, provides easy access to the open air and a unique tilt-up function for quick access to the rear cargo area. Every Bronco comes with class-exclusive frameless doors that Ford says are easier to remove than what competitors offer. On four-door Bronco models, all four doors can be stored onboard with protective door bags.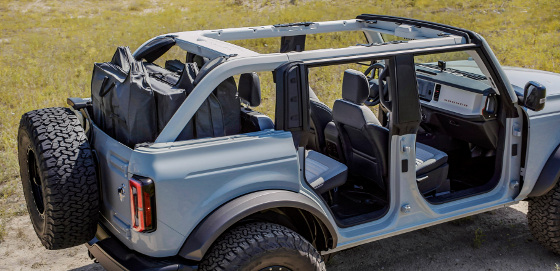 Inside, the instrument panel is inspired by the first-generation model, with gauges and controls clearly visible and intuitive. Colors and materials are inspired by natural palettes and outdoor gear. With off-road functionality the main focus, materials are tough and rugged.
A multifunction color LCD instrument panel is front and center, with the transmission shifter/selector and Terrain Management System with seven driver-selectable modes in the center console. Attachment points are built into the instrument panel to mount a bring-your-own-device rack, with 12-V power connections to easily mount cameras, navigation units, phones, or other devices. Notable special features include the 12-in. SYNC 4 system with over-the-air updates and seamless integration to the FordPass Performance app with off-road navigation -- a Bronco class-exclusive feature that allows owners to easily plan, navigate, and share their off-road adventures. The SYNC system also displays the available 360-degree camera system.
There are too many options to list here -- and that is probably the reason why Ford has come up with its own example configurations called Adventure-Inspired Concepts. If your imagination is big enough, your level of activity interest keen enough, and your pockets deep enough, you can create and ride around in something like one of the following (note: most accessories here can be mixed and matched across the Bronco lineup).
Bronco Four-Door Outer Banks Fishing Guide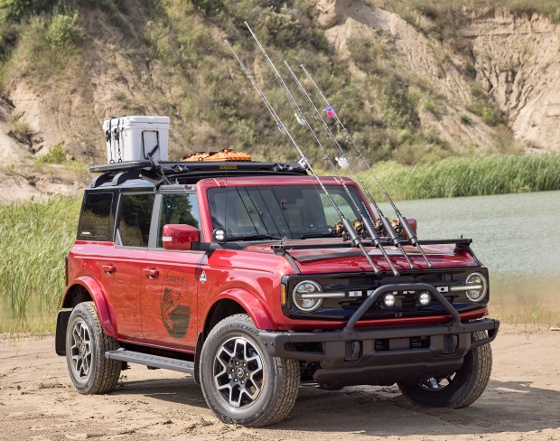 Purpose-built to support a professional fishing guide along Cape Hatteras National Seashore, this lifestyle concept is based off the regionally inspired four-door Bronco Outer Banks series. On top is a Bestop Sunrider first-row soft top, factory-style concept roof rails and crossbars, and a Yakima LockNLoad Platform roof rack.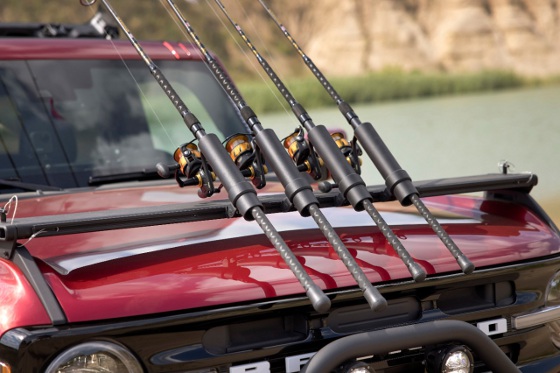 The SUV makes use of fender-mounted trail sights to fit a custom-made fishing pole and seat perch to wait for the perfect catch. A Ford Performance modular front bumper and safari bar help push through rugged terrain, while a slide-out tailgate provides a great work surface when repairing fishing rods or stringing up new lures. All-weather floor mats and splash guards round out the package.
Bronco Two-Door Trail Rig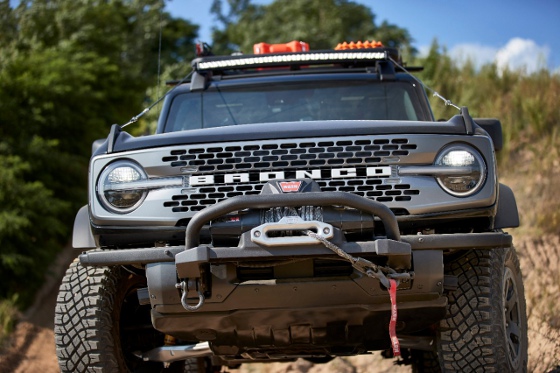 Designed to be the ultimate hardcore trail rider, this custom build is based on the two-door Badlands series. It begins with a Ford Performance modular front bumper, tube doors, beadlock-capable wheels, and 40-in. RIGID LED lightbar. A Ford Performance by WARN winch helps rescue your lesser equipped 4x4 friends.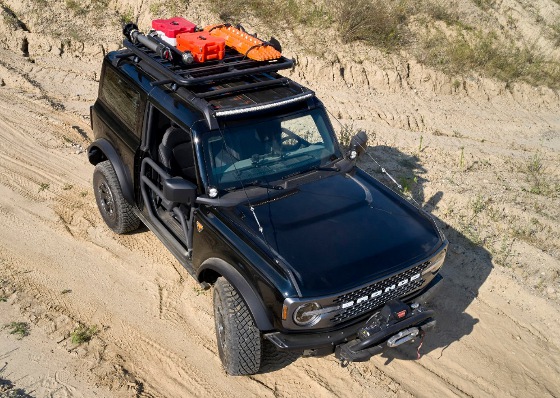 On top, factory roof rails are augmented with a Yakima Platform roof rack system with mounts for a shovel, and Ford Performance by WARN recovery kit and recovery boards. Inside are rugged floor mats and a rear swing-gate-mounted table.
Bronco Sport Trail Rig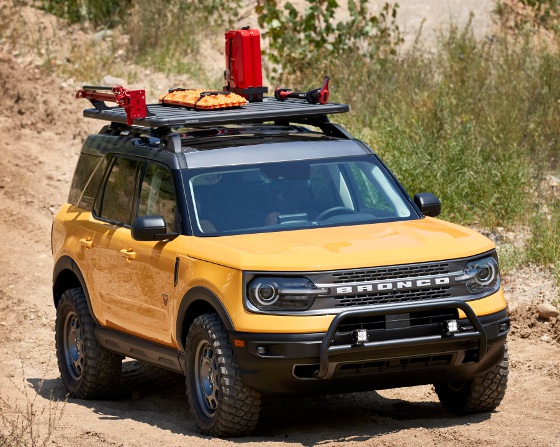 For adventurers looking to elevate their off-road trekking in a small, rugged 4x4, the Bronco Sport Trail Rig amps up the Badlands series model by adding 31-in. BFGoodrich Mud-Terrain T/A KM3 tires, a 1-in. lift kit, plus Ford Performance by RIGID LED off-road lights mounted to a front nudge bar. On top, a Yakima LockNLoad Platform roof rack and off-road gear mounts are designed to carry gear like a high-lift jack kit, Ford Performance recovery boards, and jerry cans.
Bronco Sport TOW RZR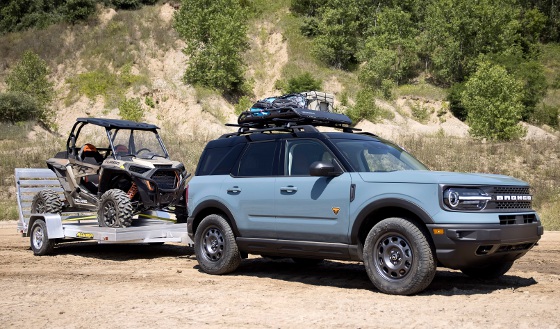 TOW RZR matches the added passenger comfort and technology features of the Badlands series with towing and cargo accessories to help adventurers haul more outdoor gear. The custom build adds Yakima HD Bar crossbars and OffGrid medium cargo basket and Class II Trailer Tow Package with 2,200 lb of capacity to tow off-road runners like the all-new Polaris RZR XP Turbo, unveiled in July as part of the Bronco debut celebration.
Bronco Sport Off-Roadeo Adventure Patrol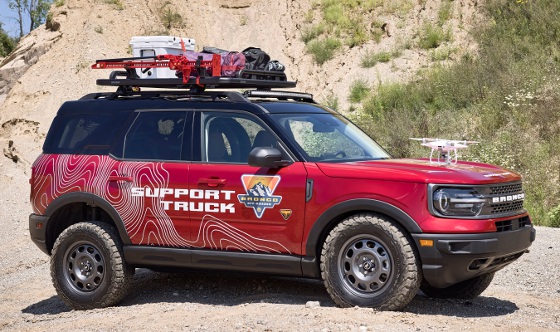 Designed for the upcoming Bronco Off-Roadeo customer adventure playgrounds (the first of four will be in the hill country of Austin, TX, and open in summer 2021), this Bronco Sport Badlands build is equipped to assist in the wild with its Yakima LockNLoad Cargo Platform to hold recovery gear like a high-lift jack, recovery boards, and jerry cans. A Ford Performance by RIGID off-road LED lightbar also mounts to the rack system.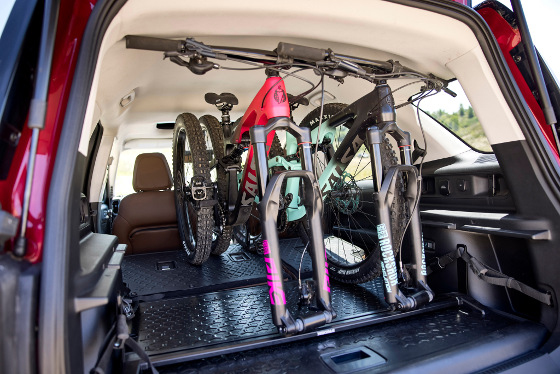 To support one of many Off-Roadeo excursions available, this Bronco Sport is equipped with an interior bike rack from Yakima to hold two mountain bikes. To record customers' adventures, it even integrates a target to land a drone that is used on-trail at Off-Roadeo locations.
Bonus Fun: Sasquatch package
Ford has also made available its high-performance off-road Sasquatch package to all its new Bronco two- and four-door models with a class-first 7-speed manual transmission.
Checking the Sasquatch box adds 35-in. Goodyear mud-terrain tires mounted to 17-in. beadlock-capable wheels, Dana front and rear electronic locking axles with 4.7:1 final drive ratio, and high-clearance suspension with a nearly 2-in.-wider track, position-sensitive Bilstein shocks, and wider fender flares.
The Sasquatch package will be available across the lineup, including Base, Big Bend, Black Diamond, Outer Banks, and Badlands. It is standard on Bronco Wildtrak.
-----------------------

Ford has an interesting podcast series called "Bring Back Bronco." We will post the first one here, and you can find the rest on the Ford Youtube site. The series covers Bronco history and also the backstory behind the 2021 redesign/relaunch.
Check out the many, many options for the Ford Bronco and configure your own at www.ford.com/suvs/bronco/2021/.
Source: Ford Motor Co.
Published October 2020
Rate this article