New standard set for automotive-grade lidar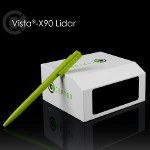 The Vista-X90 is the newest addition to Cepton's Vista-X automotive-grade sensor family. Priced at less than a thousand bucks for high-volume automotive applications, it sets a new benchmark for high performance at low power in a compact form factor. It is ideally suited for advanced driver assistance systems (ADAS) and autonomous vehicles (AVs). Weighing less than 900 g, the Vista-X90 achieves up to 200 m range at 10% reflectivity with an outstanding angular resolution of 0.13 degrees and state-of-the-art power consumption.
Learn more.
---
Rotary sensors for auto racing and other demanding applications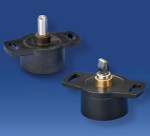 Novotechnik U.S. announces the SP2800 Auto-Sport Series of rotary sensors for angle measurement. These sensors were developed for auto racing and other demanding applications. Key specs for SP2800 Auto Sport include 20 models covering measurement ranges of 0 to 100, 130, 308, 345, or 350 degrees. There is also a redundant version with a 100-degree range. These ranges were specifically selected for sequential gearbox, steering angle, throttle, and suspension measurement applications. Repeatability is 0.01%. Linearity is to 0.3%, depending on model. A rubberized strain-relief boot is available for auto racing and other applications where extreme conditions are present.
Learn more.
---
Industry first: Pneumatic valve with embedded wireless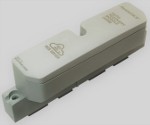 Emerson has introduced a wireless automatic recovery module (ARM) for its AVENTICS G3 electronic fieldbus platform that makes it easy for technicians to perform pneumatic valve system commissioning and diagnostics from a mobile phone, tablet, or laptop computer. The platform is ideal for pneumatic valve system applications in the automotive, food and beverage, tire, packaging, and metalworking industries. The wireless ARM module with built-in Wi-Fi generates error notifications for alarms, voltage levels, short circuits, module errors, open load errors, and distribution errors -- even when the valve system is located inside a machine or on a ceiling. It offers the visual benefits of a hard-wired human machine interface (HMI) at lower cost and with higher flexibility.
Learn more.
---
Enclosure sensors, heaters, door switches, and LED lighting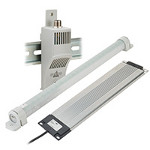 New STEGO enclosure products available from Automation-Direct include a temperature/ humidity sensor, a unique form-factor heater, enclosure door switches, and new LED lights. The compact "Smart Sensor" electronically measures temperature and humidity and converts the measured data into a standardized analog 4- to 20-mA signal. The 8-mm flat heater provides an evenly distributed temperature within enclosures, and the ultra-thin design makes it particularly suitable for high-density electronic applications. Enclosure door switches can be used to switch a light when opening a door or to activate a fan when closing a door. STEGO Varioline magnetic and screw-mount enclosure lights are compact, powerful LED lamps capable of fully illuminating even very large enclosures. The glare-free 360-degree rotatable LED tube has a service life of 60,000 hours.
Learn more.
---
Miniature copper pad thermocouple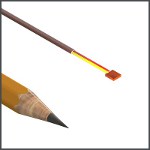 The new, easy-to-install CPTC series Copper Pad Surface Thermocouple Sensor from Harold G. Schaevitz Industries (HGSI) delivers high-performance surface temperature measurements reliably and consistently for metal, glass, or PCB board surfaces. Designed for R&D, testing applications, manufacturing engineering, and production environments, the 2.1-mm x 2.4-mm CPTC Copper Pad Surface Thermocouple Sensor can be bonded to a surface using an epoxy resin or cyanoacrylate-based glue.
Learn more.
---
Cool Tools: Hexagon RS6 high-speed laser scanner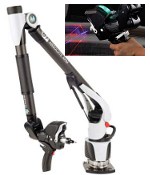 The arm-mounted RS6 laser scanner available from Exact Metrology is designed for high-speed and high-accuracy scanning. When compared to other scanners, the RS6 has a 3x faster frame rate, a 30% wider laser stripe, and excellent scanning performance on difficult surfaces. Its unique SHINE technology allows you to scan 99% of parts without touching the scanner exposure -- even on glossy surfaces. It scans up to 1.2 million points/sec with a scan rate of 300 Hz.
Learn more.
---
Rugged CAN keypad and rotary cursor controller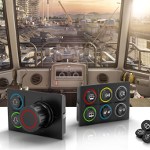 EAO has just introduced its new Series 09 Rugged CAN Keypad and Rotary Cursor Controller aimed at construction equipment, emergency vehicles, agricultural equipment, and the like. The products offer functional safety compliance and CANbus integration for use in harsh environments. The Rugged CAN Keypads are available in multicolor RGB 4-segment halo-ring illumination. Colors can be set for specific functions, animated with chasing/running or flashing sequences, and are easily programmable. The Rugged CAN Rotary Cursor Controller features full rotary function with 22 maintained positions and a push function. It also features LED symbol illumination on the pushbuttons and LED halo illumination on both pushbuttons and the rotary cursor.
Learn more.
---
Cool Tools: New Bosch thermal camera for industry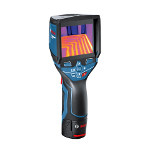 The Bosch GTC400C 12V Max Connected Thermal Camera is easy to use, determining temperatures in seconds and documenting the results with convenience. Featuring a large, illuminated color display, it delivers a 160 x 120 thermal graphic image accurate to +/- 3 C. It features simple operation: Just squeeze the trigger to shoot an image, and use the click wheel for the functions. The thermal graphic image features more than 19,000 measurement points for precision to show hot and cold spots, with the temperature at the center and an adjustable temp scale. The integrated visual camera records actual images, so the user can document the work area visually as well as thermally. This allows side-by-side comparison, picture-in-picture, and overlay of picture and thermal graphic. Nice long battery life.
Learn more.
---
Self-service fever scanner uses fist or wrist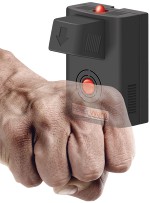 FeverWarn is a new, non-contact device that determines if a user has a fever instantly -- simply by scanning the wrist or fist. The technology's creators at MachineSense, along with some university studies, say these hand areas are consistently some of the most reliable on the body for accurate temperature scanning. The FDA-compliant FeverWarn unit can be installed in front lobbies, security checkpoints, manufacturing entrances, school entrances, and any other place where the initial entryway is your first line of defense. A red or green light indicates pass or fail. Provides outputs for triggering auxiliary doors or gates.
Learn more about this exciting technology.
---
Thermally conductive elastomer for electric cars developed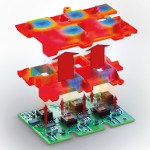 Freudenberg Sealing Technologies has developed a material that combines seemingly contradictory properties: It conducts heat well, but it is also electrically insulating. The company is already testing initial applications for charging sockets, control units, and batteries in electric cars.
Read the full article.
---
Cool Tools: Newly designed electronic digital micrometers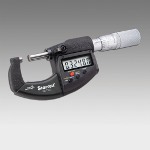 The L.S. Starrett Company has introduced more than 100 Electronic Digital Micrometers with new features for improved ergonomics, functionality, and productivity. They offer upgraded electronics, a longer battery life, an advanced locking mechanism, and a large, easy-to-read LCD display. The micrometers are available in a 0-1" (25-mm) model up to 24" (600 mm), and in 0-6" (152-mm) and 0-12" (304-mm) sets of individual micrometers. Some include IP67 protection. Industry 4.0 ready, these micrometers are equipped with an RS232 output, ideal for use with data-collection systems such as Starrett DataSure.
Learn more.
---
Why convert a tube-bending machine from hydraulic to electric?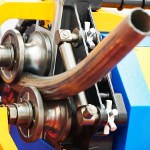 Tube-bending machines have been driven by hydraulics for the past 80 years. Operators know how to get the best out of their machines, so why switch to electric cylinders? There are some disadvantages to going electric, but the fundamental reason to consider making the switch is simple: You can make better parts. By Brian Sondergeld
Read this informative Tolomatic blog.
---
Mini toggle switch features never-slip grip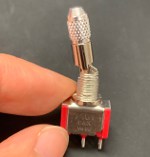 Electro-mechanical switch manufacturer C&K has expanded its miniature 7000 Series locking toggle switch to include an optional knurled cap. The textured pattern provides a non-slip surface that enables customers to move from one position to another without the toggle lever slipping from their grip. Offering reliable and long-term operation up to 100K cycles, the 7000 Series locking toggle switch is available with and without the IP67 sealing to meet application requirements.
Learn more.
---
TDK brings redundancy to its TMR angle sensor portfolio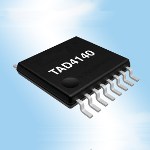 TDK has announced the expansion of its tunnel-magneto-resistance (TMR) angle sensor portfolio with the new digital TAD4140 sensor, designed for demanding automotive and industrial applications. Compared to TDK's existing digital angle sensor (the TAD2141), the new TAD4140 features full redundancy with two signal processor units and 2x2 TMR bridges in a single TSSOP16 package. Both angle sensors are capable of contactless sensing up to 360 degrees. The new sensor is able to simultaneously measure speed, direction, and motor position, making it suitable for motor-control applications such as Brushless DC (BLDC) motor commutation in electric power-assisted steering (EPAS) systems.
Learn more.
---
Thermal cameras for elevated skin-temp screening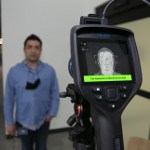 FLIR Systems has just announced the availability of their modified thermal cameras for fast and safe non-contact elevated skin-temperature screening. The FLIR EST thermal screening solutions provide front-line screening at building entries and in high-traffic areas to improve safety and help curb the spread of COVID-19. The EST series cameras are designed to simplify the screening process, reducing the burden on screening operators and adhering to recommended social distancing guidelines. Handheld, fixed-mounted, and custom integrated solutions available.
Learn more.
---
New invention could make particle accelerators 10 times smaller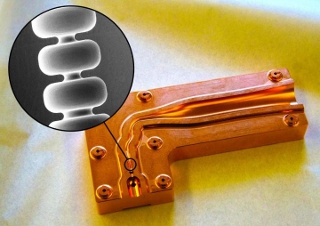 SLAC scientists have invented a copper accelerator structure that could make future X-ray lasers and accelerators for radiation therapy more compact. It feeds terahertz radiation into a tiny cavity to boost particles to tremendous energies. Shown is one half of the structure with the cavity in the circled area. Inset: Scanning electron microscope image of a section of the cavity, which is 3.5-mm long and 280 microns wide at its narrowest point. [Credit: Chris Pearson/Emilio Nanni/SLAC NAL]
Particle accelerators generate high-energy beams of electrons, protons, and ions for a wide range of applications, including particle colliders that shed light on nature's subatomic components, X-ray lasers that film atoms and molecules during chemical reactions, and medical devices for treating cancer.
As a rule of thumb, the longer the accelerator, the more powerful it is. Now, a team led by scientists at the Department of Energy's SLAC National Accelerator Laboratory has invented a new type of accelerator structure that delivers a 10 times larger energy gain over a given distance than conventional ones. This could make accelerators used for a given application 10 times shorter.
The key idea behind the technology, described in a recent article in Applied Physics Letters, is to use terahertz radiation to boost particle energies.
In today's accelerators, particles draw energy from a radio-frequency (RF) field fed into specifically shaped accelerator structures, or cavities. Each cavity can deliver only a limited energy boost over a given distance, so very long strings of cavities are needed to produce high-energy beams.
Terahertz and radio waves are both electromagnetic radiation, but they differ in their respective wavelengths. Because terahertz waves are 10 times shorter than radio waves, cavities in a terahertz accelerator can also be much smaller. In fact, the one invented in this study was only 0.2-in. long.
One major challenge to building these tiny-cavity structures is to machine them very precisely. Over the past few years, SLAC teams developed a way to do just that. Instead of using the traditional process of stacking many layers of copper on top of each other, they built the minute structure by machining two halves and bonding them together.
The new structure also produces particle pulses a thousand times shorter than those coming out of conventional copper structures, which could be used to produce beams that pulse at a higher rate and unleash more power over a given time period.
Next, the researchers are planning to turn the invention into an electron gun -- a device that could produce incredibly bright beams of electrons for discovery science, including next-generation X-ray lasers and electron microscopes that would allow us to see in real time how nature works on the atomic level. These beams could also be used for cancer treatment.
Delivering on this potential also requires further development of sources of terahertz radiation and their integration with advanced accelerators, such as the one described in this study. Because terahertz radiation has such a short wavelength, its sources are particularly challenging to develop, and there is little technology available at present. SLAC researchers are pursuing both electron beam and laser-based terahertz generation to provide the high peak powers needed to turn their accelerator research into future real-world applications.
The project was led by SLAC's Mohamed Othman and Emilio Nanni. The accelerator structure was designed and built at SLAC and tested using a special terahertz radiation source from the Massachusetts Institute of Technology. Other contributions came from the National Institute for Nuclear Physics (INFN) in Italy. The project was funded by DOE's Office of Science, including a DOE Office of Science Early Career Research Program award to Nanni, and the National Science Foundation.
Source: DOE/SLAC National Accelerator Laboratory
Published October 2020
Rate this article