HUMMER goes electric -- recast as 1,000-hp off-road super pickup with 350-mile range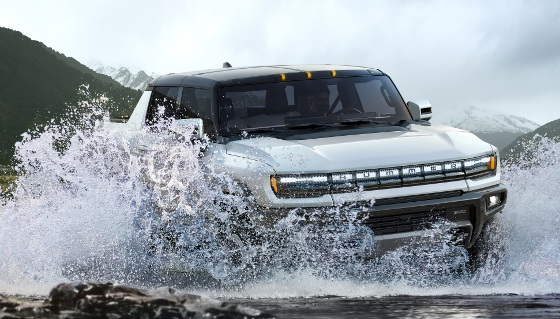 The off-road market has seen some impressive new releases this year (Bronco, Wrangler Rubicon 392 Concept), and GMC is adding a real sizzler to the offerings with the announcement of the 2022 HUMMER EV. The totally retooled all-electric, 1,000-hp Edition 1 will roll out as a convertible super pickup, with SUV options coming later. Boasting a 100-mile top-up in 10 minutes of charge, the HUMMER EV will be a real test of GM's all-new Ultium battery architecture.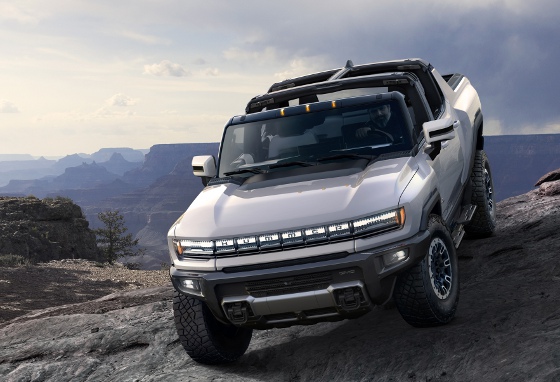 Slated for production start in late 2021, the new supertruck will first be released in a pickup-only configuration called the 2022 HUMMER EV Edition 1. This variant will also be the most expensive in the debut rollout, with a starting MSRP of $112,595. Fall 2022 will see the availability of the $99,995 HUMMER EV3X, with the $89,995 HUMMER EV2X available in 2023 and the $79,995 HUMMER EV2 available spring 2024. All will be pickups, and features diminish with each rollout. Electric range may decrease also. The SUV variant is coming, but GM has not given a timeframe yet. That is kind of a bummer.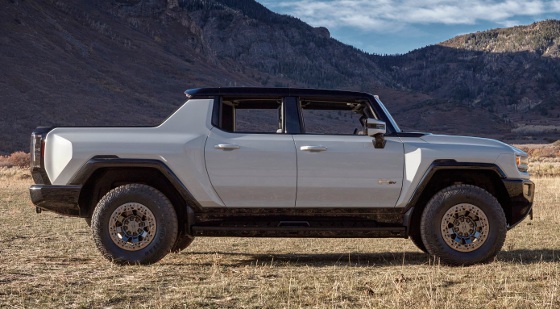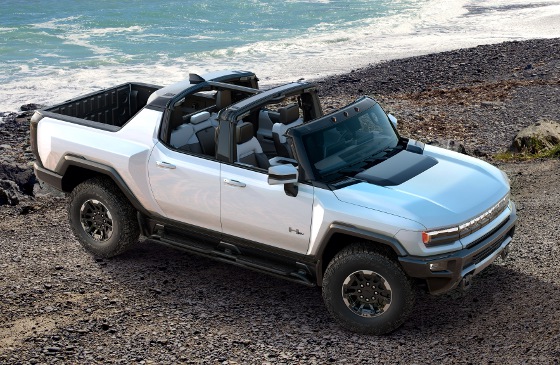 HUMMER EV Edition 1 will be the first fully electric addition to GMC's lineup driven by the carmaker's all-new Ultium battery pack and powered by Ultium Drive, GM's proprietary EV drive units. The noticeably less boxy HUMMER sports a GM-estimated 1,000 hp. Its 11,500 lb-ft of torque is generated by three separate motors within two Ultium drive units aimed to give the vehicle's e4WD impressive on- and off-road capabilities. Individual electric motor specs have not been released.
Ultium batteries are unique in the industry because of their large-format, pouch-style cells, which can be stacked vertically or horizontally inside the battery pack. In the Edition 1 HUMMER EV, two layers of vertical cell modules will be used to produce a combined 24-module pack that offers a GM-estimated range of 350+ miles.
With GM's state-of-the-art nickel, cobalt, manganese, and aluminum (NCMA) chemistry, HUMMER EV's Ultium batteries will have some of the highest nickel and lowest cobalt (a rare and costly material) content of any large-format pouch cell. The breakthroughs of the Ultium chemistry allow GM to use 70% less cobalt than GM's previous generation of EVs. HUMMER EV will also be the first vehicle in GM's lineup to feature its wireless battery management system, which maintains balance within the truck's battery cell groups for optimal performance and battery longevity.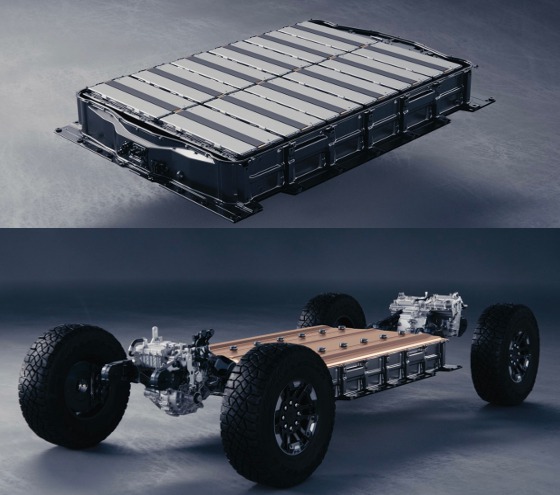 The single-motor front drive unit will have a 13.3:1 fixed gear ratio and will offer an electronic lockable differential, capable of delivering up to 100% of the motor torque to one wheel in case traction is lost on the opposite wheel. All four wheels can be fully synchronized for true e4WD propulsion. Two rear motors contained in one Ultium Drive unit will independently power the rear wheels through a fixed gear ratio of 10.5:1, with the capability of varying torque output to each wheel to optimize traction in off-road driving and highway-driving conditions. Motor output can also be synchronized to simulate a locking differential.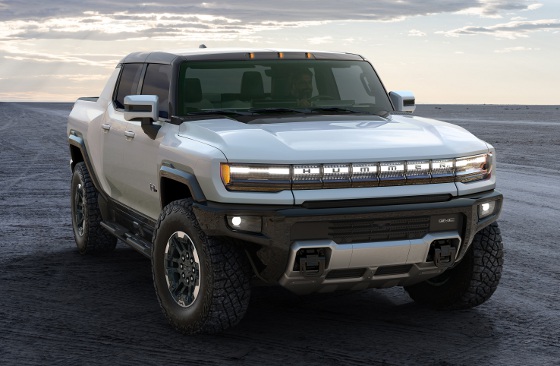 HUMMER EV will have the ability to take advantage of the industry's fastest 350-kW DC fast chargers. The vehicle has the unique ability to switch its battery pack from its native 400 V to 800 V for charging. A disconnect unit and mechanization within the pack enables the battery to switch from "parallel" to "series," allowing it to add nearly 100 miles of range in 10 minutes of charging.
The charging system is also designed to support legacy 400-V charging infrastructure, without the need for a converter box or other accessories, allowing HUMMER EV to use a variety of charging stations (at a slower charging rate).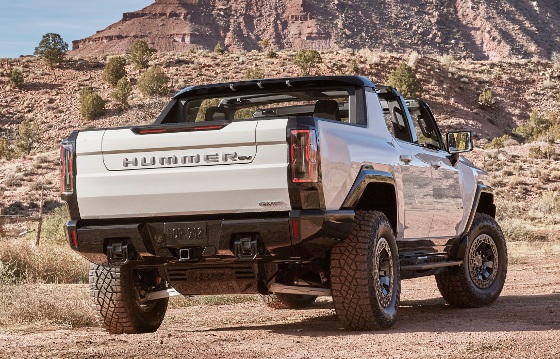 HUMMER EV is the first GMC vehicle to offer variable Regen on Demand, a driver-controlled regenerative braking feature, which converts the kinetic energy of the truck's forward momentum into electricity stored in the vehicle's battery packs for maximizing the driving range. This standard feature is compatible with all of HUMMER EV's available drive modes.
Highlights of available features include:
4-Wheel Steer featuring CrabWalk, a segment-exclusive feature that allows the rear wheels and front wheels to steer at the same angle at low speeds, enabling diagonal movement of the vehicle for even greater maneuverability on challenging terrain.
Adaptive air suspension with available Extract Mode capability enables the suspension height to be raised approximately 6 in. to help the HUMMER EV negotiate extreme off-road situations such as clearing boulders or fording water.
35-in.-OD Goodyear Wrangler Territory MT tires offered standard, with the option of 37-in. tires, to provide the capability to scale 18-in. verticals and drive through water more than 2 ft deep.
Underbody armor consisting of sturdy steel plates that are strategically located around the battery pack and more to help provide protection in extreme off-roading conditions.
UltraVision that includes new front and rear underbody cameras with live "virtual spotter" views to help drivers navigate obstacles and place wheels on and off the trail. The underbody cameras are packaged to help protect against damage and equipped with a wash function to help clear debris.
Off-road widgets that display vehicle functions and terrain status through the infotainment and driver information screens. Examples include torque output, differential locker engagement, tire pressure, pitch and roll angles (including maximum values), a drift gauge (with maximum values), friction circle, torque vectoring, and more.
Features special to Edition 1 include:
Watts to Freedom (WTF Mode) -- a driver-selectable "immersive experience" that unleashes the full acceleration capability of the EV propulsion system, including GM-estimated 0- to 60-mph performance in approximately 3 seconds.
Drive Mode Control offers driver-selectable modes that tailor performance (including torque splits between the front and rear wheels, and four-wheel steering settings) for different driving conditions. It includes Terrain Mode, which raises the HUMMER EV's ride height by nearly 2 in.
Adaptive Ride Control continuous damping for both on- and off-road driving.
Open-air driving with standard Infinity Roof and removable transparent Sky Panels that can stow in the "frunk" storage compartment at the front of the vehicle.
Premium, technical interior materials.
Big displays. Large, 13.4-in diagonal infotainment screen and 12.3-in. diagonal driver information center display.
Super Cruise driver assistance offering hands-free driving on more than 200,000 miles of enabled roads.
MultiPro Tailgate with six functional positions to close up the 5-ft bed.
Power rear drop glass window and power tonneau cover.
One thing's for sure. When you see it, you can tell it's still a HUMMER -- but it's a kind of refined one. Does that still fit the HUMMER DNA? HUMMER EV is rounder with some levels -- not exactly softer, but certainly not overbearing or confrontational.
Total length is just shy of 217 in. That makes it a mid-range offering as far as pickups go. It is still very wide at 87 in., but somehow it doesn't seem like the road-dominating beast of yesteryear. Maybe you've got to see it in person.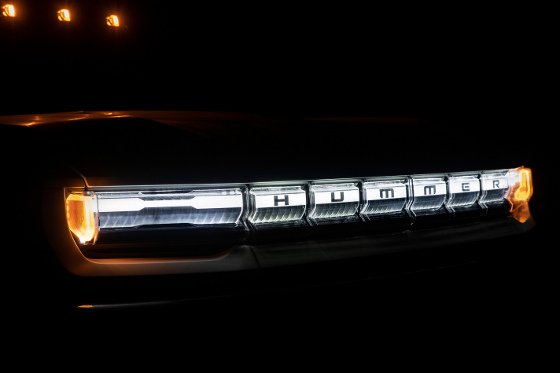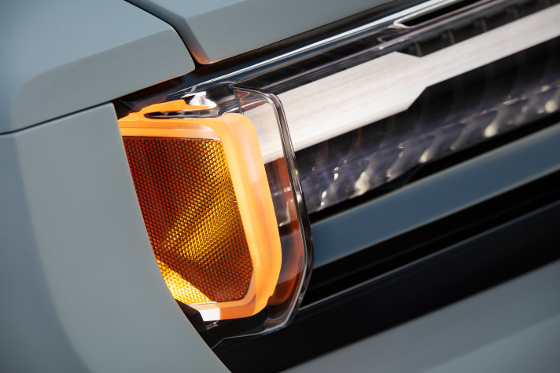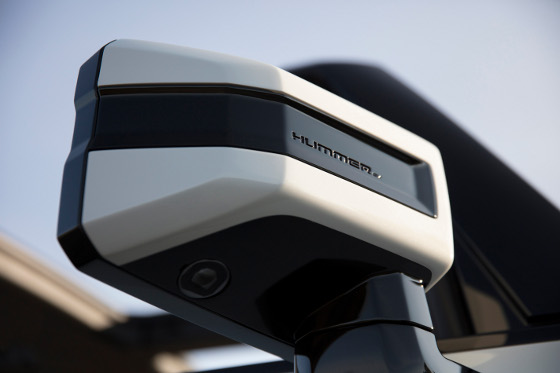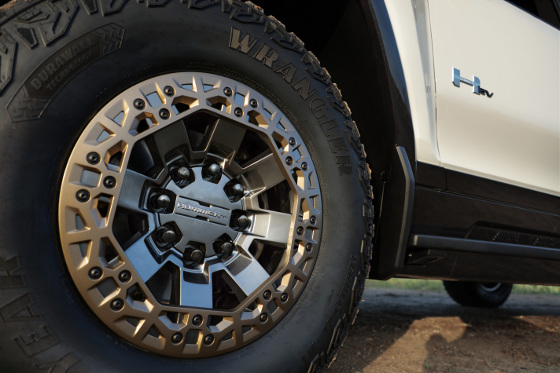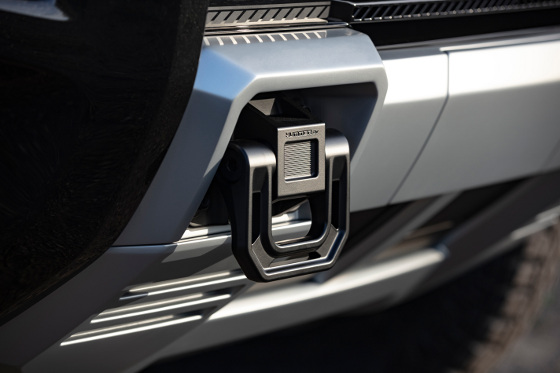 Signature cues still include a low-turret upper and upright windshield. The front and rear lights give it a lot of presence. The design also incorporates clever details such as the distinctive HUMMER EV "H" motif seen in several elements, including the headlamps, taillamps, and wheels.
The Infinity Roof offers open-air driving via modular, transparent Sky Panels. Even the I-Bar mounting frame for the panels is removable, for a totally open experience above, while a power-drop rear window takes the open-air concept even further. Under the full-power-equipped hood, the roof panels can stow in accessory cases inside the front storage compartment known as the "frunk" when equipped with the dealer-available accessory storage tray.
Inside, the five-passenger HUMMER EV's cabin design is geometric and textured. Its newly developed surface materials contribute to the premium look and feel. There's no conventional carpet in the interior. It has a versatile and easy-to-clean vinyl floor, topped with rubber flooring made from recycled material. Overall, the design is very utilitarian, with the large displays and the gear selector the only things that look next-gen modern.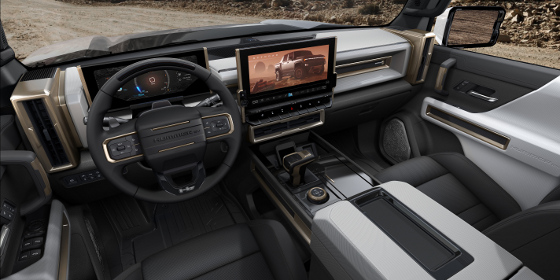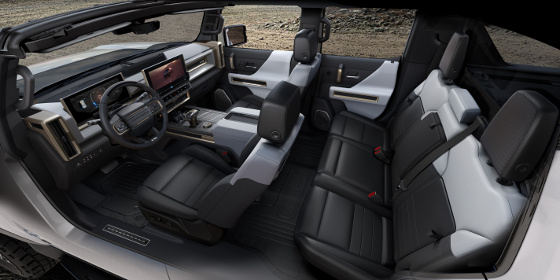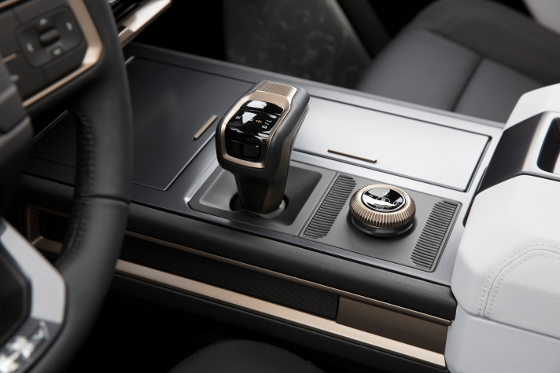 At launch, the 2022 HUMMER EV will be offered in Edition 1 trim, featuring a white exterior color, a unique high-contrast Lunar Horizon interior color, and special Edition 1 interior badging.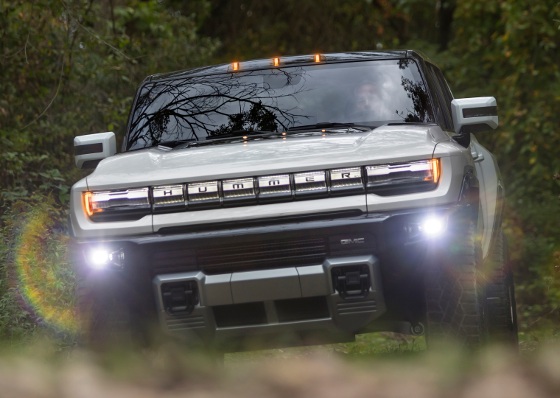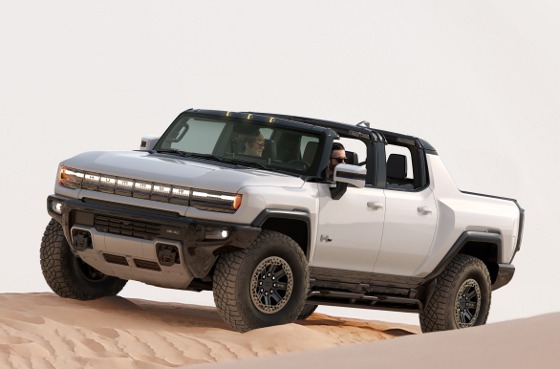 Learn more at www.gmc.com/electric-truck/hummer-ev.
Source: GMC
Published October 2020
Rate this article