High-performance vibratory feed system handles larger range of parts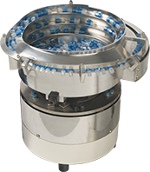 The SPIROL Series 2000 is a proven and reliable dual-axis feeding concept that is unlike anything else on the market. It can feed many parts that were once considered not suitable for vibrating feeders, including fuses, tablets, packets, soft rubber parts, fragile parts, and parts that are coated or have a film on them. It is tuned electronically rather than by re-springing, which makes setup and changeover for multiple bowls on one drive a snap. In automated assembly lines, this system offers maximum efficiency, reduced power consumption, and less noise.
View the video.
---
Servo-insert coupling with new hub design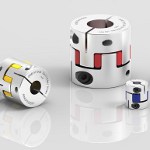 RINGFEDER has recently released its GWE 5113 series of elastomer jaw servo-couplings featuring a new hub design. This design eliminates radial loads and achieves uniform power transmission with an even clamp force and symmetrical arrangement of clamp and screw positions. GWE 5113 couplings precisely transmit torques from 3 to 560 Nm. The hub is slit partially through and located directly under the jaws to minimize pressure on the shaft. Backlash-free units come with an elastomer spider with 98 Shore A hardness, minimizing movement and achieving longer life cycles. Seven sizes available.
Learn more.
---
HVACR Tech Tip: Understanding the basic refrigeration cycle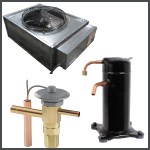 This Parker Hannifin Climate Control blog reviews the basic refrigeration cycle and the interaction between its four basic components: compressor, condenser, expansion device, and evaporator. It looks at each component and its function, and then at what happens when components are not properly matched.
Read this informative Parker blog.
---
Antibacterial handles stop germs in their tracks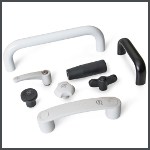 Contact infections with viruses, fungi, and bacteria were already a problem even before the pandemic, and now JW Winco is expanding its Sanline range of antibacterial products. For their plastic products, special additives with silver ions are mixed in, while metal parts are given powder coatings based on zinc molybdate.
Read the full article.
---
New metal 3D-printing materials include Inconel, titanium, and maraging steel at Xometry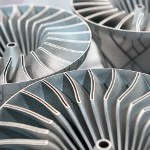 Xometry has added four new 3D-printed metals to its on-demand manufacturing services: maraging steel, Inconel 625, Inconel 718, and titanium. These premium alloys complement the already available stainless steel and aluminum metal 3D printing. Metal parts in these alloys are produced using direct metal laser sintering (DMLS), which fuses powdered metal with a high-powered laser to build parts layer by layer.
Learn all about these materials in this Xometry blog.
---
Eaton launches next-gen hollow-head valves for improved engine efficiency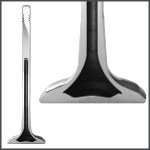 Eaton's Vehicle Group has introduced its next-generation sodium-filled hollow-head valves. Unlike traditional hollow valves, the head portion of the new valves is composed of two separate sections that are welded together during the production process. The new valves have the capability to cool down the combustion face and, therefore, the chamber temperature, which increases the spark advance and air-to-fuel ratio because the engine is less inclined to knock. As a result, the brake specific fuel consumption (BSFC) can be increased and emissions reduced. The valves are being evaluated by several global automakers, with start of production scheduled for 2023.
Learn more.
---
Counterbalance support hinge for heavy panels and lids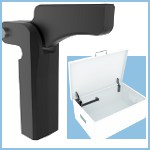 SOUTHCO has expanded its series of Counter-balance Hinges with a new product that reduces the total solution cost of lifting and positioning heavy panels and lids. The CB Counterbalance Support Hinge enables ergonomic lifting and position control when combined with a CB Counterbalance Hinge by using stored energy to balance the weight distribution of a lid or panel. The all-aluminum hinges are fully adjustable, allowing the experience of opening and closing the panel to be tailored to the unique requirements of the application.
Learn more.
---
Precision flexible antivibration couplings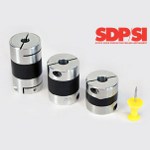 New Antivibration Flexible Couplings from Stock Drive Products / Sterling Instrument (SDP/SI) are designed for use with high-gain servomotors. When a servomotor drives a mechanism, as in applications such as semiconductor manufacturing equipment, blood analyzers, or high-speed printers, a change in direction causes a phenomenon called hunting. Hunting is vibration in the system that reduces transit time, making the equipment less efficient. The Antivibration Flexible Coupling features a unique construction of vibration-reducing rubber (FKM) molded with aluminum hubs. The resulting rubber-lined, finger-like structure allows for optimal torsional rigidity and damping.
Learn more.
---
Toughened NASA low-outgassing epoxy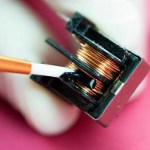 Master Bond Supreme 70CN is a two-part epoxy adhesive formulated using a natural, renewable, and sustainable ingredient. This moderate-viscosity, unfilled epoxy is black in color and can be used for bonding, sealing, coating, and potting in aerospace, electric vehicle, electronic, opto-electronic, battery, and OEM applications, particularly those involving composites and fibers. It resists thermal cycling and is ideal for bonding dissimilar substrates including metals, ceramics, many rubbers, plastic materials, and composites. It features low shrinkage upon cure, a high tensile strength, is serviceable from -100 to 400 F, and has a working life of 60 to 90 min.
Learn more.
---
Top Tech Tip: Innovative way to take up tolerances!

Smalley Linear Springs are a continuous wave formed (marcelled) wire length produced from spring tempered materials. They act as a load-bearing device, having approximately the same load/deflection characteristics as a wave spring. Linear Springs are now available as a standard part in carbon and stainless steel, with over 200 sizes.
Learn more.
---
Off-Road Machinery: Top 10 Parker Hannifin blogs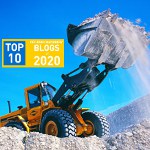 Combining innovative thinking with core technological competency can tame the challenges of off-road machinery operating in hazardous mining, agricultural, forestry, material handling, and construction environments. From major components and systems to the smallest fittings and bolts, learn about Parker Hannifin's core technologies that are leading the way to improving productivity, efficiency, reliability, and safety.
Read the Top 10 Parker Hannifin off-road machinery blogs.
---
Clipped washers key when space is limited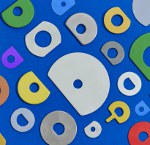 Design engineers who have limited space and need to control axial motion within their applications can turn to clipped washers from Boker's. Clipped washers have a flat edge on either the outside diameter (OD), inside diameter (ID), or both. This flat edge helps prevent the washer from rotating in applications, especially when space is limited and component performance is critical. Many applications require clipped washers, and they are used across many industries including automotive, marine, aerospace, and medical.
Learn more.
---
ClampDisk micro fastener is new alternative for automotive and consumer electronics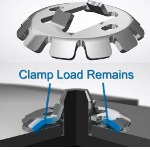 Designed as a unique alternative in assemblies for the automotive and consumer electronics markets, the ClampDisk Press-on Fastener is a new offering from PennEngineering that delivers a fast, simple way to clamp sheets while replacing the use of standard screws, nuts, and adhesives. The most common challenges that can be eliminated or reduced by using ClampDisk include over installation, cross threading, stripped screw heads, broken screws, and damaged product. This fastener can be removed easily with a sharp-edged tool.
Learn more and see ClampDisk in action.
---
Engineer's go-to guide for rings and springs: New Smalley catalog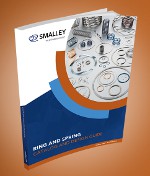 Find your next wave spring, retaining ring, or constant section ring in Smalley's newest Catalog and Design Guide release. As the inventor of the edgewound wave spring with over 100 years of manufacturing excellence, Smalley has helped thousands of engineers and professionals create application-specific solutions across every industry. Since they manufacture 12 product types in 400 sizes with over 10,000 parts in stock, Smalley's Catalog is an essential resource containing easy-to-follow product charts with detailed specifications. Available in print or as an online interactive resource.
Get your Smalley Catalog today.
---
Ultramid Advanced grades now available with carbon-fiber reinforcement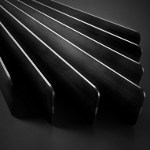 BASF has expanded its polyphthal-amide (PPA) portfolio of Ultramid Advanced with carbon-fiber reinforced grades. With fillings of 20%, 30%, and 40% carbon fiber, these new materials make extremely lightweight parts, safely replace aluminum and magnesium without loss in stiffness and strength, and are electrically conductive. They can be used to manufacture automotive structural parts for body, chassis, and powertrain; for pumps, fans, gears, and compressors in industrial applications; and as stable and ultra-lightweight components in consumer electronics.
Learn more.
---
Satellite design applied to largest aluminum sailing superyacht ever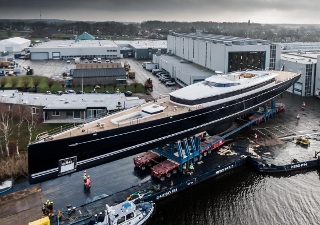 The superyacht Sea Eagle II. [Photo: © Royal Huisman]
Dutch shipbuilder Royal Huisman applied the same concurrent engineering process developed by the European Space Agency (ESA) for space missions to the design of superyacht Sea Eagle II, due to become the world's largest aluminum sailing yacht when delivered to its owner this spring.
This uniquely contemporary 81-m-long (266-ft) three-masted schooner was recently transported by barge from the company's shipyard in the Dutch city of Vollenhove to Royal Huisman Amsterdam, where its carbon composite rig will be installed, leaving her ready for sea trials and on-board crew training.
Sea Eagle II's modern style extends to its design, which took place using concurrent engineering, taking inspiration from the long-established Concurrent Design Facility (CDF) at ESA's technical center ESTEC in Noordwijk, the Netherlands, where it is employed for performing preliminary design and assessment of potential future space missions and systems.
"Satellites and superyachts are both complex machines, and concurrent engineering is advantageous in designing any complex system," says Massimo Bandecchi, founder of ESA's CDF. "The basic idea is simple: Bring together all necessary experts and design tools into a single room to work together as a team on a shared software model that updates immediately as changes are made, to assess design feasibility and tradeoffs in a much more effective and reliable way.
"While our main focus is fulfilling the needs of ESA engineering, there has also been strong interest in our work from industry. Concurrent engineering's improved performance in terms of time, cost, and efficiency speaks for itself. The result is that more than 50 centers have been built following ESA's original CDF model and are now in operation across Europe -- the majority in the space sector, plus around 10 non-space centers."
Stefan Coronel, Royal Huisman's design and engineering manager, received training from Bandecchi and his team before setting up his own concurrent engineering room. "Yacht building is not rocket science," he says, "but it does involve a complex, multi-disciplinary system, with lots of tradeoffs to be decided."
"The traditional 'over the hedge' design method -- where one knowledge field does its work, then throws it across to the next team in sequence -- demands the subsequent checking of feedback then possible design adjustments, so is quite a time-consuming process. In the modern yard-building world, there isn't so much time to spare.
"That said, compared to the dramatic shortening of satellite conceptual design time achieved by ESA, the main benefit we see from concurrent engineering is not gaining time but that the quality of the final design ends up much better, and more complete -- giving us confidence to proceed to the build phase."
Royal Huisman is now applying concurrent engineering to all of their new builds, and many of their refitting and service projects.
"Our room is not as fancy as ESA's CDF, but has the same basic approach of a place where everyone can contribute," says Coronel, "with means of accessing all normal engineering tools and calculation methods, plus a splinter room for small separate discussions."
In the same way that satellite design is broken down into subsystems, yacht design involves some main disciplines taking part in all the sessions: structural strength and stiffness; deck and sail handling; systems such as propulsion, power, heating, and air conditioning; electronics; and finally interior design -- creating a desirable, luxurious interior. Additional external experts, such as noise and vibration specialists, attend as required.
"The kind of tradeoffs that concurrent engineering makes easier to resolve include such deceptively simple tasks as placing a side hatch or staircase," says Coronel. "In the case of a hatch, it would need to be watertight and endure loads from sea waves, while also integrated with the living space and looking good when trimmed with wood. Any staircase needs to be open and attractive, while also having pipes and electrical cables run through it, and meeting all relevant fire and safety regulations."
The company's adoption of concurrent engineering also meant Sea Eagle II's aluminum panels have had holes and support structures added to them in advance, saving time in construction and the integration of features such as winches or hatches.
European companies and institutions have variously adopted concurrent engineering for educating students, designing automobiles, planning oil platforms, and optimizing the production plant of dairy product company FrieslandCampina.
Source: This article was reposted with permission from the European Space Agency (ESA). Read about more ESA developments at www.esa.int.
Published March 2020
Rate this article