Engineer's Toolbox: The secret to living hinges that fold flat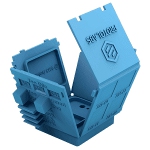 Living hinges are often used to produce a container and its lid as a single molded part. If properly designed, they can open and close thousands of times without ever losing strength or flexibility. Proto Labs provides valuable tips on designing these (sometimes thin and fragile) parts.
Read the full article.
---
Bottom tapped rails available for quick ship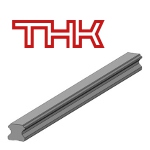 Bottom tapped rails are useful for mounting from the bottom of a base, as well as when contamination protection is required -- eliminating the need for bolt-hole caps. See the available models from THK, including standard and radial LM guides and standard and radial caged ball. All units are available for quick shipping.
Learn more.
---
Non-marring blowoff nozzle protects expensive equipment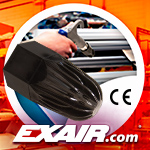 EXAIR's new PEEK 1/2 NPT Super Air Nozzle™ has been engineered to produce powerful blowoff without damage to expensive equipment. It features PEEK plastic construction and excellent resistance to damage from harsh chemicals and temps up to 320 F (160 C). The PEEK Super Air Nozzle is great for blowoff, cooling, and drying applications located in general industrial or corrosive environments.
Learn more.
---
Flex thixotropic one-component dual-cure epoxy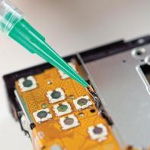 Master Bond UV23FLDC-80TK is a moderate viscosity, cationic-type system that offers both UV light and heat curing mechanisms. It cures readily within 20 to 30 sec when exposed to a UV light source. The adhesive can also undergo a secondary heat curing for shadowed areas, typically curing in 60 to 90 min. The system's adaptability to varying depths and applications, such as encapsulation and bonding, enhances its versatility. Well suited for uses where low stress is critical.
Learn more.
---
Standard parts with signal feedback included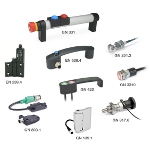 JW Winco standard parts are becoming even more functional -- multifunctional, to be precise. From smart stop bolts that report whether workpieces are precisely positioned in the machining process to cabinet handles with signal lights and fluid level indicators with electronic REED contact signals, intelligent standard parts from JW Winco ensure greater safety, higher efficiency, and increased stability. Many more very useful options available for a wide range of applications.
Learn more.
---
Particle foam perfectly distributed thanks to simulation with Ultrasim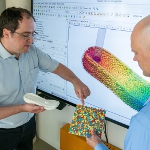 BASF's Ultrasim simulation solution now includes Infinergy, an expanded thermoplastic polyurethane (E-TPU) that is used in a wide range of applications to make components with particle foam -- from bicycle tires to the soles on shoes. Identify and solve problems related to pneumatic filling when distributing particle foams in molds, even taking gravity and mold closing into consideration. Avoid those pesky air pockets.
Learn more.
---
Best practices for making technical drawings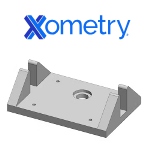 Ambiguities in technical drawings can cost extra money when a part must be redone or reworked, leading to unexpected project delays. It is essential to create clear technical drawings the first time around. Did you remember to include an isometric view if possible? Did you limit the number of hidden lines? Xometry lays out 14 tips that to help engineers create clear and professional manufacturing drawings. A solid review.
Read the full Xometry article.
---
NEW! Semi-automatic pin installation technology from SPIROL -- Better, faster fastening

SPIROL's new video showcases their updated Model PR and Model CR Semi-Automatic Installation Machines for Pins, Alignment Dowels, and Bushings. The video demonstrates how to operate the machine, details standard features, and optional quality and error-proofing enhancements. More than 80% of the components in this installation equipment are standard, pretested, production-proven, off-the-shelf parts. This translates into faster delivery, greater reliability, and lowest cost for equipment of comparable quality.
View the video.
---
Are fasteners over-torqued in your assemblies?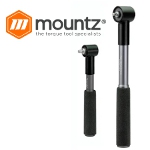 According to Mountz, if you currently use a click wrench for your bolting application, you should proceed cautiously because click wrenches are easily misused, which leads to over-torque events. Replacing a click-wrench with a Mountz FGC cam-over wrench helps prevent operator anomalies and over-torque occurrences, because a cam-over mechanism physically prevents the operator from over-torquing fasteners.
Learn more.
---
Tools for robotic metal weld grinding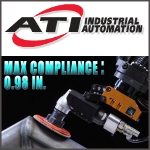 There are many ways to automate grinding processes, but according to ATI Industrial Automation, "Compliance is the key to successful robotic grinding applications." Learn about the pneumatic compliance built into ATI's tools -- the CGV Compliant Angle Grinder and the PCFC Passive Compliant Force Control device -- that exerts a constant force and compensates for surface irregularities to ensure consistent results and facilitate easier robot programming.
Learn more.
---
How BMW Group uses ExOne binder jetting tech to make parts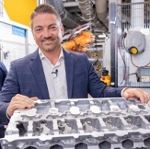 3D-printer maker ExOne and BMW have worked together for more than two decades on additive manufacturing projects. This video showcases how the premium automaker uses ExOne binder jet sand 3D-printing technology to manufacture water jacket cores in serial production. Binder jetting is one of the fastest 3D-printing methods for producing high-quality and complex precision parts in high volume.
View the video.
---
NEW: Build parts together with Teamspace from Xometry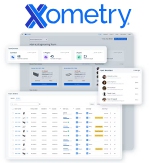 Xometry's Digital Manufacturing Marketplace has just launched Teamspace, a new product feature that makes it easy for you and your team to build big ideas together. Teamspace is a collaborative workspace within your Xometry account that gives you and members of your team quick and easy access to quotes, order placement, part status, tracking info, and more. Turbocharge the way you make custom parts using additive manufacturing, CNC machining, sheet and tube fabrication, plastics, metals, and more.
Learn more.
---
Clean in Place Latches save time and money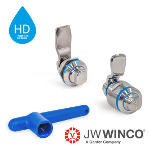 Spend less time and money on cleaning and cleaning media with two new standard parts from JW Winco. The new GN 1150 latches are designed to repel dirt and can be cleaned in place. The Hygienic Design latches support the machine and system cleaning concept known as clean in place, or CIP for short. Two versions available: front hygiene (FH) for applications such as switch cabinets that must comply with hygiene requirements only on the outside, and full hygiene (VH) with additional seals for HD quality, even on the latch arm side.
Learn more.
---
Flex Locators for quick changeover of small and large fixtures
Flex Locators from Fixtureworks are designed for quick changeover of small and large fixtures, automation components, and more. They are ideal for applications that require frequent disassembly, providing excellent repeatability for locating and clamping in a single operation. Manual and pneumatic versions are available. Just turn the handle, knob, or screw!
View the video.
---
Injection-molded heavy-duty plain bearings for high mechanical loads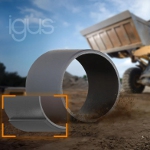 igus has introduced a new two-component plain bearing for high mechanical loads called the iglide Q3E series. With this new, greaseless offering, igus has, for the first time, found a way to manufacture heavy-duty bearings made of two layers of high-performance plastic using the cost-effective injection molding process. Applications include the construction and agricultural machinery industries.
Learn more.
---
BAE Systems, Caterpillar sign 20-year agreement to outfit heavy-duty trucks with HybriDrive parallel systems
BAE Systems and Caterpillar Inc. have signed a long-term supply agreement to collaborate on an energy-efficient, parallel hybrid propulsion system for heavy-duty trucks. Under the 20-year agreement, BAE Systems will integrate the Cat CX family of transmissions into its HybriDrive parallel propulsion system and will establish an aftermarket field-services model leveraging Caterpillar's vast global service network to support the growing installed base.
The parallel system – the latest member of BAE Systems' HybriDrive family – complements and draws upon the company's proven HybriDrive series system, currently deployed in more than 3,800 transit buses across the globe. The diesel-electric system, which can improve fuel economy by an average of 30%, is designed for heavy-duty truck applications that include refuse collection, construction, pick-up and delivery, and utility vehicles.
According to its developer, the system is based on "a single electric machine integrated between the engine and the transmission and can be installed with minimal impact to the vehicle. Propulsion is enhanced through an optimized blending of power from a conventional power source and from the electrical power source. The system's energy-management and control capabilities ensure all energy flow, such as propulsion and braking energy recuperation, occurs in the most efficient fashion, resulting in lower fuel consumption."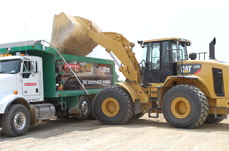 The long-term supply agreement helps to ensure a consistent supply of transmissions from Caterpillar, long-term production pricing schedule, a warranty agreement, and a field-service support model designed to make use of Caterpillar's well-established global network.
"Our driveline expertise, including planetary automatic transmission expertise, combined with BAE Systems' proven hybrid technology, will result in a seamlessly integrated product that meets performance and efficiency demands of vehicles that operate in diverse duty cycles," says Jeff Pohl, Hauling & OEM Drivetrains product manager for Caterpillar.
The HybriDrive parallel system will integrate with "big-bore" and heavy-duty diesel engines. The system is suitable for vehicles from 19,500 lb to 80,000 lb total gross vehicle weight. The parallel system will deliver significant environmental benefits by lowering emissions, reducing fuel consumption, and lowering noise pollution in the field.
Recent field tests in spring 2011 revealed that trucks powered by the HybriDrive parallel system experienced an average fuel economy improvement of 30% when compared to diesel engine trucks. While the fuel ratings were experienced across a range of standard driving cycles, the system performed best on stop-and-go cycles where average speed is between 5 mph and 20 mph, making it an optimal choice for refuse collection and delivery trucks. Based on duty cycles and fuel usage, a truck fleet owner who uses the HybriDrive parallel system can expect payback within three to five years.
The HybriDrive parallel system is in final stages of development and is expected to be deployed in markets around the world early in 2013.
Source: BAE Systems
Published January 2012
Rate this article