COMSOL Multiphysics Version 6.2 is here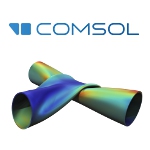 COMSOL Multiphysics Version 6.2 introduces faster solvers for turbulent fluid flow, electric motors, and room acoustics. It also brings data-driven surrogate model functionality for creating multiphysics-based digital twins and building fast and accurate standalone simulation apps. Get the full details of what's new in the latest version.
Learn more.
---
17 ways SOLIDWORKS 2024 helps you work faster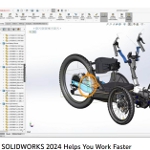 SOLIDWORKS 2024 helps designers and engineers work faster than ever. Learn all about improvements to core 3D CAD modeling features, new 3D modeling techniques, and graphical and software performance boosts that will help you get your parts made and your products developed in record time.
View the video.
---
6 tips to streamline workflow in Mastercam 2024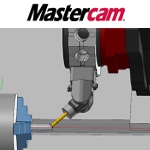 Mastercam 2024 CAD/CAM software has been intentionally upgraded to make programming fast and easy. It prioritizes streamlining workflow so that the entire machining process -- from design to QC -- is as efficient as possible. Learn how to maximize the benefits of Mastercam 2024, including special toolpaths, easier hole-making operations, wireframe shortcuts, and more.
Read this informative Mastercam blog.
---
How CT data analysis is helping TE Connectivity reach their goal of end-to-end quality inspection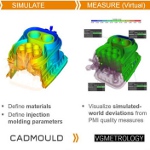 In a bid to cut their mold and part development process to 25% of the time it took in the past, TE Connectivity has taken ambitious steps to interconnect design and simulation with quality measurement. Learn how the company, in collaboration with PTC (Creo) and Volume Graphics, has worked to ensure as-designed parts match as-manufactured parts as early in the process as possible. An in-depth and illuminating read.
Read the full article.
---
State-of-the-art mesh morphing technology for super optimization: Ansys and RBF Morph join forces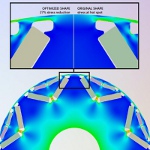 After a long and successful OEM partnership with Ansys, mesh morphing pioneer RBF Morph has two proprietary products featured among the world simulation leader's offerings: Ansys RBF Morph Fluids and Ansys RBF Morph Structures. Thanks to mesh morphing, companies can substantially reduce computational time while performing highly automated design optimization analysis, increasing products' reliability and performance while cutting costs, delivery time, and environmental impact.
Read the full article.
---
Top Tech Tip: Creating drafts with the rib feature in Onshape
Ribs are used to add stiffness and strength to parts without adding excessive weight or increasing wall thickness -- most commonly in molded parts that require a draft angle so the part can release from the mold. See the basics of how this is done in Onshape, which features the power of cloud computing, real-time collaboration tools, and a built-in PDM system -- all for the same price as CAD.
Learn more.
---
How to design a spoon with subdivision modeling: SOLIDWORKS xShape
Learn how to design a spoon with SOLIDWORKS xShape, which is found in 3D Sculptor on the 3DEXPERI-ENCE platform. xShape is a next-gen subdivision modeling tool that runs entirely in your browser and takes a freeform approach to creating complex shapes and surfaces. You can design 100% in the cloud or seamlessly integrate your xShape models with your SOLIDWORKS designs. Follow along with this 7-minute tutorial to see what it's all about.
View the video.
---
What's new in Onshape?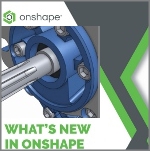 Check out the latest updates to Onshape, the cloud-native product development platform that delivers professional-grade CAD capabilities with next-gen product data management. New features include customizable keyboard shortcuts, better BOM navigation, improved drawing tools, and new Learning Center content. With Onshape, users can innovate quickly while simultaneously or asynchronously collaborating with other stakeholders on any web-connected device.
View the video.
---
Open-access learning center for multiphysics modeling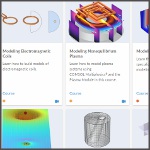 COMSOL, the developer of the COMSOL Multiphysics simulation software, has introduced a new online resource that provides no-cost, open access to modeling and simulation learning material across all areas of physics. Designed with the user in mind, the Learning Center offers a single entry point for users of all skill levels, where courses, articles, and videos present a clear path for learning how to use COMSOL Multiphysics for modeling and simulation.
Check out the COMSOL Learning Center.
---
New GrabCAD Print Pro software: Boost 3D-printing productivity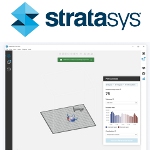 Stratasys, a leader in polymer 3D printing, recently announced the upcoming launch of its new GrabCAD Print Pro software, which has been designed to improve printed-part accuracy, reduce waste, and shorten time to part. GrabCAD Print software manages the print preparation process for Stratasys 3D printers.
Read the full article.
---
DENSO reduces component sim time by 80% using Simcenter 3D and NX integrated process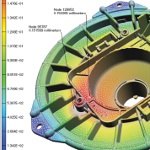 DENSO Corp., the second-largest automotive parts and systems provider in terms of sales in the world, is developing its "NX CAD and Simcenter 3D integrated process" from Siemens that allows analysts to understand the simulation processes, which are repeatable for certain types of components. The DENSO team captures modeling and process best practices and packages these up into simulation templates that are leveraged by designers using NX. This process has led to increased quality, because design problems are identified earlier and can be corrected before the project advances. DENSO estimates the average time for analysis was reduced up to 80% using this integrated process.
Read the Siemens case study.
---
3D Printing: Learn all about GrabCAD Print -- best slicing software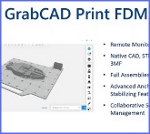 The engineers at TriMech are full of incredibly useful tips when it comes to 3D printing. Learn all about GrabCAD Print, which TriMech calls "one of the most powerful 3D-printing prep tools on the market." Better yet, it's a no-cost resource. Learn about file types and updated capabilities like advanced anchoring and stabilizing, remote monitoring, and even building in collaborative schedule management. You always learn something new from TriMech.
View the video.
---
Amazon delivers on massive CAD conversion project for its industrial customers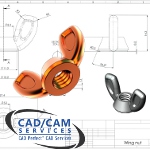 Recently, Amazon's industrial products division decided to undertake what some are calling the largest CAD conversion project in history. The daunting task of converting millions of 2D drawings and legacy CAD files into modern 3D CAD systems has had its upsides, though, leading to new opportunities and improved processes thanks to capable CAD outsourcing services such as CAD/CAM Services.
Read the full article.
---
What's new in ABAQUS 2023?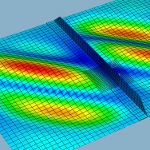 The Abaqus Unified FEA product suite offers powerful and complete solutions for both routine and sophisticated engineering problems. Best-in-class companies are taking advantage of these complete solutions for realistic simulation to consolidate their processes and tools, reduce costs and inefficiencies, and gain a competitive advantage. From new techniques in analysis, modeling, and visualization to special features for structural mechanics and linear dynamics, learn what's new in Abaqus 2023.
Learn more.
---
hyperMILL 2023 CAD/CAM Software Suite: New capabilities for higher productivity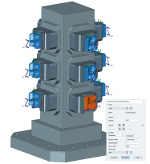 OPEN MIND Technologies has introduced its latest hyperMILL 2023 CAD/CAM software suite, offering users new and enhanced features for even more powerful and simplified NC programming in applications ranging from 2.5D machining to 5-axis milling. CAM capabilities include a new General Transformation Pattern feature (highly useful when there are multiple components), a new 2.5D Back Boring machining strategy, and an enhanced milling surface extension. New mill-turn capabilities include a Smooth Overlap feature for optimizing finishing paths in turning. Many more updates.
Learn more.
---
NASA's Jet Propulsion Laboratory begins widespread adoption of Maplesoft technology
Maplesoft recently announced a major adoption of its products by NASA's Jet Propulsion Laboratory (JPL). JPL is implementing Maple, MapleSim, and MapleNet in its various projects. Whether creating America's first satellite, Explorer 1, sending the first robotic craft to the moon, or exploring the edges of the solar system, JPL has been at the forefront of pushing the limits of exploration.
Curiosity, JPL's latest space rover (launched at the end of November 2011), aims to explore Mars to investigate whether the planet could have ever supported microbial life. Current JPL projects include spacecraft missions to comets, asteroids, and the edge of the solar system, as well as satellites that monitor the land, oceans, and atmosphere of our own planet.
Maplesoft products are expected to help JPL save time and reduce cost by providing more efficient and smarter methods for mathematical analysis, modeling, and simulation. Maplesoft solutions are built within a natively symbolic framework, avoiding some of the worst sources of error and computational inefficiencies generated by traditional, numeric-based tools – and thus providing great tools for precision-rich projects such as those of JPL.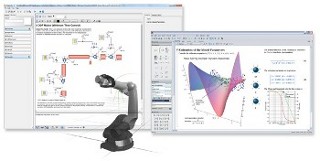 Maplesoft technology is used in a variety of engineering applications,
including space robotics.
In addition to using Maple for advanced mathematical analysis, JPL will use MapleSim, Maplesoft's high-performance physical modeling and simulation platform, as a key tool in its engineering workflow. MapleSim works in combination with Maple. It accesses Maple's symbolic computation technology to efficiently handle all of the complex mathematics involved in the development of engineering models, including multi-domain systems, multibody systems, plant modeling, and control design.
"Maplesoft products will allow JPL to unify their approach to mathematics, modeling, and simulation," says Paul Goossens, vice president, Applications Engineering, Maplesoft. "MapleSim's intimate connection to the underlying physics of the system models, combined with the knowledge capture and analysis capabilities inherent in Maple, will make project design and development faster and more accountable. JPL scientists will arrive at optimal solutions much faster, and their models will be much more reusable."
Maplesoft technology is also being used in other space robotics research. Dr. Amir Khajepour, Canada Research Chair in Mechatronic Vehicle Systems and Professor of Engineering in the Mechanical and Mechatronics Engineering department at the University of Waterloo, is working with the Canadian Space Agency (CSA) to develop a full solution for the power management system of autonomous rovers. His team is using MapleSim to rapidly develop high fidelity, multi-domain models of the rover subsystems.
Source: Maplesoft
Published January 2012
Rate this article