Porsche still betting on combustion engine for future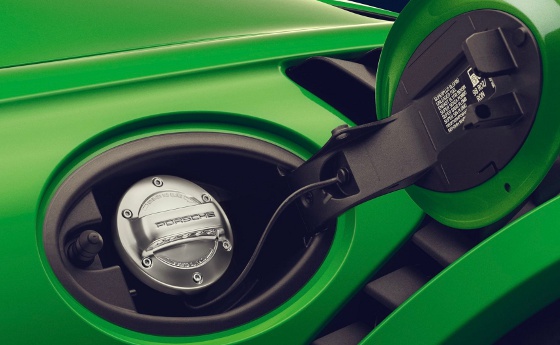 [All images courtesy: Porsche]
Some major automakers have committed to providing only all-electric vehicles (EVs) in the future, but Porsche isn't one of them. Sure, it has successful EVs like the Taycan and more models on the way, but Porsche, through a pilot project with Siemens Energy and a group of international companies, is developing synthetic climate-neutral fuels (eFuels) to try and keep combustion engines humming.
"With electricity alone, you can't move forward fast enough," says Michael Steiner, head of R&D at Porsche.
Although Porsche does plan for half of all its vehicles sold to be electric by 2025, its existing fleet is large. In the future, Porsche wants to drive forward the development of synthetic fuels, known as eFuels. In this context, eFuels are produced from CO2 and hydrogen using renewable energy. In terms of their basic properties, Porsche says eFuels "are no different from kerosene, diesel, or petrol processed from crude oil." However, they can, ideally, "be a climate-neutral fuel" -- and they can even have their environmental effects tuned.
"This technology is particularly important, because the combustion engine will continue to dominate the automotive world for many years to come," says Steiner. "If you want to operate the existing fleet in a sustainable manner, eFuels are a fundamental component."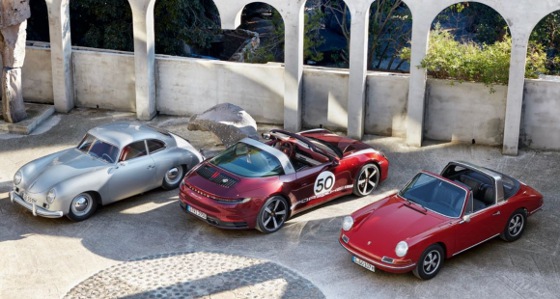 "We have a team that is looking for suitable partners who want to build pilot plants with us and prove that the entire process chain works and can be industrialized," adds Steiner. "Porsche wants to help shape this chain, but at the same time, doesn't want to define it down to the smallest detail alone."
In the future, Porsche developers see powertrains featuring combustion engines that operate using sustainably produced fuels as an optimal solution for sports cars in terms of performance, vehicle weight, and range, which are all key considerations from the perspective of Porsche customers. In areas where local exhaust emissions must be avoided at all costs, however, electric vehicles and plug-in hybrid vehicles that can be operated with either fuel or electricity from renewable sources will offer a CO2-free alternative.
Alternatives to gasoline and diesel from crude oil have been widely available for many years, and they are sometimes even combined with traditional energy sources as fuel hybrids. Examples include the blending of ethanol from renewable sources with fossil fuels. In many countries around the world, this blending rate (which is continuously increasing) is even regulated by law. Strategies that promote a move away from fossil fuels are intended to curb global warming. Porsche thinks regenerative fuels can make a significant contribution in this respect.
The "Haru Oni" pilot project in Magallanes Province takes advantage of the excellent wind conditions in southern Chile to produce climate-neutral fuel with the aid of green wind power. As part of Germany's national hydrogen strategy, Siemens Energy will get a grant of some 8 million euros from the Federal Ministry for Economic Affairs and Energy in support of the project, the ministry announced in December 2020.
To generate green hydrogen, electrolyzers use wind power to dissociate water into its two components: oxygen and hydrogen. In a second step, plans call for filtering CO2 out of the air and then combining it with the green hydrogen to form synthetic methanol. The result is renewable methanol, which can be converted into climate-friendly fuel using an MTG (methanol to gasoline) technology to be licensed and supported by ExxonMobil.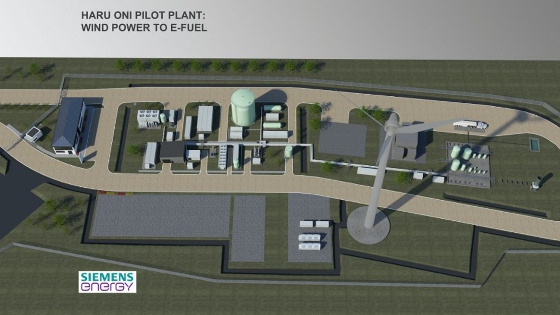 The "Haru Oni" pilot project in southern Chile.
The eFuels venture in Chile plans to produce around 130,000 liters in the pilot phase as early as 2022. In two further phases, capacity will then be increased to about 55 million liters of eFuels a year by 2024, and around 550 million liters of eFuels by 2026.
Porsche will be the primary customer for the green fuel, using eFuels in its motorsport fleet, at Porsche Experience Centers, and, later, in series production sports cars. Other partners in the project are the energy firm AME and the petroleum company ENAP (from Chile) and Italian energy company Enel.
Steiner says Porsche would like to be able to influence the specifications of a new synthetic fuel. "We absolutely want to help with this process so that the fuel is suitable for high-performance engines," he says. Problems like those encountered with the introduction of E10 should be avoided. "When E10 came onto the market, the blend had some disadvantages. It must be different this time. It must have advantages," he says.
Of course, these fuel components still release CO2 when they are burned. However, in the eyes of the Porsche developers, there is a great deal more to these fuels than their sustainability in terms of CO2 impacts. The exhaust emission figures for eFuels are significantly lower than those for fossil fuel energy sources, Porsche says, and "they emit substantially fewer soot particles or nitrogen oxides than petrol."
Jörg Kerner, head of Powertrain Development at Porsche, highlights another important point. "Sustainably produced fuels are a quick way to cut CO2 emissions from a company's existing fleet," he says. "Future stages of development will produce specially designed engines which are able to harness the full potential of these fuels in terms of optimized emissions, CO2, and performance. In combination with plug-in technology, this will deliver a driving experience typical of Porsche while at the same time ticking every environmental box."
Porsche plans to use the existing network of gas stations to make eFuels quickly and widely available. Synthetic fuels from sustainable sources are seen as a key "bridge toward climate-neutral mobility in an emission-free future," and an important building block for rapid CO2 reductions in existing fleets, particularly since the blending proportion can be gradually increased and the procedure is compatible with existing engine concepts.
Source: Porsche
Published March 2021
Rate this article