Lucid Air 500-mile EV rolling off assembly lines this spring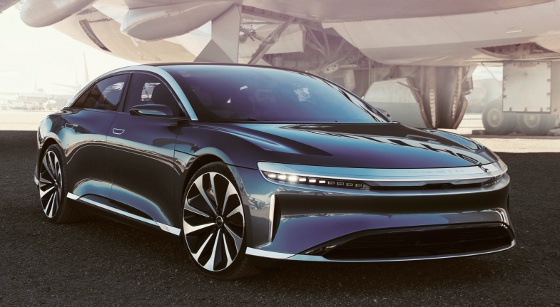 Are you ready for an all-electric car that goes 500 miles on a single charge? Well newcomer Lucid Motors is with their first -- and exclusive -- high-end EV called the Lucid Air Dream Edition, which will be rolling off the assembly line in late spring at the company's Advanced Manufacturing Plant in Casa Grande, AZ.
The $169,000 Dream sedan boasts 1,080 hp with its dual-motor configuration and all-wheel drive, a quarter-mile time of 9.9 sec, 300 miles of DC fast charge in 20 minutes (at 900 V), and 503 miles estimated EPA range in a single charge total. There is also an active air-suspension system, loads of space (including the largest "frunk" of any electric car), and lots of high-tech goodies to rival Tesla and other EV automakers. Max speed is 168 mph. Lucid claims their Wunderbox technology provides the fastest charging of any EV out there -- and it can even act as a bi-directional power source, channeling power back to the grid if needed.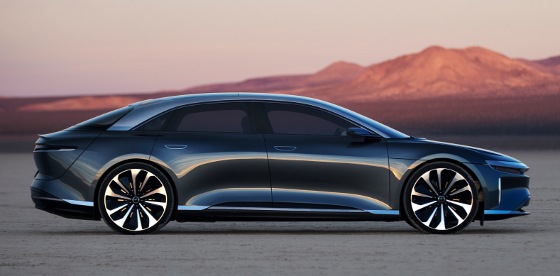 Lucid will also offer less expensive Air versions (all based on the same sedan) starting this year. Available mid 2021 will be the fully equipped Air Grand Touring ($139,000, est. EPA range 517 miles with AeroRange tire/wheel package, 800 hp). Late 2021 will see the well-equipped Air Touring ($95,000, est. EPA range 406 miles, 620 hp). The basic Air (the starting point for the lineup) will roll off the line in 2022 ($77,400, est. EPA range TBA, hp TBA).
All models are eligible for a $7,500 U.S. federal tax credit. Each has a dual-motor configuration, with the exception of the basic Air, which has a single motor. All include the same fast-charge feature. Ultimately, Lucid wants to produce cars at even lower price points.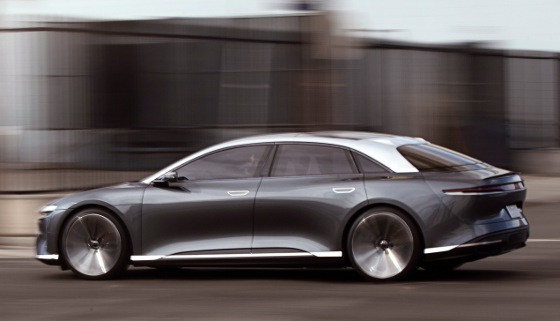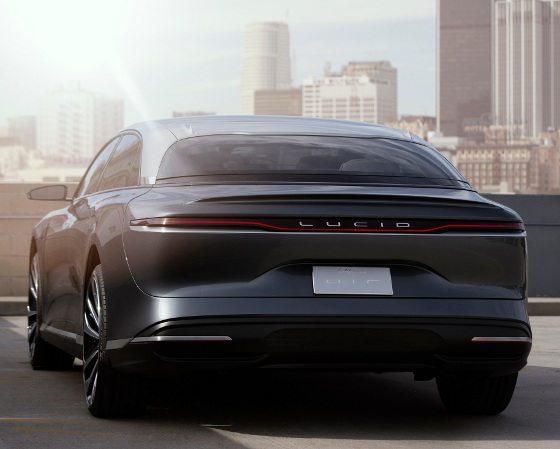 Lucid Motors drew upon 10 years of experience and over 20 million miles of real-world testing in creating its in-house-developed, compact 113-kWh extended-range battery pack. The race-proven battery tech excels with a custom Battery Management System (BMS), clever cell packaging, and world-class energy density. Lucid's CEO Peter Rawlinson, who also served as VP of Vehicle Engineering at Tesla and chief engineer of the Model S, says the Lucid Air configuration is "over 15% more efficient than the nearest competitor, achieving over 4 miles per kilowatt-hour."
The car also achieves and industry-best 0.21 coefficient of drag, making the Lucid Air the world's most aero-efficient luxury car. The new industry benchmark was recorded at Windshear's facility in Concord, NC, which is considered one of the most advanced automotive wind tunnels in the world.
The industry-defining aero efficiency can be seen on the skin of the Lucid Air, with functional surfaces and details that work together to guide air efficiently through and around the car. This includes side air intakes in the front fascia that smooth airflow around the wheel wells, aerodynamically optimized wheel designs, and vents in the hood that channel air smoothly around the flanks of the car.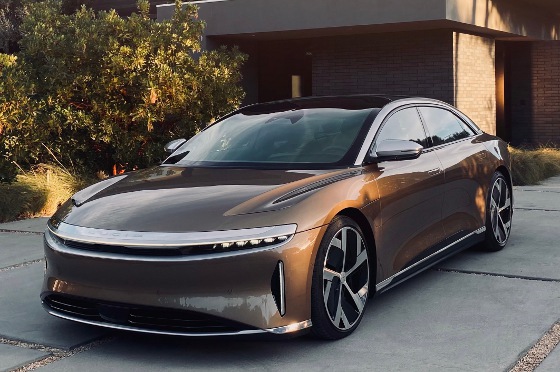 Beneath the skin, the Lucid Air features a proprietary and patented vortex-generating air intake system behind the front bumper. This system maximizes cooling performance by uniformly distributing air on heat exchange surfaces while minimizing the size of the air intake aperture, further increasing aero efficiency. It also has the added benefit of enabling Lucid's sleek frontal design.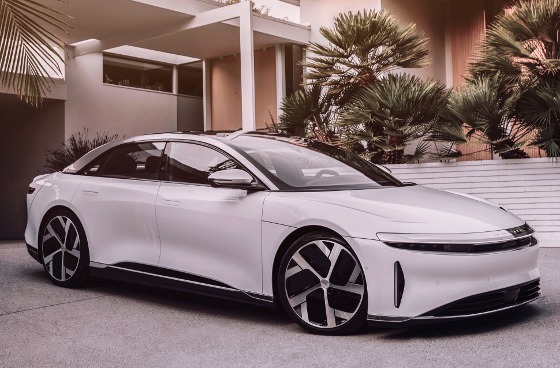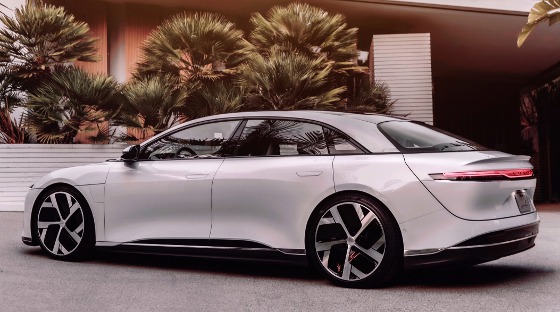 Underneath the Lucid Air, the uninterrupted smooth undersurface curves progressively upward toward the rear to form an aerodynamic diffuser. The effectiveness of this diffuser has been enhanced by extending it forward, with the battery pack itself providing part of its curved form. This is another Lucid innovation, in keeping with its philosophy of the battery performing multiple functions within the car. Here, the very shape of the battery pack enhances the car's aerodynamics.

VIDEO: A look inside the Lucid Advanced Manufacturing Plant (AMP-1) in Casa Grande, AZ.
Rawlinson says a key overriding design goal for the drive components was to miniaturize and optimize whenever and wherever it could be done. The in-house-developed compact motor drive unit (motor, transmission, differential, and inverter), for example, weighs only 73 kg (161 lb) and can fit in a carry-on suitcase, yet it boasts a power output up to 500 kW (670 hp).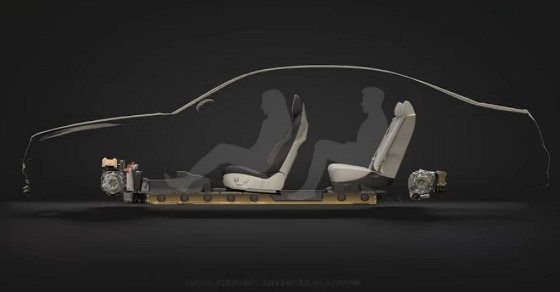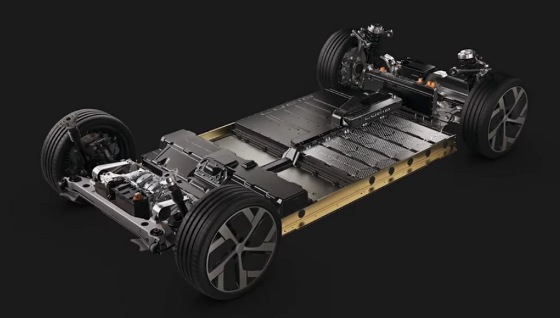 The Lucid Air's advanced driver-assistance system (ADAS), Lucid DreamDrive, is a first-of-its-kind platform combining the most comprehensive sensor suite on the market with a cutting-edge Driver Monitoring System (DMS), all standard on the Lucid Air Dream Edition. It is the first system of its kind to offer 32 sensors -- covering vision, radar, and ultrasonics -- plus the world's first standard high-resolution LIDAR in an EV. All of these work alongside the standard DMS and geo-fenced HD mapping to provide the safest possible approach to Level 2 and Level 3 driver assistance technologies.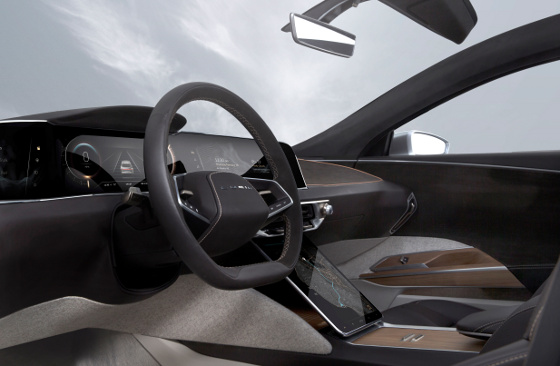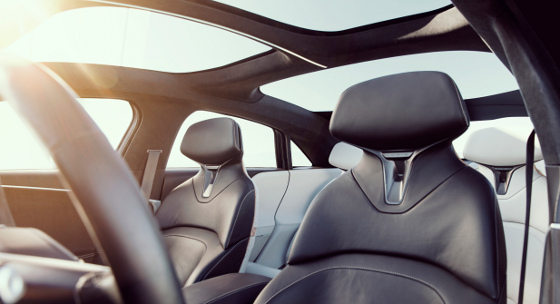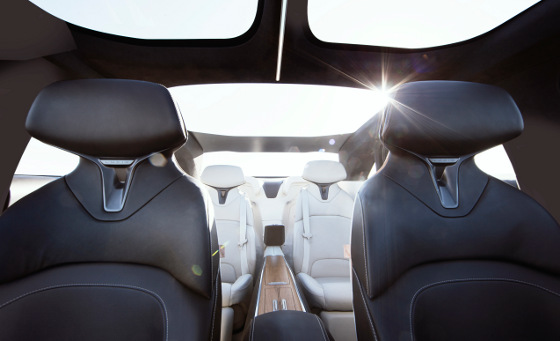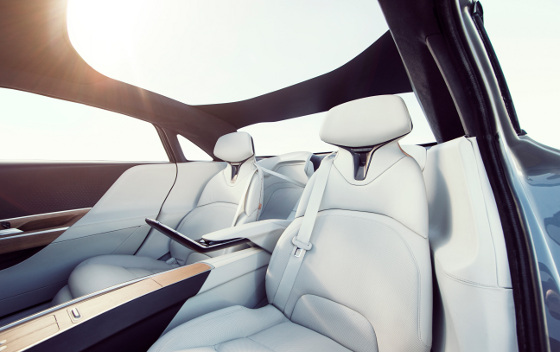 The Lucid Air Dream Edition will be available in Stellar White, Infinite Black, or a Dream Edition-exclusive Eureka Gold finish. Each color will come with an exclusive "Santa Monica" themed interior trim package, including full Nappa grain Bridge of Weir leather throughout and silvered Eucalyptus wood accents. All of this looks pretty juicy under a huge glass canopy roof. The Dream Edition will also feature a unique 21-in. "AeroDream" wheel design and be highlighted by special badging and trim that marks its position as a limited-production halo edition of the Lucid Air.
In front of the driver is a 34-in. curved Glass Cockpit 5K display that floats above the dashboard, contributing to the light and airy feel of the interior. In addition, a retractable central Pilot Panel sits in finger-tip reach of the driver and passenger for deeper control of the vehicle's systems and functions. To complement the digital displays, several highly tactile, precision-milled physical controls are present, including ribbed turbines for steering wheel functions, a volume control roller, and alloy toggle switches for tuning climate settings.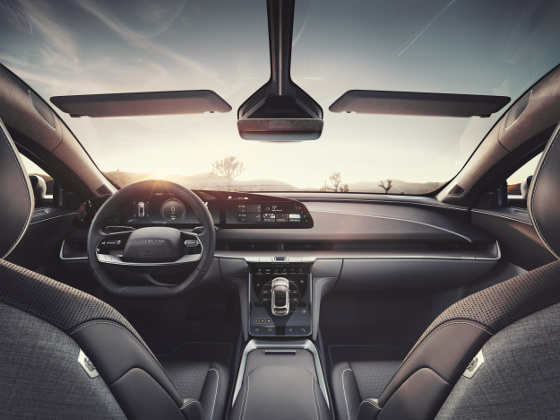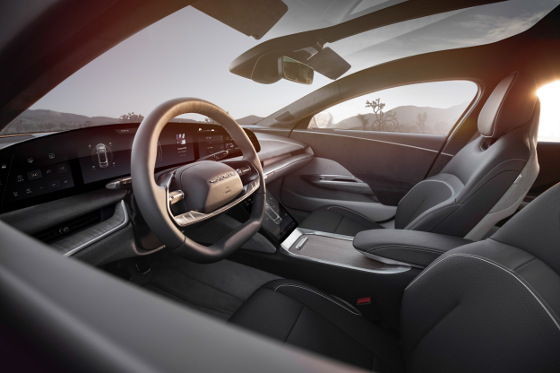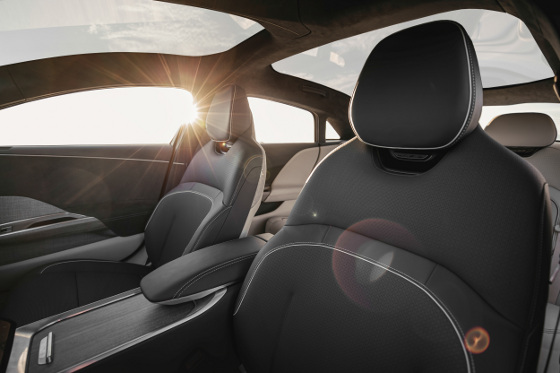 Lucid is banking on putting out quality vehicles from day one, so let's see if they can better Tesla in that department too.
You can still reserve a Lucid Air Dream Edition for $7,500 today. Customers who reserve now will receive three years of complimentary charging at Electrify America's extensive nationwide network of ultrafast charging stations.
Many more features. Learn all about them at lucidmotors.com.
Source: Lucid Motors
Published March 2021
Rate this article