Good ideas: Self-service mobile X-ray device aims to speed up health services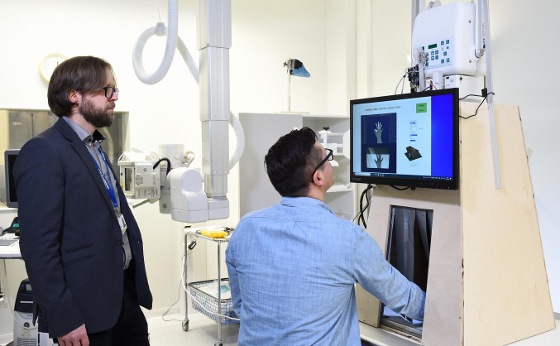 A new compact and easy-to-use X-ray device has been designed by University of Oulu researchers Timo Liimatainen (left) and Matti Hanni. [Photo credit: Juha Sarkkinen]
Researchers at the University of Oulu in Finland have been busy developing a compact X-ray imaging device that even the patient can use, if necessary. The X-ray machine is easy to use and can be placed virtually anywhere, so it can be used not only to improve the accessibility of health services, but also to achieve significant cost savings in healthcare and specialized medical care.
The technical issues regarding the small X-ray device have already been solved, and the prototype of the device is under construction at the University of Oulu Research Unit of Medical Imaging, Physics and Technology. A particularly innovative characteristic of the device is its automated patient control, which instructs the patient to position the injured limb in the correct position for imaging.
When you think of something like a ski-slope accident in Finland, such a device can make real sense if it were readily available at a ski resort. There are many other applications, of course.
At this stage of development, the researchers say the imaging voltage and guidance modeling of the self-guiding X-ray have been scaled for X-raying bones in the ankle and palm.
The X-ray device has built-in radiation protection. It is a small unit at approximately 50 x 50 x 130 cm (20 x 20 x 51 in.). Thanks to its compact size, the device can, in principle, be stored and used anywhere it might be necessary, such as the aforementioned ski resort, a municipal center, or an emergency clinic. The large X-ray units currently in service require lead protection for the entire imaging room, which is expensive and takes up space.
The total cost of the small X-ray device is significantly lower than the X-ray equipment currently used in facilities such as municipal health centers in Finland. The device could also be used to lighten the workload of trained X-ray personnel in health centers and university hospitals, and to allocate these resources for more demanding imaging tasks. Focusing the workload in this way could result in real cost savings.
Once the prototype of the X-ray device is completed, the researchers intend to launch comparative imaging studies.
Source: University of Oulu
Published March 2021
Rate this article