Roller-type LM guide for ultra-heavy loads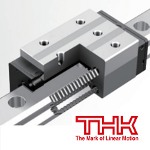 THK's model HRX is the company's roller-type linear motion (LM) guide. It features ultra-high rigidity in addition to the ability to handle ultra-heavy loads. On the HRX, each row of rollers is arranged at an angle of 45 degrees. This ensures the LM block receives an equal load rating (high rigidity) in all directions. Made for the development of high-precision, energy-saving, high-speed machines with long service lives.
Learn more.
---
Live tooling for popular turning center lines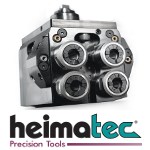 Heimatec, a world leader in live tools and multi-spindle drill heads, announces the immediate availability of live tooling for all popular models in the Hyundai, Miyano, and Nakamura turning center lines. According to Preben Hansen, president of Platinum Tooling Technologies and master North American importer for Heimatec, "We're carrying a substantial inventory of live tools for our customers' machines now, and it represents a substantial financial and warehouse-space commitment we've made to support them in the North American market."
Learn more.
---
MW Components launches eCommerce experience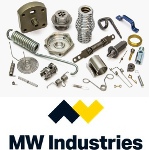 MW OnDemand combines over 1 million parts from well-known brands such as Century Spring, Accurate Screw Machine, RAF Electronic Hardware, Servometer, and Maudlin into a single location. Customers can select and purchase products from across the MW Components portfolio, simplifying the entire component sourcing process. Customers can shop tens of thousands of stock spring designs along with fasteners, shims, electrical contacts, metal stampings, tubing products, bellows, and more.
Learn more.
---
Desktop Metal qualifies 420 stainless steel for high-volume additive manufacturing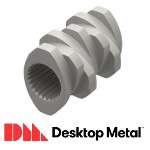 Desktop Metal recently announced the qualification of Grade 420 stainless steel (420 SS) for use on its Production System platform, which leverages patent-pending Single Pass Jetting (SPJ) technology designed to achieve the fastest build speeds in the metal additive manufacturing industry. Manufacturers can now leverage SPJ technology for the mass production of high-strength, end-use parts in 420 SS for demanding applications in industries such as medical, aerospace, defense, and consumer products.
Learn more.
---
Engineer's Toolbox:
How to select the proper pin for your application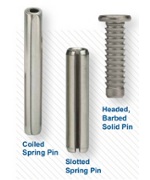 Fasteners are some of the most important parts of an assembly. In this technical article, Jeff Greenwood from SPIROL focuses on how to select the proper pin for your application, including pins used as hinges, hub and shaft fixtures, alignment, movement stops, and joining. Press fit pins are discussed here, as they are the most common type of pins used in modern manufacturing. Lots of good info and examples in this one.
Read the full article.
---
New PETs for automotive exterior components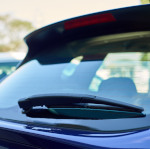 Polyplastics Group has introduced two new RENATUS polyethylene terephthalate (PET) grades that deliver superior mechanical properties, appearance, and weather resistance for automotive exterior components. RH030 (30% glass filled) and RH045 (45% glass filled) maintain their jet blackness and reduce whitening on the surface of molded articles in outdoor environments, making them ideally suited for applications such as automotive side mirrors and rear wiper arms/blades. Since PET parts are not painted, weathering degradation can occur over time when the glass filler starts to float and the jet blackness decreases. Accelerated weather resistance testing demonstrates that Polyplastics' new PET materials maintain lower index values than competing products, indicating that whitening is being reduced.
Learn more.
---
Quick release couplings with safety lock
To reduce the time involved in setting up equipment and production lines, JW Winco has incorporated a new coupling in its product portfolio. With the GN 1050 quick release coupling, components can be quickly and securely connected to a machine or device with just a click. A safety locking button protects the coupling from being accidentally opened.
Read the full article.
---
Wheel nut can't loosen by itself -- even in extreme applications

Designed for flat-faced steel rims, the Nord-Lock wheel nut safely secures wheels on on-road and off-road heavy vehicles by maintaining high clamping force even under extreme operating conditions. When assembled correctly, the Nord-Lock wheel nut cannot loosen by itself. It's a simple and cost-effective way to make wheels safe and secure for more productive and efficient operations.
See how Nord-Lock wheel nuts work.
---
Join carbon materials and more with innovative C-Solder

C-Solder tin-based soldering alloys from Goodfellow enable the joining of carbon materials as well as carbon to metals (copper, aluminum) and aluminum to aluminum. The resulting bond is mechanically strong and electrically conductive. C-Solder is both flux-free and lead-free, has a melting point of 232 degrees C (solidus temperature), has excellent flow, does not leave a residue, and is not affected by cleaning solvents.
View the 1-minute video.
Learn more from Goodfellow.
---
Tiny crossed roller bearings boast big capabilities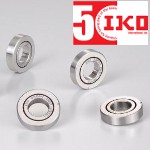 IKO International has unveiled its newest crossed roller bearing, the CRBT105A. This ultra-small, ultra-thin unit is designed to provide exceptional rigidity for space-constrained automated machine applications such as robots with articulating arms and compact surveillance cameras. The CRBT105A features a 10-mm bore diameter, 21-mm outside diameter, and a narrow width of 5 mm. Despite its compact size, this bearing offers rigidity up to four times greater than double-row angular contact ball-type bearings.
Learn more.
---
Steel disc couplings with updated design offer backlash-free operation in drive applications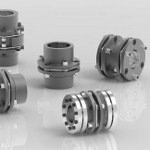 RINGFEDER has released an updated version of its proven TND Series of steel disc couplings, which feature backlash-free torque transmission and excellent positioning accuracy in machines that involve synchronous operation, frequent starts and stops, or reversing operations. Typical drive applications include printing and packaging machines, compressors, pumps, and variable speed drives. Two coupling types are available: High Deflection (HD), which offers excellent shaft misalignment compensation, and High Torque (HT), which incorporates a higher power density. TND Series couplings achieve superior concentricity, maximum operational reliability, smooth operation, and low vibration levels.
Learn more.
---
Custom modifications for material handling rollers and bumpers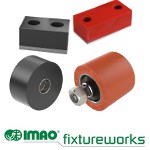 Imao-Fixtureworks offers custom modifications for its standard material handling rollers and bumpers. By modifying off-the-shelf products, a significant amount of time and money is saved. The products can be custom modified in various dimensions, shapes, and sizes to meet specific application requirements. For example, the outside diameter (O.D.) of a roller could be turned down, or a bumper of a certain width could be produced. These modifications eliminate the typical design and production time necessary for a custom roller or bumper to be tooled up and molded.
Learn more.
---
Optimal damping: Continental develops special bearings and other elements for EVs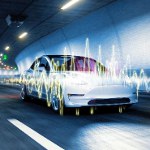 Continental has developed special elastomer compounds for electric vehicles. They absorb the vibrations in the high-frequency range and are also lightweight. The company is also adapting other bearing elements such as battery mounts for buses or air press bearings in truck driver cabs to the requirements of e-mobility.
Read the full article.
---
Advanced graphenes for composites and thermoplastic applications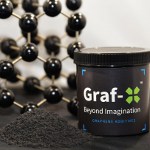 NeoGraf Solutions has extended its range of next-gen graphite materials with the launch of Graf-X graphene nanoplatelets (GNP) and graphene precursors (GP). Both high-performance additive materials deliver enhanced strength, performance, and reliability in a broad range of thermoset and thermoplastic applications. The new graphene materials can increase the toughness of plastics by up to 2.5 times without a significant weight increase. They can also double thermal conductivity and push the electrical conductivity of plastics into the anti-static and static-dissipative ranges.
Learn more.
---
You asked. We answered. Wave Spring FAQ E-book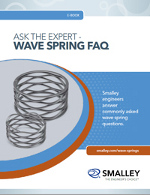 Finding the best possible solution for your design challenge is no easy task. Smalley engineers have created a brand new Ask the Expert -- Wave Spring FAQ E-book that answers all of your wave spring questions in one simple guide. In this E-book, you will learn about wave spring performance, the design process, materials, and common applications.
Download Now!
---
New metalens shifts focus without tilting or moving: Mini zoom for drones, cellphones, night-vision goggles
By Jennifer Chu, MIT
Polished glass has been at the center of imaging systems for centuries. Its precise curvature enables lenses to focus light and produce sharp images, whether the object in view is a single cell, the page of a book, or a far-off galaxy.
Changing focus to see clearly at all these scales typically requires physically moving a lens by tilting, sliding, or otherwise shifting it, usually with the help of mechanical parts that add to the bulk of microscopes and telescopes.
Now MIT engineers have fabricated a tunable "metalens" that can focus on objects at multiple depths, without changes to its physical position or shape. The lens is made not of solid glass but of a transparent "phase-changing" material that, after heating, can rearrange its atomic structure and thereby change the way the material interacts with light.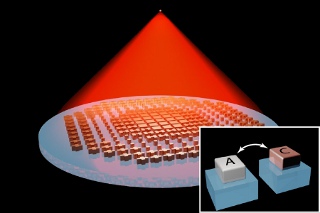 A new MIT-fabricated metalens shifts focus without tilting, shifting, or otherwise moving. [Image courtesy of the researchers]
The researchers etched the material's surface with tiny, precisely patterned structures that work together as a "metasurface" to refract or reflect light in unique ways. As the material's property changes, the optical function of the metasurface varies accordingly. In this case, when the material is at room temperature, the metasurface focuses light to generate a sharp image of an object at a certain distance away. After the material is heated, its atomic structure changes, and in response, the metasurface redirects light to focus on a more distant object.
In this way, the new active metalens can tune its focus without the need for bulky mechanical elements. The novel design, which currently images within the infrared band, may enable more nimble optical devices, such as miniature heat scopes for drones, ultracompact thermal cameras for cellphones, and low-profile night-vision goggles.
"Our result shows that our ultrathin tunable lens, without moving parts, can achieve aberration-free imaging of overlapping objects positioned at different depths, rivaling traditional, bulky optical systems," says Tian Gu, a research scientist in MIT's Materials Research Laboratory.
Gu and his colleagues have published their results in the journal Nature Communications. His co-authors include Juejun Hu, Mikhail Shalaginov, Yifei Zhang, Fan Yang, Peter Su, Carlos Rios, Qingyang Du, and Anuradha Agarwal at MIT; Vladimir Liberman, Jeffrey Chou, and Christopher Roberts of MIT Lincoln Laboratory; and collaborators at the University of Massachusetts at Lowell, the University of Central Florida, and Lockheed Martin Corporation.
A material tweak
The new lens is made of a phase-changing material that the team fabricated by tweaking a material commonly used in rewritable CDs and DVDs. Called GST, it is made of germanium, antimony, and tellurium, and its internal structure changes when heated with laser pulses. This allows the material to switch between transparent and opaque states -- the mechanism that enables data stored in CDs to be written, wiped away, and rewritten.
Earlier this year, the researchers reported adding another element, selenium, to GST to make a new phase-changing material: GSST. When they heated the new material, its atomic structure shifted from an amorphous, random tangle of atoms to a more ordered, crystalline structure. This phase shift also changed the way infrared light traveled through the material, affecting refracting power but with minimal impact on transparency.
The team wondered whether GSST's switching ability could be tailored to direct and focus light at specific points depending on its phase. The material then could serve as an active lens, without the need for mechanical parts to shift its focus.
"In general when one makes an optical device, it's very challenging to tune its characteristics postfabrication," Shalaginov says. "That's why having this kind of platform is like a holy grail for optical engineers, that allows [the metalens] to switch focus efficiently and over a large range."
In the hot seat
In conventional lenses, glass is precisely curved so that an incoming light beam refracts off the lens at various angles, converging at a point a certain distance away, known as the lens' focal length. The lenses can then produce a sharp image of any objects at that particular distance. To image objects at a different depth, the lens must physically be moved.
Rather than relying on a material's fixed curvature to direct light, the researchers looked to modify a GSST-based metalens in a way that the focal length changes with the material's phase.
In their new study, they fabricated a 1-micron-thick layer of GSST and created a "metasurface" by etching the GSST layer into microscopic structures of various shapes that refract light in different ways.
"It's a sophisticated process to build the metasurface that switches between different functionalities, and requires judicious engineering of what kind of shapes and patterns to use," Gu says. "By knowing how the material will behave, we can design a specific pattern which will focus at one point in the amorphous state, and change to another point in the crystalline phase."
They tested the new metalens by placing it on a stage and illuminating it with a laser beam tuned to the infrared band of light. At certain distances in front of the lens, they placed transparent objects composed of double-sided patterns of horizontal and vertical bars, known as resolution charts, that are typically used to test optical systems.
The lens, in its initial, amorphous state, produced a sharp image of the first pattern. The team then heated the lens to transform the material to a crystalline phase. After the transition, and with the heating source removed, the lens produced an equally sharp image, this time of the second, farther set of bars.
"We demonstrate imaging at two different depths, without any mechanical movement," Shalaginov says.
The experiments show that a metalens can actively change focus without any mechanical motions. The researchers say that a metalens could be potentially fabricated with integrated microheaters to quickly heat the material with short millisecond pulses. By varying the heating conditions, they can also tune to other intermediate states, enabling continuous focal tuning.
"In the future, this unique platform will allow us to arbitrarily control the focal length of the metalens," Shalaginov says.
Published March 2021
Rate this article