Compact power module with side flange mounting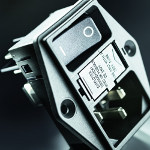 SCHURTER's proven power entry module, series DD11, provides a high level of functional integration in the most minimal of package dimensions. The power module is ideally suited for equipment with low-profile panels. Consisting of an IEC appliance inlet (C14), which is compatible with cord retention, 1- or 2-pole fuse holder, and power ON/OFF switch, the DD11 is now available with side mounting flanges in addition to the existing model with top and bottom flanges. The new model is designed to minimize height when vertically mounted. Applications include medical, IT and telecom, office and household equipment, and automation systems.
Learn more.
---
Automotive Ethernet cables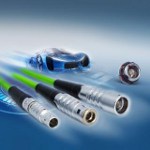 The ODU MINI-SNAP for Single Pair Ethernet (SPE) enables Ethernet connections via copper cables with a single twisted wire pair, while allowing for the voltage supply of terminal devices via PoDL (Power over Data Line). The simpler design of the new generation of connectors and the associated weight and space reduction are good for designers and developers in various areas. SPE is currently being introduced in new automotive generations, replacing CAN and other bus systems. In the future, communication, controls, and security functions will be managed uniformly via Ethernet.
Learn more.
---
Cool Tools: Complete 3D scan and reverse engineering suite for under 15 grand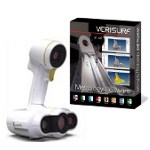 Verisurf Software is offering special limited-time pricing on its 3D scanning and reverse engineering solution bundle. It has everything needed to quickly deploy the system, including: Verisurf Scan Data and Reverse Engineering Suite with Quick Surface, Verisurf online training, Peel 2 3D handheld scanner, 1-year hardware warranty, and Peel 2 and Verisurf installation and setup video. The Verisurf Scan Data Reverse Engineering Suite is part of the recently released Verisurf 2020, the only measurement, inspection, and reverse engineering software dedicated to Model-Based Definition (MBD) and built on a CAD/CAM platform.
Learn more.
---
Asset tracking down to the centimeter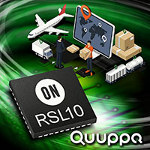 ON Semicon-ductor's Quuppa Intelligent Locating System enables real-time tracking of Bluetooth tags and devices -- with centimeter-level accuracy even in challenging environments. Quuppa technology allows positioning updates to be sent up to 50 times per second, providing a reliable and versatile Real-Time Locating System (RTLS) solution for all industries. Users can design ultra-low-power indoor asset-tracking applications with Direction Finding features and advanced Angle of Arrival (AoA) technology.
Learn more.
---
Noncontact measurement of speed and length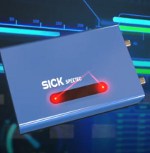 With the SPEETEC, SICK has expanded its product range for speed and length measurement of objects moving in a linear path to include technology that measures directly on the material surface. The non-contact sensor is able to measure a wide range of web and continuous materials, as well as blanks, with incredible accuracy. This speed sensor closes the gap between tactile, indirect-measuring encoder solutions and laser velocimeters, which are often expensive to purchase and require considerable effort to integrate and operate.
Learn more.
---
Displays: New HMI and drive faceplates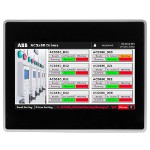 ABB's CP600 Gen 2 HMIs offer NEMA 4X rating, an expanded temperature range, 33% brighter screens, additional communications ports, and integral web server capability, allowing users to expand HMI usage into more applications. Available in 7-, 10-, and 15-in. sizes, the CP600 Gen2 HMI units join the CP600-eCo units and the CP600-Pro units to cover the full range of industrial display needs.
Learn more.
---
Cool Tools: Hexagon RS6 high-speed laser scanner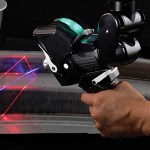 The handheld or arm-mounted RS6 laser scanner available from Exact Metrology is designed for high-speed and high-accuracy scanning. When compared to other scanners, the RS6 has a 3x faster frame rate, a 30% wider laser stripe, and excellent scanning performance on difficult surfaces (including glossy black plastic automotive body parts or molded carbon fiber components). Its unique SHINE technology allows you to scan 99% of parts without touching the scanner exposure. It scans up to 1.2 million points/sec with a scan rate of 300 Hz.
Learn more.
---
New Intellistat Ion Air Gun for static elimination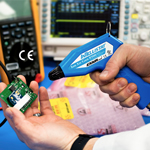 EXAIR's patented Intellistat Ion Air Gun is a handheld and lightweight solution for static elimination in clean processes or sensitive assembly work such as scientific and electronic test facilities, laboratories, and clean rooms. The Intellistat was designed to consume minimal compressed air while simultaneously delivering precise blow-off, and exceptional static decay rates capable of reducing 1000 V to less than 100 V in less than a second at up to 24 in. away.
Learn more.
---
Automotive cameras get 3-MP res and added cybersecurity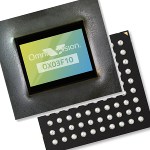 The OX03F10 automotive image sensor from OmniVision expands the company's next-gen ASIL-C viewing camera family with higher 3-MP resolution and cybersecurity features that are required as vehicle designers make the transition from Level 2 and 3 advanced driver assistance systems (ADAS) to higher levels of autonomy. The OX03F10 also maintains the family's unique combination of a large 3.0-micron pixel size with a high dynamic range (HDR) of 140 dB and the best LED flicker mitigation (LFM) performance for minimized motion artifacts. Additionally, the sensor is offered in a 1/2.44-in. optical format and features a four-lane MIPI CSI-2 interface.
Learn more.
---
Solid-state LiDAR wins CES innovation award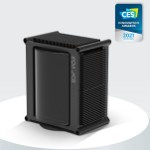 LiDAR sensor provider SOSLAB won the Consumer Electronics Show (CES) 2021 Innovation Awards for its Solid-state LiDAR ML unit for autonomous vehicles in the Vehicle Intelligence and Transportation category. The award recognized the excellence of the ML product, which is a compact LiDAR without moving parts. Its design enables simpler vehicle sensor deployment in terms of size, weight, and stability. ML is easy to mass-produce with a simple structural design that is expected to attract attention in the automotive LiDAR market.
See how it works.
---
RF filters for space applications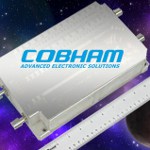 Cobham Advanced Electronic Solutions (CAES) has bolstered its RF Filter portfolio with the addition of new microwave and millimeter-wave filter assemblies specifically designed for space applications. This broad portfolio includes lumped element, combline cavity, and printed filters, as well as multi-filter assemblies. These filters are characterized by low loss and high sensitivity with narrowband with low insertion loss, broadband with low loss at edges, and rejection bandwidth no more than 20% greater than passband bandwidth. CAES RF Filters feature high power capability with greater than 5 W peak power and greater than 1 W average power. Can be optimized for size and weight. Cobham has extensive experience in RF Filters for airborne, missile, and unmanned aerial vehicle (UAV) applications.
Learn more.
---
Ultra-bright omnidirectional mini LED bulbs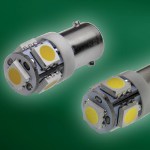 The B305SM series from LEDtronics is an omnidirectional miniature bulb that replaces incandescents directly in critical instrument status indication applications. They produce much brighter light intensity while remaining energy efficient. This bulb features a T3-1/4 (9-mm) single-contact bayonet base that gives installation a familiar twist. It's a great fit for applications such as back lighting, signage, panel-mount pilot lights, accent lighting, and more.
Learn more.
---
Optimize controls development for electric drives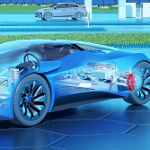 To make electric vehicles more robust, more economical, and less expensive, their drives use the latest semiconductor technology in combination with complex control systems. The new dSPACE MicroAutoBox III AC Motor Control Solution provides developers with a software connection that enables them to develop complex control algorithms for frequency converters and electric drives. Used in combination with the MicroAutoBox III prototyping system and the DS1553 Interface Module, test drives can be efficiently carried out in the vehicle. Typical applications include the development of drive controls and mechatronic components, such as steering systems or DC/DC converters for combining HV and LV vehicle electrical systems.
Learn more.
---
SlimLine variable-speed enclosure air conditioners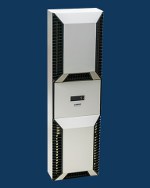 Seifert Systems has just introduced its SlimLine Vario Series of enclosure air conditioners that can be adjusted and set to provide only the cooling needed for a particular application. This results in a very uniform temperature level within the cabinet. Electrical components and the cooling are significantly less stressed, enabling higher safety and longer life cycle. In addition, the condensation inside the cabinet is minimized. The SlimLine Vario Series performance-to-size level makes it particularly suitable for special applications such as battery cooling. Units are designed for maintenance-free operation and are available with internal, external, or recessed mounting. Several models available for cooling capacities from 1,640 to 8,700 BTU/Hr.
Learn more.
---
Tiny MEMS temp and humidity sensor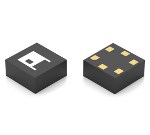 Würth Elektronik has developed a micro-electro-mechanical system (MEMS) temperature and humidity sensor that is only 2 x 2 x 0.9 mm in size. Alongside classical applications such as heating, ventilation, air conditioning, building automation, and cooling systems, the WSEN-HIDS humidity sensor is also suitable for dataloggers and stationary and portable IoT applications. The sensor with integrated analog-digital converter can be connected to commonly used microcontrollers via an I2C or SPI interface.
Learn more.
---
Inexpensive tin packs a big punch for the future of supercapacitors
A sustainable, powerful micro-supercapacitor may be on the horizon, thanks to an international collaboration of researchers from Penn State and the University of Electronic Science and Technology of China.
Until now, the high-capacity, fast-charging energy storage devices have been limited by the composition of their electrodes -- the connections responsible for managing the flow of electrons during charging and dispensing energy. Now, researchers have developed a better material to improve connectivity while maintaining recyclability and low cost.
They published their results Feb. 8 in the Journal of Materials Chemistry A.
"The supercapacitor is a very powerful, energy-dense device with a fast charging rate, in contrast to the typical battery, but can we make it more powerful, faster, and with a really high retention cycle?" asked Jia Zhu, corresponding author and doctoral student conducting research in the laboratory of Huanyu "Larry" Cheng, Dorothy Quiggle Career Development Professor in Penn State's Department of Engineering Science and Mechanics.
Zhu worked under Cheng's mentorship to explore the connections in a micro-supercapacitor, which they use in their research on small, wearable sensors to monitor vital signs and more. Cobalt oxide, an abundant, inexpensive material that has a theoretically high capacity to quickly transfer energy charges, typically makes up the electrodes. However, the materials that mix with cobalt oxide to make an electrode can react poorly, resulting in a much lower energy capacity than theoretically possible.
The researchers ran simulations of materials from an atomic library to see if adding another material -- also called doping -- could amplify the desired characteristics of cobalt oxide as an electrode by providing extra electrons while minimizing, or entirely removing, the negative effects. They modeled various material species and levels to see how they would interact with cobalt oxide.
"We screened possible materials but found many that might work were too expensive or toxic, so we selected tin," Zhu said. "Tin is widely available at a low cost, and it's not harmful to the environment."
In the simulations, the researchers found that by partially substituting some of the cobalt for tin and binding the material to a commercially available graphene film -- a single-atom-thick material that supports electronic materials without changing their properties -- they could fabricate what they called a low-cost, easy-to-develop electrode.
Once the simulations were completed, the team in China conducted experiments to see if the simulation could be actualized.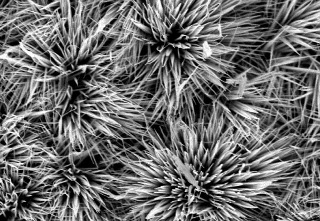 Researchers doped cobalt oxide with tin to create a more efficient electrode for use in supercapacitors. This microscopic image shows the new material on graphene film. [Credit: Jia Zhu/Penn State]
"The experimental results verified a significantly increased conductivity of the cobalt oxide structure after partial substitution by tin," Zhu said. "The developed device is expected to have promising practical applications as the next-generation energy-storage device."
Next, Zhu and Cheng plan to use their own version of graphene film -- a porous foam created by partially cutting and then breaking the material with lasers -- to fabricate a flexible capacitor to allow for easy and fast conductivity.
"The supercapacitor is one key component, but we're also interested in combining with other mechanisms to serve as both an energy harvester and a sensor," Cheng said. "Our goal is to put a lot of functions into a simple, self-powered device."
Source: Penn State University
Published March 2021
Rate this article