Max luxury, max performance: Bentley Continental GT Speed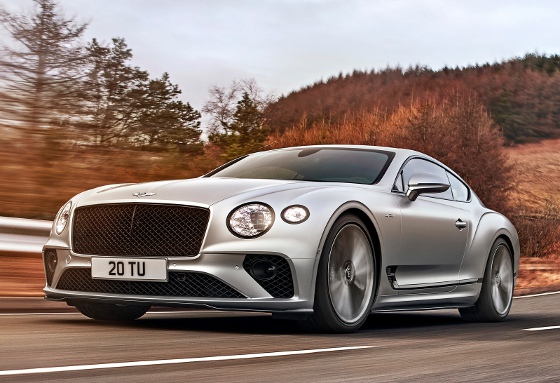 If you want a super-performance racecar inside an ultra-luxury wrapper, you'd be hard pressed to top Bentley Motors' new two-door Continental GT Speed. With a 659-hp 12-cylinder engine, all-wheel steering, a highly advanced chassis, and a dream interior, it's a little piece of dynamic Heaven right here on Earth.
This is the third-gen Speed from Bentley, and it's an updated doozy. It sports a 6.0-liter W12 TSI engine with 24 more horsepower than its predecessor and boasts 664 lb-ft of torque. It does 0 to 60 mph in 3.5 sec, and its speed tops out at 208 mph.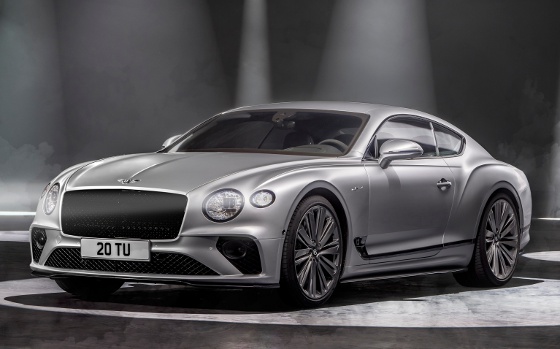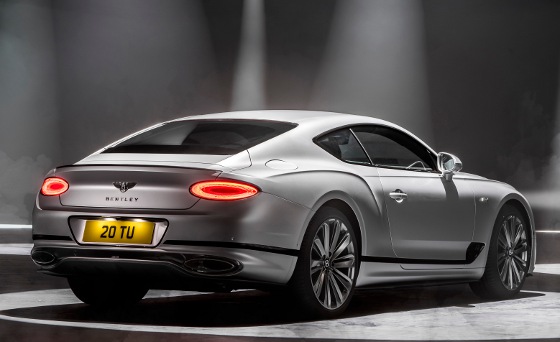 Bentley says the new Speed is its most performance-focused car ever. It is muscular and wide, especially head on, but sporty and sleek running to the rear. It has a Dark Tint radiator grille and lower bumper grille than the Continental GT, as well as unique, more sculpted sports sills, a Dark Tint radiator matrix, and discreet Speed badging in chrome on the front fender.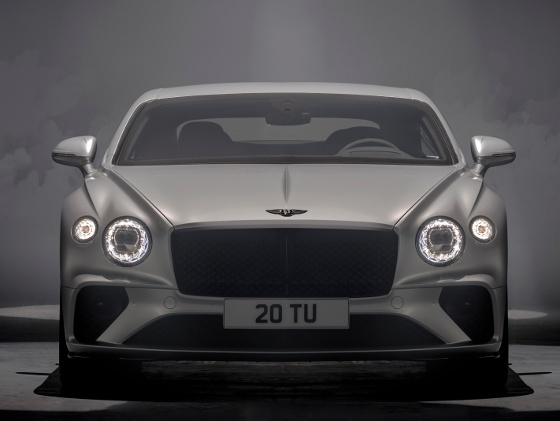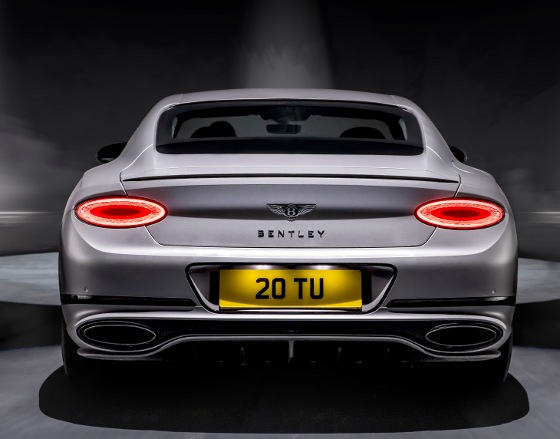 Both its engine and transmission have been deliberately calibrated to suit the car's driver-focused design. This is most noticeable in SPORT mode, where the twin-turbocharged W12 has been tuned to keep the engine in the power band longer by up-shifting later, or downshifting earlier. This creates a more eager response to the driver's throttle inputs.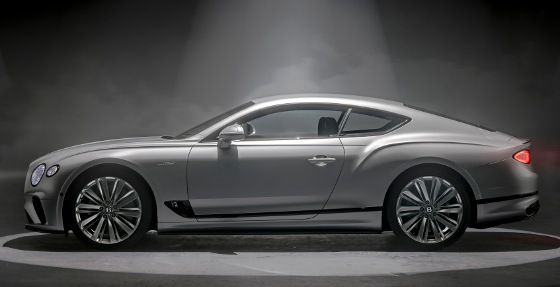 The dual-clutch, eight-speed transmission shifts twice as fast in SPORT mode as in the standard W12 model. This combines with a greater exhaust character during start-up and downshifts.
For improved fuel efficiency, the Variable Displacement System shuts down half of the engine's 12 cylinders under certain conditions with the transitions between the two imperceptible to the driver. Intake and exhaust valves, fuel injection, and ignition are all shut down on defined cylinders, with the engine running as a six-cylinder.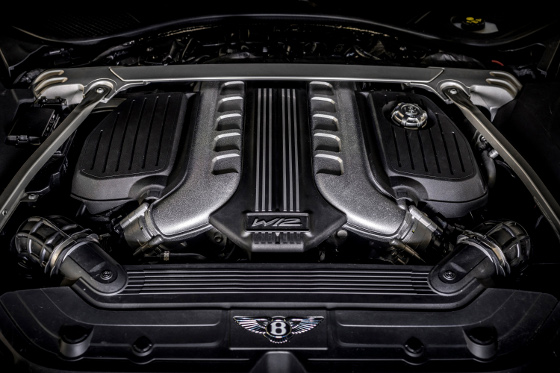 New Electronic All-Wheel Steering enhances the dynamic nature of the Speed in BENTLEY and COMFORT driving modes. However, this is even more apparent in SPORT mode, as the steering combines with Bentley Dynamic Ride and an electronic limited slip differential for a level of agility unlike any other Bentley road car.
At low and medium speeds, the GT Speed's rear wheels are steered in the opposite direction to the front wheels to aid a rapid change of direction, noticeably increasing the feeling of nimbleness. The steering feels sharper and with a quicker ratio, and a commensurate increase in steering feel provides even more driver confidence. At high speeds, the rear wheels steer in the same direction as the front, to improve stability. The system is significantly more active on the GT Speed than it is on Bentley's Flying Spur, where its primary purpose is a reduction in turning circle and enhanced high-speed stability.
In BENTLEY and COMFORT mode, overall grip is balanced between the front and rear wheels; in SPORT mode this has been calibrated with a more rear-biased torque-split in all driving scenarios.
For the first time in a Bentley, the latest generation of the Continental GT Speed introduces the use of an electronic rear differential (eLSD). Specifically tuned hand-in-hand with the traction control and active chassis systems, the eLSD provides increased lateral capacity, improved longitudinal stability, enhanced on-throttle adjustability, and delivers better traction in adverse road conditions.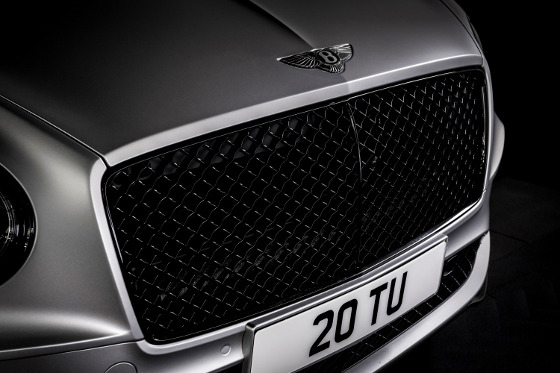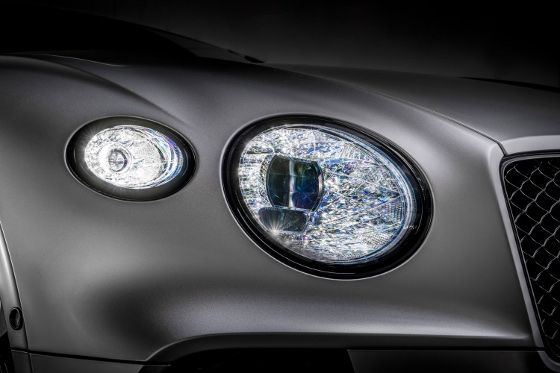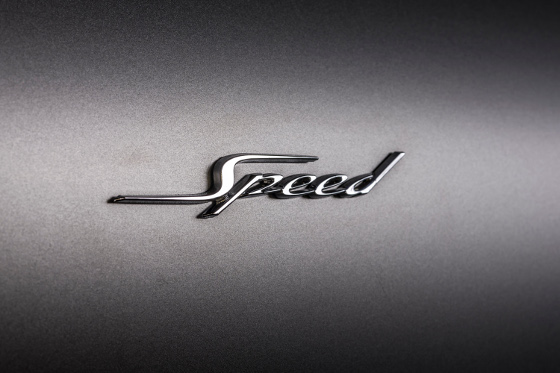 Improved cornering dynamics and the extra grip provided by the new systems allow the driver to exit any corner with an increased level of precision and confidence. In turn, the vehicle is able to extract the maximum performance from the available traction.
Working alongside these systems are the key chassis technologies that deliver body control and ride comfort with no compromise to one another: Bentley's three-chamber active air suspension with adaptive damping and Bentley Dynamic Ride, the 48-V active anti-roll control system that Bentley pioneered on the Bentayga and third-gen Continental GT. This innovative system features powerful electric motors within each anti-roll bar to resist body roll. In their firmest setting, the motors can deliver 1,300 Nm in 0.3 sec to counteract cornering forces and keep the body level.
Depending on the mode, the Electronic Stability Control (ESC) System allows the driver to experience an even greater level of freedom before the Speed's safety systems intervene to correct any anomalies. With the ESC engaged, the car provides reassuring stability over uneven surfaces, abnormal cambers, or in inclement weather conditions. When switched to Dynamic mode, the ESC extends the freedom of the driver, allowing the experienced pilot to set and alter the cornering stance of the car at their discretion.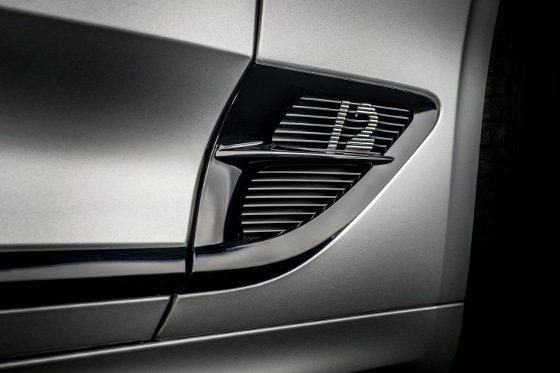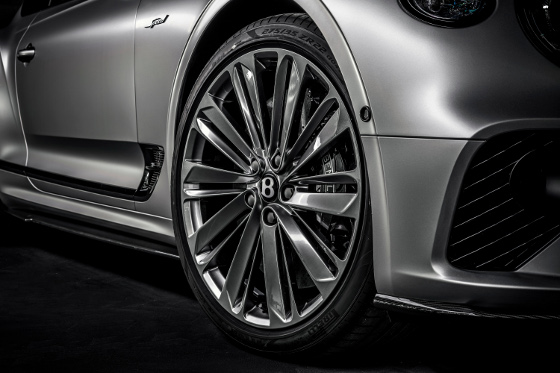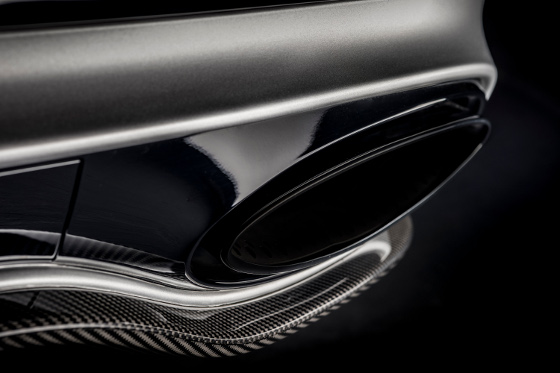 To complement the extra capability of the chassis, a newly engineered Carbon Ceramic brake system has been introduced as an option on the GT Speed. Carbon Silicon Carbide discs provide additional brake bite, with a strong, firm brake pedal feel and excellent brake fade resistance. Ten-piston front callipers and four-piston rears supply incredible braking force, which is needed when up to 10 MJ of energy are converted to heat in a full stop from top speed. The carbon ceramic material also saves over 33 kg of weight (all of it un-sprung mass) and produces extremely low levels of brake dust, helping to maintain the fresh look of the 22-in. unique Speed wheels.
Inside, well, it is luxe, luxe, luxe with Diamond in Diamond quilting. Packed with exquisite detail, a technologically advanced instrument panel and the acclaimed Bentley Rotating Display are front and center.
Handcrafted materials blend with unique trim and badging that are only available in the Speed and can be personalized if desired. The design displays a unique duotone color split handcrafted in hide and matching Alcantara, which is also applied to the steering wheel. The exterior badging is matched with an elegant Speed icon on the passenger fascia.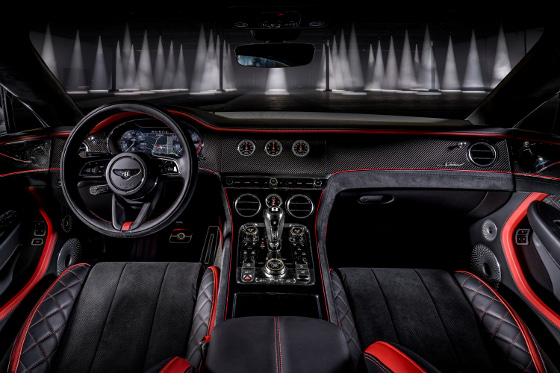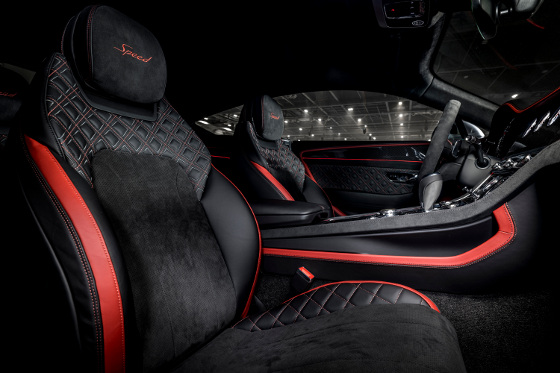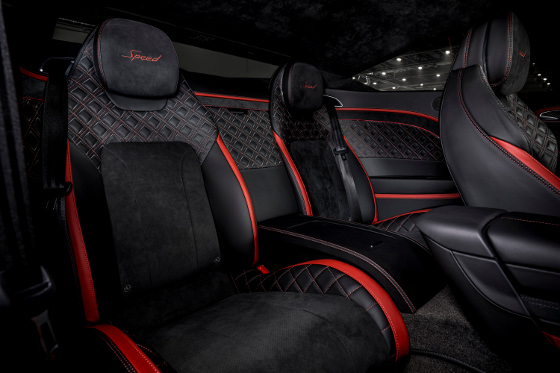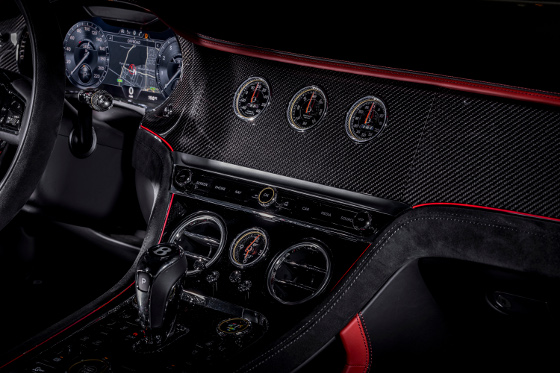 The sumptuous yet very racy interior can be further personalized with a choice of 15 main and 11 secondary hide colors, as well as the use of leather in lieu of Alcantara for the Speed color split. The center console can be finished in new dark tint turned aluminum. Veneers include Piano Black as standard, with Crown Cut Walnut, Dark Stained Burr Walnut, and Dark Fiddleback Eucalyptus available at no extra cost.
The Speed offers four seats and an exceptional grand touring luggage capacity of 358 liters.
Pricing has not been released for the 2022 Bentley Continental GT Speed, but it should start around $300,000.
Source: Bentley Motors
Published April 2021
Rate this article