Army tests enhanced lethality for future aircraft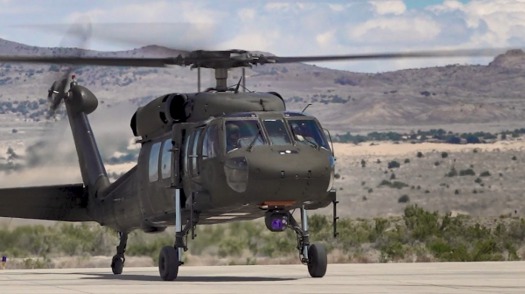 The Army is developing Full-Spectrum Targeting technology, some of which has been integrated into a flyable technology demonstrator turret, as shown at Experimentation Demonstration Gateway Event (EDGE) 21 in May 2021. [Photo credit: U.S. Army]
By Dan Lafontaine, U.S. Army DEVCOM C5ISR Center
As the Army progresses with its large-scale aircraft modernization initiatives, researchers are developing a capability to enable greater lethality by integrating automated scanning and detection of enemy targets.
The Full-Spectrum Targeting (FST) program aims to advance next-generation sensor technology to provide the aircrew with the standoff distance and speed to react faster than the opponent. Army Futures Command (AFC) is leading the research and development effort with the Future Vertical Lift Cross-Functional Team.
The Command, Control, Communications, Computers, Cyber, Intelligence, Surveillance, and Reconnaissance (C5ISR) Center at Aberdeen Proving Ground in Maryland -- a component of AFC's Combat Capabilities Development Command (DEVCOM) -- is developing this critical sensor technology. Some aspects have already been integrated into demonstration equipment, as shown at the Experimentation Demonstration Gateway Event (EDGE) 21 -- a precursor to Project Convergence 21 in the fall. A Sikorsky UH-60 Black Hawk served as the test surrogate for the Army's Future Attack Reconnaissance Aircraft (FARA).
"This system will transform the weapons officer's viewpoint from a soda straw to a wide-angle, high-definition view of the whole battlefield," said Dr. Brian Thomas, chief of C5ISR Center's Unmanned and Fixed Wing Branch.
The system's automated scan-and-detect algorithms reduce operator workload by searching a defined region in front of the aircraft to detect enemy positions, according to Thomas. This automation allows the aviator to act as a mission commander. The key objective is to enable crew members to see significantly farther than current reconnaissance aircraft.
Paul Price, chief of C5ISR Center's Aviation Branch and Army Aviation Hall of Fame member, said sensor advancements will be life-saving for the aircraft and crew as they reduce time for the aviator to figure out who's who on the battlefield.
"This emerging sensors technology will significantly reduce the time to put fire on targets by identifying the threat and sending images of potential enemies directly to weapon systems," Price said. "This allows the attack aviator to engage the enemy almost simultaneously as the imagery becomes available."
Participation in EDGE 21 enabled the Center's research team to gauge performance of a number of key technologies that are part of the program in an operationally realistic environment.
The FST-equipped Black Hawk escorted an air assault mission composed of three Black Hawks with 82nd Airborne Division paratroopers. While en route, a small unmanned aircraft detected a potential threat. The FST-quipped aircraft was dispatched and used its long-range sensor to identify the target, provide coordinates, and obtain and send an image to the network to facilitate the target's elimination.
The air assault mission was then diverted to a safe route. After neutralizing the threat, the FST-equipped aircraft proceeded to the landing zone and performed overwatch while the paratroopers dismounted and claimed the objective.
Thomas said C5ISR Center's expertise in sensors enables scientists and engineers to mature R&D into capabilities that can be tactically demonstrated at events such as EDGE 21. The FST program includes research for an all-weather, day-and-night targeting capability as well as technologies that enable detection of concealed targets and discrimination of decoys.
Researchers are tied to the aviation user and acquisition communities to understand emerging needs and then invest resources appropriately, according to Thomas. The Center is working closely to transition these technologies to Project Manager FARA.
"The C5ISR Center, with our partners, is defining what is possible from a technical perspective in support of the Army's future aircraft," Thomas said. "These efforts will help ensure greater lethality and survivability for our aircrews."
----------------------------

SIDEBAR: What's in the FST system?
According to a September 2019 U.S. Army Contracting Command Request for Information document, the Full Spectrum Targeting (FST) Payload should include, at minimum, an 18-in. outside diameter gimbal, 140 lb, 400 W max, that "encompasses the capture of data in the 45° Field of Regard through the presentation/cueing of detections and target display." Conditions include "day and night operations in fair weather in low to moderate competitive clutter situations." Other system requirements include:
The payload must be a RSTA (Reconnaissance, Surveillance, Target Acquisition) asset that provides at a minimum Full Motion Video (FMV) @ 30Hz in the RGB, Near Infrared Low Light (NIR LL), SWIR, MWIR, and LWIR wavelengths at no less than 720p resolution. It must be capable of independent pointing, 360° in azimuth and ≥+60° and ≤-90° in elevation.
The payload must provide a designator-class laser with both US and NATO codes and the ability to visualize designator laser spots and differentiate among multiple, simultaneous Pulse Repetition Frequencies (PRF).
The payload must provide a NIR illuminator class laser which will be visible with the NIR LL camera.
The payload must provide simultaneous wide area situational awareness FMV and must be day/night capable.
Any other modalities and sensor systems ... will be considered as long as it meets the requirements outlined. Examples include Multispectral, Hyperspectral, LIDAR, Polarimetry, and Filters.
Automation is a priority. Ideal workload on the operator would be a select-and-go function that enables automated search of coverage area at required range (w/o operator intervention).
Operations in degraded visual environments must be considered and include localized dust and smoke as well as haze, fog, rain, and snow conditions.
Sidebar source: GovTribe
Published June 2021
Rate this article