0 to 60 In 1.85 Sec: All-electric Rimac Nevera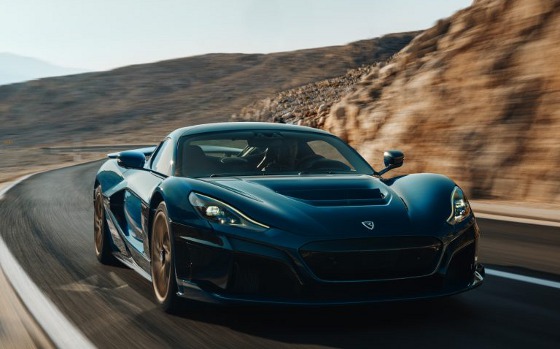 The hottest car company that you've probably never heard of has just released details of its production-ready hypercar that can do 0 to 60 mph in 1.85 sec. Croatia-based Rimac Automobili's limited-edition, all-electric Nevera boasts 1,914 hp, four motors, a stable of active aerodynamic elements, a super-strong carbon fiber monocoque with integrated H-shaped battery pack, and cutting-edge braking technology. Its top speed is 258 mph. The tech is so promising that Porsche has bought a 24% stake in the company. Hyundai Motor Group is a major investor too.
The $2.4 million Nevera will be limited to 150 units.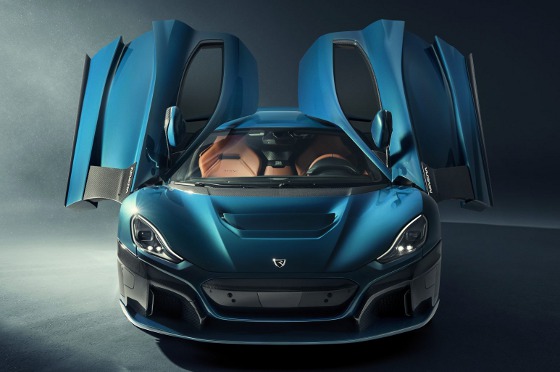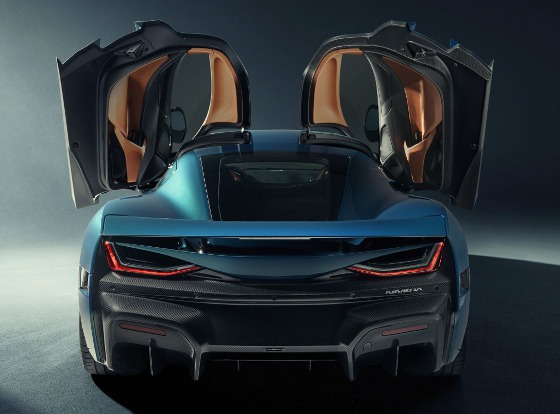 Rimac was founded by CEO Mate Rimac in 2009 when he was only 21. Based in Sveta Nedelja near Zagreb, his company now has a workforce of nearly 1,000. Rimac designs, develops, and manufactures electric hypercars with up to 2,000 hp and a top speed of more than 250 mph. The company also supplies technologies and systems to several well-known manufacturers of electric cars.
"Mate Rimac and his team are important partners, especially when it comes to supporting us in the development of components," said Lutz Meschke, deputy chairman of the Executive Board and member of the Executive Board for Finance and IT at Porsche AG. "Rimac is well on its way to becoming a Tier 1 supplier for Porsche and other manufacturers in the high-tech segment. Porsche has already placed its first orders with Rimac for the development of highly innovative series components. ... Rimac is excellently positioned in prototype solutions and small series."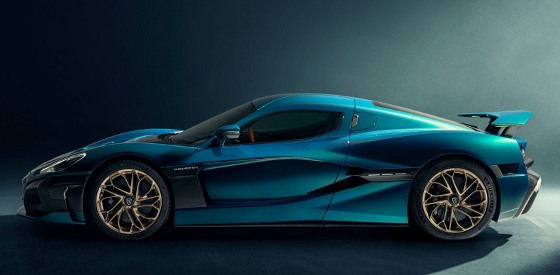 Nevera, which means a sudden, powerful electric storm in Croatian, is the name for the production-ready version of Rimac's C_Two concept car, which was revealed at the International Geneva Motor Show in 2018. Since then, Rimac's engineers have refined the flagship vehicle on every level during an extensive development program, including work changes to the car's bodywork, air diffusers, and intakes that have delivered a 34% improvement in aerodynamic efficiency over the early prototypes­.
The profile of the hood, the shape of the pillars, and the design of the diffusers, splitters, and radiators have also all been intensively analyzed and refined to improve airflow and downforce. Inlets and cooling channels have been painstakingly developed to increase the cooling efficiency of both the brake and powertrain systems, resulting in a 30% improvement at low speeds and a 7% enhancement at high speeds.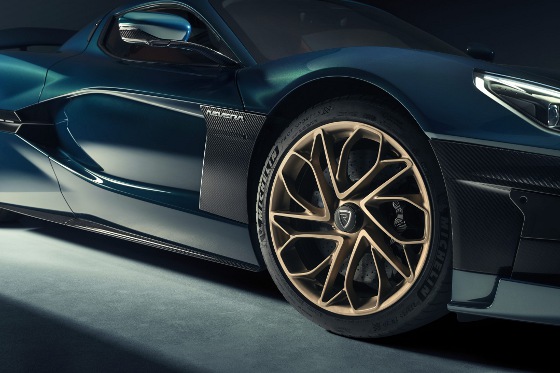 The main structure is carbon fiber with aluminum inserts. Nevera's monocoque includes a bonded carbon roof, integrated structural battery pack, and rear carbon subframe. The company says it forms the largest, single carbon fiber piece in the entire automotive industry. The compact, incredibly strong structure has a torsional stiffness of 70.000 Nm/degree.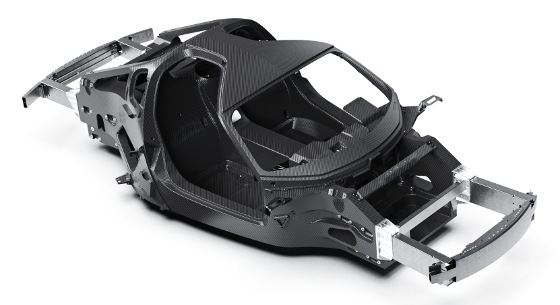 The unique H-shaped, liquid-cooled, 120-kWh, 6,960-cell battery was designed from scratch by Rimac and sits at the center of the Nevera. This is notable, because most all-electric EVs are built with a flat "skateboard" battery pack design. Capable of producing 1.4 MW of power, the Lithium/Manganese/Nickel battery also forms an integral part of the car's core, adding 37% structural stiffness to the carbon fiber monocoque.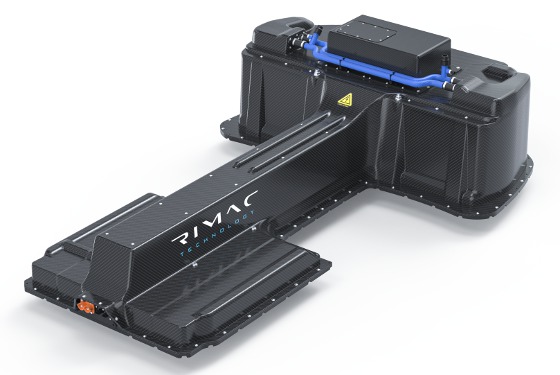 Four bespoke surface-mounted permanent magnet motors drive the Nevera's four wheels individually. Together, they enable 1,914 hp and 2,360 Nm of torque, which the company says is triple the output of a "conventional-engined" supercar. Rimac says the car will do an 8.6-sec quarter mile. The under-2-sec 0-to-60 time would make it the fastest accelerating streetcar in the world, although it is not an official time yet. The front and rear wheels are each connected to a pair of single-speed gearboxes. The rear motors are more powerful than the front ones.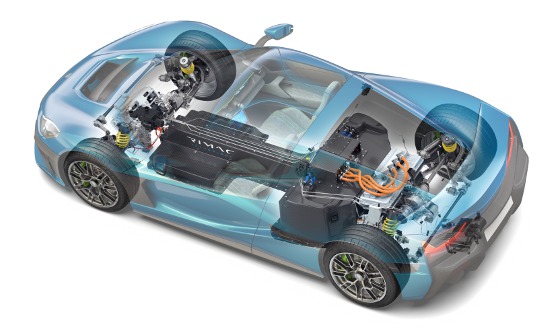 Rimac's All-Wheel Torque Vectoring 2 (R-AWTV 2) system replaces traditional Electronic Stability Program and Traction Control systems to bolster grip and traction. The system calculates the precise level of torque to channel through each wheel for ultimate stability and exceptional agility. Both predictive and responsive, R-AWTV reads the road and makes over 100 calculations per second to tailor the level of torque to achieve the desired driving style.
The Nevera is also equipped with cutting-edge braking technology. A complex electro-hyrdaulic brake booster with brake pedal feel simulator distributes the braking force between the friction brakes and electric powertrain, depending on the battery, powertrain, and brake state. It dissipates kinetic energy through the friction brakes if the battery is close to its thermal limits, or it activates more regenerative braking in case the friction brakes are hot. This enables the Nevera to make the most use of regenerative braking of any other car on the market. Substantial stopping power comes from 390-mm Brembo CCMR carbon-ceramic brake discs and six-piston calipers.
Rimac has also created numerous new innovative active aerodynamic elements to elevate the Nevera's cooling, performance, stability, and efficiency abilities. The front hood profile, underbody flap, rear diffuser, and rear wing can each move independently, driven by complex algorithms that provide the optimum aerodynamic configuration for every driving situation.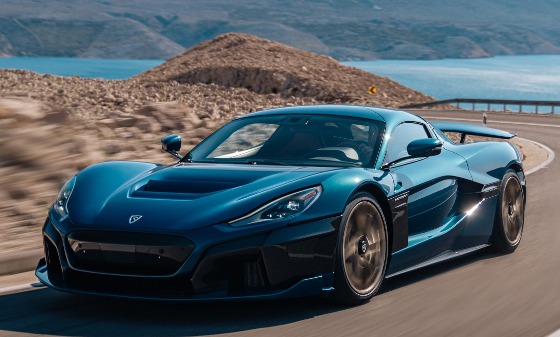 The car uses the very latest electric power steering with steer-by-wire function, enabling adaptive driver-feedback depending on the drive mode. SPORT mode sharpens the response of the throttle, brakes, suspension, and steering, while DRIFT mode supplies more torque to the rear wheels to accentuate oversteer and help hold the car in a controlled power slide on the track. COMFORT mode strikes a perfect balance between a relaxing ride, efficiency, and driving pleasure, while RANGE mode enables the Nevera to achieve maximum mileage from each battery charge. TRACK mode sets the Nevera to full, unrestrained configuration to help drivers exploit the car's full potential. Finally, two CUSTOM modes enable drivers to access their personal, pre-selected performance characteristics.
Rimac has also developed the world's first AI (artificial intelligence) Driver Coach. This feature evaluates performance and provides guidance to optimize and enhance the driver's on-track performance by accessing 12 ultrasonic sensors, 13 cameras, 6 radars, and the very latest NVIDIA Pegasus operating system. The system overlays selected race circuits in real time, offering audio and visual guidance to enable drivers to perfect their racing lines, braking, and acceleration points and steering inputs.
The inside is minimalistic but comfortable. Rimac sees this car as real-world transportation too. There is space for two and some luggage. The cockpit features three high-definition TFT screens, billet aluminum rotary controls and switches, and a good amount of premium leather. Some of the mechanical rotary controls are stacked in a ring configuration, so one control has multiple rings to turn.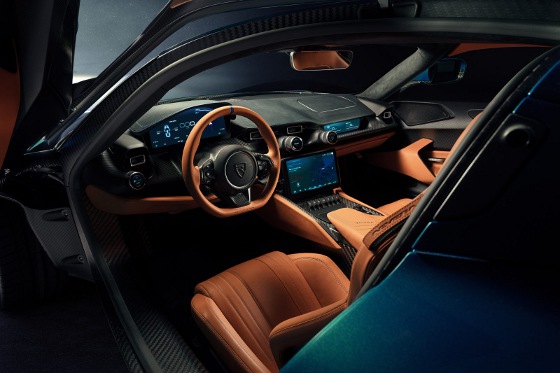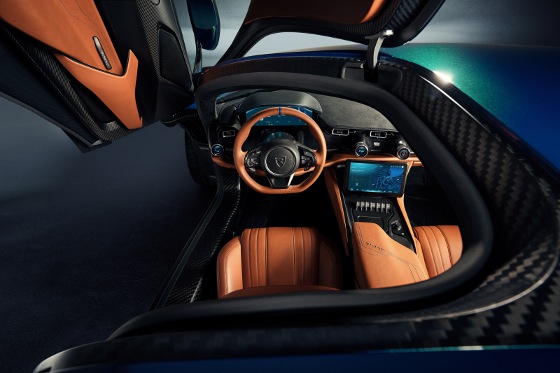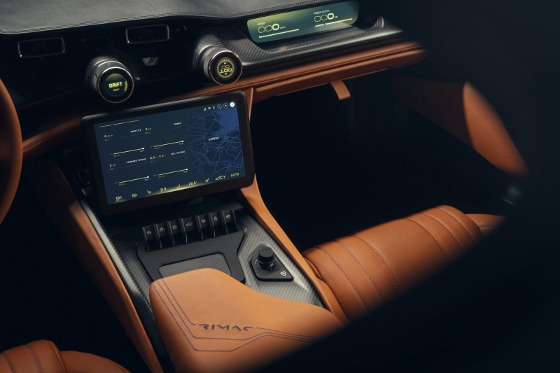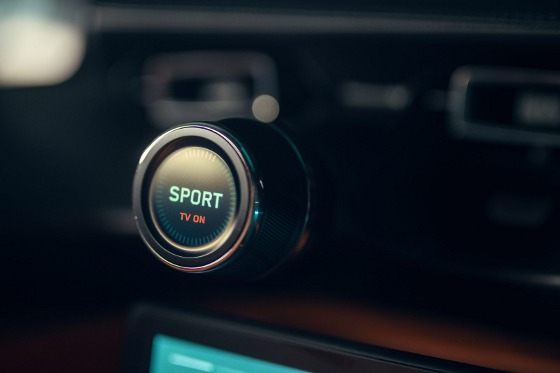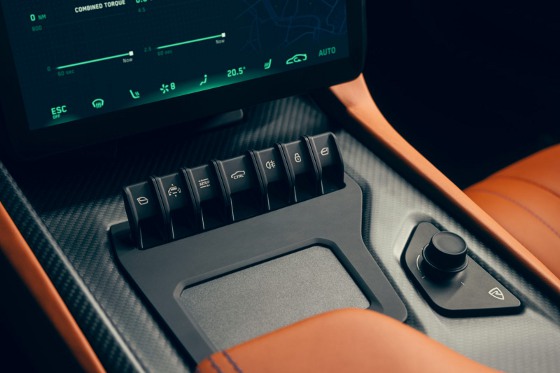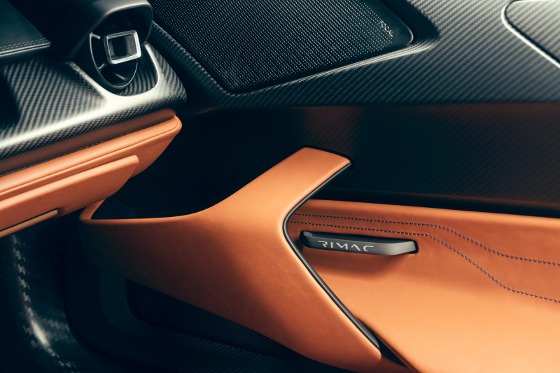 Rimac will offer the car in various editions: GT, Signature, Timeless, or Bespoke. The company says it offers so many options for personalization that no two Neveras will ever leave the Rimac factory looking the same or bearing the same specification.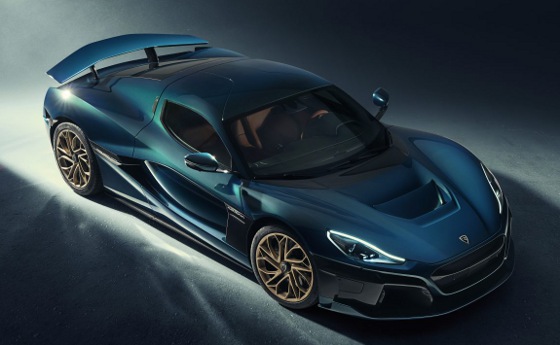 Rimac is building a new, 100,000-m2 state-of-the-art HQ that will accommodate over 2,500 employees and substantial production facilities just down the road from where it is located now on the outskirts of Zagreb. It will also be home to Mate Rimac's electric bike company called Greyp.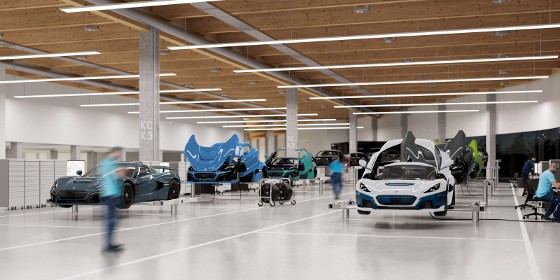 ARTICLE UPDATE:
Porsche has partnered with Rimac to buy Bugatti. Yup, you read that correctly. The new venture will be called Bugatti Rimac. Rimac will hold 55% of the new company, while Porsche will hold 45%. Volkswagen is the seller of Bugatti.
Bugatti Automobiles will remain at its historic headquarters in Molsheim, France, where it was founded in 1909. A main focus will be bringing Rimac's expertise in electrification to the new venture.
"This is a truly exciting moment in the short, yet rapidly expanding history of Rimac Automobili, and this new venture takes things to a completely new level," said Mate Rimac, founder and CEO of Rimac Automobili. "I have always loved cars and can see at Bugatti where passion for cars can take you to. I can't begin to tell you how excited I am by the potential of these two brands combining knowledge, technologies, and values to create some truly special projects in the future."
Sources: Rimac Automobili, Porsche
Published June 2021
Rate this article