Highly adaptive bearing for light-to-moderate loads in linear motion applications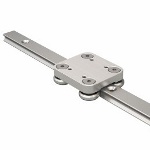 The MiniRoller Rail from Rollon eliminates the noise, difficult assembly, misalignment, and unnecessary weight typically associated with using linear guides with recirculating ball bearings in lighter-duty aerospace, medical, pharma, life science, and packaging applications. It also offers machine builders exceptional flexibility with a variety of optional materials, surface treatments, and mounting hardware and fasteners, including both metric and inch sizes. The new linear bearing's induction-hardened and machined raceways reduce noise and deliver a long, reliable lifetime.
Learn more.
---
Pinch valves: Flow control without contamination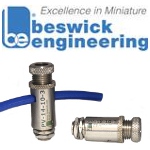 Beswick miniature pinch valves are now available for 1/8-in. OD and 1/4-in. OD tubing. The PV series miniature pinch valve is designed to control fluid when it is advantageous to avoid fluid contact with mechanical components and elastomeric seals. Pinch valves achieve fluid control by clamping down on the outside diameter of the tubing in order to limit or stop flow. The PV has a port for pneumatic actuation as well as a manual knurled knob for extra flexibility.
Learn more.
Watch the pinch valve video to learn more of the benefits.
---
How to select a linear bearing pillow block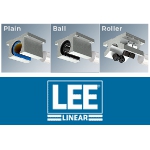 When it comes to choosing a pillow block style to help provide a secure foundation for a rotating shaft, the engineers at Lee Linear suggest using something called "P.O.S.T.L.U.D.E.S" as your guide: Precision, Orientation, Speed, Travel, Load, Unknowns, Duty Cycle, Environment, and Safety. Learn all about pillow block types, construction, and applications in this informative blog.
Read the full article.
---
Timing belts and pulleys calculator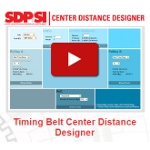 The quick-and-easy Center Distance Designer Calculator is a handy resource that will make designing and ordering parts for mechanical systems using single- or double-sided belt drives much easier, calculating center drive ratios, center distances for a pulley pair, and more. This tool from Stock Drive Products/Sterling Instrument (SDP/SI) will help you get the right pulley and timing belt combination and instantly identify the appropriate part numbers that meet your specifications.
Learn about the Center Distance Designer Calculator.

---
New air atomizing spray nozzle video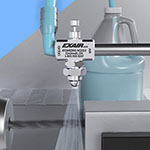 EXAIR's Atomizing Spray Nozzles create a fine liquid mist perfect for washing, coating, cooling, dust control, and more. These nozzles offer an assortment of flow rates and patterns including flat fan, round, and hollow cone patterns, and are highly effective with a wide range of liquids making them a perfect tool for a variety of industries. Combining liquid and compressed air, atomizing nozzles create a fine atomization for superior coverage and can be easily adjusted to fit your application's demands.
See how they work.
---
Tamper-proof seal screws build in security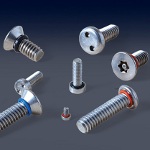 ZAGO security/ tamper-proof seal screws are designed with a distinct drive style that requires a specialized tool to unlock, effectively deterring tampering, vandalism, and misuse. What's more, a groove-fit rubber O-ring expands on installation to create an impervious, unbreakable seal. Available in a variety of corrosion-resistant metals, they are reusable and removable for maintenance and repair with proper tooling.
Learn more.
---
Micro-AM tech makes plastic 3D-printed parts conductive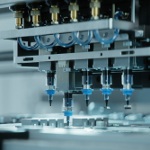 Horizon Microtech-nologies' new micro-AM technology can help in the elimination of electro-static discharge (ESD) in applications that would benefit from 3D printing by combining precision polymer additive manufacturing and ESD compliancy. Parts can be made with a controllably conductive surface coating and also coated internal channels with multiple bends. In one use, very compact and high-performance end-effectors were created for vacuum pick-and-place devices that were conductive enough to prevent electrostatic discharge.
Learn more.
---
5-Star Product: Constant-torque position hinge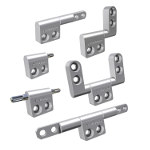 The RT-50 position hinge from Reell Precision Manufacturing incorporates unique engineering in a compact design to hold the angle of mounted components reliably in any position in small assemblies. The hinge's scaled-down 5-mm size and impressive constant-torque capabilities ideally suit demanding applications with limited footprints in consumer electronics, mobile devices, small appliances, and others. A dual-ended mounting configuration enables a single hinge to be used in place of two. Many other types/sizes available.
Learn more and see all the specs.
---
Cryogenic deflashing improves molding projects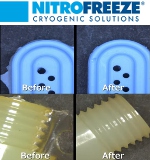 Nitrofreeze® Cryogenic Solutions is providing molders and OEM manufacturers that make injection molded, extrusion molded, and compression molded parts with a rapid, consistent, and cost-effective alternative to hand trimming molding flash. Nitrofreeze cryogenic deflashing is an automated, computer-controlled batch process that removes flash from tens to thousands of molded parts all at the same time. This patented process will not change part tolerances or surface finish, is more consistent than hand trimming, and is safe for medical plastics and medical silicones.
Learn more.
---
ScanCobot: Easy entry into 3D metrology automation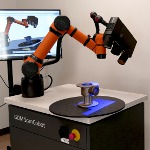 The GOM ScanCobot is a mobile measuring station with a collaborative robot, a motorized rotation table, and powerful software that is smart enough to figure out the optimal positions to scan to get the most comprehensive profile possible on a part. The system provides cleaner, more accurate data than manual scans. Exact Metrology has the ScanCobot technology at their Milwaukee area office. Learn about its impressive capabilities.
Read the full article.
---
Linear shafts vs. posts vs. rotary shafts: How to choose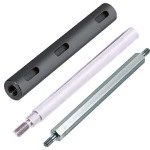 According to Carlicia Layosa at MISUMI, "Linear shafts, posts, and rotary shafts are used when you need to control some type of motion, either linear or rotary, or a combination of the two," but do you know the difference between these options and what applications are best for each?
Read this informative MISUMI blog.
---
Gears and gear racks made from polyamide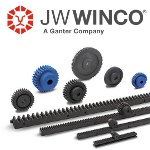 Gears and gear racks used for transmitting torque and forces within gearboxes are typically made of hardened steel. For many other uses and applications, gears and racks made from plastic are the better choice. These generally require no lubrication and are lighter, quieter, less expensive, and more resistant to corrosion than metal gears. This is why JW Winco has expanded its range with polyamide gears and racks that can transmit high forces and torques. Spur gears EN 7802 and gear racks EN 7822 are made from strong and long-lasting polyamide and are also available in gray or blue for better visual detectability.
Learn more.
---
3D Printing: Learn all about GrabCAD Print -- best slicing software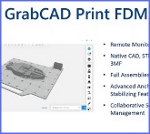 The engineers at TriMech are full of incredibly useful tips when it comes to 3D printing. Learn all about GrabCAD Print, which TriMech calls "one of the most powerful 3D-printing prep tools on the market." Better yet, it's a no-cost resource. Learn about file types and updated capabilities like advanced anchoring and stabilizing, remote monitoring, and even building in collaborative schedule management. You always learn something new from TriMech.
View the video.
---
Build-to-order knobs and hand hardware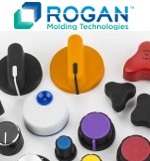 Rogan Corp.'s innovative use of two-shot plastic injection and insert molding has been providing customers with high-quality plastic clamping knobs, levers, and control knobs for almost 90 years. Rogan offers concurrent engineering, product design, and assistance in material selection to ensure customer satisfaction for standard or customized parts, with a focus on cost optimization and on-time delivery. Custom colors, markings, decorative inlays, or engineered materials to meet special requirements, such as adding extra strength or utilizing flame-retardant material, are all offered.
Learn more.
---
New developments in integrated rupture disk assemblies: Cryogenic equipment and more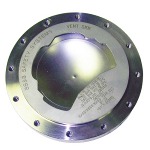 Rupture disks are one-time-use membranes designed to activate within milliseconds when a pre-determined differential pressure is achieved. In one use case, they protect cryogenic systems and tanks from overpressurization. OEMs are increasingly turning to integrated rupture disk assemblies with all components combined by the manufacturer, as opposed to loose rupture disk and holder devices that leave much to chance. Learn about the latest developments in rupture disk technology.
Read the full article.
---
Superlubricant may reduce wear and tear on space rovers -- and have Earth applications too
As NASA's Mars Perseverance Rover continues to explore the surface of Mars, scientists on Earth have developed a new nanoscale metal carbide that could act as a "superlubricant" to reduce wear and tear on future rovers.
Researchers in Missouri S&T's chemistry department and Argonne National Laboratory's Center for Nanoscale Materials, working with a class of two-dimensional nanomaterials known as MXenes, have discovered that the materials work well to reduce friction. The materials also should perform better than conventional oil-based lubricants in extreme environments, says Dr. Vadym Mochalin, associate professor of chemistry at Missouri S&T, who is leading the research.
"These superlubric materials are of special interest for advanced anti-wear and lubrication applications in extreme conditions, like those now experienced by the Perseverance rover on Mars," Mochalin says. He and his colleagues describe their discovery in a paper published in the March 2021 edition of the journal Materials Today Advances.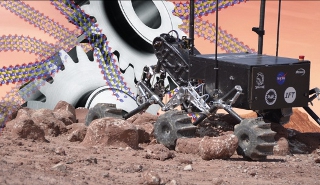 Photo illustration of a Mars rover designed by Missouri S&T students depicting the idea of MXene superlubric sheets applied to the machine's moving parts to reduce friction and wear. [Image credit: Shuohan Huang/Missouri S&T]
Mochalin says he made the connection between this research and Perseverance's journey to Mars after watching the rover landing.
"When I watched the landing of the rover on Mars, I thought: 'What if the lubricant in one of its wheels fails? Then I made the connection with our work on MXenes, because it came to mind that we have just found that MXenes demonstrate superlubricity in an atmosphere devoid of oxygen and humidity, close to what is there on Mars," Mochalin says.
MXenes (pronounced Maxines) are metal carbide materials that possess unusual properties. For example, their ability to conduct electricity makes them candidates for use in energy storage, sensing, and optoelectronics. In this latest study of the materials, Mochalin and his team conducted a series of tests to determine how well they act as solid-state lubricants with certain materials.
Friction testing
The researchers conducted ball-on-disk friction tests at the nanometer scale by depositing a titanium carbide MXene onto a silicon substrate (the disk) that was coated with a thin layer of silica, which is the major ingredient of sand. They then tested the MXene's ability to withstand wear by sliding it against a diamond-like carbon-coated steel ball. They conducted these tests in a dry nitrogen environment, which greatly reduces humidity.
Mochalin says the tests found that the MXene interface between the steel ball and silica-coated disk resulted in a friction coefficient in the "superlubric regime" of 0.0067 to 0.0017. Friction coefficient refers to the amount of friction between two objects and is determined by a value that is usually between 0 and 1. The lower the value, the less friction.
When the team added graphene to the titanium carbine MXene, the results were even better. Adding graphene "further reduced the friction by 37.3% and wear by the factor of 2" without affecting the MXene's superlubricant properties, the researchers write in their paper.
"These results open up new possibilities for exploring the family of MXenes in various tribological applications," write Mochalin and his colleagues. Tribology is the study of friction, wear, and lubrication of interacting surfaces.
Down-to-earth benefits
While such superlubricants may prove useful for machines in extraterrestrial environments -- from Mars rovers to asteroid mining equipment -- they also may have more down-to-earth benefits. Unlike oil-based lubricants, MXenes would not rely on non-renewable energy sources such as coal or petroleum, Mochalin says.
Shuohan Huang, a Ph.D. candidate in chemistry at Missouri S&T, is the paper's lead author and works closely with Mochalin on the study of MXenes. Mochalin's Missouri S&T group studies the fundamental physics and chemistry of the materials and develops their properties and potential applications in optoelectronics, energy storage, sensing, and mechanics.
Huang and Mochalin's co-authors on the paper are K.C. Mutyala and A.V. Sumant of Argonne National Laboratory's Center for Nanoscale Materials.
Source: Missouri University of Science and Technology
Published April 2021
Rate this article