Micromotors help telescopes solve galactic mysteries by providing automatic, quick alignment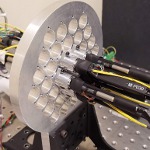 How can motor drives so small help unravel the mysteries of something so big? Learn how micromotors from FAULHABER are helping to usher in a new era of astronomical observation and discovery -- and are making the Sloan Digital Sky Survey telescope systems markedly faster in precise positioning along the way.
Read the full article.
---
What is Sensorless Closed Loop? Precise motor control without an encoder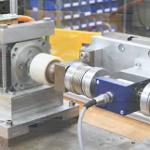 Matt Sherman, eMobility Sales and Application Engineer at KEB America, runs through different options to drive an AC motor, including one called "Sensorless Closed Loop" that does not require additional hardware such as encoder, resolver, or cables on the motor. Instead of an external sensor, the sensorless option uses a sophisticated motor model to close the loop.
Read this informative KEB America blog.
---
How to customize a base model electric linear actuator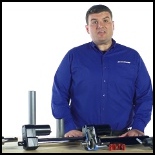 Chad Carlberg, Product Line Manager at Thomson Industries, runs through how to find the optimal balance of performance, life, and cost when it comes to electric linear actuator solutions. Your application may not require the fastest, sturdiest, most accurate, or even the least expensive option, after all. Learn how to create just the right balance for your needs. Some good details here.
View the video.
---
Smart Flex Effector from Bosch Rexroth makes robots more sensitive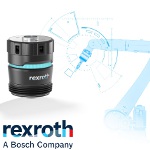 The Smart Flex Effector is a new, sensor-based compensation module from Bosch Rexroth that gives robots and Cartesian linear systems human-like sensitivity, offering new opportunities for factory automation. Typical applications include joining processes with minimal tolerances, complex assembly work, or difficult handling tasks. Errors and rejects are minimized, and teaching and commissioning can be carried out more easily and quickly.
Learn more.
---
Servo drives with Extended Environment capabilities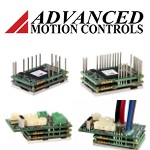 RS-485/232 FlexPro servo drives are now available with Extended Environment capabilities from ADVANCED Motion Controls. FlexPro is the perfect compact servo drive solution for robots, machines, and other motion control applications. Extended Environment servo drives push the boundaries to allow proper operation in conditions where other electronics fail. They can withstand both scorching and freezing temperatures, high and low pressures, shocks, vibrations, contamination, and other harsh conditions. These drives come in both PCB-mount and machine-embedded form factors.
Learn more.
---
Compact stepper drive offers greater smoothness, precision, torque density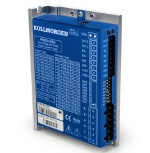 Kollmorgen has just released the new P80630-SDN stepper drive. Customers can now benefit from features such as smoothness, precision, and torque across the full speed range in a significantly more compact package that enables smaller, lighter, and more versatile machines. The P80630-SDN is an ideal solution for labelers, indexing tables, CNC machines, packaging systems, pumps, and other single- or multi-axis systems requiring low-speed, point-to-point motion control for fixed loads.
Learn more and get the specs.
---
New high-capacity, high-speed electric linear actuators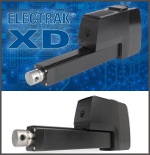 Thomson has introduced a high-capacity, high-performance electric linear actuator that gives motion system designers more cost-effective options to replace hydraulic cylinders. Among the many new features of the Thomson Electrak XD linear actuator is load handling up to 25,000 N (5,000 lb). The Electrak XD can also achieve operating speeds up to 75 mm/sec (3 in./sec) and duty cycles up to 100%.
Learn more.
---
New brushless DC motor design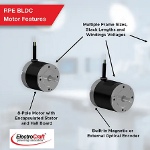 The ElectroCraft RapidPower Enhanced series (RPE series) is a new and innovative brushless DC (BLDC) motor design that combines performance, flexibility, and affordability to offer OEMs the perfect platform for a wide range of motion applications. This level of configurability enables the RPE series to be quickly acquired and adapted into your application. ElectroCraft's BLDCs integrate rare Earth magnets and an eight-pole encapsulated core design to provide high torque density, peak torques up to 300% of continuous ratings for short-time operation, wide speed ranges, and low cogging torque for ultra-smooth motion.
Learn more.
---
End-of-arm tooling components for vacuum pick-and-place systems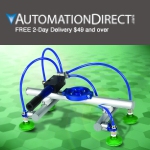 Automation-Direct now offers Schmalz end-of-arm tooling components for robot arm vacuum pick-and-place applications. Components can be purchased individually or in kits that include everything needed to create a single-beam or dual-beam end-of-arm tool. Kits are simple, save time and money, and include structural rails (which support optional internal vacuum), connectors, cup mounts, vacuum tubing, vacuum cups, fittings, a basic ejector, a flange for a Universal robot, and a blank robot flange. Components start at $8. Kits start at $995.
Learn more.
---
Dual encoder provides motor feedback and position measurement all in one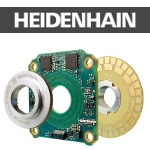 HEIDENHAIN's new KCI 120 Dplus unites two rotary encoders in a single device, offering high reliability in a rugged and extremely compact design. Once integrated into an application with up to SIL 3 safety, this unit can minimize malfunctions and facilitate the safe operation of machines and automated systems, including high-accuracy robotic systems and more. Thanks to its low 20-mm profile, this series is great for tight installation spaces. The encoders are particularly resistant to contamination and magnetic fields.
Learn more.
---
Great Resources: FAULHABER Drive Calculator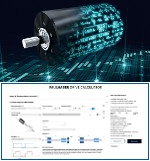 The FAULHABER Drive Calculator is an easy-to-use tool for developers to find a suitable drive system for a specific application in record time. The program uses global presets with common average values, but default settings can be adjusted to individual needs. A detail page for each drive system shows the calculated thermal values and performance diagrams as well as other important information and data. Changes can be made and recalculated on the fly. Suitable controls are also displayed to complete the drive system. At the end, the user can download the selected solutions as a PDF or request them directly online.
Learn more and see how the FAULHABER Drive Calculator works.
---
New rotary microstage includes built-in controller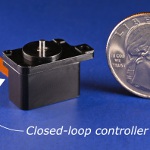 The new M3-RS-U2-4.5-360 Rotary Smart Stage from New Scale Technologies is a miniature positioning module that simplifies the task of embedding high-precision rotary motion into scientific and industrial instruments. The latest addition to the M3 Smart Stage family provides point-to-point angular positioning with closed-loop resolution better than 0.022 degrees. M3 Smart Stages integrate piezoelectric motors, position sensors, and built-in controllers in compact modules that accept direct digital input from a system processor.
Learn more.
---
New high-performance hollow shaft gear unit for heavy-duty applications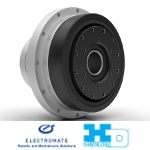 Harmonic Drive has released its HPF series of hollow shaft gear units designed for heavy-duty industrial applications. These advanced gear units offer high torque outputs and flexible installation options, and they provide exceptional torque density and positional accuracy. Industrial applications include robotics, packaging, and material handling.
Learn more and get all the specs.
---
Totally new! Hybrid stepper and PM motor
The Hybrid-PM-Mix (HPM) from Lin Engineering is the first motor of its kind, combining the stator of a hybrid stepper and the rotor of a PM motor in the form factor of a high-speed BLDC. The result is a motor that behaves like a typical high-speed BLDC with the added benefits of hybrid steppers -- precise position control and position holding -- with low noise and vibration too. The 1330 Series is a small motor with a frame size of just 13 mm, which is perfect for small applications with minimal space.
Find out all the specs.
---
New magnetic tracks for linear motors -- more force with no redesign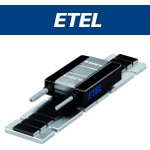 The MWD+ is a new family of magnetic tracks from ETEL equipped with stronger magnets. These tracks are compatible with any existing ETEL LMG and LMS linear motor, enabling an average of 15% higher continuous and peak force compared to existing MWD products. Benefits include higher force density per unit volume, which allows users to improve the overall duty cycle or run a given duty cycle at lower temperatures.
Learn more about ETEL linear motors.
---
Army testing Robotic Combat Vehicle in Michigan -- silent watch and stealth-like capabilities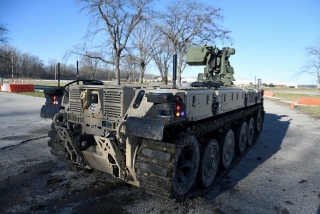 The Robotic Combat Vehicle-Light (RCV-L) experimental prototype is a small, lightweight hybrid-electric unmanned ground combat vehicle that can be transported easily by military aircraft. Its highly versatile common architecture and modular payload features offer a scalable continuum of capabilities that can be adapted to new and emerging threats well into the future. [Photo Credit: Bruce Huffman]
By Bruce Huffman, Michigan National Guard
In late 2020, four Robotic Combat Vehicle - Light (RCV-L) experimental prototypes were delivered to Selfridge Air National Guard Base (SANGB) in Michigan, where engineers from the U.S. Army Combat Capabilities Development Command's Ground Vehicle Systems Center (GVSC) began integrating software and hardware to conduct Manned/Unmanned - Teaming (MUM-T) testing. GVSC engineers will conduct maneuver testing on the RCV-L prototypes at Camp Grayling throughout 2021 to help determine the feasibility of integrating unmanned systems into ground combat vehicle formations.
Large-scale combat maneuver tests are routinely conducted at Camp Grayling, a 148,000-acre training area in northern Michigan with a variety of multi-use ranges and maneuver courses able to accommodate air-to-ground live fires, artillery, tanks, mortars, and small arms.
"GVSC leverages the facilities at Camp Grayling, which provides the perfect location to test a wide range of robotic combat systems in different terrains," said Kevin Mills, associate director for Ground Vehicle Robotics at GVSC. "Camp Grayling gives our engineers and industry partners numerous options to explore the full performance capabilities of next-generation unmanned ground systems in our own backyard. Grayling's extremely challenging off-road terrain and vast, secure live-fire test areas allow us to push experimental prototypes to their limits and safely evaluate weapons systems on combat robotics."
Army Maj. Gen. Paul D. Rogers, adjutant general and Department of Military and Veterans Affairs director, said the relationship between the military and the defense industrial base in southeast Michigan dates back to World War II.
"These partnerships, combined with the unique geography of northern Michigan and our high-tech infrastructure and expertise, make Michigan an ideal proving ground for new technologies like the RCV-L prototype," Rogers said.
At Northern Strike 20, the Michigan National Guard's annual joint reserve component readiness exercise held in Northern Michigan, both U.S. and Latvian Joint Terminal Attack Controllers (JTAC) collaborated with industry to demonstrate a new Android Tactical Awareness Kit that uses cellular technology instead of Wi-Fi. According to Air Force Master Sgt. Patricia Boyer, a Michigan National Guard cyber operations specialist, the new technology significantly improved communications, data, and video transmissions from above the battlefield, providing enhanced real-time situational awareness.
"We're trying to build a mobile innovative capability to solve problems in real time," said Air Force Brig. Gen. Bryan Teff, assistant adjutant general for air and commander of the Michigan Air National Guard. "Our aim is to demonstrate this during Northern Strike 21 and future iterations of the exercise."
The Michigan National Guard unveiled its National All-Domain Warfighting Center (NADWC) at Camp Grayling during Northern Strike 20 in July 2020. The NADWC includes a 17,000-square-mile special-use airspace that extends over a portion of Lake Huron. This airspace is the nexus between the NADWC's four supporting bases: Camp Grayling, the Alpena Combat Readiness Training Center, Battle Creek Air National Guard Base, and SANGB.
This support network allows the NADWC to offer unique, all-domain training and testing not typically available at a single location in the Midwest. In addition to the robust ground combat capabilities at Camp Grayling, the NADWC leverages the support of these bases to offer air-to-sea live fires, littoral operations, bombers, fighters, refueling, cargo, and unmanned systems, as well as cyber, surveillance, intelligence, reconnaissance, and Joint All-Domain Command and Control (JADC2) operations.
Evaluating lessons learned in Iraq and Afghanistan, the Department of Defense's Long-Range Research and Development Planning Program (LRRDPP) and the Army Science Board have determined that advanced autonomy-enabled technologies will play a significant role in keeping Soldiers safe and that a mix of manned/unmanned vehicles could prove instrumental in winning future conflicts against peer and near-peer adversaries.
Leveraging lessons learned testing the Expeditionary Modular Autonomous Vehicles (EMAV) that Pratt & Miller built for the Marine Corps, the RCV-L experimental prototype is built to help the Army conduct live Soldier experimentation with unmanned combat vehicles to better define how MUM-T operation will shape future warfare. Its highly versatile common architecture and modular payload features offer a scalable continuum of capabilities that can be adapted to new threats well into the future.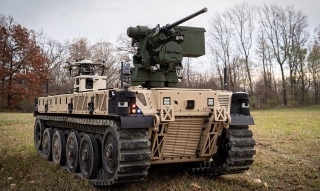 The RCV-L can be equipped with a Tethered Unmanned Aerial System, a small drone that can be deployed to conduct aerial reconnaissance while the vehicle is at a safe distance. Other equipment to be tested on the RCV-L experimental prototype includes the M153 Common Remotely Operated Weapons Station II (CROWS II), the .50-caliber M2 machine gun, and the 40-mm MK19 Mod 3 automatic grenade launcher. [Photo Credit: U.S. Army]
The RCV-L prototype is compact and lightweight and can be transported easily by military aircraft to remote locations. Its hybrid/diesel generator powers high-voltage batteries that provide a silent watch and stealth-like capabilities. It features high-resolution cameras, sensors, and navigation equipment, and its modular platform can accommodate up to 7,000 lb.
It can be equipped with a Tethered Unmanned Aerial System, a small drone that can deploy to conduct aerial reconnaissance while the vehicle is at a safe distance. Other equipment to be tested on the RCV-L experimental prototype includes the M153 Common Remotely Operated Weapons Station II (CROWS II), the .50-caliber M2 machine gun, and the 40-mm MK19 Mod 3 automatic grenade launcher.
Laurent Lannibois, QinetiQ's RCV program manager, said the vehicle can be remotely controlled by a human operator or can function semi-autonomously along known/programmed routes. The Army is improving the RCV-L's semi-autonomous and unmanned/autonomous capabilities.
"We don't know exactly what the future holds, but the Michigan National Guard is working closely with the research and development community to enable combat formations and unburden our Soldiers," said Rogers.
Rogers said autonomy-enabled systems will augment warfighter capabilities and increase battlefield mobility and lethality by creating greater distances from danger, making supply distribution safer and more efficient, and providing the flexibility to adapt to tomorrow's ever-changing and evolving threats.
"Nothing can replace the life of a Soldier," said Rogers. "Autonomy-enabled systems will help make us more expeditionary, keep the warfighter safe, and make them more efficient."
Published February 2021
Rate this article