Airless bike tire uses NASA shape memory alloy technology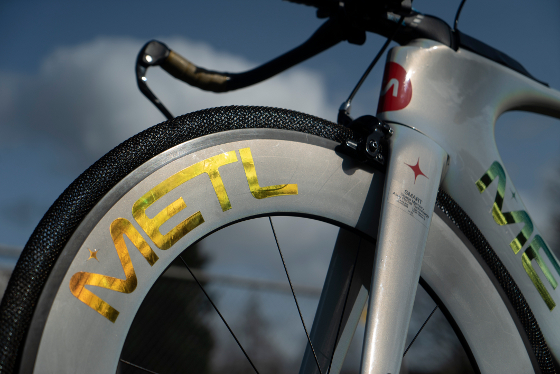 The new METL tires from startup The SMART Tire Company are superelastic, puncture resistant, and will never go flat. They feature a proprietary structural design that weaves a shape memory alloy into a novel pattern that displaces energy optimally, resulting in a smooth ride like a pneumatic tire without the need for an innertube or air pressure. [All images courtesy The SMART Tire Company unless otherwise indicated]
Born from Moon-buggy technology and possibly headed for rovers on Mars, airless tires made of shape memory alloys (SMAs) have now been created for bicycles here on Earth. The SMART Tire Company, in partnership with NASA, is developing the first-ever consumer application of the NASA airless SMA tech.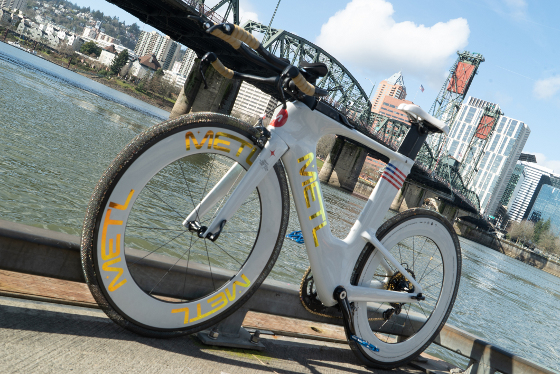 Whether the airless tires prove to have real advantages or end up a novelty is anyone's guess. For now, they will serve as a real-world technology demonstrator not only for bicycles but for other possible on- and off-road vehicle applications in the future.
Details are limited, but here is what we know so far.
The eco-friendly bicycle tire from SMART (Shape Memory Alloy Radial Technology) is called METL™. The tire is made from an advanced, lightweight material called NiTinol+ (a metal alloy of nickel and titanium), which is being investigated by NASA for use on lunar and Mars rovers. This material will not corrode or rust.
The NASA tire versions were inspired by the original airless Moon-buggy tires from the lunar roving vehicle (LRV) for the Apollo 15, 16, and 17 missions -- which were made of steel piano wire and titanium treads to give them a cushioning, non-rigid structure -- and by a new version of steel spring tire that Goodyear developed in partnership with NASA more than a decade ago. (See "Moon buggy wheel tech evolves for Mars mission," Designfax, May 12, 2020.)
The advantage of using NiTinol+ for creating a tire is that it is elastic like rubber yet strong like titanium, exhibiting perfect shape memory without ever going flat. Nitinol can deform up to 30 times as much as ordinary metals and return to its original shape. Unlike stretching, it actually rearranges its molecular structure when bent, but it instantly goes back to its original shape. The METL tire can withstand excessive deformation, and it still rides smoothly.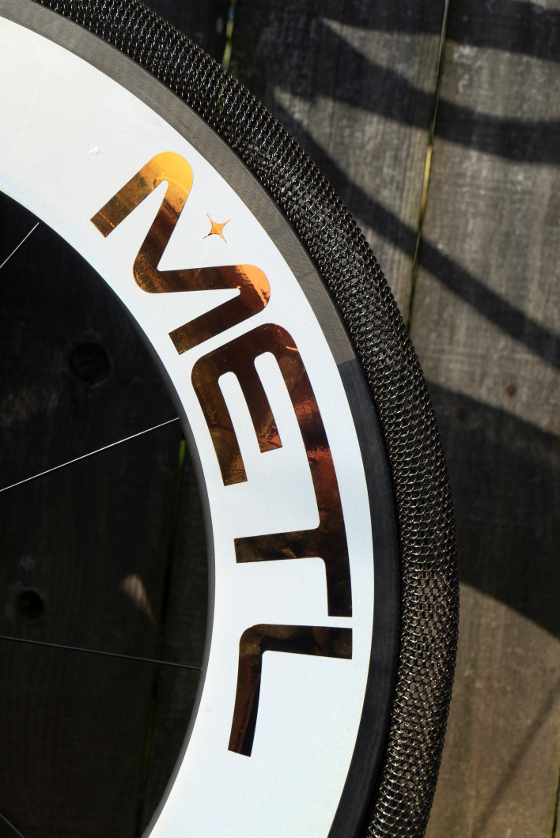 According to SMART, "The utilization of shape memory alloys provides enhanced control over the effective stiffness as a function of the deformation, providing increased design versatility. For instance, the tire can be made to soften with increased deflection, reducing the amount of energy transferred to the vehicle during high-deformation events. In addition, the use of shape memory alloys in the form of radial stiffeners, as opposed to springs, provides even more load-carrying potential and improved design flexibility."
SMART says its final, lightweight tire product will also be coated or encased in a newly formulated poly-rubber material, which will give it a super long-lasting tread and grip for all weather conditions. Over time and use, the rubber could wear down and the alloy tires would need to be retreaded, but the alloy tires themselves are predicted to last for the life of any bike they are installed on.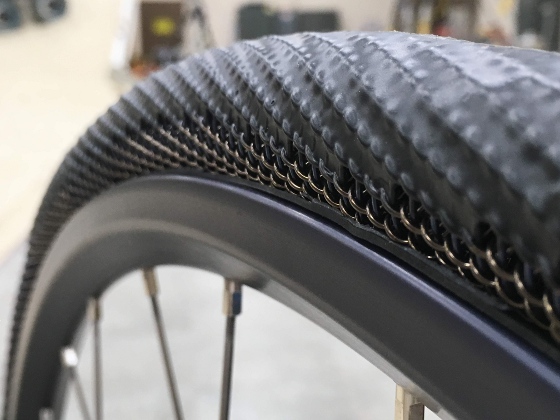 If you think using shape memory alloys in consumer products is something new, think again. Full-time NASA Glenn researcher and inventor Dr. Santo Padula said in an interview posted on the NASA site, "The automotive sector is already using these materials. In fact, almost every lumbar support system in vehicles now is actually SMA-driven, usually using SMA wires as the actuation component. At NASA, we are developing new adaptive technologies for large-scale aircraft in the aeronautics world in order to replace flap elements and control surfaces on wings with more lightweight, compact, and efficient systems. These materials work for pretty much anything that is actuation-based."
In the summer of 2020, Los Angeles-based SMART's superelastic tire technology was one of nine technologies featured in the NASA Startup Studio, which was run by FedTech on behalf of NASA. NASA Startup Studio matches entrepreneurs directly with NASA technologies prime for commercialization and guides customer discovery and product development exercises for Earth-based applications.
At NASA, "We're developing a Mars-grade material that greatly improves SMA capability and makes reversible material deformations possible in the harsh Martian environment without sacrificing performance," said Padula. This NASA effort is called the Superelastic Tire.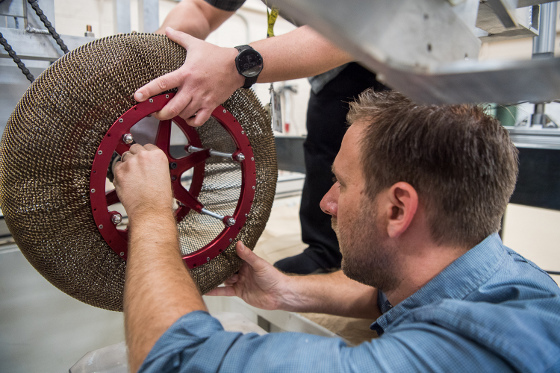 Engineer Colin Creager attaches the latest version of a rover SMA Spring Tire to a test rig in the Simulated Lunar Operations (SLOPE) lab at NASA Glenn. This version weighs 15 lb, can carry double the amount of load as the previous version, and performs better in deep-space temperatures. [Credit: NASA]

VIDEO: NASA's Dr. Santo Padula explains why nickel titanium, a shape memory alloy with impressive capabilities, is a game-changing material that dramatically advances the development of spring tires.
SMART's tires will be available in gold, silver, and metallic blue starting in 2022. SMART has not released pricing on the new METL tires. That is a bummer, because price, performance, and comparisons with traditional tech will be key factors for creating buyer interest. The company was co-founded by "Survivor: Fiji" champion Earl Cole and engineer Brian Yennie.
Will SMART tires be a fad or turn into long-lasting future tech? Let us know what you think.
Sources: The SMART Tire Company/NASA
Published March 2021
Rate this article