Hottest new baseball glove has 3D-printed inserts
Rawlings Sporting Goods has partnered with digital manufacturing company Fast Radius and 3D-printing company Carbon to manufacture one of baseball's hottest new equipment releases -- the REV1X infield glove. This glove features innovative 3D-printed lattice inserts, developed with cloud manufacturing technology, for performance-enhancing capabilities.
A high-performing glove with game-changing technology was the central idea for the new REV1X: a first-of-its kind glove that uses an intricate lattice design in the pinky and thumb inserts. The lattice, made using the Carbon Digital Light Synthesis (DLS) 3D-printing process, is lightweight and flexible without sacrificing protection or durability. The inserts don't wear out as easily as traditional materials, which provides enhanced playability and improved ball handling on the field.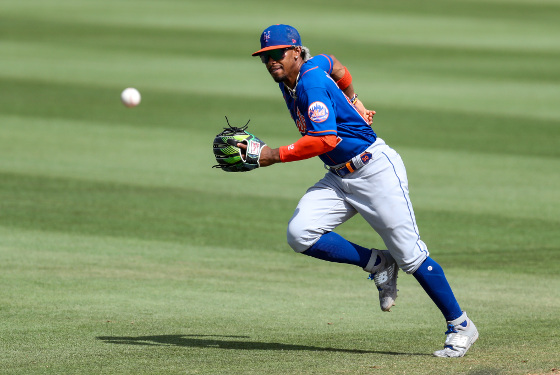 New York Mets shortstop Francisco Lindor has been using the REV1X -- in many different and colorful designs -- this season.
Rawlings had identified the Carbon DLS process as the best way to make the thumb and pinky inserts for its new glove and needed a partner that could ramp up to mass-market production. Carbon DLS -- which grows plastic parts from a pool of heated resin and was inspired, in part, by a scene in "Terminator 2" -- is frequently used for intricate designs that are challenging to mold, creating durable 3D-printed components for end-use applications.
According to the Carbon website, "Traditional methods of glove construction utilize felt inserts to reinforce the thumb and pinky, but in order to meet these new high-performance standards, Rawlings needed a material that would allow fine control over the stiffness without increasing weight." It lists the FPU 50 material used as 21% tougher than felt. Carbon has some great details on the glove here, along with some design drawings that are very helpful. The company says that its "FPU 50 material provides the optimal stiffness-to-weight ratio" (2X) and "allows the glove to conform to the player's hand and maintain its ideal shape longer than traditional materials." The material also makes the final glove product markedly lighter.
As the largest Carbon Production Network partner in North America, Fast Radius had the infrastructure, software, and expert technicians to make these parts. With Fast Radius, Rawlings was able to move quickly from prototyping to production, manufacturing the gloves at scale so baseball players anywhere -- from within the Major Leagues to high school ball fields -- could access the future of baseball equipment.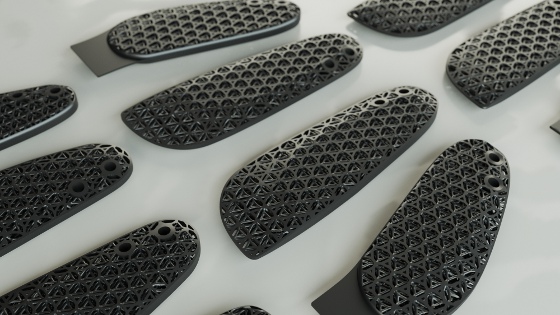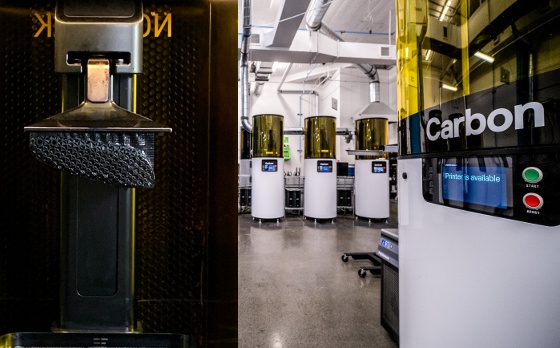 The REV1X glove's inserts (top image) are made in Carbon DLS machines, which grow plastic parts from a pool of heated resin.
Rawlings, known for its high-quality equipment, also wanted to ensure each glove met their standards and expectations. Fast Radius' strength in producing repeatable, reliable, and consistent parts at scale helped make that vision a reality.
Fast Radius' reputation and ability to efficiently make new, complex parts with industrial-grade quality and reliability, all while meeting tight timelines, made them an ideal partner for Rawlings. Fast Radius' Cloud Manufacturing Platform also gave Rawlings access to the technology and expertise it needed.
Fast Radius' Cloud Manufacturing Platform, custom solutions, and expertise combined with Carbon's 3D-printing technology enabled Rawlings to manufacture the new lattice inserts at scale for mass production and get the glove out of development and onto the diamond as quickly as possible.
The REV1X glove (11.5 in. and 11.75 in.) is now available online from Rawlings, Dick's Sporting Goods, and JustBallGloves.com. It retails for $399.95. An 11.75-in. infield/pitcher's glove and a 12.75-in. outfield version are also available.
Sources: Rawlings Sporting Goods, Fast Radius, Carbon
Published September 2021
Rate this article