Czinger 21C: 1,250-hp American hypercar finalized for production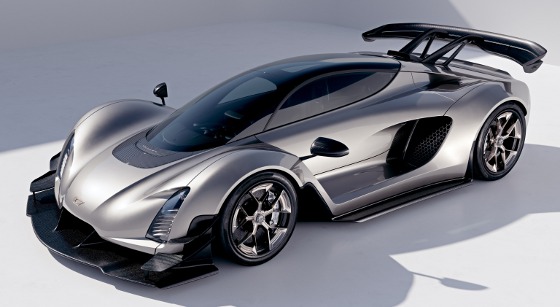 Los Angeles-based Czinger, a company making waves for using an in-house invented Human-AI production system and 3D printing to build state-of-the-art high-performance vehicles, has finalized production specs for its 1,250-hp tandem-seater 21C hypercar. It boasts a 2.88-L V8 with twin turbos and two high-output electric motors.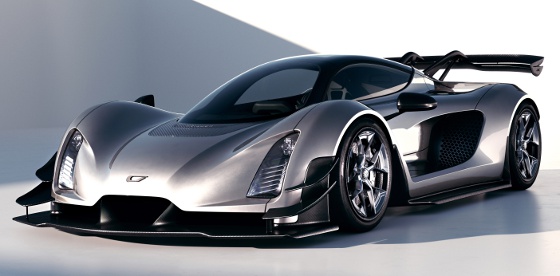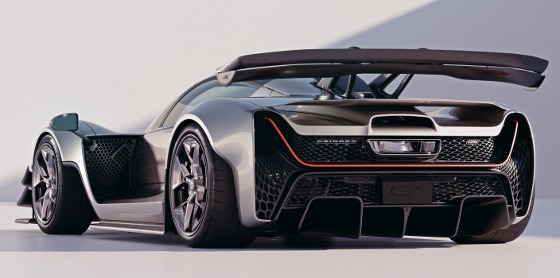 Czinger (pronounced "zinger" with a silent c) is led by founder and CEO Kevin Czinger, an automotive entrepreneur and super-bike lover. The all-wheel-drive 21C is Czinger's first production vehicle. Production will be limited to 80 cars. Base price is a hefty $2 million.
Many of the car's parts were made using additive manufacturing technologies. Each component manufactured using this technology is computationally engineered using artificial intelligence (AI), optimized for weight and performance, and is beautifully finished by hand.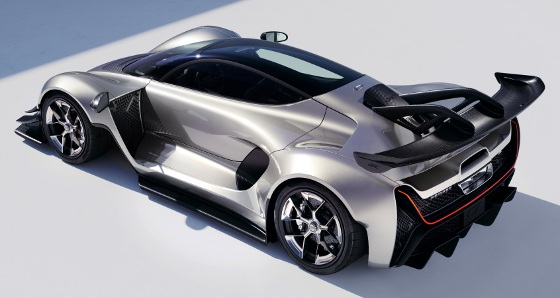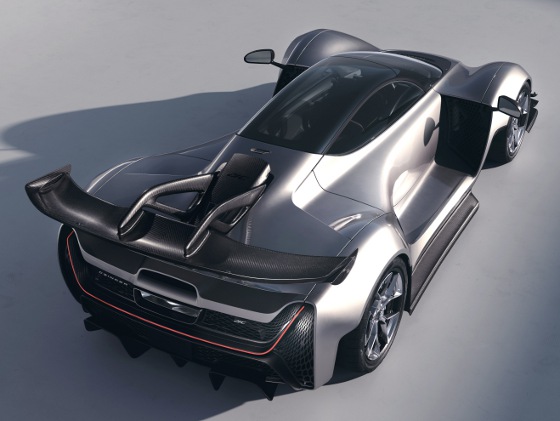 Part of the AI capability includes using generative design to explore multiple permutations of a part design rapidly, generating hundreds of high-performance, often organic-looking geometric design options based on goals and parameters set by the user, such as weight, strength, material choice, fabrication method, and more.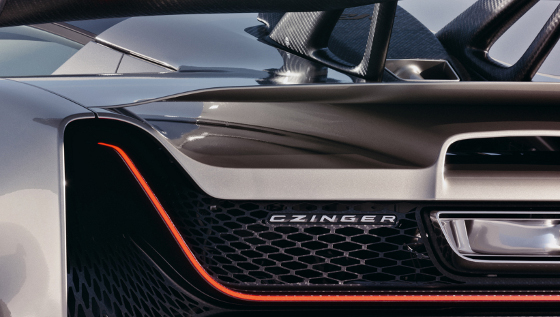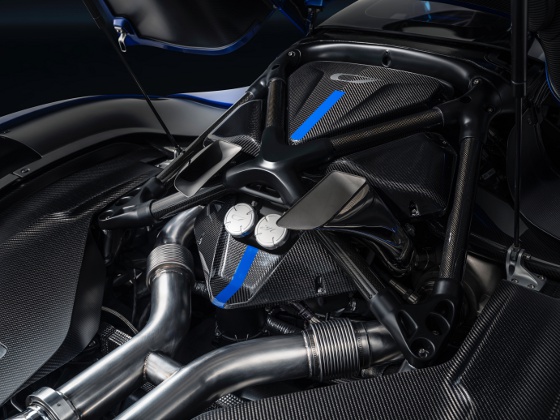 The best place to learn about how the 21C is built is by viewing this must-see Top Gear video, where host Jack Rix gets an exclusive, insider look at how it is made (note, this is not the Czinger teaser video below on this Designfax page -- you have to use the link).
In the video, we see that the factory is made of huge Kuka robot arms in 15-m x 15-m clusters that get to work to assemble mostly 3D-printed parts in carbon fiber, aluminum alloys, and titanium. A separate area houses the printing operations.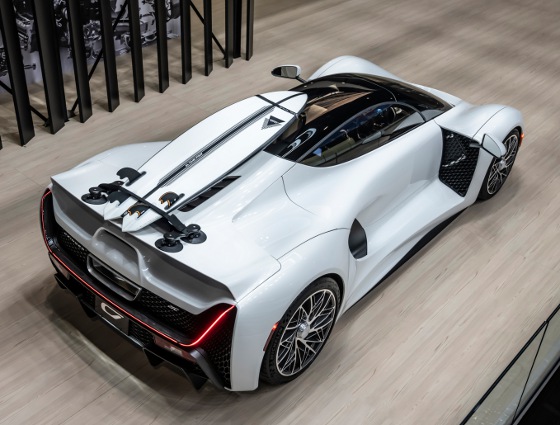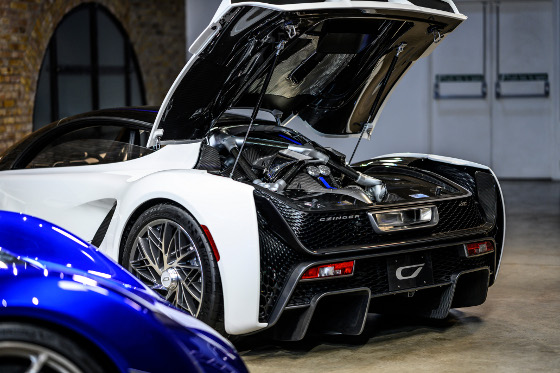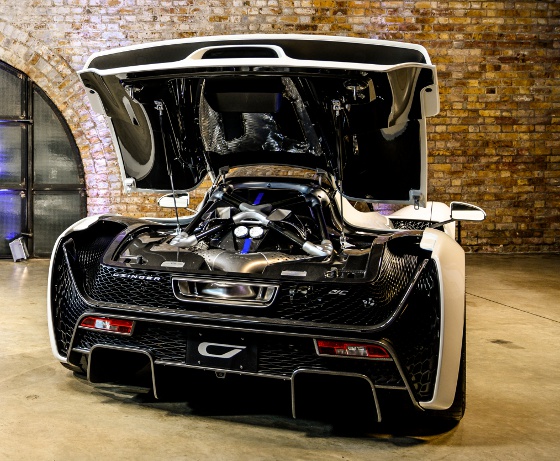 Some parts are put together after printing like Tinkertoys -- a carbon fiber "node" (tube) is joined to an aluminum joiner (sort of like spokes to a wheel) that has a really organic shape. The organic shapes are the result of iterative design, where computer programs help to sort out the most premium or optimized design for the weight, load, etc. of a given component.
Some of the 3D-printed parts are reinforced internally with a honeycomb structure built in. Rix says the Czinger company uses an on-site CT scanner to help qualify the integrity of the printed parts and their reinforced internal structures.
The chassis is made of traditional aluminum beam extrusions, 3D-printed aluminum when the parts are more complicated, 3D-printed titanium, and carbon fiber.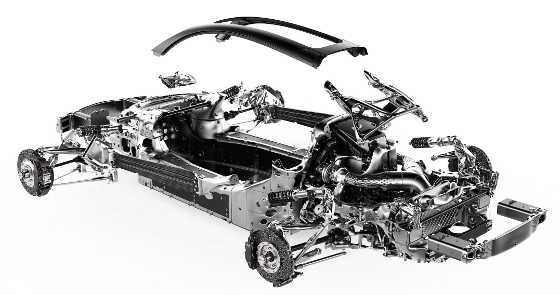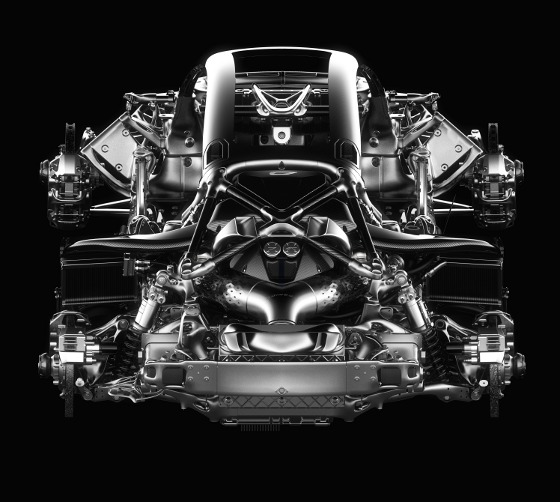 Chassis view of in-line seating packaging and engine.
CEO Kevin Czinger says in the Top Gear video that, all in all, 3D printing (or additive manufacturing) is not the only big story behind the car's design. "What I'd say really drives this is computing power," he says, "because imagine that you can take a design, generate that design, run it through all of the engineering simulations necessary, and then be able to print that design. That means that you're only putting material where it's required, so it can be far lighter, far stronger, far more durable, than any other manufacturing technique."
This final version of the hypercar showcases significant updates since its first public introduction in March 2020, including an updated width of 2,050 mm (80.7 in.). With its 1,250 hp and a dry weight under 1,240 kg, the 21C achieves a true 1:1 power-to-weight ratio. It also features all-wheel drive with a strong hybrid powertrain that includes:
An in-house-developed 2.88-liter, flat crank V8 with twin turbos located in the rear central part of the vehicle;
Two high-output electric motors, each powering a front wheel with torque vectoring (small, powerful Li-ion batteries in the front sills);
An ultra-light, sequential seven-speed automated manual transmission gearbox;
Total output of 1,250 hp redlining at 11,000 rpm (a 100-hp upgrade is offered, providing 1,350 hp); and
A design that can use a range of fuels, including carbon recycled methanol and other e-fuels, so it can be run as a zero-emissions vehicle.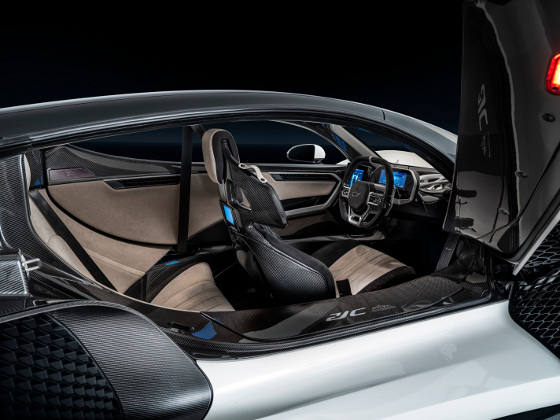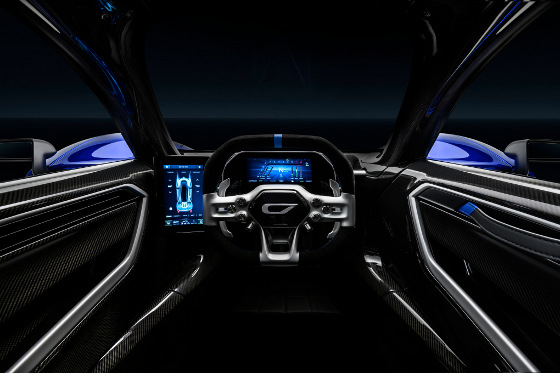 The 21C's hybrid powertrain uses the world's most power dense production IC engine as its foundation. The V8 is coupled with an 800-V electric drive and regen system. An e-motor drives each front wheel, and the batteries are charged during operation both through regenerative braking and a motor generator unit (MGU) using a gear drive that is attached to the IC engine.
The hypercar has a top speed of 281 mph in optional low-drag vmax configuration. Putting the driver and passenger in the center position -- one in front of the other -- adds to its ultimate weight distribution, aero, and driver engagement. The car's quarter-mile time is 8.1 sec, and it goes a blistering 0 to 62 mph in 1.9 sec. It has a >3:1 lift/drag ratio with 615-kg downforce @ 100 mph and 2,500 kg @ 200 mph (high-downforce configuration).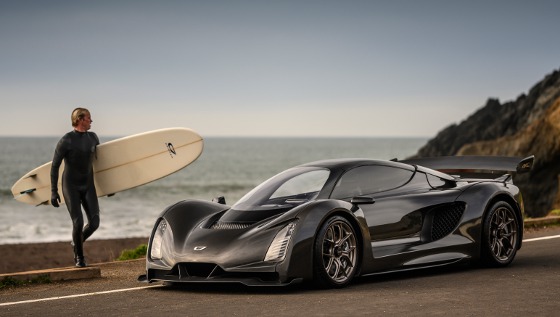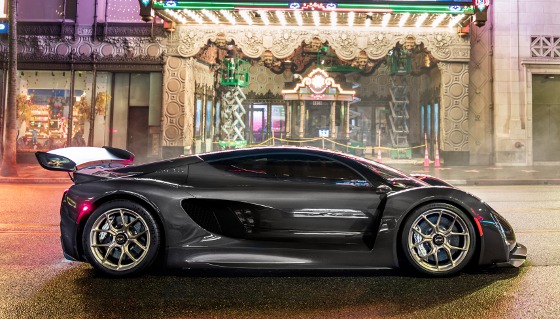 Computationally engineered, printed, and assembled, Czinger says each component is at the frontier of theoretical performance. For example, the front upper control arm is hollow with internal structures, allowing it to achieve significant mass savings compared to a traditional tooled variant, thereby greatly reducing un-sprung mass and further driving the 21C's dominating performance.
The 21C is highly customizable both from a specification and individual personalization perspective. Presented in two fully homologated specifications, a lightweight high-downforce configuration and a low-drag configuration, both cars are powered by Czinger's in-house powertrain and display its iconic design language and in-line seating architecture.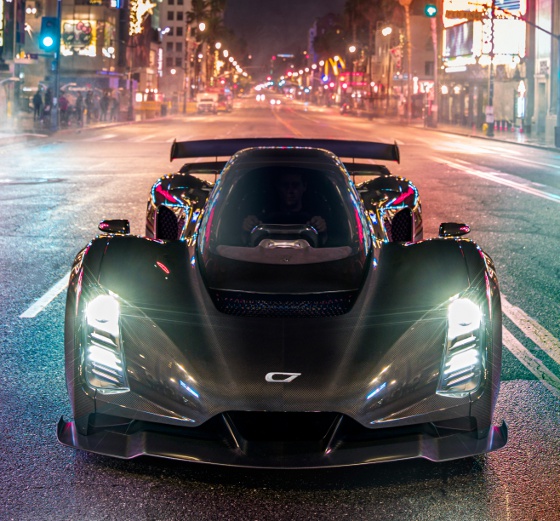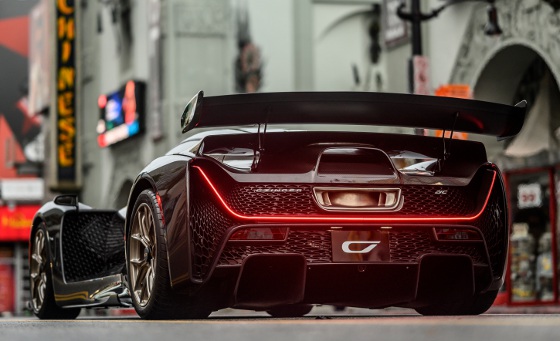 Recently, the 21C set a new lap record at the WeatherTech Laguna Seca Raceway, smashing the old record by an impressive 2 sec. On July 21, the Czinger 21C hypercar, with driver Joel Miller behind the wheel, set the record in a multi-GPS verified time of 1:25:44. The previous track record was held by the McLaren Senna, with driver Randy Pobst setting a time of 1:27.62.

VIDEO: Czinger 21C at Laguna Seca: "Gone in 85 seconds."
Under ideal conditions -- the weather was clear, with a wind direction of about 9 mph NW and an air temp of 60 degrees -- the Czinger vehicle also broke the previous record on two other laps, with times of 1:27:4 and 1:26:6. The car ran on fully road-legal Michelin Pilot Sport Cup2R tires.
"As a blue-collar kid growing up in Cleveland, OH, I used to lie awake at night thinking about my racing hero, Jim Hall, his latest innovations, the technology-packed Chaparral cars his team built, and racing on the legendary Laguna Seca Raceway," said Founder and CEO Kevin Czinger. "The era and the AI-based and sustainability-focused technologies available are different, but the animating spirit remains the same -- living the American Dream at speed."
Learn more at www.czinger.com.
Sources: Czinger, Top Gear
Published October 2021
Rate this article